I was just in Miami to attend the South Beach Wine and Food Festival as a guest of Certified Angus Beef. The first night they put me up at the Thompson Miami Beach and the next two nights, I stayed at the Fontainebleau Miami Beach. Both are beautiful hotels but it was the first time I had to switch rooms so many times. Would you believe I switched rooms five times in just three days?
The Thompson Miami Beach
At The Thompson it wasn't so bad since the problem was with the room temperature. Miami was already seasonably cold so I really didn't like that my first room's heat didn't work and that the temperature was set at 54F degrees. When I called down, it took a couple times for someone to answer the phone which I think is unacceptable for a luxury hotel. Then they sent a couple of cool workers up to my room to see what was going on. They spent a good 45 minutes in there trying to fix the heater before offering to switch me to another room.
It was an awkward 45 minutes since I had work to do but couldn't really concentrate with them in there. Then when they switched me, I tried to take a nap since I'd woken up at 3am for my 6am flight but the hallway noise from the maids was just too much. I have no idea how they allow the maids to keep slamming the doors after each time they go from the rooms to their carts. I understand the doors are heavy and close automatically but they need to come up with a better system. Same can be said about the Fontainebleau Miami Beach.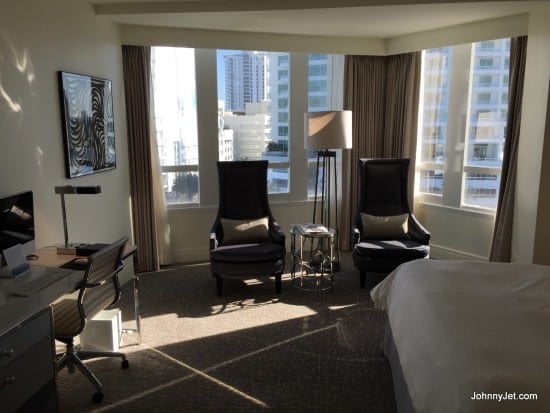 Fontainebleau Miami Beach
Business travelers need to be warned to stay away from the Fontainebleau Miami Beach between Wednesday and Sunday. That's because the hotel is party central. First of all, they have a lot of rooms with connecting doors and they are so thin that you can hear everything that your neighbor is doing. Including blowing their nose. The worst is when it's two couples sharing a room and they don't like to sleep, opting instead to watch movies and talk really loud until after 3am. I understand that people are on vacation and want to have fun but that's when I finally waved the white flag and switched rooms.
But that wasn't the real reason because I put ear plugs in so I was able to block out most of their noise. The real reason was because at 2:30am, I woke up to music thumping like it was New Year's Eve, 1999. My whole bed was vibrating … and I was on the ninth floor.
I was exhausted but managed to call down to the hotel operator and ask, with my mouth guard still in (yeah, I wear one and I know it's sexy) what time the music would stop? She said 5am. My eyes almost popped out of my head. I mumbled that that was not going to work for me and then she connected me to the front desk.
A gentleman named Daniel answered and asked if I could be placed on hold – yes. Two minutes later he returned, asking how he could help.  I asked (without any attitude) if my room was right above the nightclub. "Pretty much," he said. I asked if the music was really going to continue until 5am? Yep. Is it going on tomorrow night too? "Yes, sir. Wednesday through Sunday. Do you want to move?"
I was beat and my bed was so nice and warm and comfortable that I didn't want to leave. So I decided to try and go back to sleep but told him that for sure I would need to move the next day since I couldn't take another night of this. I put my ear plugs back in but between the young couples in the room next door talking loudly, watching TV and possibly throwing up, and the thumping of the music, I called Daniel back and said I need to move.
He was great. I asked if it was possible to get the same floor so I didn't have to get into the elevator. He said he only had double beds available and I said that was fine. I sluggishly gathered all of my stuff scattered around the room. The bellman quickly came up and gave me new keys so I went from room 956 to 925.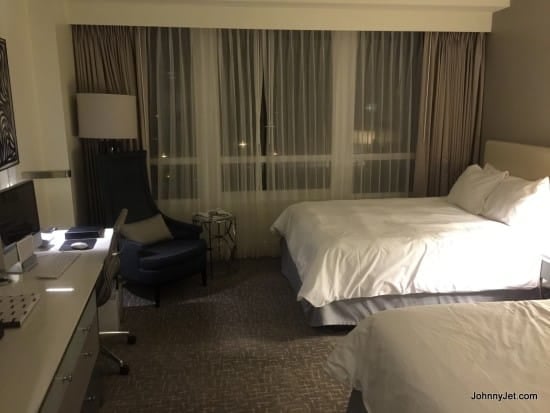 When I walked into the room, I realized it was definitely a downgrade, it smelled funny and I could hear a party going on two rooms over. On top of that, I could still slightly hear the night club thump (I have dog ears). Daniel randomly called to see if I was satisfied with the room but the cordless phone's battery must have been old because it kept hanging up on him. Luckily, he kept calling back and on the third time, I was smart enough to use the other phone. He asked if I wanted to change towers and I agreed that I'd better. He said he would send the bellman. This time the bellman didn't come so quickly so I thought I would save some time by meeting him by elevator. Still no one. Then I heard a room phone ringing a few rooms away (that's how thin the doors are and/or how loud the phone ringers are) and figured it was Daniel so I grabbed the house phone by elevator and called down. "I was just calling you," he said.
I wobbled downstairs all disheveled with my hair sticking straight up, eyes crusty, shirt out and bag half open. I grabbed the new key from Daniel and walked what felt like a New York City block from the Chateau tower to the Versailles. Along the way, a half-dressed, drunk girl accompanied by a way-too-smiley dude came out of the elevator and as she walked by me, she asked, "Do I look pretty?" I said she looked a whole better than I did and her boyfriend laughed.
The Versailles tower is not as nice as the Chateau tower but at least you can't hear the night club. I couldn't fall asleep for a while so I decided to write this post: 10 Reasons Not to Stay at the Fontainebleau Miami Beach if You are a Business Traveler.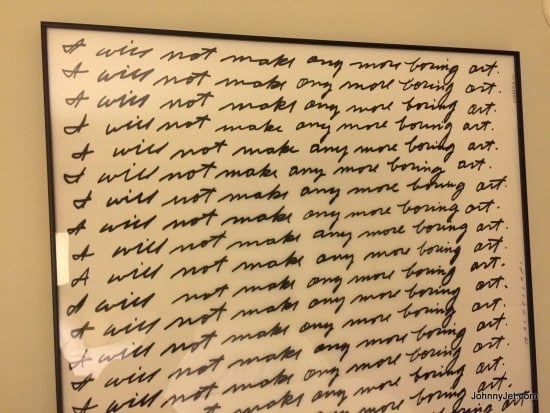 Noise from the night club
Noise from connecting rooms. It's ridiculous.
Noise from guests slamming their doors
Noise from maids allowing the heavy doors to slam every time they clean a room. Why don't they just put a stopper instead of going in and out of rooms every two minutes?!
Dirty windows.
Resort fee (Unfortunately, I think most of the hotels in Miami charge it so you should just pick another city.)
Dumb artwork (see photo above)
Evil mini bar where it charges you after lifting something up for 20 seconds or longer.
It's huge! 1,600 rooms.
No complimentary bottled water. For $500+ a night, you would think they would supply bottled water, wouldn't you?
I was going to add that there weren't enough electrical outlets by the bed but that was just in the Versailles Tower. On the flip side, the 10 reasons to stay at the Fontainebleau Miami Beach are:
Rooms are sleek and comfortable.
They all come with desktop Mac computers.
They have large flat screen TVs.
The bathroom is stocked with Molton Brown toiletries.
Daniel, the front desk night manager, is the man.
It's on the beach.
It's next to a marina.
They have huge events and conferences here so you don't need to travel far to get to meetings.
They filmed a bunch of movies and TV shows here.
They know how to party if that's what you're looking for.
I would definitely stay at both of these hotels again to give them another shot just in case I caught them at a bad time. How about you? Have you stayed at either of these hotels and how was your experience?