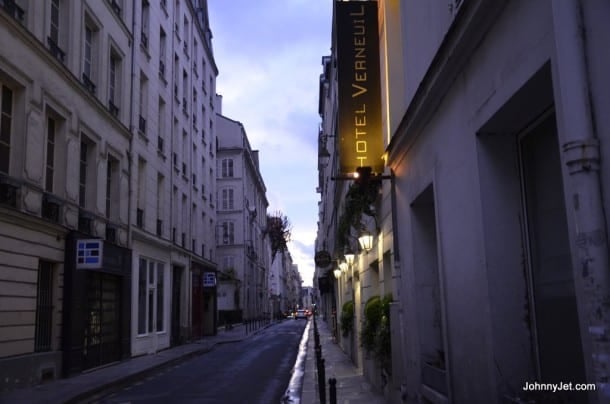 Yes, the stairwell and floors seem a little off-kilter so when you walk up or down them, you find yourself wondering if you've been drinking or if you've just gotten off a cruise ship. But what do you expect of a 17th-century building? That's right, 17th century! The building in Paris' 7th arrondissement is older than the United States of America.
This clean, four-star, moderately-priced boutique hotel is located on the Left Bank and is within walking distance to most of Paris' attractions. Natalie and I spent two nights at Hotel Verneuil and here are 8 reasons for you to stay here, too.
1. Location
As I said, it's located on the Left Bank in Paris' 7th arrondissement. It's situated in a quiet street in the Saint-Germain des Prés area, in the heart of Paris. It's just two blocks from the River Seine and a few more to the Louvre, Musée d'Orsay and Notre Dame.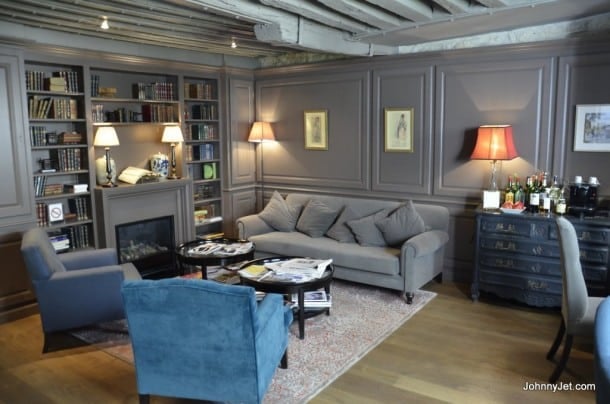 2. It's not a big chain
The owners aren't sure what the building was originally used for but they think it was for some type of maritime barracks. That's because there are only 26 rooms and they are all on the small side. After WWII, they converted the building into a hotel and a new owner renovated it in October.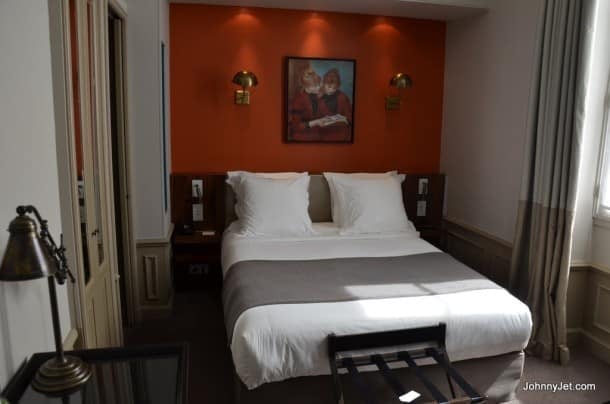 3. Rooms
Although the rooms are small (we were in a mid-size room), it was very comfortable. The room was clean, had a comfortable queen-size bed – 160x190cm (5.2 feet x 6.2 feet) with soft sheets and a 32" flat screen TV with international channels. Note: I didn't love the thin walls; I could hear my neighbor in the shower. I also didn't love the shower. It was one of those European showers without a shower curtain or door. Why do the Europeans love these? Don't they get water all over the place, too?
4. Free long distance phone calls
I thought I heard the receptionist wrong when we checked in and she told us that included in the rate are free phone calls … including long distance. It felt so weird to call my dad from the handheld phone instead of calling from my computer. Since everyone knows it costs a fortune to make a phone call (especially an international one!) from the hotel phone, this is a great perk of this hotel.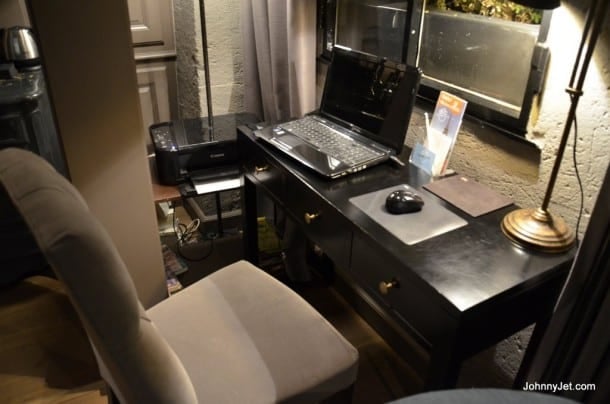 5. Free Wi-Fi
Also included in the rate is free Wi-Fi although when I needed it most, for my weekly #TravelSkills Twitter chat, I had a problem connecting to it from my room. I moved down to the lobby where the signal was stronger.
6. Concierge services
The hotel is manned by a receptionist 24/7 and part of their job is to provide concierge services so if you need directions, reservations or a taxi, they can help you arrange it.
7. Individual air-conditioning controls
A lot of hotels don't have air-conditioning but Hotel Verneuil isn't one of them. It's nice to sleep with the windows shut on a hot night.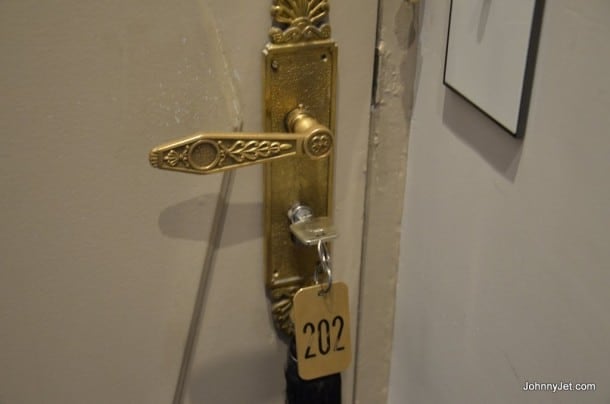 8. Reasonable rates
The hotel is moderately priced for a four-star hotel. It costs 179EUR ($233) in low season and 207EUR ($270) in the high season.
9. Bonus: Breakfast is offered downstairs or in your room for 16EUR ($21).
Good to know: Across the street from the hotel is a colorful wall full of graffiti. It turns out it was the home of Serge Gainsbourg who was a famous French singer and poet who died in 1991.
So if you're looking for a clean, safe, boutique hotel in the heart of Paris that's reasonably priced for a four star hotel, then check out Hotel Verneuil.