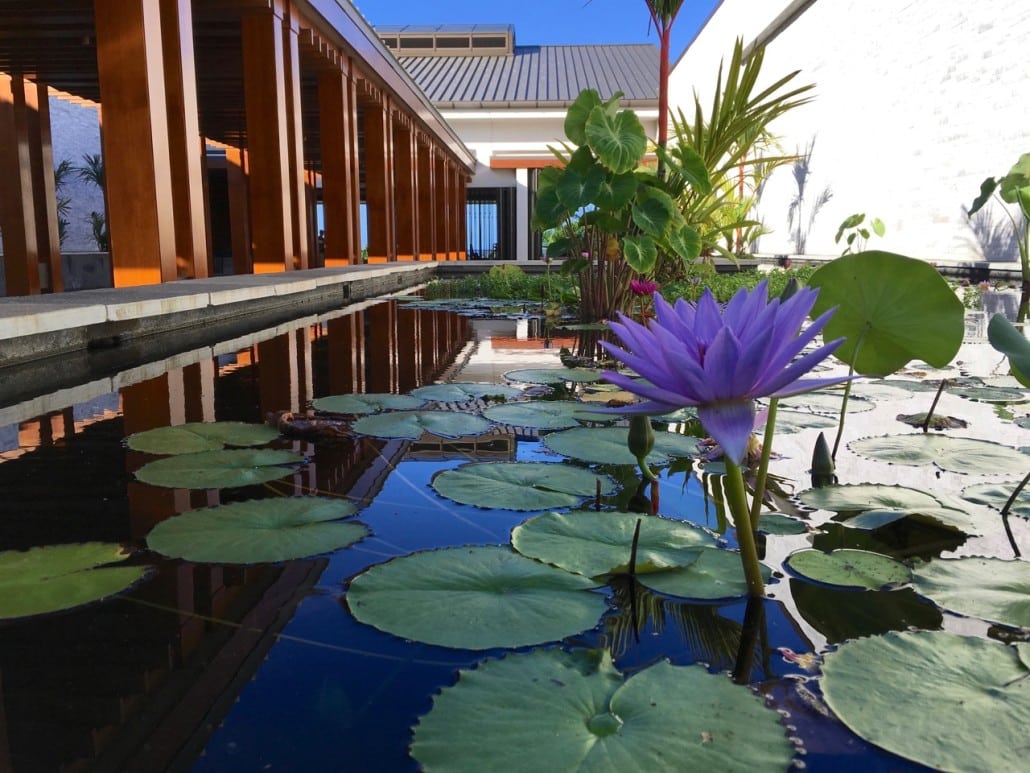 In serious need of a vacation, my wife and I ventured off to Maui in search of some pampering and relaxation time and ended up choosing the Andaz Maui at Wailea Resort as the first stop on our trip. This particular Hyatt family property opened in September 2013, bringing a new and modern luxury option to an area dominated by the likes of the Four Seasons and the Grand Wailea. Though it's a smaller property by comparison, we'd read that the Andaz's intimacy and unique style make it an intriguing choice over these other two giants. And having stayed at the Four Seasons before, my wife and I were eager to check this place out and see for ourselves.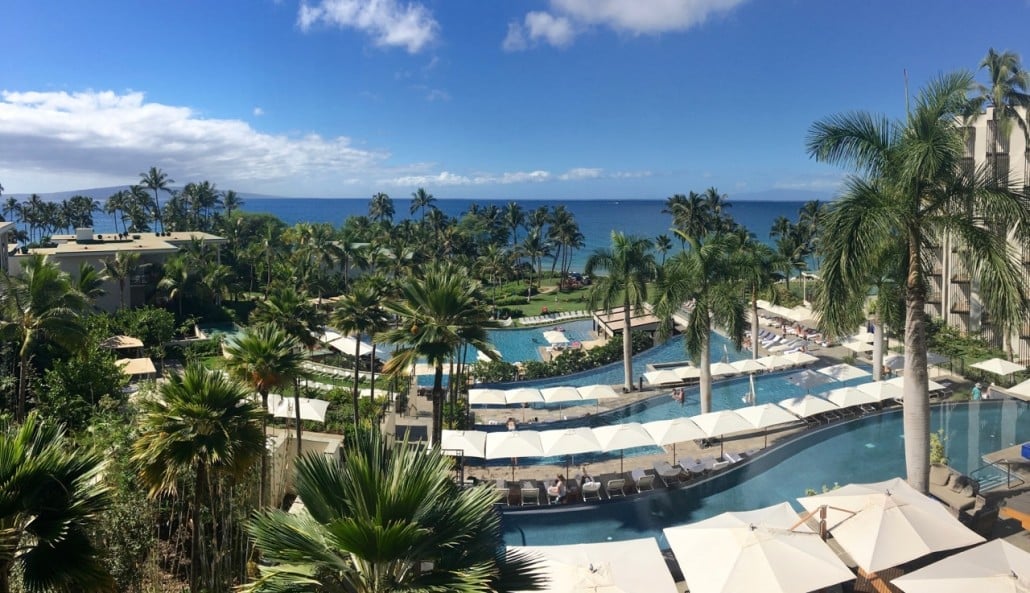 The scene
As you step into the sleek entry corridor at the Andaz Wailea, you can't help but feel you're leaving every care behind and entering a world designed for pure relaxation. By the time you find yourself in the open-air lobby, which arguably boasts some of best ocean views in Wailea, you're liberating mental tension you didn't even know you had.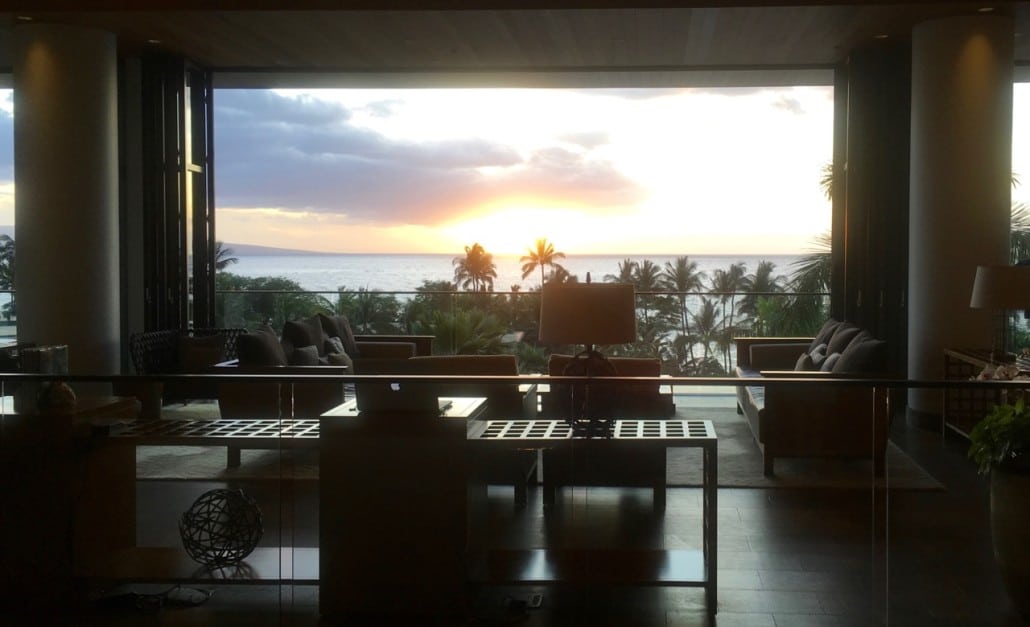 At 290 rooms and suites, this resort feels intimate. You don't have to walk too far to get anywhere. And while it feels like it's very adult-friendly, I wouldn't hesitate to bring my kids here either—though it doesn't scream "family-friendly!" the way the Four Seasons down the road does. And being here on our fifth wedding anniversary, that was A-OK with my wife and me.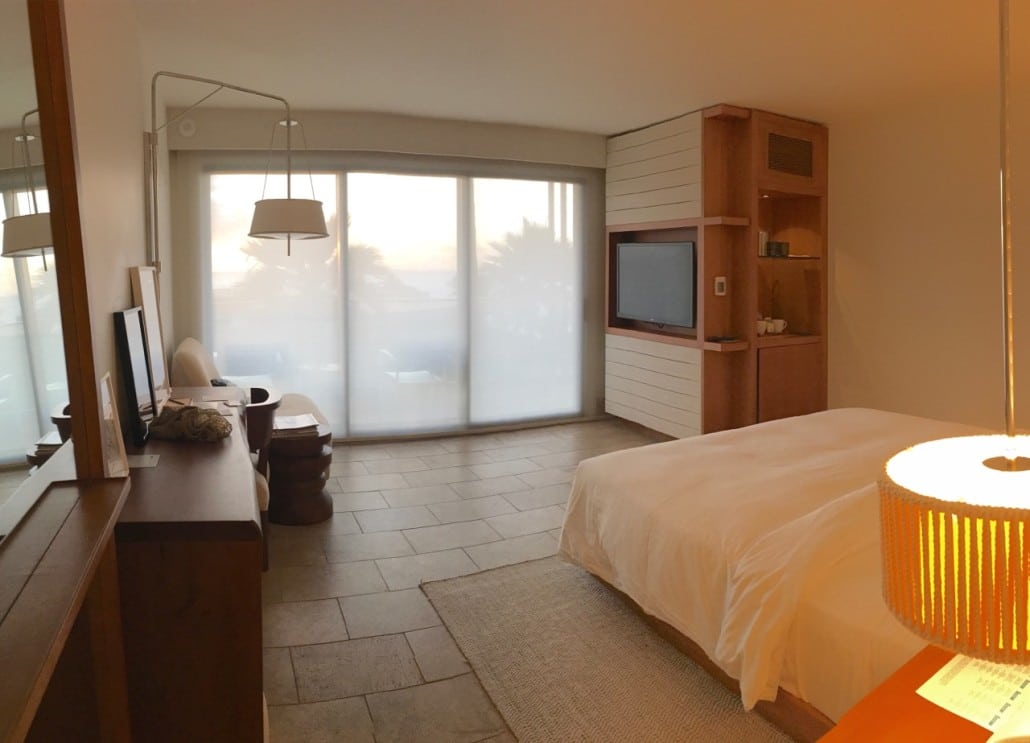 The rooms
We had the opportunity to stay in both a partial ocean view room and an ocean view suite during our three-night stay. While standard rooms here tend to run on the small side (around 300 square feet), they do make up for it in appearance. The rooms just look…cool.
Bathrooms are stylishly designed and feature a shower that faces out over the rest of the room—presumably to take in the views while you bathe. The bedding is luxurious, and while our mattress ran slightly firm and we had to request foam instead of feather pillows, we ended up sleeping great here. It was nice to see two USB charging ports and an outlet on one side of the bed, but we were surprised to find the other side lacking in any charge capabilities whatsoever. Outdoor balconies come standard with two aluminum chairs and a small table, and we found these were just fine for relaxing a bit in the morning and evening.
Suites here are a bit more spacious, featuring a separate living room area complete with a dining table, second flat-screen tv (bedroom TVs come standard, of course), and wet bar. On the third night of our stay, the hotel cleared out a bit and an ocean view suite became available for us. The biggest joy to us was the much bigger bathroom, and yes, dual sinks. Why those aren't in the standard rooms is beyond me! We also gained a soaking tub here, and (ahem) a Japanese-branded bidet seat in the commode, which was kind of amazing.
Extremely cool are the controls at every guestroom's entry: a set of "Privacy" and "Service the room" buttons linked to the tech brains of the hotel, instantly letting housekeeping know your status wherever they may be lying in wait. Also, there's a single button to turn all the room lights on/off as you enter/exit, conserving a great deal of electricity I'm sure, because who turns lights off when they leave a hotel room otherwise?
Rooms also come standard with smart shades too; one button closes a sheer curtain, and another releases a blackout shade from the ceiling to keep that famous Hawaiian sun at bay. The strange thing about these controls for us was that although they were bedside, they were just too far away to reach comfortably from the bed. A minor oversight, but it's really nice when you can turn those lights off or raise those curtains in the morning without turning into Stretch Armstrong.
While we enjoyed the standard sized room at this hotel, we really enjoyed the extra space and bathroom amenities the suite offered, and wouldn't hesitate to book it again if/when we return. If you can grab a suite (or at least be in line to be upgraded into one), it's totally worth it.
The pools
The Andaz is unique in that it has three vastly different pool areas. The first group is a series of tiered infinity pools that all feature magnificent ocean views. The great thing about this setup is that no matter which pool you pick (and there are three), you'll always get a great view, and you won't be staring at a neighbor across the way. And since each pool/lounge area is decently sized but not huge, it won't feel overcrowded.
Below the three infinity pools is a large shallow pool featuring a sloped beach-style entry that's (presumably) great for the little ones to play in safely. Finally, in a secluded area away from these two pools, you'll find a gorgeous adults-only pool, which we always found to be extremely quiet and relaxing.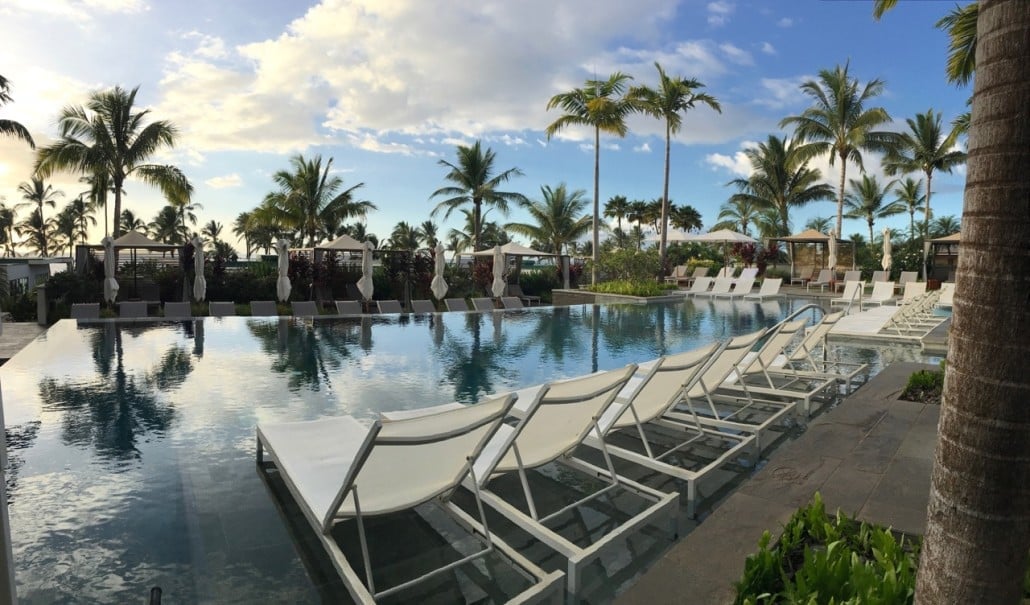 Now, we should mention that the service around the infinity pools was a bit slow at times as far as ordering drinks and snacks go. And unfortunately, spotting a server at the adults-only pool was like spotting Halley's Comet, which seemed odd. A couple of times we put in a drink request with the towel personnel, simply because they were the easiest to spot and seemed willing to help find a server. But as this is a criticism easily fixed, we're hoping it's something the hotel can improve upon as it becomes more seasoned. Right now, the Four Seasons has them beat here.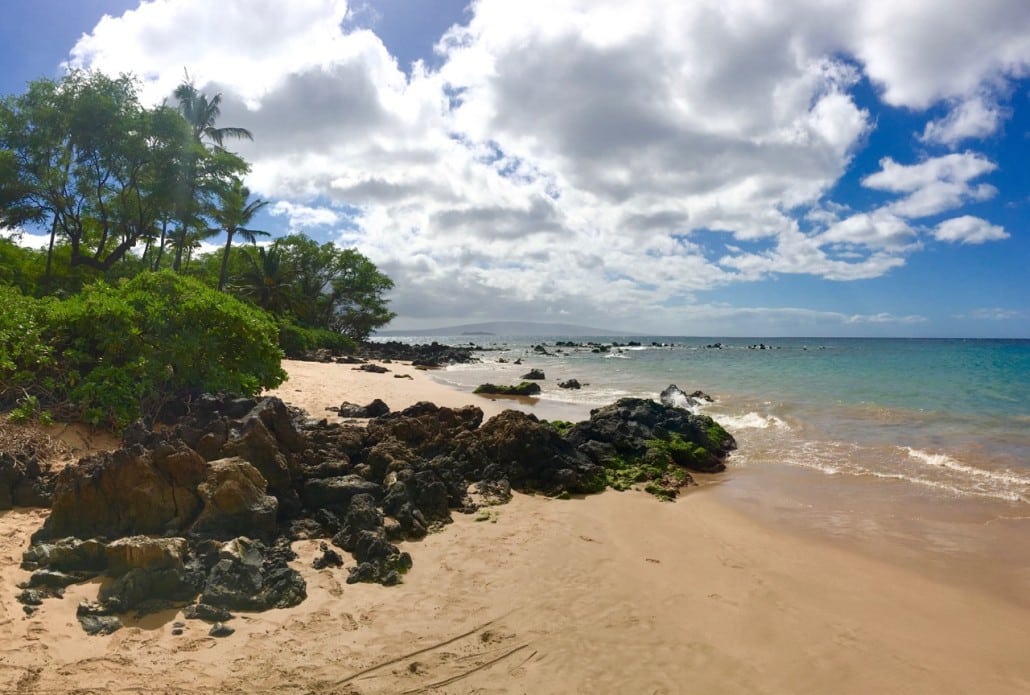 The beach
The beach at the Andaz is simply gorgeous. It's an intimate slice of sand without the crowds you'll find at the beach the Four Seasons and Grand Wailea share. We found the sand and aqua water color to be so gorgeous (the darker sand at the Four Seasons makes the water not quite as appealing to gaze at). The Andaz attendants were always at the ready with chairs and umbrellas to get us set up with the moment we stepped onto the beach, which was nice, and fins and snorkels are also complimentary for all guests of the hotel. They're easily checked out at the beachside cabana.

The bluffs
If you need a break from the pools and beach, the Andaz features a huge, gorgeous bluff-side lawn where you can kick back and enjoy serene ocean and beach vistas, especially at sunset. With plenty of chaise lounges to go around, we always found an abundance of space to relax here—and swaying palms overhead kept the sunlight dappled enough for us to stay cool midday.
We found ourselves relaxing here quite a bit. The one caveat to chilling out at the bluffs was that the lounges lacked cushions for some reason—almost like the hotel ran out of them and decided the pool and beach chairs were a higher priority. Not a big deal, as the chairs were pretty comfy to begin with, but it felt like a missed opportunity to create another truly relaxing space.
Great staff
The first thing you notice when checking into the Andaz Wailea is not necessarily how young and energetic the staff is (which they are), but how happy they all seem to be. To give you an idea of the staff's efficiency, check-in is done not at a front desk, but on a greeter's iPad while you relax on a couch with a cool tropical drink in hand. We found the concierge staff in the lobby (working on beautiful new Macs no less) to be very helpful and knowledgable with restaurant and snorkeling recommendations. And down at the pools, staff patiently followed us around while we picked out the perfect lounge, with water and towels at the ready. We consistently found everyone from the servers in the restaurants to the maid staff in the hallways ready with an "Aloha" and a smile.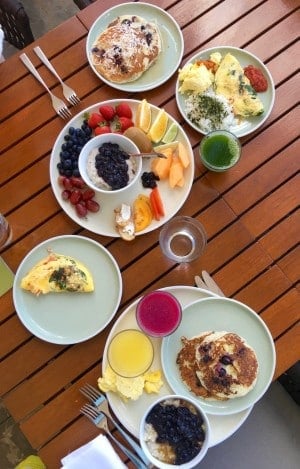 The breakfast
Breakfast is served in the beautiful Ka'ana Kitchen restaurant, which features sweeping views of the pools and ocean. While they offer an a la carte menu, we always opted for the buffet, which we found consistently delicious.
Along with the usual fruit, various meats, breads, and cereals, the buffet features a made-to-order omelet station with all the trimmings you'd expect, and a hot food station where you can request pancakes, French toast, waffles, and surely anything else you can think of. They also have a great juice bar, where a chef is continually making fresh fruit drinks and green juices. And did I mention the entire outdoor seating area is discreetly mesh-draped to keep flies out? Yep, it is.
Courtesy car
Right from the get-go, not only are the smiling valets lightning-fast and efficient, but they'll also arrange a hotel courtesy car to take you wherever you need to go in the nearby area. We used this service twice to head out to nearby restaurants, and always found it incredibly easy and quick. Once you're done, just call the hotel and they'll send the car back out to get you.
Signature restaurant: Morimoto
The hotel's signature restaurant is Morimoto, touted as "a blend of Japanese and western fare using fresh, locally sourced ingredients." Sushi here was very tasty, and we especially loved the signature ishi yaki buri bop dish, featuring yellowtail cooked in a hot stone bowl right at the table. But be sure to make a reservation as the place is quite popular!
The spa
With spa credits to burn, I only had time to use a day pass for about an hour, but it gave me a chance to browse the facilities on the men's side. For $45, you can have access to the (clothing-optional) space boasting a steam room, sauna, hot plunge pool (why not cold?), standard shower, sink, and locker areas. Not quite worth the $45 cost in my opinion, though if you do a treatment, these facilities are complimentary. My wife got a pedicure at the salon but was able to quickly browse the space on the women's side and confirm that it was about the same as the men's.
Activities
Along with a large fitness center, included in your stay at the Andaz is unlimited use of a GoPro camera, snorkel/fin/bodyboard rental, stand-up paddleboard lessons, guided kayak tours, hula and ukulele lessons, pilates and fitness classes, and single and tandem bike rentals, among others. You'll never be short of things to do here. And of course if you wanted to rent a kayak or paddleboard and go out on your own, you can do that as well. It's just not complimentary outside of the class format. Having brought our own snorkels and masks, we found the complimentary fin rental to be absolutely indispensable during our stay.
Book with Virtuoso
During the period of our stay between Thanksgiving and Christmas, the rate for a partial ocean view room was $499, and suites started at $799. We've seen rates as low as $329 at this property depending on date and the room category choosen. If you have Hyatt points, those can give you options, as well. Note that the hotel does charge a $40 resort fee per day, so keep that in mind if you go the points route.
Because we booked through a Virtuoso travel agent, the resort fee was waived. I always recommend making hotel bookings through a travel agent because of the extra perks you get; in our case, the ladies over at Zō'etic Travel helped us secure free breakfast for two each morning in Ka'ana Kitchen, get a $100 spa credit, waive the $40 resort fee, and receive an upgrade at check-in, based on availability. Because the hotel was running pretty full during our stay, we didn't get the free upgrade to a suite until our third and final night there. So going during low season would increase your odds for sure.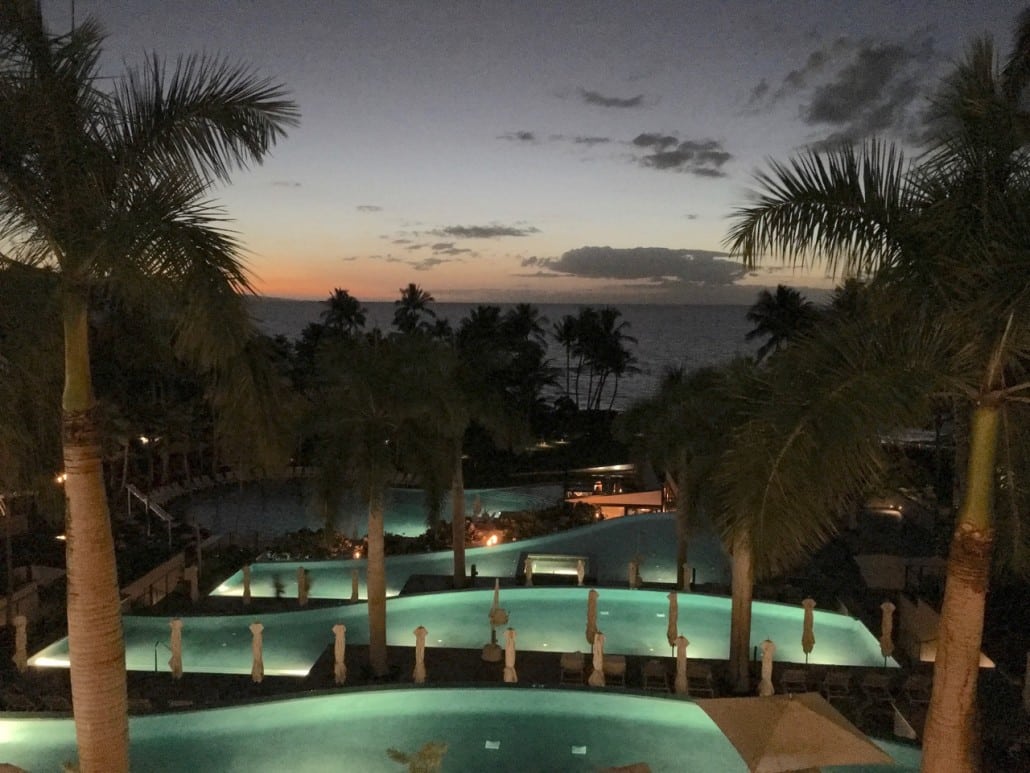 The bottom line
The Hyatt Andaz at Wailea is a great new addition to the Maui luxury scene, and while it already has the foundation in place to compete with its area rivals, it has some easy improvements to make to ensure that will really shine. Its intimate feel is its strongest asset, and with its modern, unique touches and relatively reasonable cost, I think it will gain a loyal following of luxury travelers returning year after year.
For more on the Hyatt Andaz at Wailea, check out maui.andaz.hyatt.com.