Holiday Inn Club Vacations Orlando
I stayed at Holiday Inn Club Vacations Orlando – Orange Lake Resort, which is near Walt Disney World Parks and Animal Kingdom. It's a 30-minute drive from the airport so the best thing to do is rent a car as taxis are expensive.
When the organizers told me to have the driver wait while I checked in so he could drive me to my building I thought they were treating me like a prima donna. I thought I would just walk. Good thing I listened because the property is 1,450 acres! They have a shuttle bus but it's way quicker to drive to your villa.
There are 2,478 rooms or villas as they call them. They range from studios to three-bedrooms and all come with a fully equipped kitchen, a dining room / living room area with a pullout sofa sleeper, a furnished patio/balcony, cable TV, DVD player, stereo and free Wi-Fi. It's perfect for those on a budget or traveling with a family because you get all of this for just (starting rates):
Studio – From $105 (sleeps up to 4)
1-bedroom villa – From $120 (sleeps up to 4)
2-bedroom villa – From $140 (sleeps up to 8
Kids love it because there's a 1,200-foot lazy river, 12-acre waterpark, 80-acre lake with watersports, seven swimming pools, four water slides, three arcades, 19 poolside cabanas, three fitness facilities, four racquetball courts, six tennis courts, two basketball courts, a playground and a kids center. Adults love it as there are nine restaurants, four golf courses (one lighted for night play), and a grocery store right near it.
Good To Know
What I didn't love about it is that it took me 25 minutes to reach the front desk. I think it was just bad timing as only three people were working and a couple had problems with their reservations. Of course, just before I got to the front of the line four more agents returned from their lunch break and the long line quickly disappeared. Other negatives: you can hear people having fun as walls and windows are kind of thin (bring ear plugs) and the pillows are really bulky. Check-in is at 4pm. Checkout 10am.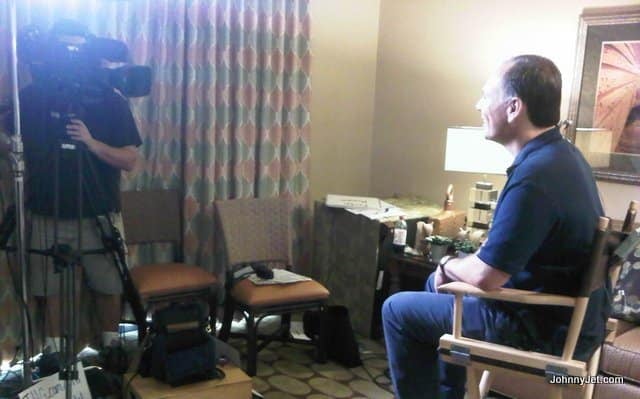 Great IHG Deal
I was there with IHG hotels to do a satellitemedia tour. I was supposed to be sitting out by the pool doing the interviews but Mother Nature disagreed. Instead we were in a well air-conditioned villa where I did 23 interviews in four hours. I was talking about unplugging from technology and great summer travel deals. One that I mentioned was IHG's (they have hotels such as InterContinental, Holiday Inn, Crowne Plaza, Hotel Indigo, Staybridge Suites and Candlewood Suites) deal where they will give guests with a $75 prepaid card for booking two consecutive weekend nights (Friday-Saturday, Saturday-Sunday) from now until September 3rd. Need to register at IHG.com/get75.
Notes
For dinner on Thursday night we drove 8 miles to Celebration which is a community Walt Disney planned. It's cute and we ate at a decent Italian restaurant called Café D'Antonio. Afterwards we walked over to Kilwin's for dessert – I got a decadent caramel apple. Note: At a table near us there was a woman dining alone dressed head to toe in black, including a long brimmed hat so you couldn't see her eyes. She was reading "Right Steps to Happiness". At times I could see her quietly crying which made me just want to get up and give her a hug. Celebration, Florida isn't a bad place to go to cure the blues.
Did you know: 55.1 million people visited Orlando in 2011? That's up 7.2% from last year's record setting 51.4 million. Orlando is the first destination in the country to welcome more than 55 million visitors and remains the most visited destination in the U.S.