Not sure what to get the frequent traveler on your holiday shopping list? Stumped for ideas? I've rounded up 10 of my favorite products to give and to get in this year's holiday gift guide:

1 SKITS Tech Case, $69.95
Regardless what type of traveler you're shopping for, chances are they travel with an assortment of gadgets and gizmos, all that require chargers. And nothing can turn into a tangled mess of a nightmare more than cables and chargers. Help someone keep theirs organized and orderly with the use of a SKITS Tech Case. This conveniently sized and shaped case has a zip closure with interior zip pockets, designed to store all those cords, cables and chargers in one place. Available in a variety of colors.

2 TripIt Pro, $49
TripIt Pro will make a useful and much appreciated gift for the frequent traveler on your gift list this holiday season. You pay the $49 fee for the year and the gift recipient will enjoy an organized approach to travel. This is one of my personal favorite apps because it notifies me of flight delays, cancellations and gate changes before the airline notifies me. And oftentimes, I know of these changes even before the gate agents know! The TripIt Pro app also helps to keep track of reward points, notifies you when you're eligible for a flight refund and lets you know when the seat you want becomes available. It has many other features as well, but ultimately, this is the app that every traveler needs to have to make their travels smooth and stress-free. I also love that TripIt is working with the Make-A-Wish Foundation – and giving gift givers a chance to make a difference. By donating your airline miles, you can make a huge difference in the life of a sick child – and what could be a better gift than that? So don't let your miles just sit and rot in your account. Use them to put a smile on a child's face.
3 Scottevest, prices begin at $70
Any jacket or article of clothing that has multiple hidden pockets, can act as a piece of carry-on luggage, protects your valuables and be stylish all at the same time will always be on the top of my Christmas wish list. Scottevest's travel-friendly clothes are designed for both men and women and their state-of-the-art website make it easy to peruse and choose which products will make the best gifts.

4 The Satechi Travel Adapter, $21.99
This device juices gadgets in over 150 countries (with the four most common plug configurations) and is the only travel converter your frequent traveler will need to bring around the world. They'll just need to slide the adapter button to extract a prong to match the country they're visiting and they're all set. It also has a USB port so they can charge two devices at once.
5 FitBit Flex, $100
The FitBit is all the rage these days and it's the perfect gift for anyone on your list. This handy little wristband is a modern-day pedometer that tracks the number of steps taken to help the user reach their fitness and weight-loss goals. They'll just need to sync it with their smartphone to have all their personalized info at their fingertips: how many steps they've taken for the day, distance traveled, calories burned and overall active minutes for the day. The FitBit Flex is also a sleep tracker and can tell the user how long and how well they slept.
6 Mujjo Leather Wallet Case for iPhone 6, $37
Designed by the Dutch company Mujjo, this Leather Wallet Case for iPhone 6 is a great gift for the stylish traveler on your list (just make sure they have an iPhone 6 before you buy it!) Travelers usually want to streamline their stuff and this case means they can run out the door with their essentials – the case holds their phone (obviously) and two or three cards, like a driver's license, debit card and credit card in a sleek, compact and quality leather pocket. Available in tan or black, this sleek case is sure to please.
7 LuminAID Solar Inflatable Light, $17
Here's a great gift for anyone who loves camping. (It's also handy for anyone who finds themselves in an emergency situation.) The LuminAID Solar Inflatable Light is a solar-powered, inflatable lamp that packs flat and inflates to create a lightweight, waterproof lantern. It provides up to 16 hours of LED light and recharges in approximately seven hours of direct sunlight. It's ideal for emergency use, camping, or even in the home as an extra light source. I know, I know – this is a practical gift but sometimes, practical items make the best gifts!
8 Airportag Airport Throw Pillows, $33
Know an aviation geek? If so, I bet they'll love these Airportag airport throw pillows (and tote bags and mugs) that use IATA codes—the three-letter codes that designate many airports around the world as defined by the International Air Transport Association—as the main design element. The bestseller is LHR (London Heathrow) and I'm not surprised … who doesn't have a love affair with London? But a thoughtful and personalized gift is to find the airport code that has the most meaning to the recipient, whether it's their favorite airport or their home airport. Pillows come with the print on both sides and the zipper is concealed. They are 16″ x 16″ and are made of 100% spun polyester.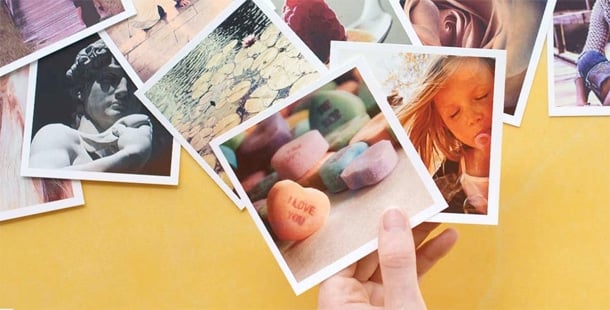 9 Stickygrams, prices vary
Surprise someone this Christmas with a fun and personalized gift from Stickygram. This UK-based company turns Instagram photos into magnets, phone cases and iPad covers. Since most digital photos don't see the light of day and stay trapped forever on phones, free them from their prison by turning them into fun keepsakes that the recipient is sure to love.
10 Bose QuietComfort 20i (QC20) Acoustic Noise Cancelling Headphones, $300
Every traveler needs to have a pair of earphones in their arsenal of travel essentials and these are the ones I recommend. They're definitely a pricey gift but well worth the cost. Despite their small size, they really do block the outside world out with full-on noise reduction. They're perfect for drowning out the noise of a screaming baby on the plane or the annoying hum of the plane's engines – and can make it easier to work or get some sleep. And besides their size, I love the fact that they come with a rechargeable battery. The battery charges in just two hours using a USB cable and delivers up to 16 hours playing time per charge.