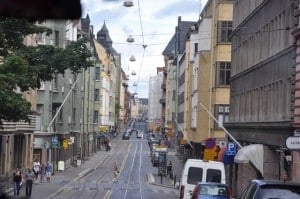 Hyvää päivää from Finland! Helsinki is stop number three (after Copenhagen and Stockholm) on my Seabourn Sojourn cruise along the Baltic. The 210-nautical mile ride from Stockholm started off beautifully, as we passed by many of Sweden's islands, islets and skerries. The captain informed us that on our overnight ride to Helsinki, we would be traveling 15 miles off the Swedish coast, near the Polish islands. The outside temperature was 70F (this was in early August) and the water temperature was 63F.
ROUGH SEAS
Unfortunately, the ride got rough once we were in the open sea. In fact, it was the rockiest the boat got for the duration of the 12-day trip. However, I didn't see anyone physically getting ill (including myself) but let's just say I ate a light meal that night.
A BRIEF HISTORY
When we arrived I was really excited since this was my first time in Finland. It's so cool to see and learn about a new place. Natalie visited here a couple years ago so I turned to her for a brief history lesson. She informed me that Helsinki is not only the capital of Finland; it's the country's largest city, too, with a population of about 584,000. Including the surrounding areas, the population swells to one million, while Finland's total population is about five million. Tiny, by comparison to the populations of, say, Canada or the US. The city is old and historic, founded in 1550 by King Gustav I of Sweden. Because of the country's Swedish history (Finland was ruled by Sweden until 1809, then under Russian rule until gaining independence in 1917), Swedish is one of the country's official languages, along with Finnish. Helsinki is situated on the southern tip of Finland, on the Gulf of Finland, on the north shore of the Baltic Sea.
DID YOU KNOW
Did you know that Finland has 188,000 lakes. Not surprisingly, fish is a staple in the Finnish diet.
BREAKFAST ON THE SHIP
While we were waiting for our ship to be cleared by customs, Natalie and I had breakfast on the balcony of the Colonnade Restaurant. It was windy, cool and drizzling so it wasn't that welcoming but the weather soon changed and the sun came out to warm us. Sitting in the wharf, I couldn't help but notice all the ferries to Tallinn, Estonia. It's just a 50-mile (90-minute) ride away and many people commute daily for work.
PRIVATE TOUR
At all stops Seabourn offers a wide variety of excursions but since I had just met with the Helsinki City Tourist & Convention Bureau at a conference, I decided to take them up on an offer of a two-hour private guide.
OUR GUIDE
Our guide was Mrs Sofia Gustafsson and our transportation was arranged by Taksikuljetus Oy. The company she works for is called Helsinki Expert (they are on Facebook too.)
Both Sofia and the driver were very nice and the first thing I learned was that Finnish is one of the world's most difficult languages. It's similar to Hungarian and Estonian and it's only spoken by 20 million people worldwide.
RANDOM THINGS I LEARNED
-The second thing I learned was that coffee, not vodka, is the main drink in Helsinki. Most Finns drink five cups a day. They like a light roast.
-They use the euro in Finland.
–Helsinki is seven hours ahead of New York.
-Just like any other major city, they have a variety of different cuisines available.
-In 1952, Helsinki hosted the summer Olympics, not the winter games like I would have guessed.
-They take drunk driving very seriously and they have a lot of police checks on weekends. Even our bus driver had to do a blow test.
WASHING CARPETS
The coolest thing I saw was a family washing carpets down by the water. I thought it was odd until Sofia told us that the washing of the carpets is an old Finnish tradition. Once a year in the summer, families spend the day down by the river washing carpets by hand – even though they have laundry facilities at home and they clean them in the winter. But down here, they scrub them, machine-wring them dry and leave them out for two days usually. No one steals them. One reason they do this is so that kids can spend the whole day with their mothers and it's an opportunity for older folks to get together and gossip. It's a social tradition and the city even has the facilities all set up for them.
SENATE SQUARE AND LUTHERAN CATHEDRAL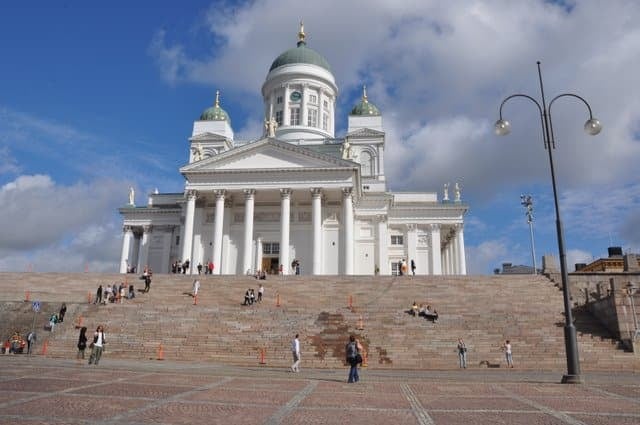 Our first stop was to Senate Square. It's a large, outdoor square that's a symbol of Helsinki's history and presents an interesting juxtaposition of religion, politics and education. The highlight of the square is the impressive and imposing Lutheran Cathedral. It was completed in 1852 and is situated atop a magnificent staircase. The Lutheran Cathedral is designed in the neo-classical architectural style and is a major tourist destination; each year, over 350,000 people visit the church. On the eastern side of the square you'll find The Palace of the Council of State, which was built in 1822 and on the opposite side is the University of Helsinki, which was built in 1832. In the center of the square is a statue of Emperor Alexander II, a reminder of Finland's past association with Russia.
TEMPPELIAUKIO CHURCH
Our next stop was just a short drive to Temppeliaukio Church, also known as The Church of the Rock. It's built entirely of solid rock and was completed in 1969. Surrounded by glass panels, the church is flooded with natural light and has amazing acoustics; it's a popular venue for concerts.
SIBELIUS PARK AND MONUMENT
Our last stop on the tour was The Sibelius Park and Monument, which was created to pay tribute to the life and work of Jean Sibelius. Don't feel too bad — I had no idea who he was either! But I learned that he was a famous Finnish composer (1865-1957). The park is full of birch trees, oversized rocks and benches but the main attraction here is an abstract sculpture resembling organ pipes created by Eila Hiltunen in honor of Sibelius. There's also a disembodied sculpture of the composer's head in cast stainless steel, which sits not far away. The organ was unveiled in 1967 and the monument weighs 24 tons and is a point of pride for many Finns. But interestingly, while we were there, an English man who moved to Finland 20 years ago and his two cute dogs were garnering more attention than the statue itself. Read this article for a better understanding of Helsinki.
CITY HALL
After our tour we asked to be dropped off in the center of town so we could visit the market. We learned that the best place to use a public restroom in Helsinki is in City Hall near Market Square.
Right near the main port (not where our ship docked) is Market Square. It's full of Finnish vendors selling fresh fruits and vegetables, fish, arts and crafts and souvenirs of all types each day. All the vendors were friendly and most were young beautiful Finnish women. I bought some snap peas, cherries, berries and sampled the best tasting donut I've ever had. There are also stands selling hot food. Although I don't like fish, the salmon looked good. After I took a picture of this girl who was selling fried minnows, she made me try one – I did and it was nasty. But I did try one of Helsinki's local delicacies – moose sausage (8 euro) with vegetable and potatoes.
Like in all of the ports, Seabourn had a free shuttle going back and forth to the boat, usually every thirty minutes or so. To get to the shuttle stop, we walked along one of Helsinki's two famous streets that run parallel to a park. We walked up Pohjoisesplanadi norra Esplanaden. There were numerous street performers, outdoor cafes and high-end shops. Natalie's favorite were Iittala, where she purchased a cup from their iconic line of ceramics and Marimekko, a famous Helsinki-based shop known for its bold patterns in both fashion and home decor.
GOOD TO KNOW: While researching this article, I learned that Helsinki's neoclassical buildings were used often as backdrops for a few Hollywood movies depicting the Soviet Union when filming in the USSR was not possible. The most notable ones were The Kremlin Letter (1970), Reds (1981) and Gorky Park (1983).
Web Resources:
Note: This trip was sponsored in part by Seabourn.