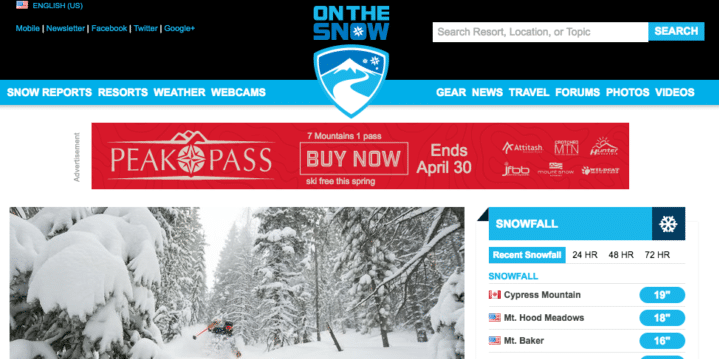 I know the ski season is almost over, and I probably should've featured this a few months ago—but better late than never! And anyway, spring skiing (which is coming up in a couple of weeks) is most skiers' favorite time to ski. I know it's mine. I hate skiing in bitterly cold conditions, don't you?
OnTheSnow is a website that all snow lovers should bookmark as it not only gives you your mountain/resort's important info—like how many trails/lifts are open—but also details the snowfall by day and will even let you see historical data dating back to 2009. That's handy if you're trying to plan a trip for next year.
OnTheSnow also features live webcams and snow reports from the United States, Canada, Europe, South America, Australia, and New Zealand, so it's perfect for travelers.
What's your favorite website to learn about ski conditions?
Here's where they cover:
UNITED STATES
Rocky Mountains
Colorado
Utah
Wyoming
Montana
Idaho
New Mexico
West
California
Lake Tahoe
Nevada
Oregon
Washington
Northeast
New York
Pennsylvania
Vermont
New Hampshire
Maine
Massachusetts
Midwest
Michigan
Minnesota
Wisconsin

CANADA
Alberta
British Columbia
Ontario
Quebec
SOUTHERN HEMISPHERE

South America
Australia
New Zealand
EUROPE
France
Austria
Italy
Switzerland