This post contains references to products from one or more of our advertisers. We may receive compensation when you click on links to those products. For an explanation of our Advertising Disclosure, visit this page.
If you've been putting off that summer cleaning, perhaps you shouldn't postpone it much longer. There's actually cash and perks lurking in those cluttered desk drawers and purse or briefcase pockets. We're talking about gift cards – you know, the ones you forgot about or partially used before tossing them into the drawer. Or maybe you received them as a gift, but never had any intention of shopping at that outlet in the first place.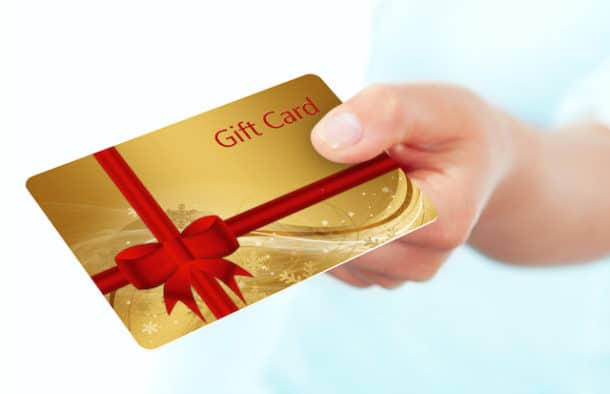 As it turns out, there is plenty of value to be had even from an unwanted or partially used leftover gift card. Retailers make big money on gift cards because they count on a certain percentage going unused. This is called breakage and is what makes the gift card market such a profitable one for them.
What to do with a leftover gift card?
Follow these suggestions to squeeze value out of the leftover gift card you may not have ever wanted. Don't forget to read the fine print because many cards may have an expiration policy where a certain percentage of value is deducted each month for lack of use.
Trade them
There are several online sites that allow you to exchange value between cards, like Cardpool.com and CardCash.com. These allow you to swap cards with other people or retailers while the site takes a small percentage off the balance. So the trade is not exactly dollar for dollar (it usually tops out at around 95% of the original value, but can be a lot less), it still might be a reasonable choice if you weren't planning to use the card at the original retailer.
If you're more of a social butterfly, use sites like Craigslist or social media to see if people are willing to trade cards dollar for dollar. This may be more of a hassle and there is little enforcement if people choose to take the risk to do it on their own in exchange for a better trade-off.
Sell them
Many people sell unwanted gift cards on sites like eBay, which can be a reliable way to scrounge back at least some of the value that you would have otherwise lost if you didn't use it.
Transfer them
Hotels.com has a unique program that allows you to transfer gift cards of any value to credit that can be spent for hotel stays. For example, you can use that Sunglass Hut card in your wallet that only has a $10 balance on it for a $5.55 discount off your next hotel.
The best value from these cards will always be from using them at the intended retailer. But if you don't want to use it there, transferring them to hotels.com is a great option. They don't transfer penny for penny and different cards have different transfer ratios. If you have lots of partially used cards, this can add up to nice savings.
Donate them
You can actually donate any remaining balance on gift cards to charity. We can all agree that is a wise way to make use of cash that might otherwise go unspent. Cardfunder.org is one of the sites that allows you to transfer the value to nonprofit organizations.
Cash your leftover gift card
If you have a merchant retailer card (as opposed to a Visa gift card, for example) with a small amount left on it, many retailers will actually cash it out for you (some state laws require it). Among the most generous are California (where you can cash anything less than $10) and Colorado (where you can cash anything less than $5). Not all retailers will or know how to do this but it never hurts to ask.