Kong Reigns at Skull Island
The latest addition to Islands of Adventure in Orlando, Florida, is also the longest ride at the park. Skull Island: The Reign of Kong takes you into a 1930s expedition inside an island where Kong is king. Alongside the famous ape, you will experience prehistoric beasts, a larger-than-life Kong himself, and a queue that will scare the willies out of you! If you are really daring, take the tour twice, once during the day, and again at night.
Kong is massive, he is colossal, but what really frightened me was the skeleton-strewn queue. Before you even reach the ride vehicle, you will have to confront a doom-spelling witch—and when you think it can't get worse, believe me, it will.
You will have to walk through dungeons to reach your ride vehicle, and Halloween Horror Night-style actors will jump out of nowhere.
Having recovered sufficiently from all the fright, I can only say that you should go see it for yourself. It is amazing. Kong rules, and Skull Island is his home!
Sapphire Falls Resort conveys Caribbean island charm
After so much excitement, it was time for me to check into my island home for the next two days. If you're looking for a Caribbean island vibe in Orlando, then Sapphire Falls Resort won't disappoint. From the landscaping of the grounds to the room décor and the 16,000-square-foot pool, everything at the resort conveys island charm.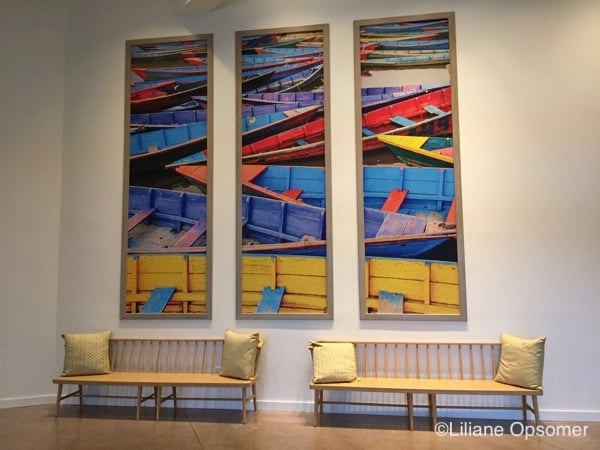 Sapphire Falls Resort is the fifth Loews on-site hotel and the second resort aimed at the moderate market. The resort offers 1,000 rooms, including 36 kid suites and 15 hospitality suites. A stay at Sapphire Falls Resort comes with all the amenities of the Universal upscale resorts, with the exception of complimentary Express Passes. All rooms have a 49-inch flat-panel HDTV, a mini-fridge, a safe, an iron with ironing board, and a Cuisinart single-coffee-pod brewer.
There are plenty of electrical outlets with dual-integrated USB charging ports and iHome clock radios with built-in docks on the nightstand. Being able to charge a multitude of gadgets is a big plus. And yes, there is free Wi-Fi for up to four devices per room.
Pets are permitted, but it will cost you $50 per night (maximum of $150 for stays of more than three nights). And parking will cost you too! Overnight self-parking is $20 and valet parking is $27 per night. While I totally get charging a fee for valet parking, I don't think I should have to pay for parking my car when I stay at a hotel. Day guests may have their parking tickets validated at hotel restaurants and pay just $5 for valet parking (or park themselves for free). Complimentary package delivery is available, and you can link your room key for resort-wide charging privileges.
I absolutely loved the décor of the rooms. The colors exude the style of the Caribbean without ever making you feel that you'll encounter a pink flamingo around the corner. Everything in the room fits the theme, from the artwork on the walls to the door signs, bedspread, cushions, and even the garbage can.
The bathroom is spacious. The shower with a bench is most welcome, and I was glad to have a makeup mirror and a hair dryer with sufficient power to get me ready in a flash. A word about the bathroom door: While I have no problem with top-hung sliding doors, I admit that some guests would prefer doors that shut tight and can be locked.
The 16,000-square-foot, zero-entry main pool features white-sand beaches, a fire pit, cabanas for rent, a hot tub, a waterslide, and a children's play area. The resort's fitness room includes a sauna and hot tub. I loved the fact that one can cross the pool smack in the middle, wading in an inch of water to reach the Drhum Club Kantine pool bar and the pool bar's fire pit.
The menu at Drhum Club Kantine is Caribbean-inspired, and I recommend the Mahi Mahi Fish Taco, served with avocado, cilantro slaw, pickled onion, and chipotle crema ($15). But what really impressed me were the quality and prices of the drinks. My favorite was the "Top of the Palm" margarita. All signature drinks are served in a 15-oz. souvenir glass for $15, with refills available for $10. To quench the big thirst, go for the 45-oz. super-size bowl at $35 (refills are $30). The best part is that you can use either souvenir glass at any of the Universal resort pools and obtain your drinks at the refill price.
Another great perk is that with a stay at Sapphire Falls, guests can enjoy all pools at any of the Universal Orlando resort hotels. If you want to float in a lazy river, head over to the Cabana Bay Beach Resort. At Portofino Bay Hotel, the Villa and Hillside Pools complement the main Beach Pool. The 12,000-square-foot pool of the Hard Rock Hotel is equipped with an underwater sound system, so you can rock on while enjoying the water and the sunshine. The "South Seas" theme of the Royal Pacific Resort is also reflected at its zero-entry pool, where lush tropical vegetation invites you to set your watch to island time.
But let's return to Sapphire Falls and explore the dining options at the resort. The New Dutch Trading Co., an island-inspired grab-and-go marketplace that has a selection of ready-to-go meals, sandwiches, soups, beverages, and packaged snacks. The quick service is perfect when you have no time for a sit-down meal. Portions are generous and prices reasonable. There is not a lot of seating available, so you may be better offer eating in your room or in the lobby. What I really liked is that the theming was maintained. The New Dutch Trading Co. offered items such as Dutch Goudkuipje cheese and De Ruiter's Speculaas cookies. From the Coke Freestyle machine you can obtain free water. If you prefer fruit-flavored water, look for it in the lobby.
Amatista Cookhouse offers table-service Caribbean dining with an open kitchen and waterfront views. The buffet breakfast (at $21.99, plus tax, for adults and $11.99 for kids) was quite impressive.
Strong Water Tavern: a perfect place to relax
An absolute must is a visit to Strong Water Tavern. Located in the lobby of Sapphire Falls Resort, the tavern offers a unique dining and drinking experience. Rum aficionados will enjoy the rum tastings (starting at $18), serving three different rums from the same region. You can enjoy 75 different brands of rum and a variety of rum-infused cocktails at your table or at the tasting counter (Rum Lab). No matter how you want to enjoy your drinks, the Rum Captain will make sure your visit to this special watering hole is memorable.
In lieu of dinner, I enjoyed tapas-style appetizers. The "Jamaican Curry Goat" dish with Scotch bonnet, curry, potatoes, and thyme was delicious and very filling.
The "Puerto Rican Crab Salad" with cilantro and plantain chips was delightful.
And the vegetarian version of the Seafood Tostada my guest requested from the chef did put to rest any concern vegetarians could have. It was tasty and very well-presented.
Outdoor seating on a terrace overlooking the water taxi dock is also available, and it's nice on a beautiful summer day, but the tavern is so enjoyable that I recommend you do spend some time inside.
If you want to kick back and relax, Sapphire Falls certainly delivers. The service I experienced throughout my stay was perfect, and boat service (from and to the parks) was very convenient.
Wrapping up
I enjoyed my two-night stay at Sapphire Falls, and I will be back. The resort immerses guests in the theme of the hotel in a subtle way, and that's what I like most about it. I think that having a seamless experience from the moment you arrive at your hotel of choice is very important. I can't wait to see what Loews and Universal come up with next. A Harry Potter-inspired resort, anyone?
---
For more on Sapphire Falls Resort, check out the website here. A stay at Sapphire Falls starts at $179, plus tax, per night. Want to know all about the rides and shows at Universal Orlando? Start planning your visit with The Unofficial Guide to Universal Orlando by Seth Kubersky.