This post contains references to products from one or more of our advertisers. We may receive compensation when you click on links to those products. For an explanation of our Advertising Disclosure, visit this page.
Free credit score sites have become a popular hit for aspiring borrowers and those who always wonder what their credit score actually is. A few years ago, the only way to access your score was to pay a small fee or apply for financing and wait for the loan officer to share your score. Today, there are several ways to access your free credit score, but this score might not be the same score as your lender sees.
What is a Free Credit Score?
Maybe you've used free credit score sites like Credit Karma or Credit Sesame in the past to get your credit score. While these scores are very accurate, credit scores are more complex than you realize.
Free Credit Scores are a VantageScore
Your free credit score is most likely a VantageScore, not a FICO Score. When a bank or lender says they are going to pull your credit score, they mean your FICO Score, which is the "gold standard" of credit scores.
Discover and a few local banks provide free FICO scores, but this is the exception to the rule. Even if you can't access your FICO score for free, don't worry. The scoring metrics are similar enough that a VantageScore gives you a good idea of what type of credit you have.
You Have More Than 28 Different Credit Scores
Most people don't realize there are more than 28 different versions of a FICO score. Credit score sites use a general score like the FICO 8 or VantageScore 3.0 which looks at your overall credit profile. But if you apply for a car loan or home loan, the lender will use an industry-specific version that puts more emphasis on your past history for the type of loan you're applying for.
If you want a car loan, the auto lender is going to place more emphasis on your previous auto loan history instead of your student loans, home loan, or credit card payments. Every version of the score can access the same information on your credit report. However, they weight the categories differently.
Free credit score sites keep it simple. You only see one score version which is perfect if you only want to see your score for free before you apply.
There Are Three Different Credit Bureaus
Whether you get a FICO Score or VantageScore, your score can still be slightly different even for the same credit score version. Each credit bureau reports different information.
This is because your lender or credit card company might only report your payment activity to only one or two of the following credit bureaus instead of all three:
Equifax
Experian
TransUnion
Your VantageScore 3.0 might be 819 with one and 816 with another because a recent hard inquiry or account payment wasn't reported yet.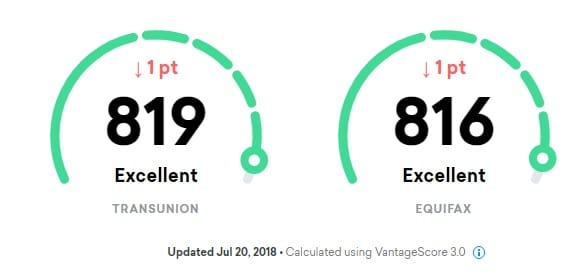 While a difference of a few points isn't anything to worry about, it might be a different story when there's a 20 or 30-point difference. This is usually a classic sign of a reporting error that you need to file a credit dispute to correct the discrepancy.
When a lender pulls your credit report, they usually retrieve your score from two credit bureaus to make sure they don't overlook any important information.
Should You Use Free Credit Score Sites?
Since the VantageScore 3.0 isn't the real deal, should you use free credit score sites? Unless you want complete peace of mind, the answer is a resounding "Yes" for most people. To pay to access your FICO Score, visit myFico, the official site of the Fair Isaac Corporation that invented the FICO Score.
The scoring models for the VantageScore and FICO Scores are very similar and range between 300 and 850 for most score versions. With either the FICO or VantageScore, you need a credit of at least 650 to have the best approval odds for an unsecured credit card.
Free credit score sites share several similarities:
See your credit score for free
View basic parts of your credit report
Check approval odds for credit cards
Receive free credit monitoring alerts for suspicious activity
Each free credit site offers a slightly different suite of services, but you can usually see a complete version of your credit report for free once a year (required by Federal law). You can also see basic credit report history like the number of active accounts, the number of hard credit inquiries, credit utilization ratio, and account payment history.
You might not be able to see if your personal bankruptcy, judgments, or collections history are still on your report. However, this depends on the site. Credit Karma is the most extensive free credit report site.
Advantages of Free Credit Score Sites
In the past, you could only access your credit report for free once a year, but you had to pay extra to see your exact credit score.
While you won't see the precise score that the bank sees, you still have a very accurate idea of what your score will be. If you believe your approval odds are "50-50" after getting your free score, it might be better to wait a few months before applying to save a wasted application.
You should use your free credit score for the following purposes:
Track number of credit inquiries
Determine your approval odds
Learn where you can improve credit score
Free credit sites also offer a few other complimentary perks. For example, you might be able to file your taxes for free or get free identity theft protection. You can also read user reviews on credit cards and their experiences obtaining them.
Disadvantages of Free Credit Score Sites
Many people will be perfectly happy with a free credit score site. You may decide to pay for your credit score for these reasons:
Complete peace of mind
Want daily access to the most widely used credit score
Need additional premium benefits that free sites don't offer
Are a recent identity theft victim and need additional monitoring tools
Bottom Line: Are Free Credit Score Sites Reliable?
Most people use free credit score sites to get a rough idea of what their credit score is to determine their approval odds for new credit cards and loans. If your only free option is the VantageScore, you won't know your exact credit score. But, you at least have a firm idea of what to expect when you submit an application. For more information, see this study of the best place to get a credit score.