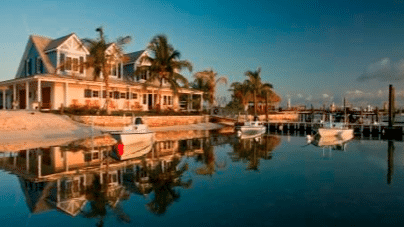 Upon my arrival at Deep Water Cay, the legendary Bahamas fishing resort, I was amazed at how a place so magnificent in natural splendor and tranquility could be so incredibly accessible. Located about 300-feet east of Grand Bahama Island, this two-mile long private island has a paved runway that can handle all but the largest private aircraft.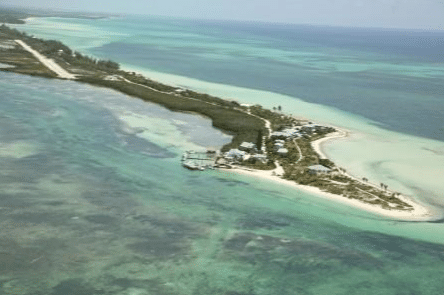 There are no cars on the island, only golf carts, bicycles and of course boats of all types for it is the world-class flats fishing that brought the avid anglers AJ McClane and Gil Drake here as founders in 1958. Over the years the place has evolved to an intimate and luxurious collection of private homes, lodges and guest quarters in close proximity to the marina, pool and tennis court.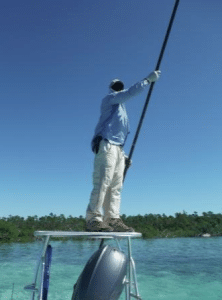 I was looking forward to catching my first bonefish, an elusive and finicky sportfish that lives on the hundreds of square miles of sandy shallow flats rich with the turtle grass that provides cover for the nearly transparent "silver ghosts." I headed out in the morning in one of the spanking-new custom skiffs with my attentive and extremely knowledgeable guide Howard. We skimmed at high speed through narrow channels surrounded by glittering green mangrove islands over water amazingly clear and calm.
Upon reaching a blissful spot literally in the middle of nowhere, Howard turned the engine off and began silently poling the boat over the bright turquoise shallows. In an excited whisper I heard his casting instructions: "One o'clock, 30 feet heading toward" and I cast my bait, so excited that I completely missed and spooked the fish that rocketed off in an instant. OK, got to keep calm and throw more accurate casts if I'm ever going to have a chance of getting a bite.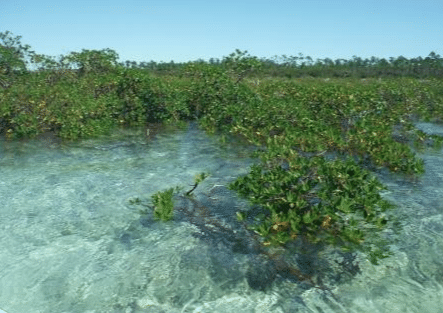 As Howard continued poling the boat around the flats, the absolute Eden I was engulfed in calmed me, and my casting became more accurate. Suddenly my rod bent over and the reel began screaming off line. Fish on!
Harold instructed me on when to reel and when to let him run, and on light tackle it felt like a monster—but when landed and released he was only a bit over seven pounds. Not bad, but not a double-digit that would have been considered a big guy. But no matter, as I was thrilled to have experienced the excitement and satisfaction of my first bonefish.
I'm grateful for Howard's attentive and skillful efforts that I was soon to learn are qualities manifested in the entire staff of Deep Water Cay. They are all cordial and welcoming, and have a wide range of talents beyond their main assignments. It's great to spend time with these fun-loving native Bahamians as they never cease trying to please you and share their talents, skills and knowledge.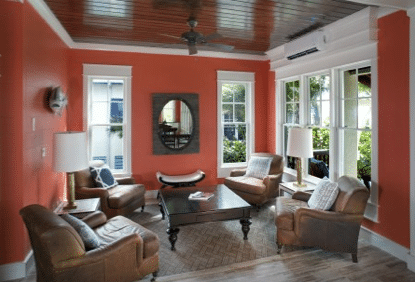 The resort
I stayed at a house called Gumbo Limbo, right on the beach with magnificent sunsets and next door to the pool and its infinity edge blending the pool water into miles of crystal ocean expanse. Nothing louder than a bird's chirp interrupts the calmness of this heavenly island.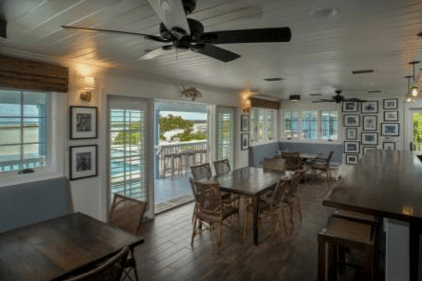 Each evening the guests gather at the poolside Blue Hole bar for cocktails and hors d'oeurves and watch the sun set into the sea before dinner in the main lodge. There's a natural camaraderie among the guests, anglers or not, who come from a variety of places but share the appreciation for relaxing in this very special secluded paradise.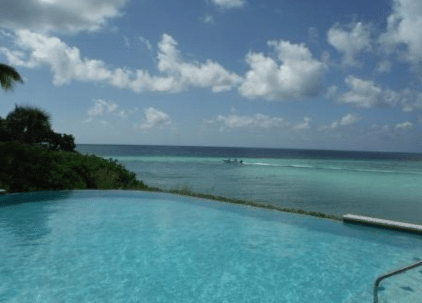 Dinner is an intimate gathering with lots of banter about the day's fishing and the ambience is comfortably laid back. The cuisine is outstanding, with seafood such as snapper, conch, mahi-mahi, and Caribbean lobster caught a few hours before. In addition to fishing, there are Hobie cats to sail, kayaks for exploring the backwaters, tennis courts, and a variety of spots for spectacular scuba diving and snorkeling.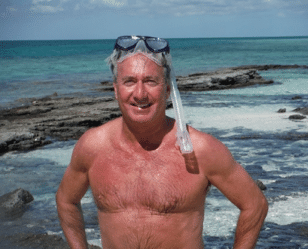 I'm an avid snorkeler and I thoroughly enjoyed my outing. The pristine reefs were full of colorful anemone and fish of all kinds including large rays and a lone barracuda (more afraid of me than I of he, I repeated to myself). Not to be outdone by the fauna, the range of plant life and corals on the reef is equally diverse and beautiful. The best part of snorkeling here was the rather swift current which enabled me to cover many miles of ground by just floating along and letting the flow take me on an effortless random excursion.
My three days at this magnificent oasis were magical, and I give it my highest recommendation as a destination that you'll find relaxing and inspiring, with the perfect balance of intimacy and all you could possible need to enjoy an idyllic getaway.
Rates
Base rates for (room only) one-bedroom cottages are $315 per person per night based on double occupancy and $454 for single occupancy. Private homes are available starting at $1,450 per night for a two-bedroom/two bath oceanfront home. Blue Water Adventure Packages are available for 3 nights/2 days using a cottage are $2,369 per person based on double occupancy and $3,480 single occupancy and include choice of daily activities: flats fishing, reef fishing, diving, drift snorkeling or beach excursions and all meals.