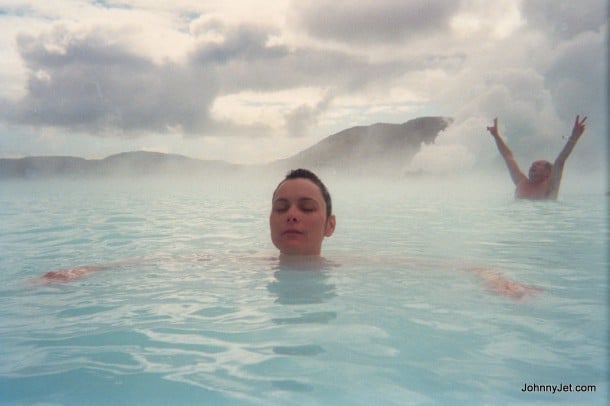 I'm so sick of hearing my friends excuses for not having enough money to travel, and then seeing them get $5 coffee drinks every single day! I do the math in my head: $5 times 30 (days) equals $150 and $150 x 12 (months) is (okay, I need a calculator for this one) $1,800. Now why don't you do your belly and your pocket a favor and put that money into a travel fund—because $1,800 is more than a really good start for a vacation. And if there are two of you saving $5 a day, then you're really rolling. Unless poor health is an issue, there's really no reason why you can't travel and go to those places you've always dreamed about this summer (or next). It just takes planning, saving and some helpful tips to help you score the best travel deals out there!
As I tell my friends, I'm not rich—I'm just creative. Here are eight ways to make summer 2014 your season to travel:
1. Sign up to newsletters
One of the best ways to avoid spending a lot of money on airfare is to sign up to travel deal newsletters. My favorites are: Airfarewatchdog, TheFlightDeal and all the airlines' own newsletters (here's a list). I also offer a free one at JohnnyJet.com.

2. Use Twitter and Facebook
If you haven't already done so, create a Facebook and Twitter account. Sign-up for each takes about two minutes and you don't have to put any of your personal information out there. Your goal, from a travel perspective, is to follow all the airlines, hotels, cruise companies, car rental companies and travel experts that you're interested in because sometimes they offer Twitter- or Facebook-exclusive deals—plus news often goes out first through these outlets. Don't know where to start? Here's a master list.
3. Monitor FlyerTalk & Milepoint
Do you read about all those airline mistake fares, where people are flying across the country for under $50 or to Europe for $100? The way to find out when these mistake fares happen is by signing up to the newsletters above, and by monitoring two frequent flier forums: FlyerTalk.com and Milepoint. This is where most of the bloggers get the scoop on a mistake fare (after they secure flights for themselves, they share a post on the fare). By that time (mistake fares never last long) you won't have much time before the airlines drop the hatchet, so monitor these sites yourself, and often.
4. Sign up to multiple credit cards
If you can pay off your credit card bill each month, then you could be signing up to a number of credit cards that offer larger sign-up bonuses. Don't do it all at once—wait at least four months between cards. Then, charge all of your everyday purchases so you earn miles/points on it all. Here are a few of the top travel credit cards.
5. Consider cruising
If you're among the 80% of Americans who have never cruised, then you should seriously consider it. I used to be skeptical too…until I went on my first cruise and realized what a great bargain it is. You just have to stay away from the booze and the casino. The cruise industry has so much inventory that they are constantly offering incredible deals (especially in the off-season)—like a weeklong Caribbean cruise incl. St. Thomas from just $269. Note: By the time you read this, this particular deal will likely be gone but there will be many others like it. Just click this link and keep refreshing to see all the current deals. You can also try CruiseCritic.com's deals. Tip: If you're really skeptical about cruising, go on a long weekend cruise, just to see if you like it or not. If you do, then it's time to book a longer one!
6. Use Priceline or HotelTonight
When I shop around for hotels/car rentals, I don't think there's anything better than Priceline's Name Your Own Price tool. You just have to keep in mind that you can't cancel and you won't earn loyalty points. Before I make a blind bid I log on to BiddingForTravel.com to see what other people's luck was with their own bids. This site shows how much people paid for travel on which dates, and it gives you a pretty good idea which hotel you'll end up with if you do place a bid. Good to know: There is a secret way to bid on a luxury hotel, which is to add a different location as well as the one you want. The secret is to make sure that location doesn't have any 4 or 5 star hotels to offer—that way, you get a free bid! For very last minute (after 9am of the same day) use the app (not website) HotelTonight.
7. Rent a house
If you're traveling as a family or in a large group, I say skip the hotel altogether and rent a house or an apartment. Not only will you be able to house everyone under the same roof, but you'll also save on dining since there will (often) be a fully stocked kitchen and get to live like a local, since you'll most likely be away from the touristy section of big cities. For example, I was in Orlando once for a conference and I thought I had a good deal at the Dolphin hotel for $140 a night that I got on Priceline. I was kind of bragging to a colleague about my score and then he made me feel like a rookie when he told me that his whole office rented a house from Homeaway.com for $450 for the week. They had four bedrooms, a pool, BBQ, free parking and Wi-Fi. Another hugely popular site is airbnb, which I used a couple summers ago in London. I rented an apartment just before the Olympics when all the hotels were crazy expensive. I found a one-bedroom for $318 a night, but there were some options in the city (sleeping on someone's couch) for just $15. $15! It's a great option, but make sure to read this before you rent: A Warning for Hosts of Airbnb Travelers – The New York Times.
8. Couchsurf
If you don't want to spend any money for lodging, there's also the option of sleeping on people's couches for free using CouchSurfing.com, or swapping your home with someone else's by using HomeExchange.com.
No matter what method you choose, you can see there are plenty of ways to find deals. This is just the beginning, and when you put some time into budgeting (like buying less coffee, for example), you'll be surprised how easy it can be. Yes, it does take a bit of time and work but the payoff is well worth it. There's really no financial excuse why you can't make summer 2014 your season of travel.
Where do you want to go this summer? Let me know—and share your own saving tips—in the comments below!
"Please note that JohnnyJet.com has financial relationships with some of the merchants mentioned here. JohnnyJet.com may be compensated if consumers choose to utilize the links located throughout the content on this site and generate sales for the said merchant."