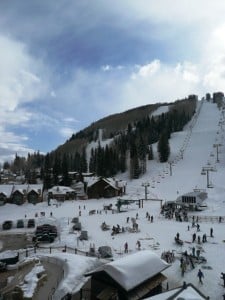 Durango was my final stopover on my dazzling visit to Southwest Colorado. My previous visit was to the icy winter wonderland of Ouray, Colorado an hour north. Leaving Ouray, we headed down the picturesque Million Dollar Highway to Silverton, then on the San Juan Skyway to Durango, a much bigger college town.
I was impressed with the historic buildings in the town, and so is The National Trust for Historic Preservation that named Durango one of twelve distinctive destinations in the country. I particularly loved the Strater Hotel. The Strater Hotel is a Wild West Hotel, straight out of the movies. It is large, (93 rooms) and reminded me of many Westerns set in the 1800's (There were six filmed in Durango). Walking in the grand lobby, I could just imagine gorgeous girls dressed in red dance hall costumes to match the velvet wallpaper in the lobby, and macho men walking around with cowboy hats and pistols strung low on their hips! I stayed at the tranquil, also historic, Rochester Hotel, a bed and breakfast with rooms themed after Western Movies. My room had a king bed with wedding chain quilt, wood floors, high ceiling, and a large bathroom. Renovated in 1994, the Rochester is superbly decorated and maintained. My quiet room was right under the stairs on the first floor. Breakfasts are delicious with a hot meal, an array of fruits, home baked goods, yogurt, and cereal. Every afternoon there is a selection of homemade cookies and hot chocolate. Also, if you can't leave home without your pooch, there are over 17 hotels, motels or inns in Durango that allow dogs!
A half an hour from downtown Durango is the Durango Mountain Resort – a family ski resort formerly known as Purgatory. The mountain is large with 1360 skiable acres and the summit elevation is almost 11,000 feet. The lift tickets were only $67.00. I rented performance skis and boots for $ 36.00. I was pleasantly surprised at the prices of lift tickets and rentals after being in Telluride and the skis were just as good. The mountain is not as striking (as Telluride), and there were more snowboarders, but it has lots of great skiing and is a good value. Purgy's Bar is a fun place to have apres ski drinks. Purgatory Lodge, right on the mountain, is a luxury, affordable family lodge with fabulous views of the mountain. The oxygen bar at Durango Mountain Resort was an enjoyable attraction after skiing. Colorful, flavored oxygen is $1 per minute and you can even get a chair massage. The extra oxygen is addictive!
Steamworks Brew Pub and Micro Brewery in Downtown Durango is a required visit. The beer is made on premises and there are many different styles to choose from. The atmosphere is casual and the cuisine, as well as the beer, is sure to please. I loved the sampler featuring six different brews. I discovered my favorite was Elephant Rider, an unfiltered IPA.
On our last evening we had a special wine-paired dinner at Cosmopolitan Restaurant with the Colorado Wine director, Doug Caskey and vintner John Sutcliffe from Sutcliffe Vineyards . I had never had a Colorado wine and I wondered why after my first taste. The low yield and perfect conditions make better-quality wines. My preferred wine was the 2009 Sutcliffe Rose. We enjoyed a smattering of small courses like pan seared scallops with pear chutney paired with Sauvignon Blanc, pork belly with kimchee matched with Chardonnay and succulent kabocha squash gnocchi with a deep red 2009 Cinsaut. The restaurant is so chic; it could have been in LA. Durango has a surprising amount of quality restaurants and actually matches San Francisco in amount of restaurants per capita.
To grab some local flavor we headed down the street to El Rancho Bar on Main Street, towards the other end of town and played pool 'til the wee hours of the morning on our last night in Colorado. The locals were young, of the cowboy variety and friendly!
If you are a train buff, you must check out the year round Durango & Silverton Narrow Gauge Railroad. The historic train has been running since 1882! This summer, I plan on coming back and trying it out.
Dog sledding was my last adventure in Colorado and an experience I will not forget in nearby Mancos. The dogs are either pure huskies or a combination of husky and all of the puppies from the same litters have names from a theme. There was Margarita, Burrito, Tecate and Taco. There was also Diesel and Turbo, to name a few. On my sled we had seven dogs that pulled Guide Joan, (a large animal veterinarian), fellow journalist, Hillary, and I. It was thrilling right from the start! When I was sitting and Joan and Hillary were standing behind me, I felt like a Russian Princess being chauffeured through the snow. I preferred standing even though it was challenging to keep both feet, snowboard style, on one sled runner. I enjoyed being actively involved and it felt like surfing. The ride uphill was slow and steady and gave me time to get used to it. On the way down the dogs sped up and we went FASTTTTTTTTTTTTTTT. It was fun and safe and I would do it again in a heartbeat! At the end we hung out with the tired but happy dogs, had hot chocolate and reminisced about the ride.
On the way to the small, clean and efficient Durango Airport, we stopped in historic downtown Durango to get take-out lunch from Nini's Taqueria for delicious Mexican food to eat in the airport.
Durango is a combination of many cultures-Spanish, Mexican, Cowboy and let's not forget the first settlers, Native Americans. Thankfully, the Ute's still have a presence here and we were treated to a special ceremony by Edward Box and Hummingbird Woman of the Southern Ute tribe. In June, the Southern Ute Cultural Center and museum will open to give tribute to their cultural heritage. Also, Mesa Verde National Park, with its ancestral cliff dwellings, is only 56 miles away.
There are hummer tours to the nearby ghost towns if you are here in the warmer weather, as well. My five night trip was complete, filled with exciting activities and history. With so much to do and so much natural beauty, I can't wait to return to Southwest Colorado!
WEB RESOURCES
NOTE: This trip was sponsored in part by Durango.