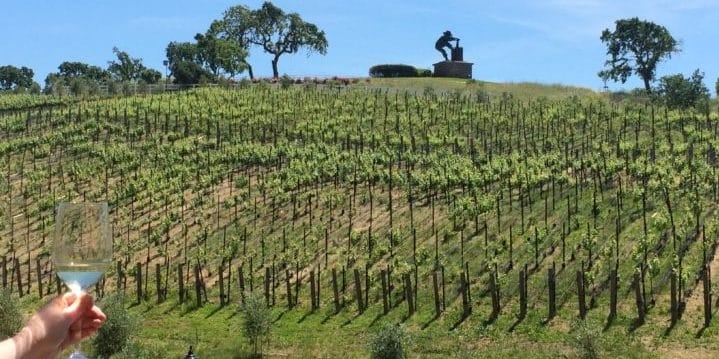 Napa has and will always be a destination for wine-lovers, foodies, adventure-seekers, shoppers, and those that appreciate art and gorgeous scenery. Every time I go back to the area, I discover something new. Most recently, I was thoroughly surprised by the bustling downtown Napa scene. Back in the day, there may have not been a reason to spend much time downtown, but now I believe you can't do a trip to wine country without it.
The area is just stunning year-round, the weather is great (especially compared to an east coast winter) and there's so, so, so much to do. It's easy to get to, whether you live within driving distance or are flying into SFO or STS (Sonoma County Airport).
In downtown Napa, there are new restaurants, shopping and tasting rooms popping up all over the place. It's a different experience each time I go back. And my favorite part is that it's walkable. You can find great hotels in the center of it all and that means not having to worry about a car, especially after having some lovely Napa cabs or chards in the tasting rooms. Here's some of the best of the best from downtown Napa:
Downtown Napa: Eat
1. The Restaurant at CIA Copia
The restaurant just opened at the beginning of the year and offers a unique dining experience with rotating dishes table-side and beverage trolleys that move through the dining room with wine and cocktail options. The restaurant joins other offerings already at the CIA Copia like daily cooking and beverage classes, wine tastings and a lifestyle store. Copia was first opened in 2001 with the backing of greats like Robert Mondavi and Julia Child. It's great to see the new offerings in the present day.
2. Bounty Hunter Wine Bar & Smokin' BBQ
Founded by Mark Pope in 1994, Bounty Hunter started with a mission to obtain highly sought-after releases from wineries and distillers from around the world. Today, it offers 400 wines by the bottle and 40 wines by the glass. It also happens to have some of the best BBQ I've tasted. I stop here every time I'm in Napa. The brisket is perfection and each BBQ sauce is unique. This place growing due to its popularity and slated to move into a larger building (does this mean even more of a selection of drinks!?). Check it out for a relaxed setting of BBQ and wine/spirits.
3. Crush Lounge at The Meritage Resort and Spa
Just outside of the walkable downtown area, the Meritage's Crush Lounge offers a fun, sporty setting with bowling, big screens, cocktails and inventive dishes. A great spot to unwind after a full day of wine tasting. Whether you stay at the hotel or not, it's worth a visit for the great food and the beautiful property.
 Tip: Don't forget to walk through the grapes on the hill for some amazing, scenic views!
4. Oxbow Public Market
Oxbow Public Market is a favorite go-to in downtown Napa with a range of pizzas, tacos, oysters, artisan cheeses and chocolates, coffee, cupcakes…and shopping at the local stores inside. It's a great spot to pick up beverages and food for a cute picnic, have happy hour drinks or spend an entire date night, from drinks to dessert.
5. Napa General Store
This could easily go under the "Drink" category (below), as well! Located right next to the Napa River and the Napa River Inn, the Napa General Store has interesting and surprising wine pairings. It's a great stop for brunch with a view of the river. At Napa General Store, I discovered Pope Winery and their sparkling Blanc de Blanc paired with a lovely flat bread with smoked salmon.
Downtown Napa: Drink
1. Cru @ the Annex
This was a favorite downtown Napa tasting room of mine. I loved the ambience with games, airy decor, succulents, and different popcorn (think lemon thyme, parmesan truffle and mocha caramel sea salt popcorn) to pair with each wine you try. Vineyard 29 is the label. Make sure to try their rose and cab.
2. Vintner's Collective
Built in 1875, this beautiful stone building is the oldest remaining building in Napa and was the first tasting room to open in downtown Napa. Vintner's Collective's many small-production labels make it easy to find wines that you soon won't be able to live without!
Tip: If you plan to visit a bunch of the tasting rooms, purchase the downtown Napa Wine Tasting Card for $15. It covers 12 tasting rooms and gets you tastings for half-off. It's good for the whole year and will save you tons.
3. Fieldwork Brewing Company
Just in case you thought Napa was all wine…don't forget the great beer. Fieldwork head brewer and co-founder Alex Tweet is well-known for creating the popular Grapefruit Sculpin IPA when he was at Ballast Point. Now, the Fieldwork taproom at Oxbow Public Market serves up a tasting experience of craft beers produced in Berkeley, California. The tap list and sample flights change frequently. The Storm Surge double IPA and the Hot Chocolate Mexican Stout were favorites! Be sure to read the little booklet, which is entertaining and tells you about the beer you are drinking.
4. Whetstone Wine Cellars
Owner and winemaker Jamey Whetstone purchased Whetstone Estate in 2011. The French-style chateau was originally built as part of Hedgeside Winery in 1885. After Jamey and his wife restored the historic building, the tasting room opened in 2013. You'll find a wonderful ambience at Whetstone with great wine and cheese, friendly people (the couple are wonderful and you'll find them sitting and chatting with people), and a beautiful historic environment.
Downtown Napa: Play
1. Blue Note Napa
The famous New York Greenwich Village jazz club experience is now available in other cities…and Napa's Blue Note—downstairs in the Napa Valley Opera House—is definitely worth a visit. Guests will find an intimate and bluesy experience right in the middle of this wine destination. Make sure to go for dinner, as it has gourmet farm-to-table cuisine prepared by French Laundry-trained chef Jessica Sedlacek.
2. Kayaking the Napa River
Your whole perspective of downtown Napa will change once you get on the river! In all the times I'd been here, I'd never thought about kayaking until this last visit. If you do it with a tour company like Enjoy Napa Valley, you'll get some fun history and lesser-known stories about the area with your own personal guide.
3. Napa ARTwalk
As you stroll through downtown Napa, you will notice art on the sidewalks. There are actually more than a dozen sculptures scattered about for you to enjoy as you walk, eat and drink your way through the town. The art changes every two years so there's always something new to see (except for the pieces a few local businesses have purchased in front of their buildings, which get to stay). Check out "The Bird" and "The Cha Cha." (I may have tried to learn "The Cha Cha" with the artwork as my guide– and it was a success.) What a cool way to enjoy art!
4. Jessel Miller's Studio
Jessel Miller's Studio is a fun art gallery just outside of the downtown area! When you pull up you'll notice wire sculptures, potted plants and a big porch. Just walking around outside was a treat. Inside the gallery you'll find work from new local and emerging artists, including of course from Jessel Miller (who does watercolors). In addition to artwork, you can shop for crafts, books, jewelry, and consignment items here.
Downtown Napa: Stay
1. Embassy Suites Napa Valley
What I love about the Embassy Suites Napa Valley is that it doesn't feel like a chain hotel. The suites are centered around a garden, fountains and lakes, leaving guests with a cozy Mediterranean feel. There are even swans in the lake! While set at the very edge of Napa, a mile from the center of town, it's still possible to walk or take a short Uber between the two. There's also a complimentary, yummy, made-to-order breakfast and a manger's reception with wine each evening. And the courtyard is beautiful! The Embassy Suites Napa Valley is a great option at a fraction of the price you'd pay for a downtown hotel.
2. Westin Versa Napa
The Westin is conveniently close to the Oxbow, the wine train and the main downtown area (just a short five-minute walk). Don't let the name Westin make you think it's like every other chain hotel. Of course, it has the heavenly bed and a great pool, but the Westin Versa Napa fits right in with the scenery. As a guest, you'll enjoy local wines during the complimentary wine hour. And don't miss a dinner at the elegant La Toque Restaurant.
Downtown Napa: Go!
It's crazy how much the downtown area has grown. From the food scene and boutique shopping, to numerous tasting rooms of world-class wines, adventure on the Napa River, historic buildings, art, and more, downtown Napa is a needed addition to every wine country trip.
---
For more information on downtown Napa and other great trip ideas and inspiration, check out donapa.com. 
Photos credited to Caitlin Martin.