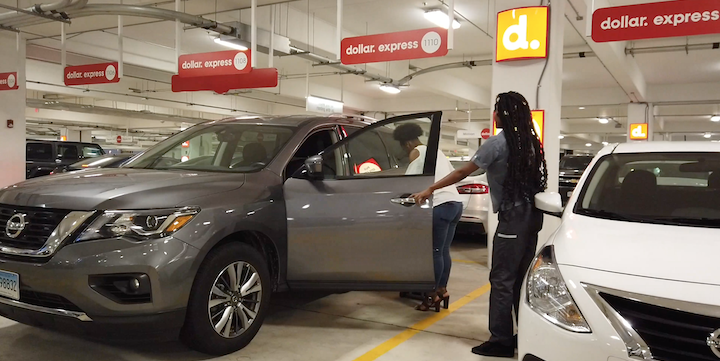 This is a sponsored post.
In the past few weeks, we've run a number of tips related to rental cars, many of which were supplied by readers (including this one). The fact is that the search for a cheaper/smoother rental process is near universal among travelers. Today's news out of Dollar Car Rental, therefore, is good news for everyone with a debit card, which is still the preferred form of payment among Americans per a LendEDU study.
Dollar is rolling out an updated, first-of-its-kind policy that among other things:
Lowers the renter age restriction on debit card rentals from 25 to 20
Requires only a debit card and driver's license for rentals booked more than 24 hours in advance (rentals booked less than 24 hours in advance will require two forms of identification and proof of return travel)
Eliminates credit checks
Reduces the incidental hold amount from $350 to up to $200 to match credit card rentals
Reduces proof of return travel and ID requirements
If you're between the ages of 20 and 24, the most immediate benefit is that you can now rent a car in the United States and Canada with Dollar using a debit card. Maybe more significant, however, is the fact that debit cards backed by Visa, Mastercard and Discover are now accepted at company-owned Dollar locations across the U.S. As you may already know, debit cards are inconsistently offered as a payment option in the North American rental car space. With some rental car companies, the policy even varies by rental location.
This is largely explained by the traditional view in the industry that credit cards, which offer the liquidity of the cardholder's line of credit, are safer than debit cards. (The rental company doesn't want to be left on the hook, for example, in the event of serious car damage.) Requiring a credit card can also act as an informal credit check on the driver. Understandable or not, the resulting inflexibility is a burden passed on to the renter, at least until now.
What has changed is the ways in which risk can be assessed in consumers looking to rent a car. Debit cards are imperfect measures of risk, Dollar has found, and it has decided to use a new cocktail of data and data measuring tools to assess risk instead. (Credit checks have even been eliminated entirely when you pay with a debit card.) According to Susan Jacobs, senior vice president and global brand leader at Dollar, via the New York Times, "improved data analysis suggested that the use of a debit card didn't necessarily correlate with higher risk and that restrictions on debit renters were overly strict."
These changes, and the full policy overhaul, are said to be in response to consumer demand, and since Dollar is a favorite among family travelers, it seems the company hopes to make booking a car rental simpler for families above all. Still, the policy applies to all future drivers, so all stand to benefit.
The full policy, to which the company will make continued improvements throughout 2019, is available at dollar.com. And if you rent from Dollar going forward, please share your experience in the comments!