This post contains references to products from one or more of our advertisers. We may receive compensation when you click on links to those products. For an explanation of our Advertising Disclosure, visit this page.
If you regularly read travel articles and blogs, you've likely encountered the numerous advantages of Chase travel cards. These cards boast an array of benefits, partnerships with major travel brands, and options tailored to various lifestyles and travel requirements. As a result, it's highly probable that you either possess or intend to apply for a Chase travel card.
However, it's easy to feel anxious when you don't get instantly approved for a new credit card, especially when there's an exciting limited-time credit card offer you're hoping to earn. If there is a specific card you have in mind, you'll want to get all of the details on what your odds are before you apply. Knowing about things like the unwritten Chase 5/24 rule (Chase won't approve your application if you opened five or more cards in the past 24 months) can help improve your chances. Additionally, being aware of your credit score can also help (here's where you can get your free credit score).
Fortunately, we can also help guide you if you aren't sure. If you have applied for a Chase card, here's how to check your Chase credit card application status.
Check Chase Credit Card Application Status Online
You may not get instant approval when you have questionable approval odds. Having to wait several days doesn't mean you can't check your Chase credit card application status for real-time updates.
Chase has some of the best travel credit cards. The quickest way to check your application status is by accessing your online Chase account.
Follow these steps to view your application status:
Go to Chase.com
Log into your Chase account
Click the drop-down menu in the top-left corner
Choose "Application Status" from the drop-down menu
After clicking the application status button, you can see your current application status. You might see additional steps you can take to continue the application process. For instance, you may need to call Chase to answer more questions or clarify certain details.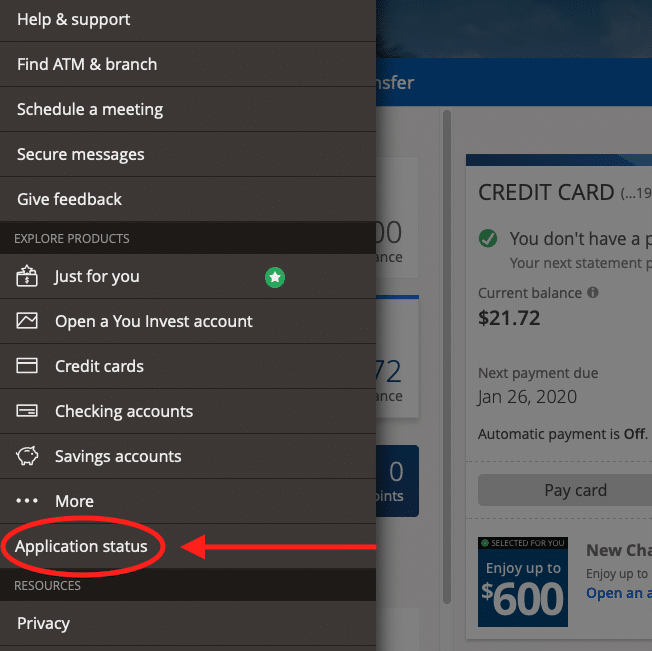 If the application status doesn't make sense, you can try sending a secure message to Chase customer service. Their response can provide a clearer picture of how soon you can receive an application decision.
Related Article: Best Chase Credit Cards
Call Chase to Check the Application Status
Another option is calling Chase and speaking with a real person. Sometimes, one or two managers will need to review your application. Calling can force the Chase review team to look at your application before others.
It's possible that you can receive an approval decision over the phone.
For instance, maybe your application is pending because you need to clarify your annual income, monthly expenses, or desired credit limit. As an applicant, you may not see why Chase decides to flag your application for further review unless you call.
Chase may provide a contact number when you submit your application to call if you have questions. If not, you can try calling one of these numbers:
Personal credit cards: 1-800-432-3117
Business credit cards: 1-888-269-8690
Related: Best Chase Business Credit Cards
Chase Reconsideration Line
Most denied Chase credit card applications come after receiving the message stating Chase will provide a final decision within 7-10 days.
If Chase denies your application, you can try calling their reconsideration line:
Personal credit cards: 1-888-338-2586
Business credit cards: 1-800-453-9719
You should call within 30 days of receiving your official notification of denial. Waiting too long means you will need to submit a new application. That means another hard credit pull that can count against you.
The notice should state a reason why your application didn't pass muster. If possible, have any clarifying information ready when you call.
Here are some of the possible reasons why you may need to call the reconsideration line.
Typographical Errors
An easy fix can be if there are spelling errors or reporting errors on your original application. Hopefully, Chase will attempt to contact you first to correct the error before issuing a rejection.
These errors may need a simple correction including:
Name
Street address
Annual income
Monthly expenses
Mortgage payment amount
Social Security Number
Two Applications in 30 Days
You can only apply for one Chase credit card every 30 days. If this is your second application in the last 30 days, that's probably why your application was rejected. After 30 days, you might try applying again.
Too Many New Credit Cards
Chase most likely won't reverse your denial if you have too many new credit card accounts. There's a restriction called the Chase 5/24 rule.
Simply put, if five or more credit cards in your wallet have been opened in the last 24 months, Chase declines your applications for most personal and small business credit cards. The accounts that count against you include cards where you're an authorized user too.
You can re-apply when you have 4 or fewer credit cards younger than 24 months.
You won't find anything about 5/24 on the Chase website. However, there are plenty of online testimonials from people with excellent credit but a wallet full of credit cards younger than 24 months. As you might guess, these testimonials have a common trend — a declined Chase credit card application.
If you fall prey to the 5/24 rule, your only options are to wait until you're below 5/24 to apply again. A second option is applying for one of the best rewards credit cards from another bank. Other banks have more lenient application rules.
Low Creditworthiness
Even if you can responsibly manage your new account, your current credit factors may disqualify you.
Possibilities can include:
Low credit score
High debt-to-income ratio
High credit utilization on your current credit cards
Recent chargeoff for another credit card
Most Chase credit cards require a minimum 670 credit score to have the best approval odds. However, it's best to have at least a 740 credit score if you want the Chase Sapphire Preferred® Card. The premium Chase Sapphire Reserve® requires an even higher credit score—an excellent credit score.
Both the Chase Sapphire Preferred and Chase Sapphire Reserve are some of the top Chase credit cards thanks to their numerous travel perks. It's possible to get approved with a good credit score for the Preferred, but your application may need further review. You may even need to call the reconsideration line to plead for a second chance.
If the reconsideration line doesn't work, your best alternative can be getting credit card pre-approval before you reapply for your desired Chase credit card.
High Credit Limits on Other Chase Credit Cards
If you own other Chase credit cards, your experience might be that your newer cards have lower initial credit limits than your first card. A single bank is only going to extend a certain amount of credit to each person depending on their current credit cards and annual income.
You may not qualify if your "available credit limit" is below the minimum initial limit. A prime example is the Chase Sapphire Reserve which has a minimum $10,000 starting limit. But if Chase is only willing to offer you up to $8,000 in new credit, you may not qualify for the Sapphire Reserve.
The easiest alternative can be choosing the Chase Sapphire Preferred which has a minimum $5,000 initial limit.
A second possibility can be seen if Chase can reduce your credit limit on an existing card to qualify for a new card. This trick isn't guaranteed to work, but it's a bargaining chip worth exploring if you really want a new card.
Summary of Checking Your Chase Application Status
The quickest way to check your Chase credit card application status can be by logging into your online Chase member account. However, a phone call also works and can be more effective if Chase requests further details.
FAQs
How do I check my Chase credit card application?
You can either check your Chase credit card application status online or by phone. To check your status online, head to Chase.com, log into your account, and click "Application Status." When calling Chase, call the appropriate number below to check your application status:
Personal credit cards: 1-800-432-3117
Business credit cards: 1-888-269-8690
How long does it take for Chase to approve a credit card application?
Chase approves most credit card applications instantly. As soon as you click submit, you should receive a decision within 60 seconds.
However, some applications require further review. If that's the case, you may receive a message stating one of these time estimates:
7-10 days
14 days
30 days
The most common waiting period is between 7 and 10 days. If Chase provides a reason for the delayed decision, you might be able to expedite the process by calling. Otherwise, you will need to wait up to 10 days.
What does it mean when your credit card application is under review?
Having a credit card application under review isn't uncommon. Your application details or credit report likely have information that requires manual review.
Here are some reasons why you don't get an instant decision:
Must verify your personal information or income
Recent credit inquiries
Spelling errors on the application
Low credit score
High credit utilization on current credit cards
Frozen credit report
It's also possible that your application may also be delayed if the bank is overloaded with applications. For instance, there might be an exciting new credit card or limited-time signup bonus that has been launched. Calling can help you get an answer more quickly.
Related articles: