I fly over 100,000 miles a year but I don't play the mileage game (paying more and/or making a stop just to fly one particular airline) anymore since I learned that it's not worth it, and that the airlines really don't care about their "frequent fliers" unless they spend the big dollars on full fare or premium tickets. And if American and United follow Delta Air Lines' lead on changing their frequent flier rules then there's really no more reason to fly a legacy airline domestically again since JetBlue, Southwest and Virgin America offer superior economy products. If they don't follow, however, then things will get interesting again and Delta will probably cave. But that's a whole other story.
Since I don't work for a big corporation or have a huge travel budget I fly whatever is cheapest and most convenient—except Spirit Airlines (I refuse to fly them). Therefore, I'm not a super elite flier on any one airline. Still, I do fly enough to have elite status on two of the three major US carriers: American and Delta (I just missed getting Silver on United for the first time in years). And each of these is a member of one of the three major airline alliances: oneworld, SkyTeam and Star, respectively.
What's nice about having a good chunk of miles on those three airlines is that I can pretty much find a mileage ticket available when airfares are too expensive and that happens often in my case since a lot of my travel is at a moment's notice, when airfare is at its highest.
This week I spent a good deal of time pricing out a ticket for my dad to go to Europe in early May to go on a Windstar Cruise. The ship departs from Spain and finishes up in Italy, so I was looking at a multi-city ticket (New York-Barcelona; Rome-New York). Fares online and from my travel agent (John Dekker at Surf City Travel) were about the same—$1,300. In this situation, I usually book with my travel agent since he can get seat assignments for free. And if something happens, like a storm or Iceland volcano erupting, I wouldn't have to spend hours on the phone making alternate reservations as he can take care of it.
Here, I decided to see what my miles could do for me. I wanted my dad to fly business class but most of the airlines were charging an obscene amount for a seat there. I didn't even bother to look at Delta at first since everyone knows SkyMiles are a joke and are triple the price of everyone else's. So I first checked American Airlines. These days, they're my go-to carrier since they almost always have space available and for a reasonable amount. Though, as of late I they haven't had as much availability as they did pre-US Airways merger, but still—way better than Delta's.
American has an easy website for using miles since you can see exactly how much each potential flight will cost, and the routing as well. As you can see from the screenshot above, the best deal I found was just 40,000 miles but because the flights were going through London on British Airways, there were some hefty taxes to pay as well—$475! I would've paid it if not for the layovers, which were just too long (21 hours) for my dad. Plus, I didn't want to gamble with him flying standby.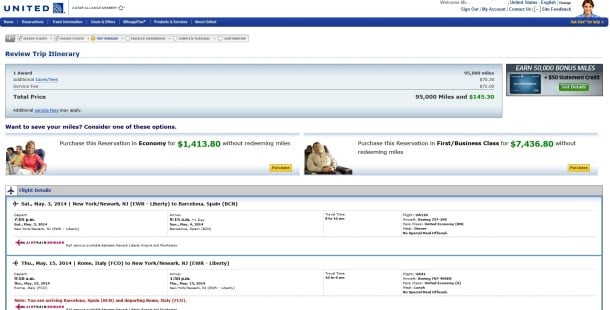 Then I logged onto United.com, which has a good website for seeing prices and availability—including for their partners—but in this case they didn't have a lot of options and the ones they did have weren't ideal (like 95,000 and $145). The biggest problem was not even the price; almost all of the flights were going through Newark and with all of EWRs problems this season I don't want him trapped on a plane for hours before takeoff. RELATED: Here's why to avoid Newark the next few months.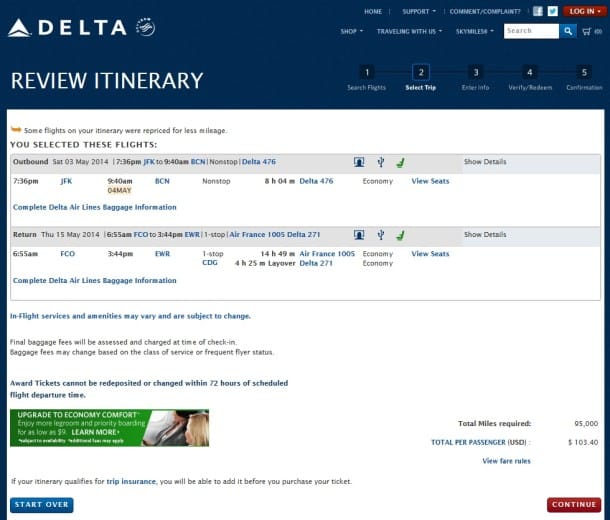 Then I logged on to Delta's website just for the fun of it. Their website is terrible for pricing out tickets, plain and simple. I had no idea how much any award cost but after some serious clicking, I shockingly found a pretty good deal (for Delta): 115,000 miles and $109 for a nonstop Delta flight in economy going there and an Alitalia and Delta business class trip on the return through Heathrow. The only problem now was that it kept giving me an error message when I tried to purchase it. After three tries, I finally called the number it listed and the agent (who I'm guessing was based in the Midwest based on her accent) told me there were no tickets for that cheap in her inventory and that she seriously doubted that I'd found one for that low that included Alitalia, since, as she explained, she can't book miles with that codeshare partner. I told her I'd taken a screenshot (above), and so if she gave me her email, I'd shoot it over to her—but she said they couldn't accept emails at work. How pathetic is that?
She then said she could look and book a ticket for me but it would cost an extra $25. She turned me down a couple of times when I politely argued that it mad no sense since I was trying to book online but their system wouldn't let me book it—and fortunately, she later waived it. She also informed me that when you book online, just because you found fares/seats, nothing is set in stone until your credit card gets approved. Holding it means nothing. She said if they grab a seat with her system, it's held even before you give them your credit card.
Not getting anywhere with the original fare I'd found, I figured I might as well see what kind of inventory she could find, so I had her look. She ended up finding a nonstop Delta flight from JFK to BCN (Barcelona) in economy and a FCO (Rome)-to-JFK nonstop in Delta business for 165,000 miles and $70. It's a lot of miles, but my dad is worth it and I've seriously had enough of Delta's mileage rip-offs. It's actually the first time I've used my Delta miles (that I can remember) because they are so overpriced.
So what do you think? What's your favorite mileage program and do you think this was a good deal or not?
Good to know:
It's always a good idea to check first online for award seats but then call the airline if you don't find exactly what you are looking for.
If you can't use miles to go to some place like Rome then try and use then for nearby cities or countries and then either take a train or a low fare carrier. Just keep in mind that some low fare carriers charge hefty baggage fees and use secondary airports. So leave plenty of time in between flights (like a day or two)
You can no longer hold Delta award tickets, but after purchasing this one I had until midnight the following night to cancel or make changes for free. After that it's $150 fee.
If you're going to use Delta miles, the best bet is to sign up to Air France's SkyBlue and use their website to price out Delta tickets. It's a lot easier to use  and gives you the ability to see more partners than Delta. That's why it's great whatever Air France shows as classic availability then it is available for the lowest miles on delta but you have to call in to delta and suggest the flights you found. Also search by segment rather than round trip to have better luck.
And for those that don't want to spend the time, consider signing up to a mileage service like Award Magic. I didn't because I figured I know almost as much as them and what I don't is not worth $139.