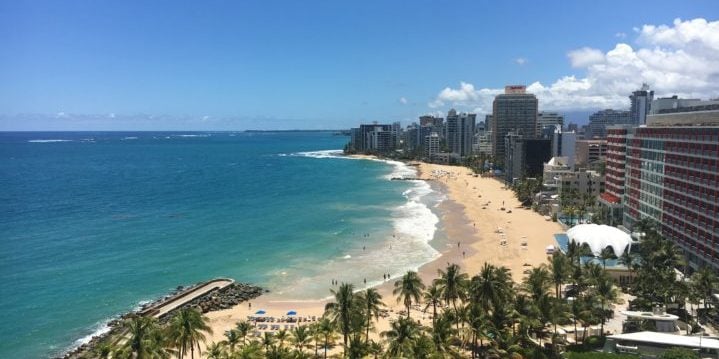 Editor's note: Puerto Rico was devastated by Hurricane Maria. When the island is ready to receive travelers—perhaps in a few months—it will need them as much as it ever has. In the meantime, here are more ways to help. 
It's time to look beyond the dire economic headlines; now is actually a terrific time to visit Puerto Rico. For starters, more direct flights than ever are transporting mainlanders to the US territory, and roundtrip fares from JFK routinely hover around the $300 mark. You're traveling to a Caribbean island sans the hassle of customs; deplane and you're outside looking for a cab within minutes. And have I mentioned that the Beeb himself is a regular visitor? (Okay, a yacht-lounging Justin Bieber might not be a central draw.)
But most of all, the culinary scene in San Juan is at an epoch. After Chef Jose Enrique became a James Beard semifinalist in 2013—the first Puerto Rican chef ever to do so—outside culinarians began to take notice of the capital's burgeoning restaurant and bar scene. A renewed interest in farming has also led to a locavore renaissance, with island-made charcuterie and cheeses regularly appearing alongside regional vegetables on restaurant menus. Then there's the cocktail scene: creative and daring, yet utterly devoid of that Williamsburg attitude (Puerto Rico is no longer just the "rum capital of the world"). And female chefs and bartenders make up many of the island's rising stars?
Here are 15 places to eat and drink in San Juan as curated from a recent trip to the capital:
At his eponymous, award-winning restaurant, Enrique lets his food do the talking. This isn't about schmancy white-cloth dining. An embrace of island ingredients and cooking techniques translates to simple but impeccable fare like fish fritters; skirt steak with plantains, rice and beans; and grouper with a tarot root mash. You'll wait and wait for a table, then leave raving that you would have waited hours more.
Where's the party? It's inevitably at this labyrinthian old town bar, which seems to attract every good-looking local and tourist within a five-mile radius. The front room gives way to a back room that gives way to another back room, each with its own playlist, vibe and cocktail lineup.
3. 1919, Condado
This is locavore dining on the other end of the spectrum: high-end and glamorous, thanks to Executive Chef Juan Jose Cuevas, an alum of Blue Hill at Stone Farms. Inside the Condado Vanderbilt Hotel (formerly an insanely beautiful Vanderbilt family private residence), Cuevas elevates every ingredient that passes through his kitchen, from cod (poached so slowly that the fish takes on deepened flavors) to rigatoni with a tuna bolognese. Locally celebrated pastry chef Nasha Fondeur will force you to save room for desserts like milk chocolate tart and banana bread pudding with a rum-caramel sauce (local rum, of course).
4. Grass, Calle Loiza
A discussion of the great US drinking cities needs to include San Juan, because the capital is killing it with its growing collection of outre cocktail bars. Grass—located in hipster 'hood Calle Loiza—gets its name from the fake grass wallpapering its exterior, and the inside decor is no less unconventional (you'll get lost in the playing-card wallpaper). But it's the extravagant, Brooklyn-style drinks that are the story here. You'll wait more than a few minutes for your mustachioed bartender to make your cocktail just so, but the result is a concoction that's likely to include local liqueurs and perhaps a flambeed chunk of pineapple as a garnish.
You need to stop in at El Convento for a drink regardless—the courtyard interior of this 17th-century nunnery-turned-boutique hotel feels like something out of '50s movie, with shaded wrought-iron seating and an ornate bar area cooled by outdoor ceiling fans. (The hotel is also a favorite of visiting celebrities; the nights I stayed there, Sting was also a guest, spotted at the bar one night after performing a concert.) But you should make a point to stay for dinner, because Executive Chef Juan Torres utilizes the herbs grown on the hotel's rooftop to enhance delicate, delicious dishes like root vegetable chowder, scallop crudo, and fusilli pasta with beer-braised short rib and black truffle shades. Speaking of that rooftop garden: The deliciousness of the hotel's mojitos likely owes to the mint grown straight above.
You'll seriously start perusing San Juan real estate after a visit to this open-air smorgasbord. Last year, sibling entrepreneurs Cristina and Fernando Sumaza launched an outdoor eating mecca where more than 14 (and counting) kiosks serve up an eclectic array of top-notch street fare. Both tourists and locals indulge in Peruvian skewers, brick-oven pizzas, gourmet popsicles, and surprisingly sophisticated cocktails (a pisco sour was my cooling elixir of choice). Add in a performance stage hosting regular free concerts and you have a must-visit for lunch, dinner or both. Yes, you'll need to Uber there and home, and yes, it's completely worth it.
How many other Puerto Rican chefs have a degree in applied physics? Native-born Erika Gomez always knew she wanted to pursue her passion for gastronomy, and today she receives regular accolades as one of the island's rising stars. The executive chef incorporates European and Hindu techniques into her island cooking to tempt guests with dishes like roasted pork risotto and octopus and coconut arepas. And although mofongo isn't always on the menu (we were lucky enough to enjoy a local seafood mofongo special the night we were there), Gomez is happy to host a small private group and teach guests how to make the island staple.
Are you here to eat or drink? You could do one or the other and leave sated, but you'd be remiss not to do both. Bartenders sport wooden bow ties as they blend up drinks that are then served in crazy vessels like a light bulb. Dinner, meantime, can include anything from Rockefeller oysters to chicken and waffles to off-menu tacos. The shabby exterior in no way hints at the restaurant's clean, funky decor, but it probably scares away a few incurious tourists, which only benefits your wait time for a table.
Great food inside a Doubletree? Yes, actually, thanks to another up-and-comer, Executive Chef Mayre Alejandra Hernandez. A veteran of both the hotel and catering scenes, Hernandez turns out impeccable Puerto Rico-tinged small plates like local ceviche with plantain chips and chicken sofrito crepes. The funky hotel lobby space is a great spot to begin your Calle Loiza bar crawl—and the Cafe Pierre cocktails are a sophisticated surprise in their own right.
Another bar, another revelatory island bartender. The head mixologist, Xiomara Rosado Matta, was a finalist in the 2016 Puerto Rico World Class Bartender of the Year competition, and her cocktail program will upend your prejudices against hotel drinking. My drink of choice was the "Sonic Colada," made with both dark and light local rums and topped with toasted coconut, although the "Rock Passion" (Bacardi Superior, St. Germain, Passionfruit juice, roasted almond syrup, gold flake garnish) was a close second.
11. Silk, Calle Loiza
Bizarrely, the San Juan Doubletree actually contains two superior restaurants. If you have a sushi itch that just needs to be scratched, a round of rolls at this sexy dinner spot will more than satiate; the kushiyaki skewers and Szechuan tempura-battered halibut were two additional standouts.
12. Agárrate Catalina, Calle Loiza
If your overindulging is starting to slow you down, this family-style Argentinian restaurant is a terrific, and wallet-friendly, reset. The modest interior belies the excellence of the food; start with a mess of appetizers—empanadas, fried ravioli, croquettes—before splitting one of the pasta dishes and maybe an entree of bacon-wrapped chicken breast stuffed with ham and cheese.
13. El Batey, Old San Juan
Dive bars aren't usually this charming, but El Batey benefits from its Old San Juan locale and gracious bartenders (think New Orleans rather than your hometown haunt). Neither is the drink list of the usual cheap-beer variety; among the creative cocktails, the dirty mojito is a notable standout. But the rest of the dive trappings are alive and well: graffiti on the wall, a pool table and jukebox in back, and cash-only transactions.
A barbershop cum speakeasy? It's not just a gimmick, but rather one of the best cocktail scenes in town. Walk through the shop to enter a cheeky bar with terrific plays on mezcal and infusions (El Bar Bero is the only bar in town licensed to make its own infusions). And yes, you really can get a haircut next door, with a hot towel treatment and full cocktail service during the evening hours, said cocktails delivered through a hidden door in the wall.
15. Don Ruiz, Old San Juan
Jonesing for a cup of Joe? Your latte needs are more than met at a cafe that also dubs itself a museum and brewing lab. Local organic beans are the headline here. The origin specialty coffee from Yauco is used in both espresso drinks and single pour-overs. Although the cafe is in the middle of Old San Juan inside the historical Ballaja building, the airy, industrial interior feels straight out of Brooklyn.