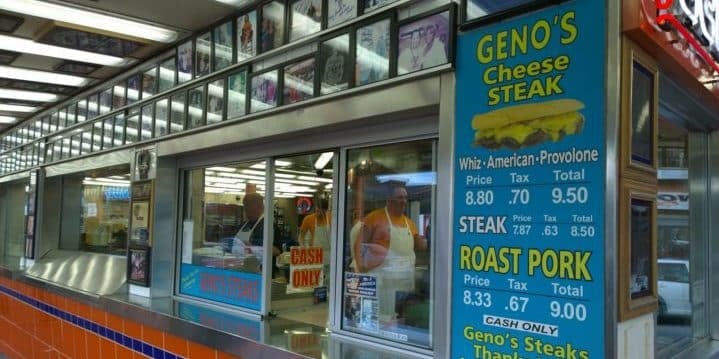 The Philadelphia Airport and Marketplace PHL just announced something pretty fantastic for all cheesesteak lovers: Geno's Steaks has officially opened its doors at the airport in the food court between Terminals B and C. Now, travelers can taste authentic Philly when they land and before they even leave the airport (and do it all over again before heading to the plane).
Passengers can expect the traditional Geno's Steaks options at this PHL location. Fliers can order the airport menu of cheesesteaks, roast pork sandwiches, cheese fries and a breakfast menu. This location will be open from 5am to 11pm.
Geno's Steaks has been an iconic city favorite serving original Philadelphia cheesesteaks since its beginning in 1966. Geno's is run by Geno Vento, Erin Zwiercan and Ken Adams.
Geno's Steaks original and most famous location at the intersection of 9th Street and Passyunk Avenue in South Philly is the center of Philadelphia cheesesteak, while friendly rival Pat's is located across the street. During my first introduction to the city, my friends and I had our own cheesesteak competition for best tasting cheesesteak. We tasted Geno's and Pat's both in one sitting. YUM! Geno's won for me because I preferred the bread they used and the Cheez Whiz was consistently spread throughout the whole sandwich. Yes, it's the little things that make a difference. They were both awesome, authentic Philly cheesesteaks, that's for sure.
Don't forget the proper terminology for ordering a cheesesteak, so you don't hold up the lines at the new location! Be sure to order using only three words: "one whiz with" which means "I'd like to order a cheesesteak with Cheez Whiz and with fried onions." Also, Cheez Whiz is really the only cheese you need to have.
This kind of news makes me want to show up extra early for my flight out of PHL next week. Yay for Geno's Steaks at the airport!