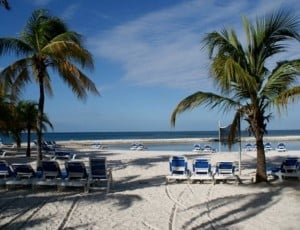 By Lauren McPhillips:
I was never one for tropical destinations, but when I got invited to escape cold Toronto for a few days and head to Aruba, I jumped at the chance.
Arriving in Aruba
After a quick layover in Miami, I arrived at Aruba International Airport. If you can, book your seat as close to the front of the plane as possible, because the wait to get through customs is quite long (I was in the middle of the plane and it took me just over an hour to get through). Also, when I got to the escalator to get to customs, I looked down to catch a sea of people yelling at me to go back up – it was so packed that people couldn't even get off the escalator! Besides that, the airport is pretty much a small-scale version of any American airport.
The temperature was warm, but not unbearably hot, as Aruba has a fairly constant warm breeze (warning to fair skinned folk like myself – the breeze can deceive how strong the sun actually is, so wear a hat and sunscreen whenever you're exposed). Aruba also lies south of the usual hurricane paths, so no real need to plan your visit around a heavy storm season.
Where to stay
Like all Caribbean islands, there are a variety of hotels to choose from when planning your stay. Along the north west coast, there's a long strip of beach where a good chunk of the resorts lie (Riu, Westin, Hyatt). I stayed at the Marriott Renaissance, which is about a 10-minute drive from the airport and is located in the downtown part of Aruba, called Oranjestad. There's an adult resort with a pool, luxury goods mall, casino and sp which is where I stayed. Directly across the street is a family-friendly resort a pool and beach. The rooms were fine, but could do with a more modern update I thought.
Once I unpacked a bit I headed down to the pool and ordered a pina colada – I was on island time, so what better way to relax? When the server came back, I was delighted to receive two! Happy hour was from 4:30-6 in the afternoon, then again from 10pm to midnight. Perfect.
Private island
One of the best parts of my trip was heading out to the private island owned by the Renaissance Resort that I stayed at. A boat picked us up in the lobby of the hotel (how convenient!) and within 10 minutes, we were at a secluded beach. The island had a family beach and adult beach and also an outdoor restaurant. We stopped for some pina coladas (of course) before relaxing in the warm sun. The island restaurant also had free Wifi, so for those who are unable to disconnect like myself, you could scan e-mails or message friends.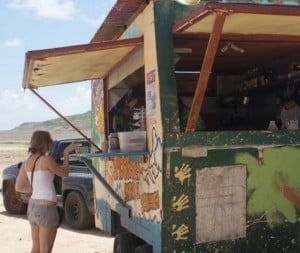 What to eat
I found most of the food to be similar to what you would get in North America, but had the opportunity to try an authentic Aruban dish called Keshi Yena and thought I had died and gone to cheese-lovers heaven. It's basically a pocket of gouda cheese that is stuffed with chicken, tomatoes, olives, capers, raisins and cashews and baked. Not for the faint at heart, but if you can handle the cheese, you'll love the flavourful dish.
On my second night in Aruba, we hit up LG Steak & Chop House, which was actually located in the resort. It had modern décor and absolutely delicious eats. I had the freshly made crab cakes and then a great mascarpone tart for dessert, but they also specialize in mouthwatering steaks if you're a meatlover.
What to do
The reason I don't usually head on tropical vacations is that I'm not one to just lay around and do nothing for a week (which explains my inability to live without WiFi), but Aruba surprisingly had a lot of cool stuff to do. The group I was with went on a fun Jeep tour of the island, which is a pretty popular activity as we saw quite a few other Jeeps along the trails (you can either rent your own Jeep for off-roading, or have a hired driver like we did). Note for off-roading adventures: if you want to enjoy the view, pack sunglasses – it is a very windy ride. It's also very bumpy, so avoid heavy meals prior to the trip. The attractions along the way aren't mindblowing by any means (a lighthouse, a tiny chapel, a collapsed natural bridge), but the off-roading journey was a blast and the scenery along the coast was beautiful. Plus, there were pina colada stands at every stop – a girl's gotta relax, right?
I also like to get a little spa action in whenever I'm on vacation – if I can't disconnect from my digital world for a whole week, at least I can escape for an hour! Being a sucker for all things aesthetically pleasing, I loved the modern design of the Okeanos Spa at the resort, which was renovated in 2009. I got a Swedish massage and I felt truly relaxed. They also offer soothing aloe services for sunburned guests, as 22% of the world's aloe actually comes from Aruba. Mind you, I was very good at slathering sunscreen all over my fair skin several times a day, so I was fine to be rubbed down with a massage.
You'll notice Aruba has a ton of casinos – in fact, most resorts are combined hotels and casinos. I'm not much of a gambler, but the group I was with wanted to check it out the first night we were there. I headed to bed after a long day of travel, but the next morning heard that one of the women in our group won $700 on the slots! I made sure I was present the following night and although I didn't win that big, I left the island $160 in the black – not too shabby.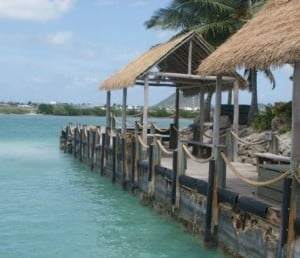 Final thoughts…
Aruba is a country I definitely want to return to, probably with my boyfriend though (maybe it was because I was at the adults resort, but I felt like a bit of a loner at times, laying by the pool all on my lonesome). I did find there were a ton of activities to take part in and staying at a place like the Renaissance allows you to do some local shopping in Oranjestad, too. Next up is Curacao…
Things to know when visiting Aruba
-American dollars are accepted everywhere, but you can also use the florin, which is the Aruban currency (one florin is equal to around fifty-five cents US)
-Mostly everyone speaks English, but you'll also hear Dutch (Aruba is a Dutch island), Spanish and Papiamento, which is the local language in Aruba, Bonaire and Curacao.
-If you're interested in a party-heavy vacation, visit Aruba any time from January through March, which is how long Carnaval runs for.
-The hottest month is September, but October to December is the rainy season (and by rainy, I mean Aruba only gets 18 inches of rain a year).
-The people are genuinely nice. They're chatty, helpful and friendly, and they all seem to be really happy with their island lifestyles – then again, who wouldn't be?
WEB RESOURCES

Renaissance Aruba Resort & Casino