"Accessible private island" seems an obvious contradiction in terms. There are those who vacation on private islands, and then there are the rest of us: hoi polloi who make due with public beaches and package deals. But between the haves and have-nots lies Renaissance Island in Aruba, a clandestine offering from Renaissance Aruba Hotel & Casino that proves archipelagos for the everyman are not just a fantasy.
And have I mentioned the private flamingos?
Let's back up. Your confusion is forgiven when you first arrive at the hotel. The South Beach-inspired respite is the rare city stay in Aruba: a two-campus, multi-pool, 556-room oasis in the heart of Oranjestad, Aruba's capital. How could this hotel boast the island's only private isle? And it only becomes more baffling when the staff explains the island's location: in the waters just behind the bustling international airport. How to find nirvana when there are jets flying overhead?
But the island's insider hype is not just earned; it's exceeded. After an eight-minute water taxi ride from the hotel's lobby—yes, there's an actual water canal inside the hotel—you arrive on a 40-acre outcrop that truly feels like its own minuscule Arcadia. Wooden walkways lead you to one of two beaches (Flamingo Beach and Iguana Beach, the only two private beaches in all of Aruba). Lounge chairs dot the sands, with hammocks scattered throughout the property's edges (including a few suspended over the island's coves). Flamingo Beach, the adults-only side of the island, offers an open-air bar that begins serving, well, immediately. Iguana Beach, meanwhile, is for families, with the fully outfitted Papagayo Bar and Grill serving both drinks and meals all day just off the beach proper.
But to do it right, you really need to rent a cabana, nine of which—five on Iguana Beach and four on Flamingo Beach—stretch along the protected waters (a band of rocks keeps the swimming waters calm). This is what private island dreams are made of: thatched shelters pre-stocked with champagne and snorkeling gear, with a suspended net lounger for sunning yourself before jumping into the cerulean seas for a quick cooldown. Feeling peckish? You need only draw up your cabana's flag to summon one of the terrific staff members, who will take your food order (Papagayo does wood-fired pizzas best) and then give you a little gentle ribbing for ordering another bottle of bubbly. (Daylong rentals start at $150.)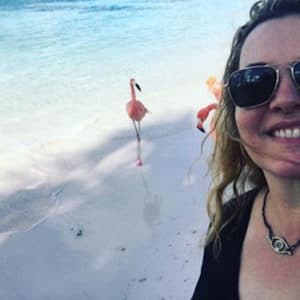 If you're craving actual calorie expenditure, you can pull yourself off a lounger and choose among the watersport endeavors: kayaking, snorkeling, paddleboating, and even scuba diving. There's also an air-conditioned gym and four beach tennis courts behind the restaurant (beach tennis: think hybrid of tennis and volleyball played on a sandy surface). A leisurely stroll from one end of the island to the other will afford you all of 15 minutes of exercise, but there are still secrets to be unearthed. (Seriously, why is there a chicken coop behind the beach tennis courts?!)
But exercise is for the mainland. Why sweat when you can swoon in a hammock suspended above water, or savor an open-air massage in the Spa Cove, lingering afterwards to take a dip in the private wading area? Or, you know, feed the only six flamingos in all of Aruba?
Yes, about those flamingos. Serene and nonplussed, they spend their daylight hours languidly strutting up and down Flamingo Beach (duh), waiting for the next round of photo-takers to come along. And the shutterbug crowds are indeed a bit overwhelming: On one visit, a bikinied woman ordered her male companion to take a flurry of sexy-flamingo-Instagram photos as others impatiently waited their turn. Then again, no one would accuse the flamingos of shirking from the spotlight; on the contrary, if you're not placating them with the food pellets dispensed nearby, you're going to find yourself facing down a squawking pink mob.
As of now, the island is a strictly daytime affair (hours are 7am to 7pm), but the hotel will soon be launching a service that will allow one couple to sleep alone in a cabana overnight (heaven on Earth, or the stuff of B-grade horror movies?). In the meantime, you can spend your days finding sandy serenity before boating back to the hotel for poolside socializing, casino action, and a surprisingly sophisticated dining scene (L.G. Smith's Steak and Chop House is justifiably one of the island's most celebrated restaurants). It's yin and yang vacationing for the non-millionaire set.
For more on Renaissance Island, read Caitlin Martin's story "8 Unexpected Aruba Highlights."
---
For even more on Renaissance Island, visit arubaprivateisland.com.