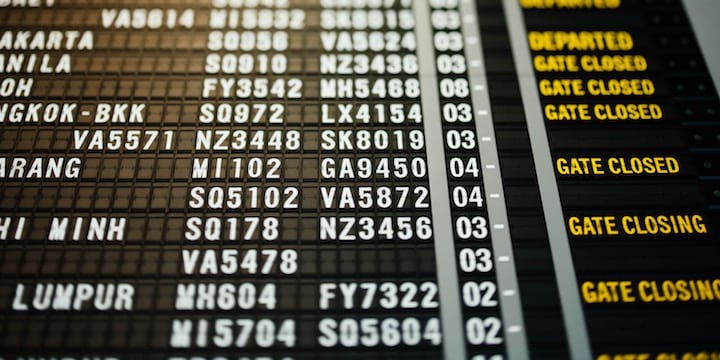 Each Friday, we feature a reader-inspired tip as our Travel Tip of the Day. With many people still dealing with disrupted travel plans (see the latest COVID-19 news here), this week's reader tip comes from Sandy M., who wrote in to ask me about your rights as a passenger if your airline doesn't cancel your flight and instead rebooks you with a partner airline:
"I've been reading with interest your posts about airline cancellations. If the airline rebooks you on a partner airline (United to Lufthansa) is that considered a cancellation which would entitle you to a refund? It's a different routing and a more than six-hour delay."
As I wrote back to Sandy, the answer—at least during the COVID-19 pandemic—is yes! That's a "significant schedule change" that entitles her to a refund per DOT rules, which frustratingly some airlines still aren't following (I'm battling with Air Canada right now). The length of the delay is critical. If your airline rebooks you on a flight that departs at the same time as your original flight, the DOT rules likely wouldn't help you.
At the end of our exchange, with an update on her situation, Sandy offered a good reminder for anyone looking to get a refund for a flight:
"Thanks. Just talked to a very nice person at United and am getting refund. You might also want to mention to your readers that if they purchased travel insurance for their now cancelled flight through the carrier they may get a refund for that premium as well. I just submitted a claim to Travel Guard (after being advised by United to do so) and they are processing it. We'll see if the refund(s) show up any time soon."
A great tip. Thanks, Sandy!
Related:
---
Have your own tip? Email it to whitney@johnnyjet.com!
Want to see more tips? Click here for all 1,713!
Want even more travel tips? Sign up here for the Daily Travel Tip newsletter! Enter your email address and check "Daily Travel Tip" to receive Johnny's best tips in your inbox each day!
If you already subscribe to our weekly newsletter, you can sign up on the same page. Just fill in your email and check "Daily Travel Tip" on the same page. You'll receive an email with a link to update your JohnnyJet.com preferences. On that page, just click the Daily Travel Tip box and Update Profile.