By Jeff Savenick:
I am a first time father traveling with my wife, Elizabeth, and our eight-month old son, Bodhi (pronounced Bodee). It was our first family vacation and our first time to Anna Maria Island (AMI). Did we enjoy ourselves? Well, lets just say that when we were done with our stay we didn't click our heels together and say, "There's no place like home." We got home, clicked our heels, and said, "There is no place like Anna Maria Island."
FLIGHT
My first travel tip I can offer to anyone traveling with an infant is to book a redeye flight. There were a total of eight infants including my son on our Delta flight from LAX to Tampa, and after takeoff, it was surprisingly quiet and peaceful. The first Johnny Jet travel tip my wife used was to wipe down everything on the seat, window and tray tables with an antiseptic handy wipe. It was a good thing, because my son "owned" the tray tables on all three seats before take-off. As our flight took off he fell fast asleep and luckily he didn't wake up until we were down the street from our rental home on the island. Tampa is an hour car ride to AMI. It is a nice ride over several water bridges and through downtown Bradenton (where museums, Village of the Arts, and the aquarium are). Sarasota is a closer airport, with only a 20-minute ride to the island, but, depending on where you are flying from, it might require a couple of stops. We decided not to do that with a baby. We flew direct. As you know, there is a lot to carry.
RENTAL CAR
My second travel tip is: if you are traveling with more than a family of three, which we were, my in-laws included, book a mini-van if you are going to rent a car. Hertz had us look at every luxury SUV including a Cadillac Escalade but with the captain-style seating there was no room for four adults, the car seat for my son, and our luggage. If you are on a budget you can catch a shuttle from Tampa's International Airport to the Island. It is $40 each way on the airport shuttle. Then on the island use the FREE trolley with stops every couple of blocks. My family and I spent a good portion of our time exploring the island by trolley.
BIT O' GEOGRAPHY

AMI is also referred to as Anna Maria Key. It is a slice of paradise on the Coast of Manatee County. The west coast of the island is situated on the Gulf of Mexico and the east coast is on the Sarasota Bay. How thin is a slice? At some points on the island it is only a few blocks east coast to west coast, which is part of its unique charm. AMI consists of 3 towns, Bradenton Beach, to the south, Holmes Beach, in the middle, and Anna Maria on the north end. The Gulf of Mexico is Cancun-beautiful. The beaches are sugarcoated white with teal-blue and emerald-green water. The water is warm enough to enjoy swimming and becomes bath water temperature by June. A barefoot beach stroll feels like you are walking on talcum powder. My wife and I loved it!
EXPLORING NATURE
There are tons of sandbars, which are a great fun for the whole family. We saw dozens of sand dollars, sea sponges, shrimp, and rays. AMI is THE place for shell collecting. There was a fresh supply of shells on the beach and sandbar everyday. It is also a great place for bird watching. We watched pelicans, terns, and gulls dive for fish all day long. There are eagles that nest on the north end of the island, and egrets that walk in the streets. There are also wild peacocks that live nearby in the adjacent town of Longboat Key. If your family likes wildlife, then you should check out Wildlife Inc., a small, but significant, animal rehab center in Bradenton Beach. The day we visited, we learned about and viewed large African turtles, a variety of owls, a vulture, and dozens of other animals and birds that had been rescued on the island. We were amazed by the variety of the wildlife and the dedication and passion of the facilitators. We were so impressed with this facility that we sent every family we met to check it out. Don't miss it, but call ahead to make sure a tour is available during your stay. Wildlife Inc.
HOUSE RENTAL
You definitely want to book Anna Maria Gulf Coast Rentals. Having a family and moving into the comfort of a house is the way to go. In a hotel, space can get cramped with a crib or cots rolled in for the kids. If you get adjoining rooms there is still no living space, and this can be much more costly. And don't forget about the bonus of having a washer and dryer on hand. Having a house that has all the comforts of home including laundry, a full kitchen (Refrigerator/dishware/dishwasher), living room with television, DVD, and sound system, and comfortable bedrooms is heaven. And you can also rent a house with a pool. Balance your vacation by including home-cooked meals as well as going out to dinner. Now, here is why you want to book with Anna Maria Gulf Coast Rentals. I met with the owners Bill and Sue Burnley and they are very passionate about customer service and their accommodations are better than first rate. They only specialize in vacation rentals, and they work with the homeowners and pay attention to details. The two-bedroom we stayed in (205 75th Street, Holmes Beach, FL) had a tropical salt-water pool and was 1 block to the sugarcoated, gorgeous Holmes Beach. My wife's face lit up when she walked in, and we both cried when we left. It's not just a house; it's a house that has atmosphere and all the amenities. It was like staying in a boutique hotel house that was our very own. Gulf Coast Rentals has two hundred properties to choose from located in Anna Maria, Bradenton Beach, Holmes Beach and Perico Island. You can view any size or price, house or condo, on their web site. Their properties range from one- to five-bedroom, luxury homes.
Anna Maria Gulf Coast Rentals.
ISLAND LIVING
Anna Maria Island is rich with artists, which makes for an interesting traveling and shopping experience. A majority of the people living here came here, fell in love with the Island, and figured out a way to transfer their passions into profitable businesses. Please take note of all of the following places I went. I wouldn't want you to miss anything.
GINNY & JANE E'S CAFE AND STORE
Ginny & Jane E's is the perfect example of a unique eating and shopping experience. I snuck in there a couple of days before I was to meet the owner because I wanted to have a true experience. It is a cafe, bakery, Internet cafe, and boutique, tastefully filled with items from local artists. All the food is made fresh on the premises, even the bagels. They have carrot cake that is melt-in-your-mouth good. This is a great place to have breakfast or lunch. We liked it so much that we became regulars. Give yourself some time when you are in there because you will get lost in the shopping space. The owners Bert and Jeff are really good people. They have two criteria for their inventory, "It has to be beachy or fun-funky". When you are in there ask Marsha, the manager, for some "Swamp Water" tell her I sent you!
Ginny & Jane E's.
BEACH BUMS

One of the best experiences my wife and I had was renting a kayak from Beach Bums and taking a guided tour with Captain Scott at Robinson's Nature Preserve. We left our baby with my mother-in-law and had an adventure. Captain Scott, a retired biology teacher, was the perfect guide. He boasts an 87% survival rate for his tours and we were the lucky ones to make it back. Seriously, this is a you-do-not-want-to-miss experience. You can also rent bikes from Beach Bums and bring the kids and bikes through the preserve on your own. The Nature Preserve is beautiful and a must-see. When you go there make it a point to go to the top of the viewing tower. The sight is breathtaking.
Beach Bums is also a great place to rent bikes, surrey bikes, golf carts, and baby equipment (strollers, cribs, jumperoos). We rented a golf cart to tour the island. It was a ton of fun! Diane and Lauren, the owners, run it with a "can do" attitude. Their customer service is excellent. We ordered an exersaucer for Bodhi and they delivered it that afternoon. Some of the baby equipment will require a 48-hour pre-order for delivery. Whatever you need for fun in the sun, they are great people to ask. They also have some cool T's and great gifts in their retail store.
Beach Bums.
DINING IN ANNA MARIA:
SANDBAR RESTAURANT
The Sandbar Restaurant located on the beach on the north end of the Island is a hotspot for lunch or dinner. At some of the tables you can sit with your feet in the beautiful white sand overlooking the Gulf's emerald-green and blue ocean. Since it is so popular, I suggest a family beach outing in front of the restaurant and then give yourself an hour before you know you'll be hungry and put your name in with the hostess. The food is great with plenty of choices for the kids. The menu is moderately priced within the $10- to $15-dollar range for appetizers, salads, and sandwiches/lunch entrees. Dinner entrees are more expensive, but the appetizers and salad prices are fixed all day. Joseph Rogers, the General Manager, boasts customer service and creativity in the kitchen as contributions to their location's success. He learned the business from the ground up as a server many years ago, and has put together a team of people who will create an excellent dining experience. I recommend this restaurant whole-heartedly. The Sandbar has been recognized as a top wedding destination for ceremony and reception in "The Knot's – Best Wedding Locations". Once there, you will see why. Feeling lucky? Participate in guessing the time of sunset. If you get it right you win a complimentary bottle of bubbly.
Sandbar Restaurant.
SHOPPING, DINING & MINIATURE GOLF
You will want to check out Bridge Street. There are several cool places here to shop for Island gifts. There is also miniature golfing at the Fish Hole. While I was there they had the mini-Masters tournament. The winner got the coveted "Green Jacket". I suggest strolling with your family to the end of the newly constructed pier to breathe in the fresh air. When we did, we caught site of a pair of dolphins in the bay. It was beautiful.
DINING ON BRIDGE STREET:
THE SUN HOUSE RESTAURANT & BAR
The Sun House Restaurant & Bar at the top of Bridge Street is a wonderful place for dining. It is a stellar fusion restaurant that combines Caribbean and Floridian style cuisine. The food, drinks, and desserts are superb. The Island Tuna Carpaccio is not only a work of art, but is melt-in-your-mouth good. You can see creativity in every dish. The almond berry dessert is a must-have too, made from scrumptious cream and berries in a hand-formed almond basket. It is so delicious. Johnny Jet and I agree that this is a place not only to dine, but also to revisit. The atmosphere is truly celebratory. Every sunset is commemorated by a bang of a gong and a sing-a-long of "You Are My Sunshine". It is dining that makes you feel like you are on vacation. And for families traveling with a baby, they have a nice changing table in the ladies' bathroom (always a plus!).
The Sun House Restaurant.
GREAT EATS ALL DAY LONG IN BRADENTON BEACH:
GULF DRIVE CAFE & TIKI
Gulf Drive Cafe & Tiki is the heart and soul of dining in Bradenton Beach, Florida. We soaked up the amazing ocean view from this cafe several times during our stay on AMI. The food is really great whether you are eating breakfast, lunch, or dinner, and the menu is huge. My wife commented that the eggplant parmesan was delicious, and found out that the tomato sauce, like so many things on their menu, including the great desserts, is homemade. The cafe sits on the Gulf of Mexico and the view from the patio is gorgeous. The cafe is in the process of expanding because their food, service, and location are superb. Soon you will be able to dine under the large tiki hut, which is a great addition to the restaurant. The tiki, with a panoramic ocean view, gives the place a real island feel. It is a great location for a wedding. We witnessed the set up for a beach and tiki wedding. The place looked beautiful.
Wendy & George Kokolis, the owners, are incredibly sweet people. They bought the cafe in 1987 and have put a lot of hard work into it, taking pride in customer service and satisfaction.
Gulf Drive Cafe & Tiki.
FINE DINING IN HOLMES BEACH:
BEACH BISTRO
I have had many great eating experiences in my life, but when my wife, my mother-in-law, Brenda, and I finished our meal at Sean Murphy's Beach Bistro, we said, "If we had only one meal left on our last day of life we would want it to be here at the Beach Bistro." Please trust me when I say, every bite of my grouper was savory and mouth watering. Terry, our server, was first-rate. He served us with an old-school style. I've never been called "Sir" so many times in my life. He's been at the Beach Bistro for 11 seasons and knows exactly when to suggest the right bottle of wine to set off the taste of a delectable meal. We started with a tasting glass of their "One Helluva Soup" made of seasoned Parrish plum tomatoes with sweet cream and Maytag blue cheese. Are you hungry yet? It was magnificent!
We then moved on to the Bistro "White Castle" Sliders made from foie gras and prime tenderloin on a butter-grilled, sweet bun with demi-glace and beamaise sauce… Need I say more? Okay, I will. Spectacular! I am having a flashback while writing this, and my mouth is watering. Then, I enjoyed the Gulf Grouper with a toasted coconut and cashew crust, with a red pepper papaya jam. Amazing! My wife had the "Where The Wild Things Are"- Mushroom Creme Brulee- She was smiling all the way through it. Also, the desserts are out of this world!
Sean Murphy tweaks all of the recipes so that your dining experience is beyond top-notch. You will break a window, price-wise, but it is worth every cent. A meal for two with wine, starters, entrees, and dessert will put you in the one- to two-hundred-dollar range, but may I remind you, you are on vacation. Get a babysitter, treat your wife, and treat your in-laws. This is a culinary experience not to be missed!
Beach Bistro.
FINE DINING OFF THE BEATEN PATH:
ORTYGIA RESTAURANT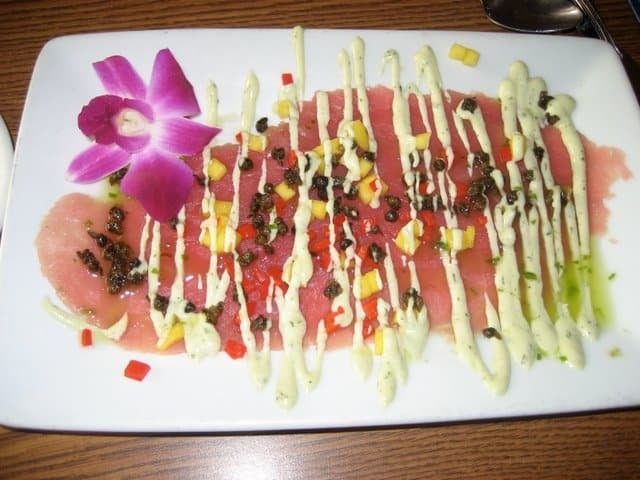 If you've never had an authentic Sicilian meal cooked by a genuine Sicilian American, you won't want to miss the cuisine at Gaetano Cannata's restaurant, Ortygia. It was exquisite. We caught a late lunch and my family and I had the pleasure to sit with Gaetano while we dined. When I'm graced to eat at an establishment where the owner is also the chef, and boasts true culinary talent, I like to ask him to make something special and see what I get. Gaetano didn't disappoint. We tasted a little bit of everything. He poured wine as we chatted about his family and his roots to the old country, Ortygia, Sicily. His food couldn't have been better, and his company was great. His restaurant is in a unique section of Bradenton, Florida, called "Village of the Arts."
Ortygia Restaurant.
ART GALLERIES AND SHOPPING: "VILLAGE OF THE ARTS"
"Village of the Arts" is a section of Bradenton, Florida, that is truly unique. In 1999, the city gentrified the area by creating a four-block section dedicated to revitalization and renamed "Village of the Arts". Local artists were encouraged to move in, to create, and sell their art from their homes. It is now a colorful neighborhood, literally. Every house is brightly painted with two or more bright shades of vibrant, life-affirming color. It is fun to stroll through the neighborhood and look at the houses. When you do, you should stop at the Welcome Center to see which artists' galleries are open. Christine Turner, an artist and resident, graciously walked my family through her studio, Baobab Tree Gallery, and the four-block area, introducing us to different artists. The palette of shops is truly unconventional. Baobab Tree Gallery has some funky, eclectic art and quirky fish clocks created from found objects. Divine Excess (right next door) and the Dancing Crane Gallery were worth touring too. I found some of the different art studios to be a type of acquired taste. For a snack or pick me up in the neighborhood, you must visit Charisma Cafe & Art. Kimberly, the owner, is a doll, eager to serve delicious, freshly homemade treats. If you are thirsty try her espresso, fresh lemonade, or homemade berry iced tea. Village of the Arts is a community worth supporting.
SOUTH FLORIDA MUSEUM
South Florida's Museum is a terrific place to enrich your children, and a fun outing for the family. The first floor is an incredible display of fossil evidence from Florida's earliest mammals and marine life. The second floor has exhibits on everything from River Heritage to early medicine. The museum houses a trifecta experience with a history museum, Bishop Planetarium (A state of the art theater with Astronomy shows), and an aquarium that houses "Snooty", Florida's oldest Manatee raised in captivity. Interested in more manatees and marine life? You should visit the Mote Aquarium. Take one of the eco-boat tours. You will love it!
South Florida Museum. Mote Aquarium.
OUR THOUGHTS ON AMI
We truly enjoyed our adventures on AMI. We will surely make this an annual family trip. There is so much for everyone to do at affordable prices, and you can't beat the beauty of the coastline!