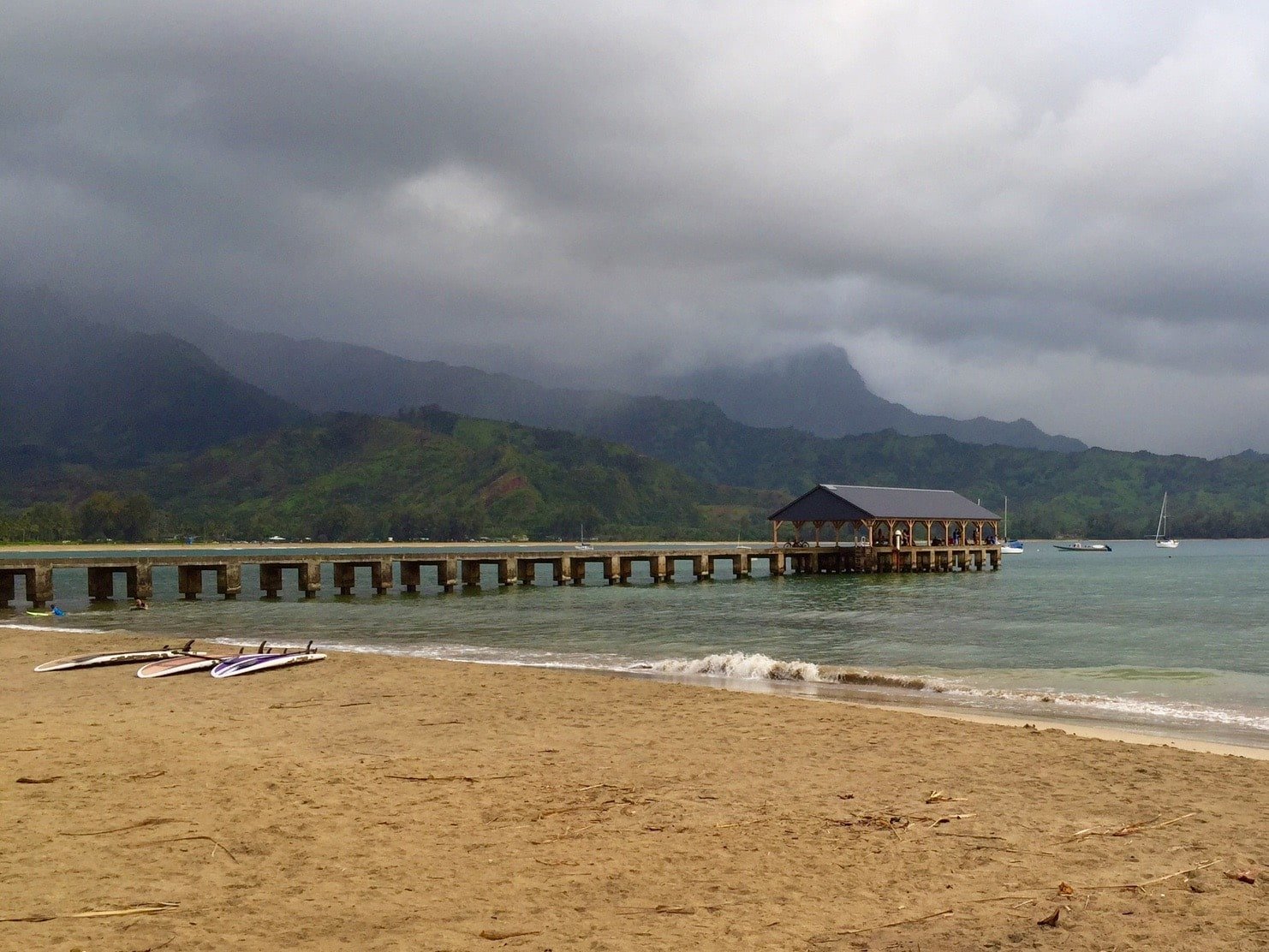 Kaua'i, Hawaii, is known to some, but not enough, as the Garden Island. I have some nice things to say about it.
A short introduction to Kaua'i and my feelings on it
Kaua'i is the fourth-largest Hawaiian island. Just over 62,000 people qualify as full-time residents, and it can be assumed with relative certainty that all of them are happy to be there. Within Kaua'i's 560 square miles, residence congregates around a few key areas: Lihue (south), Princeville (north), Waimea (west), the Coconut Coast (east), and Poipu (south). Much of the rest, or at least some in a way that feels like much, is "only available by sea or air." The Napali Coast, which you may have seen on a screen representing Hawaii, is stunning in rare intensity.
Like each of its Pacific island neighbors, Kaua'i is its own world with its own history, and as the western and northern tip of the core Hawaiian group, it manifests a number of Hawaiian extremes. Geologically, it's the oldest in the group at about six-million-years-old, which sadly means no active volcanoes spewing lava beneath your helicopter. The tradeoff is heavier, cloaking jungles that have grown thick out of the mineral-rich rock left by volcanoes of bygone eras, as well as the likes of ancient Waimea Canyon ("the Grand Canyon of the Pacific"). Green is everywhere, and not in typical American or post-industrial iterations. This is green that could fill up apatosauruses. In the video below, the Kaua'i green we see is straight out of Jurassic Park:
That's literally Jurassic Park, a film about dinosaurs walking around in the early-90s, and that's real-life Kaua'i as filming location, taking audiences there. There is something to the fact that of all possible filming locations on Earth, it was determined that Kaua'i would betray the Jurassic Park premise least.
Tip: Read "Jurassic Park" the book.
As the oldest and most vegetative outcrop in the Hawaiian archipelago, Kaua'i today remains a sanctuary of life most saturated, where nature's mightiest hues still shimmer and pre-selfie stick values like peace and joy have not yet been tyrannically stamped out by tourist hordes. Its lush greens, brightest of all, roll up and down its volcanic skeleton like a carpet right up to water's edge—the same steely blue, coral-sprinkled gateway that has beckoned generations of locals, almost without exception, to a lifetime of surf. More recently, discerning tourists and a few Zuckerbergs have started to buy in/invest 100 million dollars, but not everyone. Not yet.
There are chain hotels here, and there are waterslides occasionally packed with kids from Wisconsin, and the best local and tourist spots are not the same. It's 2016. But to date only about 5% of the island has been developed for commercial and/or residential use, and it is of note that in May of 2015 Kaua'i felt a lot like the world of 200 million years ago, and let's say the simpler 1960s, and even a place in which the crushing advance of time is absent, or at least gentler.
You can read a book on the beach until the sun melts orange over the horizon, and then go inside and read the same book until you're tired, and then sleep until you wake up. Light and other worthy appeals for your attention set the pace. A Hawaiian from another island told me that Kaua'i remains "a dream"; that is, a dream for those who live on the Big Island, Maui, and the rest of Hawaii, about which stories of 1000+ glowing words have as easily been written. That Kaua'i could be considered special even in the Hawaiian context is also of note.
Hawaii: Our best state?
Yes, probably, or at least tied with Alaska. By most accounts, it remains proudly and culturally independent, but even so it is hard to fathom this South Pacific paradise is an equal of Iowa. It is:
In the South Pacific
Relaxing and restorative
Awash in sun (75-85ºF year-round) and refreshingly cool thanks to trade winds
Jurassic Park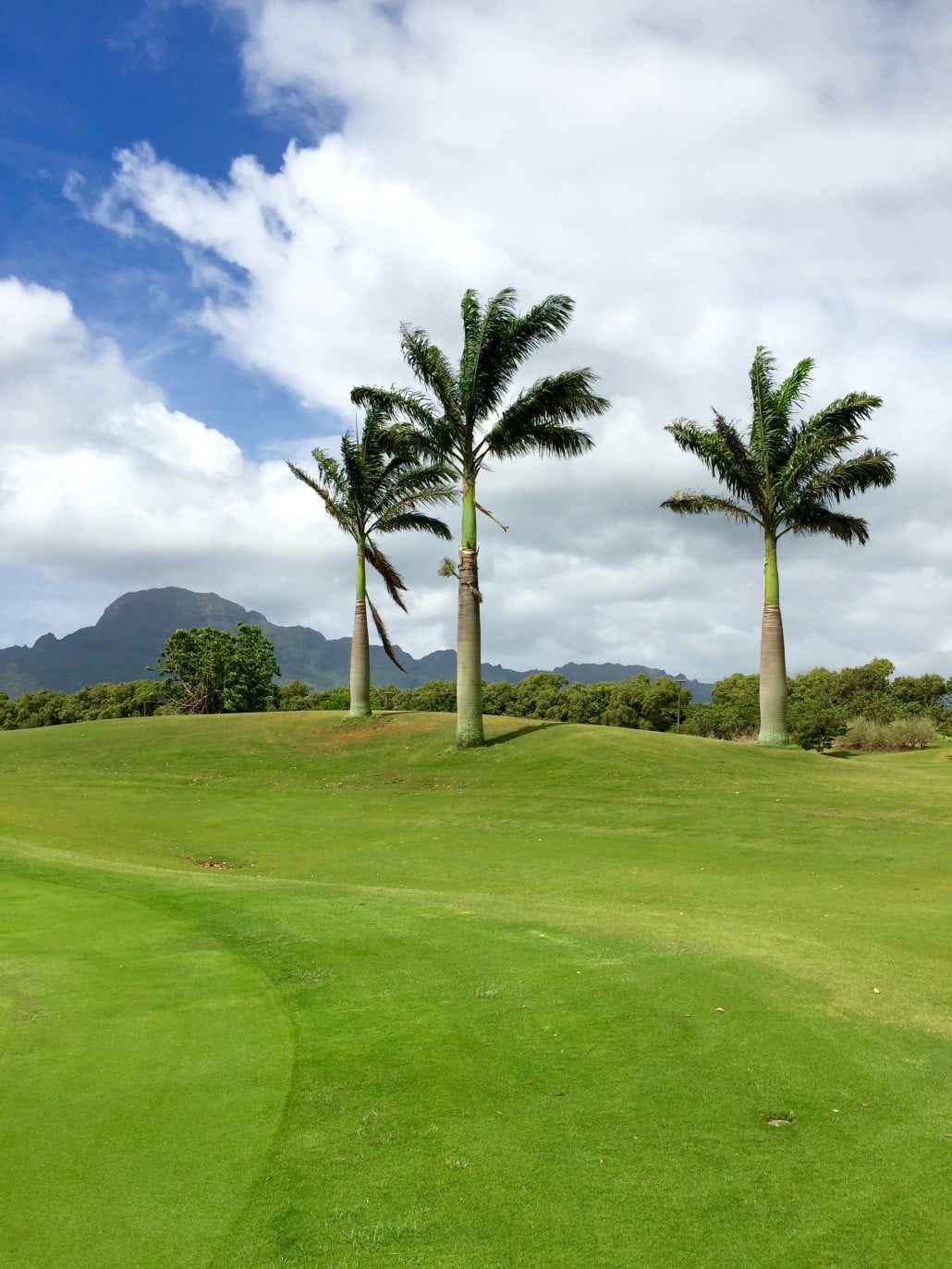 Unsurprisingly, it turns out that there are a few aspects of modernity welcomed on Kaua'i, like hospitality and golf, which is what I was invited to experience back in May. The whole of Hawaii is known to have some of the best golf in the world today, and Kaua'i's anachronistic canvas, it turns out, is well-suited to maintaining that reputation. Kaua'i Golf has more on that, and I have less than them—plus airport info, the coconut tree law and the best sushi I've ever had—below. But first:
Kaua'i from the air
From our friends at Matador, a stunning look at the island of Kaua'i from above, etched to a very dramatic score:
The airport: Lihue (LIH)
Kaua'i receives "overseas and inter-island" flights at its Lihue Airport (LIH) in the southeast. The feeling I got upon landing there was specifically that of being in Hawaii. First, an approach with incredible views like the one below. My walk to baggage claim was covered but without walls, my first private moment with the so-lovely Hawaiian air. There were Hawaiian shirts worn unironically by good people. There were only eight gates.
Of course, eight gates limits the number of flights, and people, coming in. Here specifically is the list of destinations with direct service to and from Lihue, per Kauai.com:
Denver, CO (United)
Honolulu, HI (Hawaiian)
Kahului, HI (Hawaiian)
Los Angeles, CA (American, Delta, United)
Oakland, CA (Alaska)
Phoenix, AZ (American)
Portland, OR (Alaska)
San Diego, CA (Alaska)
San Francisco, CA (United)
San Jose, CA (Alaska)
Seattle, WA (Alaska)
Vancouver, Canada (WestJet)
Tip: For more on LIH, see Johnny's guide to Lihue Airport.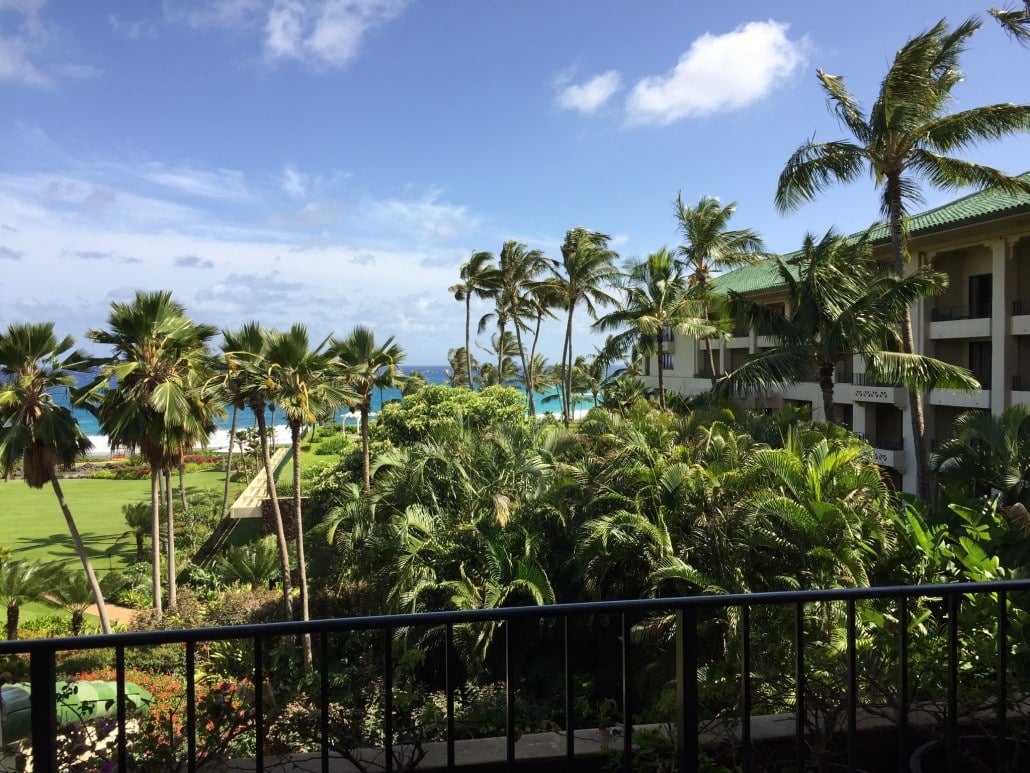 2 quick facts about Kaua'i
The local tourism industry seems content working on Hawaiian time, but a handful were generous enough to shed some light on their paradise. Among the best and most defining Kaua'i facts for me:
The coconut tree law: No building is permitted to be built taller than a coconut tree. A few have been grandfathered in, but everyone else is forced into architectural creativity (the floors of The St. Regis Princeville (below), for example, cascade down a cliffside).
Late surfing legend Andy Irons and brother Bruce hail from Kaua'i. The locals think the world of both.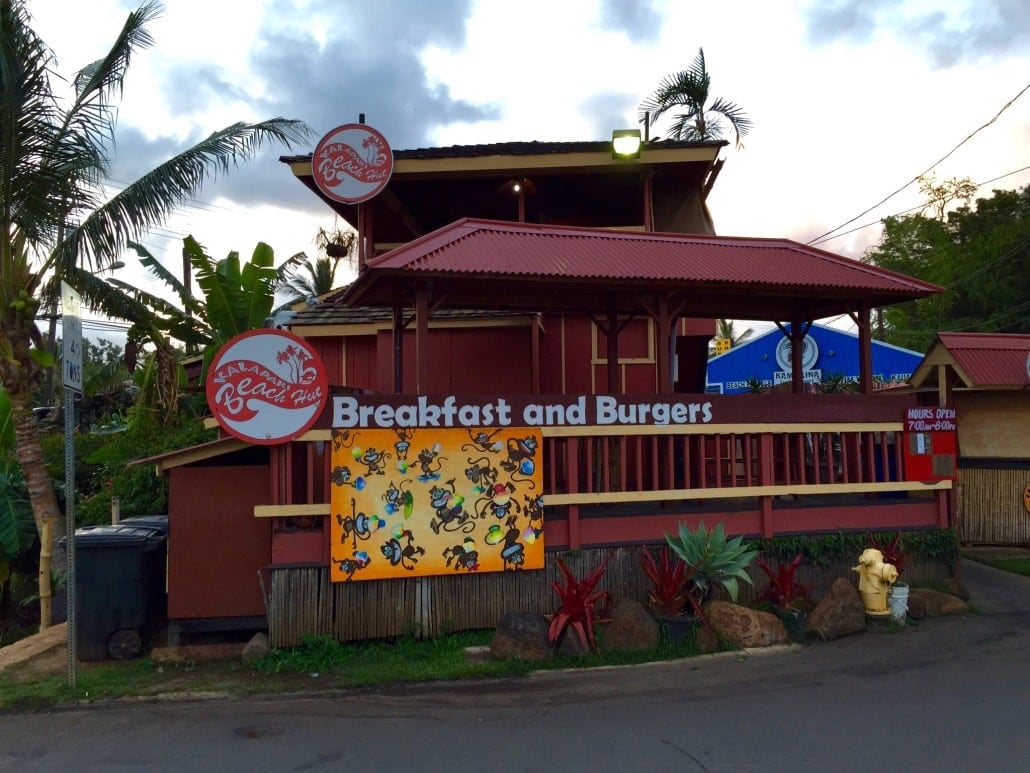 3 places to eat
Hawaii is basically a series of rainforests growing out of a series of mineral-spewing volcanoes, so the conditions are right for agriculture. It's actually the only US state that produces coffee. Also growing abundantly in Hawaii are sugarcane, pineapple and other fruit, and root vegetables like sweet potato. Impossibly fresh fish pool themselves for consumption just offshore, sort of. Apply to all this the influences of the Asian and Polynesian nations to the west—many of which saw citizens emigrate to Hawaii to farm sugarcane and pineapple around the turn of the 20th century—and the result is a fusion of some of the world's best flavors, and by that I largely mean Asian flavors.
Tip: Kaua'i's sugarloaf pineapple is supposedly the best kind of pineapple.
I really loved the food in Kaua'i. Here are three places that led me to feel that way:
Tahiti Nui (Hanalei) — A place to hang out, drink a Big Swell IPA and hear live music since 1963. The pizza was good rather than exceptional, but the hours I spent Tahiti Nui made clear that the place is more about the people eating the pizza than the pizza itself. It's a legendary spot. At one point a guy turned up to play ukulele (Bob Marley's "Three Little Birds") and he had people absolutely tuned in until, well, whenever we left. The bar was also featured in a scene in The Descendants.
Kalapaki Beach Hut (Lihue) — A local spot just off the shoulder of the Kaua'i Marriott Resort on Kalapaki Beach that gave me my first loco moco. I can't say enough about how good it was, especially as accented by I think this hot sauce. The burger (Aloha Classic) was also excellent.
Masa's Sushi (Lihue) — I loved this place. Loved it. I'm sure there is better sushi somewhere in the world, but to date, I have not had it. The environment gave it a boost, but still I second everything Matthew S. said on Yelp: "Despite its humble appearance, this is great sushi. If there's such a thing as a blue-collar sushi shop, this is it. It's all sushi, and not the least bit of pretense. It's like the neighborhood taqueria of sushi shops." Amazing sushi flipped by the sweetest Japanese sushi couple around.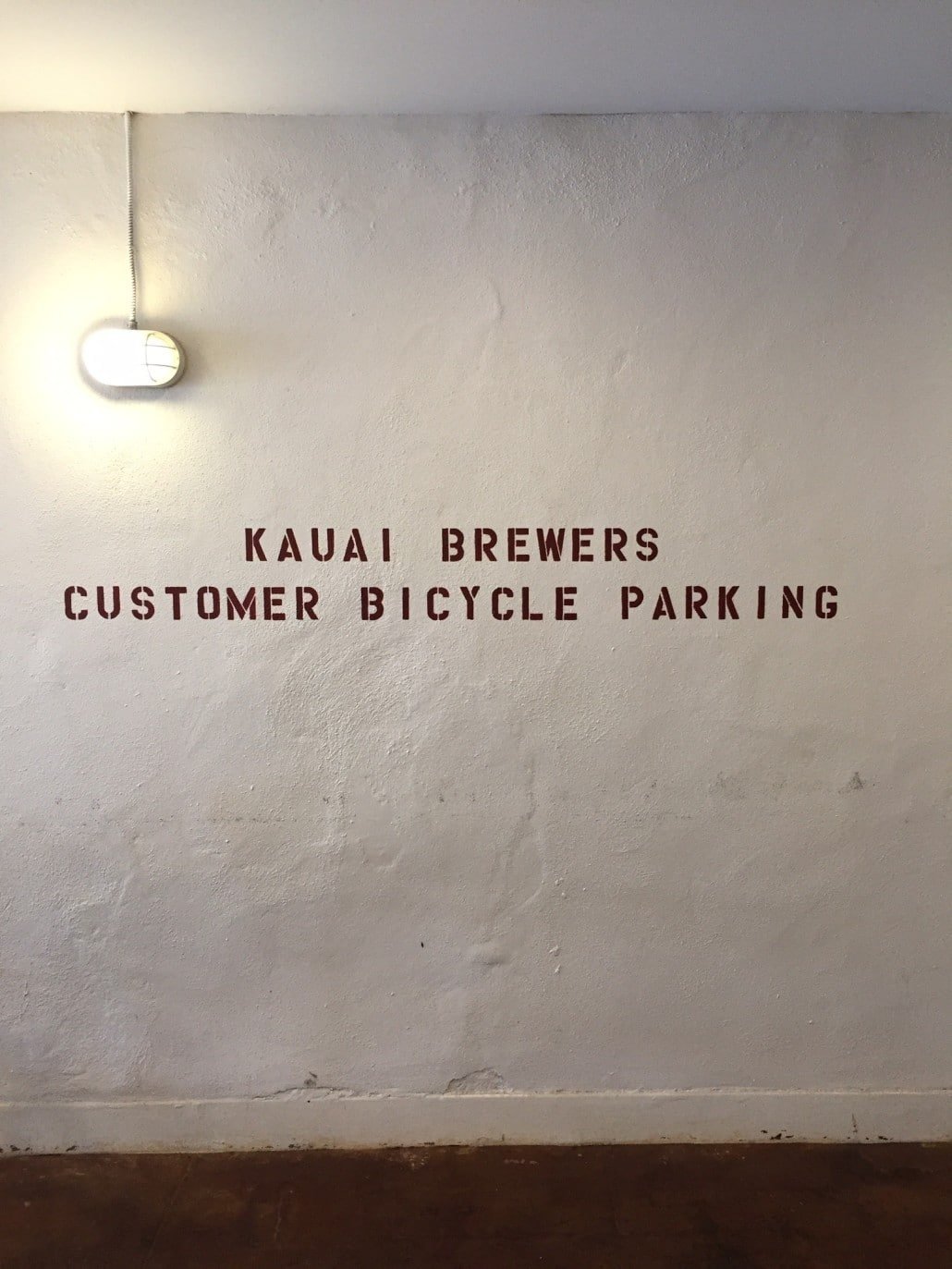 4 non-golf experiences
It's a staggeringly beautiful place rich with hikes, views, and relaxation. Like:
Kauai Beer Company (Lihue) — Founded in 2013 by a Kaua'i convert named Jim. Made for a great stop on the way from the airport to Princeville in the north.
A sunset at Black Pot Beach (Hanalei) — Consume all sunsets during your time in Kaua'i, and if possible, consume at least one at this beach in Hanalei Bay named for the giant black pot once used to cook fish for celebrations. These days, locals pull their cars right up on the beach to kick back with Big Swells, etc. as the sun puts on another showstopper. On the occasion that I did this, I came away sincerely understanding how someone could turn in a life on the mainland and move to Hawaii.
Waimea Canyon — "The Grand Canyon of the Pacific." Did not make it, and I have to either live with that or return to Kaua'i to see it.
A helicopter tour — The best way to add vertical depth to your perspective of Kaua'i, as it is anywhere (like Australia's Hayman Island). Depart from Lihue, or Hanapepe or Princeville, and soar above Waimea Canyon, the Napali Coast, sea caves (which you can also kayak), and on and on.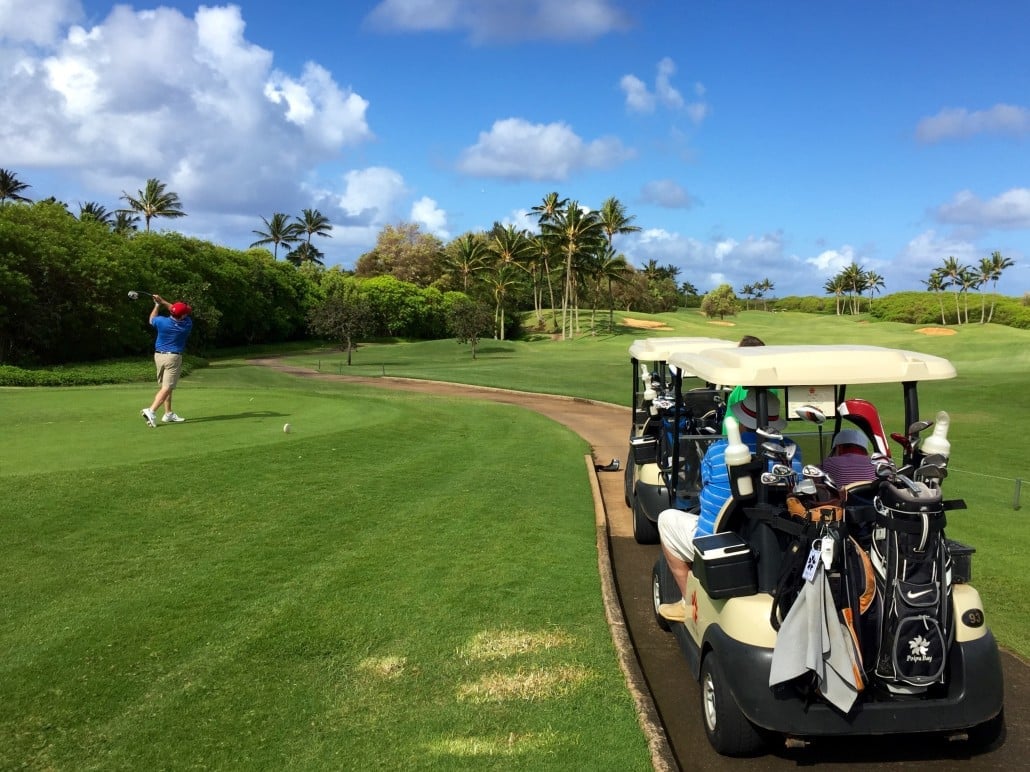 5 golf courses
Within loose guidelines pertaining mainly to elevation change and the ability of the earth to sustain grass, the most striking landscapes on our planet typically hold potential as golf course canvases. At its best, golf is a game of leisure and restoration, not of man against nature but of man and nature together against himself. With all that time to look around and to be still and to attempt to quiet all but what's in front of you during a round, it follows that serene backdrops heighten the golf experience.
Straddling the modern-day South Pacific and, say, Montana in the Jurassic Period, the Kaua'i stage is a paradise of heavenly angles and green and rock and coastline, and so it is divinely primed for world-class golf. Kaua'i's is the sort of golf that can make non-golfers envious of professional players whose jobs require they travel there and spend their days outside—or simply inspire them to play for the first time.
Not all the golf is cheap, but some is ($45 for a round of Hawaii golf is amazing). Not every round comes with humpback whale-sightings, but some of them do, sometimes. Here are the five courses I played and made memories at: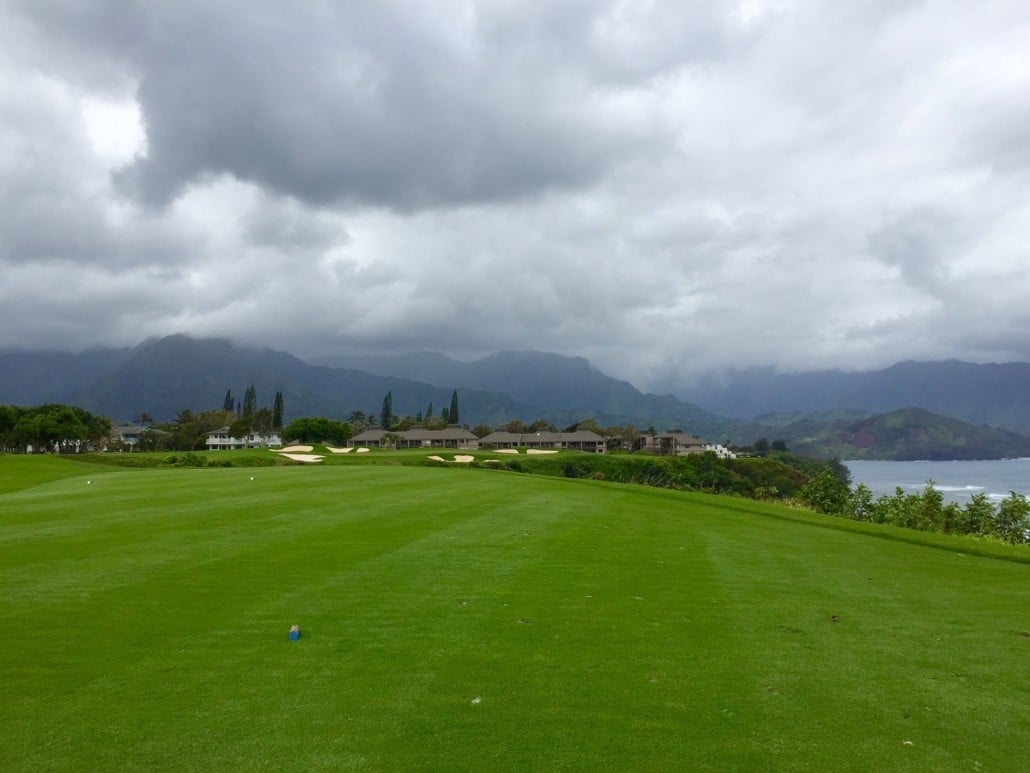 1. Princeville Makai Golf Club, Princeville
The first-ever solo design by Robert Trent Jones, Jr. and an absolute gem. Ragged coastline, mountains and native woodlands abound. Among its more recent accolades are those of being named among the "Top 100 Greatest Public Golf Courses in America" by Golf Digest and to the list of America's "Top 5 Great Golf Settings" by National Geographic Traveler. This was my first round in the Hawaiian setting, and though I played golf very poorly, I found my allegiances were not always with my score. Beautiful, balmy winds knocked down my balls, but those winds felt amazing. The greens were unforgiving but groomed so well. There was also the presence of the GolfBoard ($50 the first time with a lesson and $35 for every round after), the most Hawaiian of things and a Laird Hamilton production.
Basics: Par 72 and 7,200 yards from the tips
Green fee: $275, but less for guests of The St. Regis Princeville Resort (see below) and free for the 14-and-under crowd
Defining memories: The GolfBoard, and Doug, a killer guy and the best possible rep of such an impressive golf retreat (and the Kaua'i lifestyle, frankly)
2. Poipu Bay Golf Course, Koloa (near Lihue)
From 1994-2006, Poipu Bay hosted the PGA Grand Slam of Golf, a competition forged among the winners of the PGA's four major championships. Tiger Woods won seven of those years, so it's fairly safe to say that Tiger Woods likes this course. So does Condé Nast Traveler, which has called it—with its partnering Grand Hyatt Kaua'i Resort & Spa (see below)—one of the top golf resorts in the US. Robert Trent Jones, Jr., has built this track into yet another one of Kaua'i's marvelous corners, with the impressive Mount Ha'upu looming behind a few holes.
Basics: Par 72 and 7,123 yards from the tips
Green fee: $250 ($170 for guests of the Grand Hyatt), $170 after 11 am, and $135 after 1 pm
Defining memory: The views from Hole 16 (above)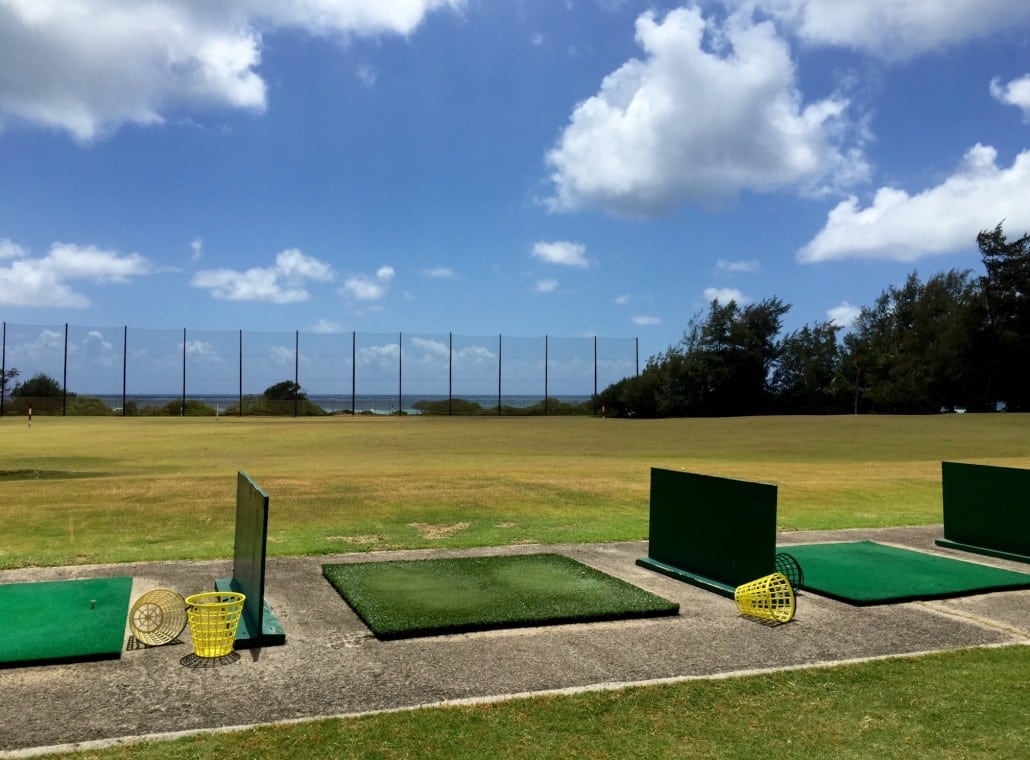 3. Wailua Golf Course, Wailua (near Lihue)
"Kaua'i's only golf park." Wailua is a true local favorite on Kaua'i, where locals can play a weekday round for $15, and it was easy to see why. It was more casual, a municipal course complete with a few t-shirts and serving food as no work of art but simply as good, grilled food. Yet it was unquestionably in Hawaii—a place where golf, and life, is better. The driving range faces the Pacific. The island coastline and much-discussed green (like ironwoods and Norfolk pines) were on display. On one oceanfront hole, the deeper rough of which broke down a cliff face to a sliver of beach, a guy rolled up to the fairway with no shirt on, dripping wet, and asked those of us playing golf if there was a bike path nearby. There was, and he was pleased to hear this. The guy working the counter also smelled vaguely of old weed, which I count as a positive. I played probably my best round of the week at Wailua, and I'll probably head back here for my first round on my next visit. Lovely, fun course.
Basics: Par 72 and 6,991 yards from the tips
Green fee: $45 on weekdays and $60 on the weekend; half-rates after 2 pm
Defining memories: The teriyaki-glazed steak sandwich that gave me protein pre-round and the low-key, Hawaiian vibe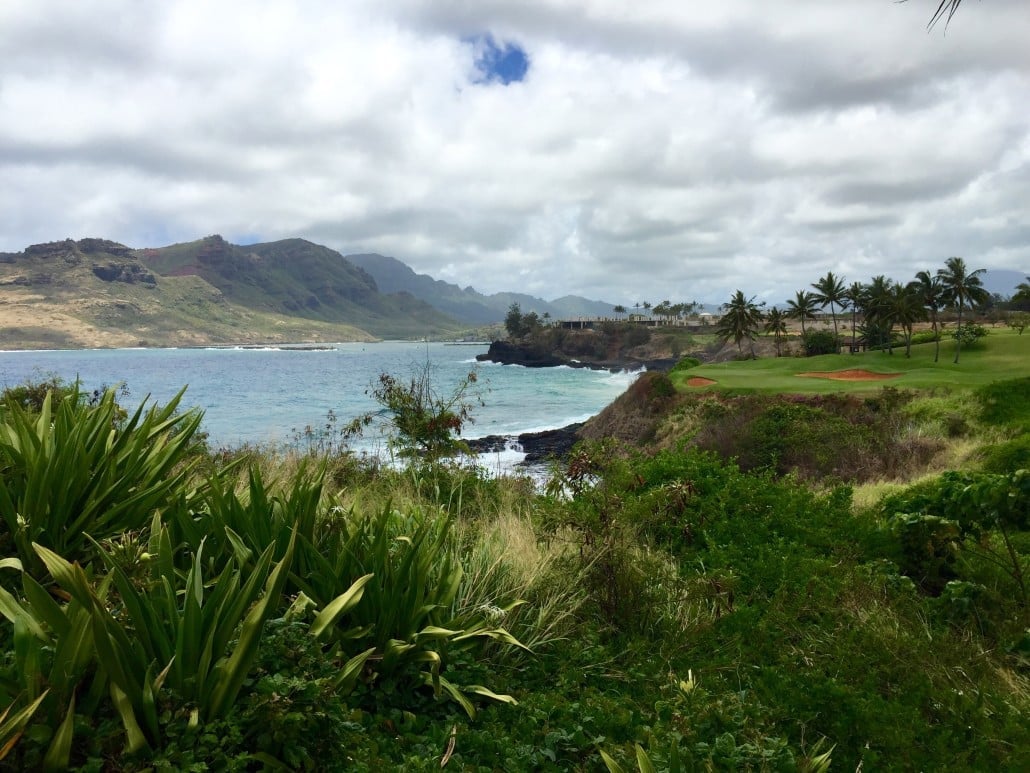 4. Ocean Course at Hokuala, Hokuala (near Lihue)
A course I played when it was still Kaua'i Lagoons Golf Club, but a Jack Nicklaus course named "one of the most beautiful courses in the world by MSN Travel" all the same. Giving my personal performance at Makai a little too much weight, this was probably my favorite of the five courses I played. The back nine includes the longest contiguous stretch of oceanfront holes in all of Hawaii, one of which is known to get backed up as a result of humpback whale-viewing. Wayne, my local pairing for my round, cited a time in which he turned up to the 14th teebox to find six carts' worth of paying golfers paralyzed in gaze by a mother humpback teaching her baby how to slap its tail.
Basics: Par 72 and 7,120 yards from the tips
Green fee: $205 before noon and $135 after noon
Defining memories: Hole 14 (pictured above, where humpback whales will sometimes breach) and the winding, tree-sewn path between 5 and 6 that stunk—like a jungle and not a golf course—of rotting mangos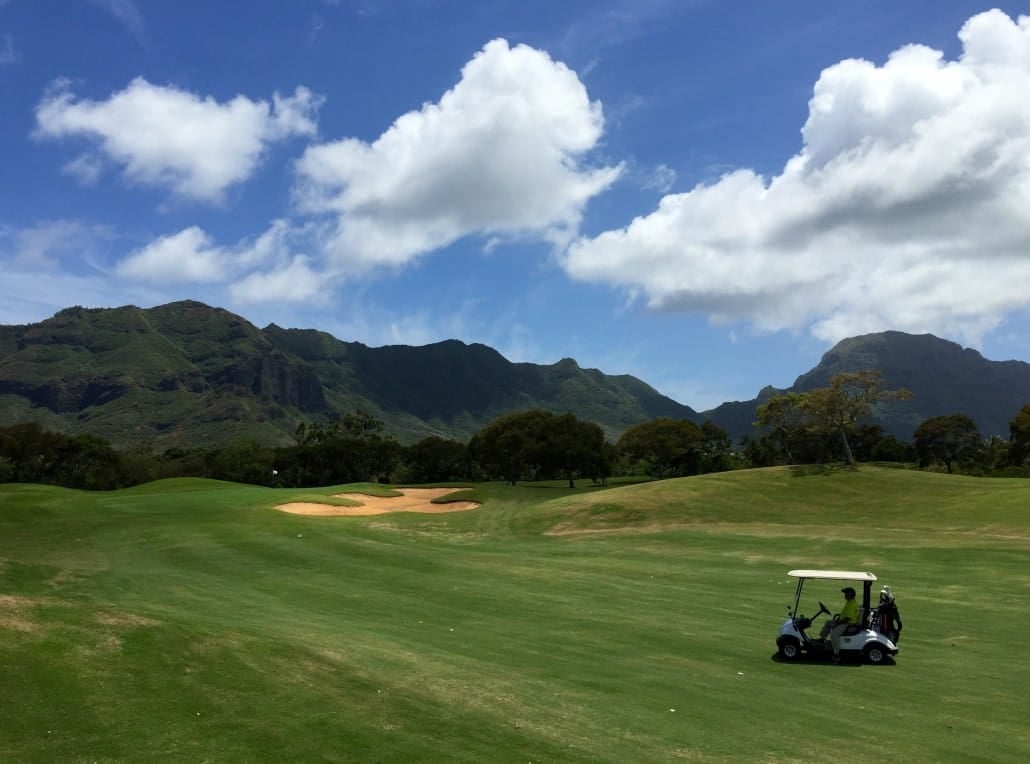 5. Puakea Golf Course, Lihue
On the morning that we played Puakea (which means, roughly, "white flower"), we drove right into real, non-holiday Lihue. We passed a Costco (a Hawaiian Costco is still a Costco), a lively street, and some bars. We arrived to see the clubhouse as essentially a trailer, or maybe a split-level. The golf that followed was fun as hell. Huge, wide fairways welcomed balls hit even decently well, and the mountainous greens here inspired my very first use of the word Jurassic in the Kaua'i context. This is another more affordable Hawaiian golf experience, and frankly, one that's more my speed. Show up, golf, and be blown away on the drive back to wherever you're staying (there's no resort attached to Puakea).
Basics: Par 72 and 6,954 from the tips
Green fee: $105 before 11 am, $65 between 11 am and 3 pm, and $45 after 3 pm
Defining memories: The blooming, Jurassic greens that seemed to touch the sky
Where to stay, at 3 price points
Wherever you lay your head at night, you're bound to get some of the more restful sleep of your life in Kaua'i. It's the Hawaii way, and it has a way of sticking with you. I'll for sure be back, and I'd without question stay at the first of these three, one of the top hotels I've ever taken room in. The others delivered, as well, for even fewer dollars:
$$$ The St. Regis Princeville Resort (Princeville) — A truly exceptional property. Built down a cliff face (to meet coconut tree law) on the island's north shore, Kaua'i's St. Regis is the first in the brand's Hawaiian collection—and the bar has been set high. A retreat here is set to calming tones of space (as in the tremendous, tiered heart of the hotel) and luxury (like 400-thread goose-down comforters), without exception. The partnering golf course is the world-class Princeville Makai Golf Club (above), the pool has been found as an item on more than one "best pools in the world" lists, and the sweet potato fries from the pool bar were, no joke, staggeringly good. They were so good that I was inspired to throw myself into a private conversation between a couple, until that point unknown to me, at the bar to indulge them in this sweet potato magic. An incredible two days, and the fries topped everything. Room rates start at $622/night.
$$ Grand Hyatt Kauai Resort & Spa (Koloa) — The first thing you'll notice about this Grand Hyatt is the welcome it facilitates from the Pacific Ocean. In a cunning act of design ingenuity, the front of the resort is cut straight through to its Pacific-facing back, providing clean sight lines to the ocean for weary travelers fresh off flights from their mainland lives. Once these travelers settle in, there's just a ton going on here, and while the sun is shining, it all begins by the water: the glistening Pacific or the terraced kaleidoscope of pools, lagoons, sectioned-off (150-foot) waterslides, lazy rivers, Jacuzzis, and pool bars. Don't miss out on a massage at the hotel's Anara Spa, performed outside in fitting Kaua'i style. Room rates start at $477/night.
$ Kaua'i Marriott Resort on Kalapaki Beach (Lihue) — Down south in Lihue, on bustling Kalapaki Beach, is the Kaua'i Marriott I holed up at for two nights. It's right by the airport and two top food options (Kalapaki Beach Hut and Masa's Sushi, above), but convenience is certainly not the Marriott's only case for your dollars. Its rate is a clear value in Kaua'i considering the guest experience the Marriott team has laid out for guests and the comforts available. It's a sure thing in the classically Marriott way, and it's guaranteed real estate on one of the planet's great paradises. Room rates start at $289/night.
For more on travel to Kaua'i, visit gohawaii.com/en/kauai.