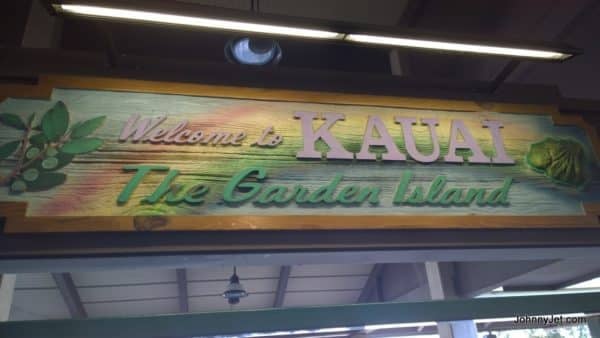 I was recently on the Garden Island of Kauai while I was taking the SPG American Express Holiday Challenge. My wife and I learned some valuable tips that anyone who is traveling there should probably know. So if you'll be traveling through Kauai's Lihue Airport (LIH) anytime soon, I hope these tips come in handy!
1. Sit on left-hand side
When flying into Lihue, sit on the left-hand side of the plane for the best views of the island. The views are spectacular—you don't want to miss them on your descent into Kauai.
2. Don't pay extra
If you're flying Hawaiian Airlines, on their Lihue-Honolulu flight, they charge $10 for the exit row. The flight is only 22 minutes long so it's not really worth it unless you have really long legs.
3. Renting a car
The most economical way to get around the island is to rent a car; taxis are expensive. To beat the lines and save time, either you or your spouse/travel companion should wait for the luggage to come out while the other jumps on the rental car shuttle to beat the line. Then, the one with the car drive around and pick up your companion and the luggage. Note: If you have a VIP membership, meaning you'll have a car already waiting for you and you won't need to fill out paperwork, then just relax and go together.
4. Leave extra early
When returning to the airport, leave extra early because, believe it or not, traffic is really bad on Kauai—especially when coming from the Kapa'a area. One airport worker told me that they are always doing construction and it took us almost an hour just to get through it.
5. Eat at Java Kai
A fantastic place to eat on the way to the airport (if coming from the Kapa'a area) is Java Kai. They make delicious smoothies, breakfast and fresh-baked treats.
6. Fill up your rental car with gas
Don't forget to get gas for your rental car before you return it. There's no gas station right next to the airport so if you're coming from the Kapa'a area, fill up at the Shell station, which is about five miles away. Or, go into the town of Lihue (about two miles away) and you'll find a Chevron station across the street from the Kauai Museum.
7. Print your boarding pass at the hotel
If you have TSA PreCheck, be sure to print your boarding pass at your hotel or at a kiosk at the airport because if you just go to the Hawaiian Airlines counter to check in, their boarding passes won't put the TSA PreCheck stamp on them (Don't ask me why…I have no idea). If you do go to the counter, then go to one of the kiosks afterwards, scan the bar code on your boarding pass and reprint it. The TSA PreCheck stamp will then appear.
8. No free Wi-Fi
For inter-island flights, you're supposed to show up 90 minutes early. The Lihue airport is small, there's not a lot to do and there's no free Wi-Fi—but the good news is that the airport is open to the air so it's lovely just to sit and relax before your flight.
Hopefully these tips will help make your trip through the Lihue Airport better! Please let me know if you agree or disagree and if you would add anything else. Mahalo!