Let's face it: No one really needs a selfie stick. However, some of us at Johnny Jet have been warming to the idea—and a few of us have even been testing them. Selfie sticks were first seen across Asia and have since spread to the US and Europe.
I suppose there's no denying if you're alone, hiking or sharing a special moment traveling, a selfie stick can be useful. Selfie sticks can also be used as a weapon for self defense (okay, we don't really recommend that).
For your selfie-taking pleasure, we bring you our roundup of a few super-great selfie sticks in a variety of price ranges: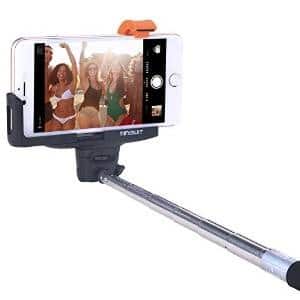 1. Minisuit Selfie Stick Pro with Built-In Bluetooth Remote ($18)
The Minisuit selfie stick was one of the first out there, and it was recently redesigned to offer greater ease, comfort and functionality so that your selfie moment is perfect. It also comes with a separate Bluetooth remote and a button you can push to take the selfie. We think it's best to use the remote so your finger isn't shaking the selfie stick when you're trying to take the photo.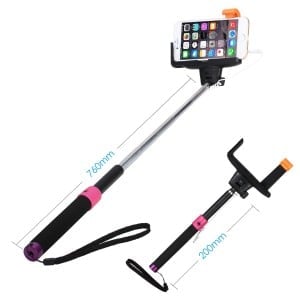 2. Noot Self Portrait Extendable Handled Stick ($15)
This Monopod can be extended to about three feet, and there's an adjustable phone holder that locks for multiple angle shooting.
3. Gorilla Gear's Complete Selfie Kit ($25)
Everything is stronger with Gorilla, right? This selfie stick comes with a lifetime warranty by Gorilla Gear. It's lightweight, folds up nice and tiny and even comes with a little cell phone holder so you can treat your cell like a GoPro.
4. Flexion QuickSnap Pro 3-In-1 Self-portrait Monopod ($22)
While it's a few extra dollars, the Flexion QuickSnap is more sturdy for the price. However, it only comes with a built-in remote so you'll have to keep your hand steady to ensure your shot doesn't come out blurry.
5. DigiPower Quikpod Extreme Monopod ($52)
For the crazy price, it has extra features that the cheaper ones don't have. The Quikpod extends from 18″ to 53″ and has a built-in mirror for overhead shots. It also comes with a GoPro mount and quick release to change between GoPro and your phone. It's built with waterproof aluminum, which allows for more durability and a raised, rubberized grip. And it comes with extras like a smartphone adapter, wrist strap, floor bumper, hiking clip, and carrying case.
6. Ipoq 2015 Self-Portrait Monopod Extendable Bluetooth Selfie Stick ($24)
We like this one because of its extra fun colors and zoom features. There's also a zoom function that works on most Android phones.
7. BoxWave SelfiePod Selfie Stick Photo Assistant ($15)
The BoxWave SelfiePod can be used to snap otherwise hard-to-get photos with your smartphone, GoPro or camera. While this one doesn't need a battery or need to be charged, you have to use your photo timer on your smartphone to take a picture.