This post contains references to products from one or more of our advertisers. We may receive compensation when you click on links to those products. For an explanation of our Advertising Disclosure, visit this page.
Sometimes you just may not have enough miles to get everyone on vacation for free (and you're certainly not going to leave someone behind, right?). In this situation, it is helpful to know which frequent flier programs allow mileage pooling between family members and friends. Perhaps you already accrue in these programs. But if not, many are transfer partners with travel credit cards and could still put free trips within your reach.
A Guide to Mileage Pooling
Here are a few of our favorite programs for sharing loyalty points and miles. However, it is only something we advise if you don't have enough available within one account for an award. It is rarely a good idea to pay the hefty fees charged by airlines like American, Delta, and United to transfer miles unless you know award space is available and ticket prices would otherwise be quite high.
This is not meant to be a comprehensive guide. Rather, it will focus on some of the strongest airline programs that allow you to pool miles and points for little to no fee. Don't let orphan miles sit there waiting to expire. Share them with someone that can pair them with their own balance to earn a free trip. Without further ado, here's my guide to mileage pooling.
Aegean
You may have read about Aegean's frequent flier program as it is quite popular with North American fliers, not just its Greek home base. It has long been a favorite of frequent travelers because of its low threshold for achieving Star Alliance Gold status. But, it also has a mileage pooling program that is worth exploring.
If you hold Silver or Gold status within the program already, you can set up a Together account for up to five other people. This means you can share miles with each other. More specifically, all of the people linked to your account earn elite mileage credit for their flying (so they can maintain status). The actual redeemable mileage credit goes to the Together account manager's balance. This means you can have your entire staff or friends do your flying for you while you reap the perks – but only if they don't mind!
British Airways
The Avios program is rather unique in that it is only available to adults over the age of 18. But, what if you are traveling with children? The only way for them to earn points of their own is to create and accrue points into an Executive Club household account. A maximum of seven people that live at the same address can be added to a household account. You can also add up to five friends or extended family members to the list who have the ability to redeem tickets from this group account.
Avios offers some great flight redemptions on flights less than 650 miles both within the U.S. on partner American Airlines or within Europe on British Airways, Finnair, and Iberia. Intra-Asia flights on Japan Airlines and Cathay Pacific, for example, can be great bargains. Flights within South America on LATAM and Australia on Qantas are also great to explore.
Avios can be really lucrative if you plan accordingly. You can also transfer points from Membership Rewards to Avios, which at the moment comes with a 40% bonus.
Etihad
While this may seem like a niche program for many, it can represent good bargains if you are redeeming miles for travel on one of its many partner airlines (Air Serbia, Air Seychelles, and Brussels Airlines among others). Alternatively, you can save if you are looking to splurge on Etihad's First Apartment (with doors that close and a separate bed, vanity area, lounge chair, and inflight shower).
Miles can be shared among up to eight people. To sign up for a family account, you need to already have an Etihad Guest membership number.
Frontier
Frontier Miles can be a valuable program for many. The option to pool with up to eight other people of your choosing is one of the best perks. You can set up a Family Pooling account (although friends can be invited too) and move points from individual members into that joint account.
Once a member elects to be a member of a Family Pool, the head's account becomes the "joint" account and any redemption from it will take from the various member's accounts based upon oldest accrual activity.
If you know several people that are taking just a couple of Frontier flights, why not create a family account so that at least one person can eventually use them? This is a great option for friends (you can always pay you friend back), but also nonprofit organizations, or families.
It always pays to sign up for a loyalty program account even if you don't fly often. A recent change to the program for minors means that if their accounts are members of a pool, their points will expire based upon the pool head's expiration date.
The only caveat to Family Mileage Pooling is that you must activate it in one of two ways: reach elite status with Frontier or hold the Frontier Airlines World Mastercard from Barclays.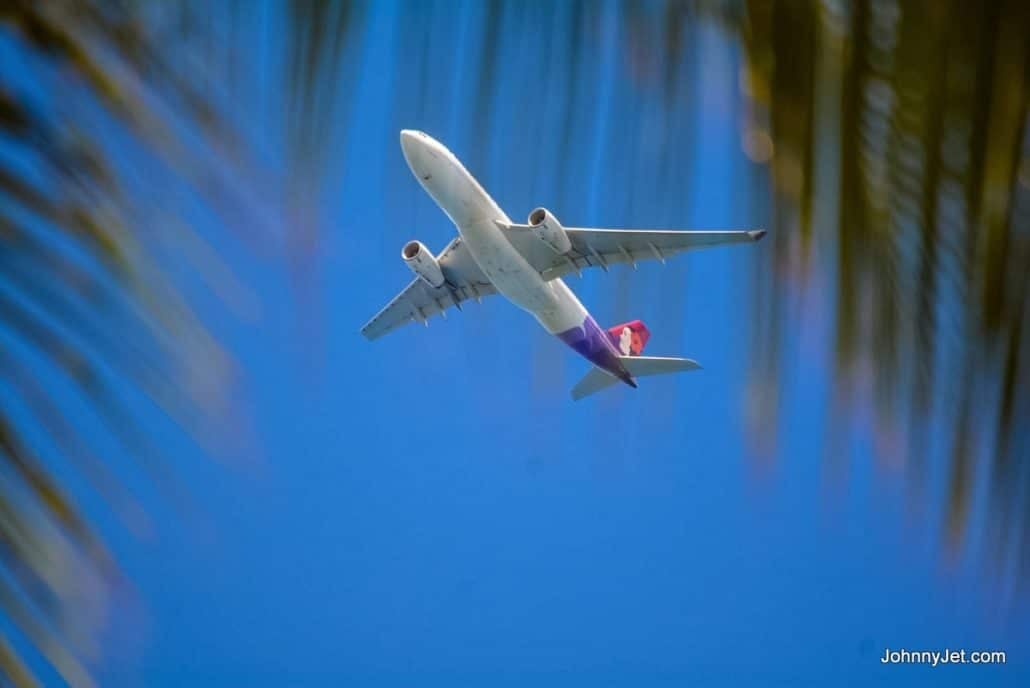 Hawaiian Airlines
One of the major perks for signing up for one of Hawaiian Airlines co-branded credit cards like the Hawaiian Airlines World Elite Mastercard from Barclays is that you can transfer points without a fee from your account into someone else's. This is only as if the recipient has the credit card though.
This can be a great way to maximize orphan miles that you may have earned on a few intra-Hawaiian flights or flights to and from the mainland. Instead of waiting until there are enough miles in one account, you can share them with someone, free of charge, so that they can redeem them for travel. Don't worry, they can also redeem for a ticket in your name from their account, too.
JetBlue
Up to two adults and five children within the same family can share TrueBlue points without a fee, which you can manage in a family account. This is especially valuable if one person travels often for business, but wants to travel with others when it is time for leisure. The head of the household account is responsible for inviting other family members to participate in sharing points. You may then combine them into one account from which you can redeem points. Plans are in place to allow friends in on the sharing action as well.
Even if you don't participate in these programs, most loyalty programs allow you to redeem your miles and points for someone else. If you have enough in your own account, don't bother with combining them with someone else. Simply redeem from your account.
Korean Air
Many people love Korean Air SKYPASS because it makes plentiful premium cabin award redemptions open. These are often several in the same cabin on each flight, making it a perfect choice for long-haul flights for families. While the redemption process may be clunky (its website is not the most user-friendly), there is tremendous value with this mileage pooling program.
It operates a Family Plan program where related travelers (including in-laws and grandparents) can top up another member's accounts with miles for redemptions if booking a Korean Air-operated award. Sadly, it cannot be used for booking awards involving any SkyTeam partners. Korean Air has ended its transfer partnership to move points from Chase Ultimate Rewards. If you want to earn in Korean Air's program, you can credit any SkyTeam partners flights to the airline.