I first learned of Air Asia when I heard about Sir Richard Branson dressing up as a female flight attendant and working an Air Asia flight after losing a bet to the airline's owner, Tony Fernandes. Wouldn't you have loved to see that?
But what I like most about Air Asia is that you can buy last-minute fares all around Southeast Asia for cheap. When I was pricing out tickets to fly from Bangkok to Siem Reap, I made a rookie mistake by only searching flights from BKK airport. BKK is Bangkok's international airport. By limiting my search to BKK, I was only bringing up a small portion of their flights and most of them were on small planes.
DMK airport
But Bangkok has another airport called Don Muang Airport (DMK). It used to be the old international airport and it's been around since 1914 so they are celebrating its 100th birthday this year.
I learned that Air Asia has numerous flights out of DMK and all them are on their new A319 and A320-200s … which was a relief since I don't like flying on those small, cramped planes.
I was a little bit nervous about flying Air Asia because I thought they were going to crack down on my carry-on weight like many low-fare carriers do. The airline states that passengers are only allowed to bring on 7kg, which is a lot less than what my bag weighs (11.7 kg) since I have cameras, electrical gadgets, chargers and my computer. For that very reason, I brought along my Scottevest jacket since it has 20+ pockets and can act as a secret third carry-on.
But most of my new Thai friends said not to worry about the weight restrictions, telling me that they fly Air Asia all of the time and that the airline doesn't crack down like they threaten to. I was relieved to find out that they were right.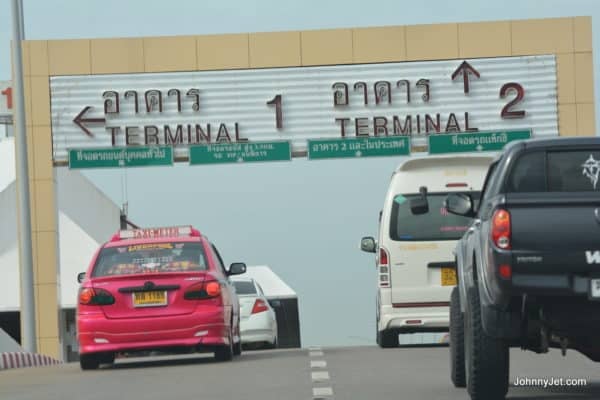 Getting to DMK from central Bangkok during rush hour took one hour. We were in heavy traffic until we reached the toll road. If we hadn't hit traffic I suspect it would have taken around 30 minutes.
Check-in at DMK was quick and as my friends promised, they didn't weigh our bags or make us check them.
Seats
It's worth it to pay extra for Air Asia's Premium Seats (previously known as Hot Seats) since you get a few extra inches of legroom and you get to board first. And you don't have to have advertising on the seatback in front of you, in your face. Extra legroom can be found in rows 1 and 14 on the A319 aircraft and rows 1, 12 and 14 on A320 aircraft. Therefore, not all premium seats are created equal. The first five rows and the exit row are designated with red leather seat top covers, which really stand out against the regular black leather seats.
FYI: Air Asia has 180 standard seats total. Forty two of them are the "Premium Seats." All but the ones mentioned above have 29 inches of pitch and are 18 inches wide.
On the way to Siem Reap, Natalie and I were in regular seats and it wasn't that bad but it's probably because we had an empty seat between us and the person in front didn't recline. On the way back, when I found out how cheap the upgrade cost ($12 from Siem Reap to Bangkok), I jumped all over it. FYI: They did not accept credit cards, just U.S. cash.
Airport security in Thailand is similar to the U.S. in that you can't bring bottles of liquid and you need to take your laptop out but shoes stay on. The lines were never long and moved quickly. The only really interesting thing is that they give passengers little plastic baggies to put their phones in – I'm assuming that's for hygienic reasons?
What I didn't like is that for each Air Asia flight, we had to take a shuttle bus or walk out to the plane. Maybe that's why the fares are so low … they don't pay ramp fees? I'm not sure. But I saw some Air Asia planes at gates so maybe not all of their flights are operated like that. We got on the first bus and it took a while for the next two to arrive.
When we boarded the plane, I was amazed at how much vapor was coming out of the vents. It looked like dry ice from an Ibiza nightclub. Combine that with all the pretty flight attendants bowing to each passenger as they passed and it was sort of surreal.
Nothing is free on Air Asia including bottled water, which costs 30 baht ($1 USD). A can of soda was 60 baht ($2). You have to pay by cash — no credit cards.
Overall, it was a very enjoyable experience and flight time between Bangkok and Siem Reap is only 40 minutes, since it's only 218 miles.