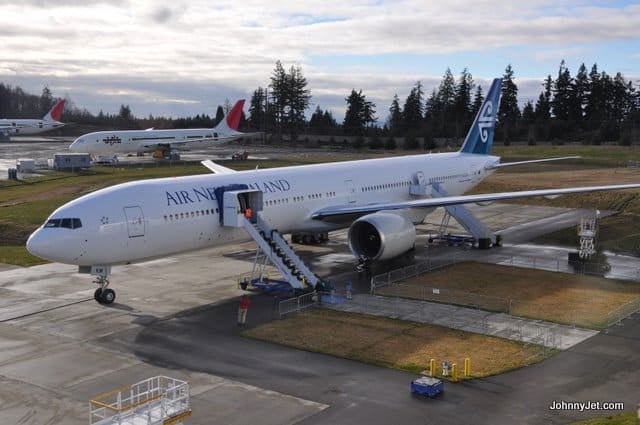 I got invited to be a guest of Air New Zealand to pick up their first of five new 777-300ER aircraft at the Boeing plant outside of Seattle. I know! How amazing is that? It's been a dream of mine to get a behind-the-scenes tour and Air New Zealand and Boeing made it a reality.
There's been a lot of hype about this new plane since it's debuting the Skycouch and Spaceseats (more on them in a minute). The seats and the plane's new interiors were supposed to first be featured on Air New Zealand's 787 Dreamliner, but due to the long delays they put them on the 777-300ER aircraft.
Behind the Scenes Tour of 777 at Boeing Factory
The first thing Air New Zealand arranged for us was a behind-the-scenes factory tour. Here's a slide show of that tour, which included the 787!
Boeing Dinner at EMP
The first night Boeing hosted a dinner for Air New Zealand at the EMP (Experience Music Project & Science Fiction Museum, founded by Microsoft co-founder Paul Allen). Here's the slide show of the dinner (I'm still working on it).
Handover Ceremony at "Future of Flight"
The following morning we were all transported from the W Hotel in Seattle to the Future of Flight Aviation Center in Mukilteo, WA. It's 25 miles north of Seattle and right next to Boeing's Everett factory and Paine Field.
Future of Flight
Before the ceremony began I toured around the Future of Flight Aviation Center and did some last-minute Christmas shopping (for myself) at the Boeing Gift Shop. I bought a model 787 for $39.95.
Air New Zealand Handover Ceremony at Boeing
Ed Sims, group general manager for Air New Zealand, and Larry Loftis, vice president and general manager, 777 Program, Boeing Commercial Airplanes, show off the signed certificates.
Ed Sims Shows Off The Keys To The Boeing 777-300ER Plane
Ed Sims, group general manager for Air New Zealand, shows off the keys to the plane.
Andrew Baker Cultural and Customer Ambassador Air New Zealand
Andrew Baker, cultural and customer ambassador for Air New Zealand, describing to the audience how he is about to perform a Maori blessing.
Santa and His Elves
Santa and his elves give Air New Zealand the ultimate Christmas gift: a Boeing 777-300ER plane.
Air New Zealand's New 777-300ER
There she is!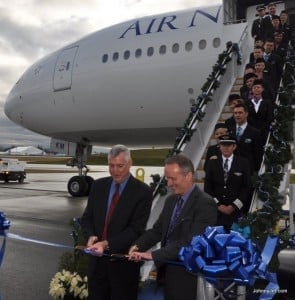 Air New Zealand Flight Crew Waving to the Media
Andrew Baker Blessing the Exterior of the Engine
Andrew also blessed the interior of the 777-330ER.
Ribbon-Cutting Ceremony
Ed Sims, group general manager for Air New Zealand, and Larry Loftis, vice president and general manager, 777 Program, Boeing Commercial Airplanes, cut the plane's ribbon.
Mike Moore, the New Zealand Ambassador to the United States, Touring the Plane
Everyone was excited to tour the plane including The Right Honorable Mike Moore, who is the New Zealand Ambassador to the United States.
Air New Zealand's Business Premier Seats
We all entered from the front of the plane, so naturally the first seats we saw were what Air New Zealand calls Business Premier. I would call them dream seats, since each of the 44 seats turns into a lie-flat bed and comes with a memory-foam top, duvets, fluffy pillows, and a large table where you can work while you eat or dine with a guest (the footrest doubles as a mini-seat). There's increased personal stowage and a 10.6-inch personal entertainment system that's chock-full of entertainment options. What's crazy is that every seat on the plane (including those in economy) has the same generous-size touch-screen monitors! And like on Virgin America, you can order food and drinks on demand.
Business Premier Amenity Kits
All passengers get an amenity kit, but the Business Premier customers get the good stuff, which includes La Prairie skin-care products, an eye mask in one of (eight different designs), and striped socks. Oh! Here's the swanky box they came in, and here is a picture of Premium Economy's amenity kit.
Air New Zealand's Premium Economy Seat
There are 50 Premium Economy seats. They call them Spaceseats, and they are definitely innovative. They feature a larger seat area and more room between passengers, but I'm not sure how much more legroom. When I reclined — the seat slides forward — it didn't feel that drastically different than normal. But what's nice is that the personal space of the passenger sitting behind doesn't get cramped when the seat is reclined. The best Spaceseats are definitely in the bulkhead row.
Here's a seat diagram for the 777-300ER.
Air New Zealand's Sky Couch
Here's the biggest reason this plane has received so much hype, and deservedly so. Air New Zealand is the first real airline to invest millions of dollars in an innovative coach product. There are 244 seats in economy, and 60 of them can be turned into Skycouches (with 20 different combinations). That's right: The leg rests of three seats together flip up to form a flat area (5'1″ long). The configuration would make the trip much more pleasurable for a couple or family traveling together — at a fraction of the cost of business class. Note: The Skycouch only fits two adults comfortably, so couples need to pay for the third seat.
Note: The seats that don't have Skycouch have a foot net.
Air New Zealand Has Storytelling for Children
Air New Zealand is first at a lot of things, and as far as I know they are the first airline to have storytelling for children on their long-haul flights. How cool is that?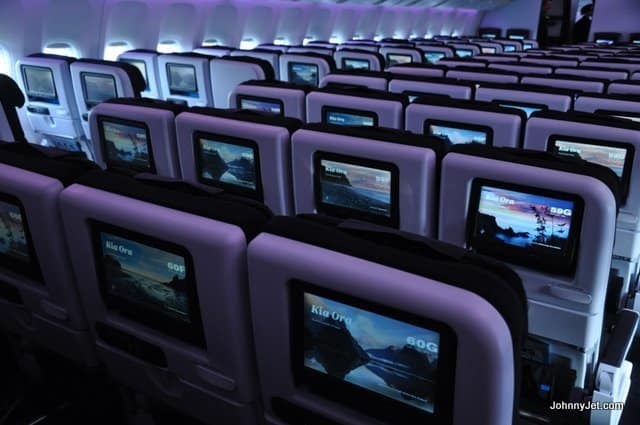 Economy Seats
All economy seats not only have their own in-flight entertainment screens but they also have PC/USB power and iPod connections. Here's a pic of what it looks like in business class. The seats also have winged headrests in economy and a Kiwi-designed pillow slips onto it so passengers won't keep dropping it.
Air New Zealand Flight Attendant Gives the New Seats the Thumbs-Up
Chris, an Air New Zealand flight attendant, gives the new seats a big thumbs-up (I do too).
Air New Zealand's New Lavatories
My biggest disappointment of the day was seeing the toilets, and it's only because the executives kept saying, Our lavatories are the only ones in the sky with a chandelier and bookcase. If they hadn't hyped it up so much I would've thought it was one of the coolest things on the plane, but the chandelier and bookcase are wallpapered on (duh!).
The bathrooms (in all classes) are designed to be more like those in homes; not only do they have a chandelier and bookcase as bathroom wallpaper, but in one of the bathrooms, there's a man peeking through a painted window. FYI: That bathroom has a real window as well.
Air New Zealand's Crew Rest
Since it was a special occasion I was able to visit the crew's rest area in the back of the plane. You have to go up some stairs to get there, and it's a bit cramped, but there are flat beds with curtains so the crew can get some rest. The only thing I wouldn't like about it is that it tends to be bumpy in the back of the plane.
Air New Zealand's 777-300ER Flight Attendants
The tours were over and they were serving lunch in the Future of Flight before we took our delivery flight to Los Angeles. On the way down I snapped this nice shot of a couple of Air New Zealand's flight attendants.
My Christmas Present
On my way to grab lunch I spotted Santa and asked if I could take a picture of him with some of the flight crew. They all agreed and it looked so cool I asked if I could get one too. I love Santa!
Security at Paine Field (PAE)
I saw the flight attendants getting ready to board the plane, so I waited about 10 minutes before grabbing my bags and going out. I "checked in" (showed my passport) to the staff workers and then went through security. It wasn't the TSA working the flight but rather a private security company. They were cool with me taking pictures and were pretty thorough in hand searching the carry-ons. At the plane door there was a Boeing security guard checking passengers off.
Getting The Keys To The Plane
It turned out that I was the first passenger to board. What was special is that on my way to the plane I turned around and saw Ed Sims. I was making a fun video with him when the pilots came out. I just happened to be the only person to witness him giving the ceremony keys of the plane to the pilots. It was a special moment and I have the only photograph (and video) of it. How awesome is that?
Seat 5K
I was assigned seat 5K (business class), but I could've sat anywhere I wanted — there were only 70-something passengers on the two-hour flight down to Los Angeles.
Pre-Takeoff Drinks
I was seated next to a bunch of other writers, and we were all excited for the flight and enjoying Air New Zealand's friendly service. For most of us, it was our very first time doing a delivery. I was a bit nervous since the plane had only been in the air for less than eight hours, but they've now made over 900 777s, so I think Boeing knows what they are doing. Still, seeing one of Boeing's engineers walking alongside the plane as we taxied was nerve-racking — until we were airborne, that is.
Seattle Skyline From The Air
Seattle Skyline from the Air The whole flight was smooth and the plane engines were really quiet. We had incredible views of downtown Seattle and Mount St. Helens, and we finished with a Californian sunset. How perfect.
Canapés
Even on a short flight, the flight crew worked their tails off to serve us all kinds of canapés (shrimp, lamb, and duck, plus dessert). FYI: One of the best parts about this new plane is that all of the food is cooked on board rather than reheated. Imagine: Passengers can have steak cooked the way they want it.
Johnny Jet and Air New Zealand Flight Attendants
All I can say is "wow" about the new product and Air New Zealand's service. I can't wait until I get to fly them on a long-haul flight either down to New Zealand or even around the world. Did you know they are one of few airlines to fly all the way around the world?
FYI: The new 777-300ERs will be phased in for service from Los Angeles (LAX) and will start on the LAX-Auckland route. In April they will begin flying regularly on both the Auckland-LAX and LAX-London routes.
Kia Ora!