This is the second part in Jim Milio's three-part series in Thailand. Part one is here.
"Life is a journey": Anantara motto. "The journey is the reward": Seen on a T-shirt in the airport.
As part of my wife Jeanette's and my recent excursion to Thailand celebrating our wedding anniversary, we spent several days staying and/or enjoying meals at several Anantara resorts, anchored by our stay at the Anantara Siam in the heart of Bangkok.
The Anantara group of luxury hotels is not that well known in the United States…but I'm strongly recommending that you get to know about them as soon as possible. There are 16 in all (plus sister resorts and hotels) located mostly throughout Asia and the Middle East. Here are the three—plus a sister property—that we loved in Thailand:
1. Anantara Hua Hin, Hua Hin
We spent a week in Hua Hin, a dreamy Thailand beach community that's a two-hour drive from Bangkok. While we were there, we made two visits to the striking Anantara Hua Hin, which is the first Anantara resort, built about 16 years ago. The Anantara Hua Hin feels both comforting and traditional in terms of Thai architecture and layout, from the handmade brick walls to the manmade lagoons.
We arrived for the Saturday night seafood beach buffet (the Anantara group loves buffets; many of them offer many different types of buffets, both at breakfast and dinner). The huge seafood spread was centered around a giant grill, teeming with prawns, barracuda, squid, salmon, and much more. Jeanette loved the barracuda…I'm a squid guy (insert joke here) and found them to be delightfully soft and tender. The buffet also featured delectable cuisines from India, China and, of course, Thailand. There was also an option to include unlimited wine or beer if you're that sort…and it turns out I'm that sort. The entertainment included a Thai guitar duo that strolled to every table. For Jeanette and me, they sang a sweet Thai love song. Traditional Thai dancers and musicians performed throughout the evening.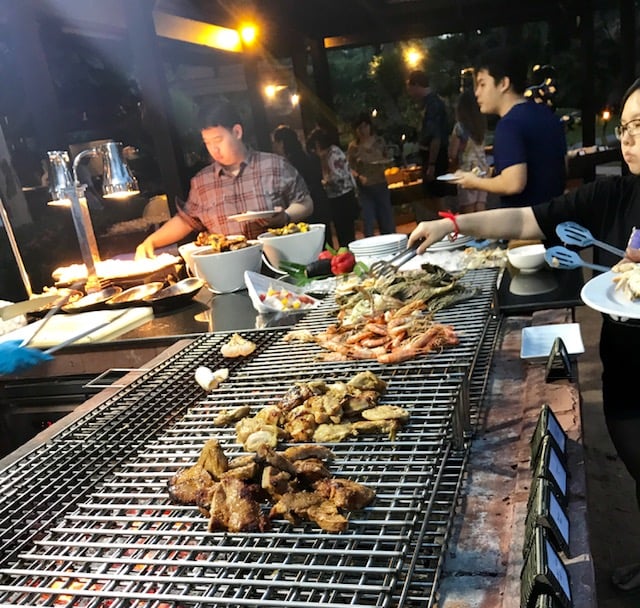 It was a romantic night at the beach, with exquisitely prepared food and phenomenal service. We enjoyed the Anantara Hua Hin so much that went there for dinner second night to eat at Rim Nam, a traditional Thai restaurant where we enjoyed pineapple fried rice and chicken curry.
2. Anantara Siam, Bangkok
Later in our trip we spent two nights at the Anantara Siam, located in the heart of Bangkok. It's a kind of hybrid hotel that's suitable for both businesspeople and pleasure-seekers. We enjoyed a deluxe room that overlooked the pool, with the only downside being that our window view was landlocked by walls of other buildings surrounding the hotel.
A fantastic feature available at all the Anantara hotels we visited is the free handy smartphone included with your room. This beauty comes packed with local information, maps and guides…including a link to Uber, which we used several times. You can also make unlimited free calls anywhere in the world during your stay. It was a unique service that we loved and used all the time.
Every morning the Anantara Siam offers a massive breakfast buffet featuring pretty much anything you could ask for: fresh local fruits, salads, cold cuts, egg and omelet bar, pastries, cereals, and a host of items from China and Japan. There was simply no way to leave hungry.
The Biscotti Italian restaurant, located on the lobby level, created one of the top three Italian meals I've ever eaten in my life—and I'm Italian with a grandmother who truly knew her way around a kitchen. We started with antipasto buffet (I told you they liked buffets) followed by the creamiest burrata to ever enter my mouth, along with homemade pastas that were as good as anything you'll find in Italy.
Our Anantara spa experience was another "best of" moment for us. We received their "signature treatment," a 90-minute extravaganza that includes handpicked oils and four different elements of massage. Oh, yeah…heavenly.
3. Anantara Riverside, Bangkok
Jeanette loves being as close to water as possible, so for our final 24 hours in Bangkok we stayed at the Anantara Riverside, located right on the Chao Praya River. We enjoyed a suite with delightful views that overlooked the river and the pool. The room was beautifully appointed and included a handy phone to use during our stay. We spent a lot of time on our last day lounging away at the pool and at one point were visited by a monitor lizard looking for lunch (fish, not us).
Across the street from the Anantara Riverside is its sister property, the Avani, which is a hipper, more youth-focused hotel with some real jaw-dropping elements. Thailand is known for its many rooftop bars and the Avani sports Attitude, a restaurant and an open-air bar high up on the 26th floor overlooking the river. The view was phenomenal! I wasn't feeling well that night, but Jeanette ordered some mouth-watering black cod and an After Eight mint dessert that was dreamy. It was a wonderful setting for our last night in the big city.
We also had our final meal in Thailand at the aptly named Skyline, located on the 11th floor and also featuring great river views. There I had the best pad Thai of my life while Jeanette enjoyed a spicy crab claw dish.
The Anantara hotels are all run seamlessly and the staffs we encountered were genuinely eager to assist and help with anything we could have possibly wanted. I highly recommend you check them out next time you're traveling overseas.
In part three: A villa in Thai paradise.
For more on Anantara hotels, visit anantara.com.