This is the third and final part in Jim Milio's three-part series in Thailand. Part one is here and part two is here.
As part of our recent magical journey to Thailand, my wife Jeanette discovered a truly amazing villa for rent in the beach resort city of Hua Hin, situated on the Gulf of Thailand.
Villa Niyala is a sprawling 15,000-square-foot villa featuring ocean views, an infinity pool, a mega "lazy river" pool, a massage room, and a staff of two who stand ready to assist with cleaning, cooking and trips into town. It feels like living in the lap of luxury at prices that are surprisingly affordable, especially if you go with other couples and share rental costs.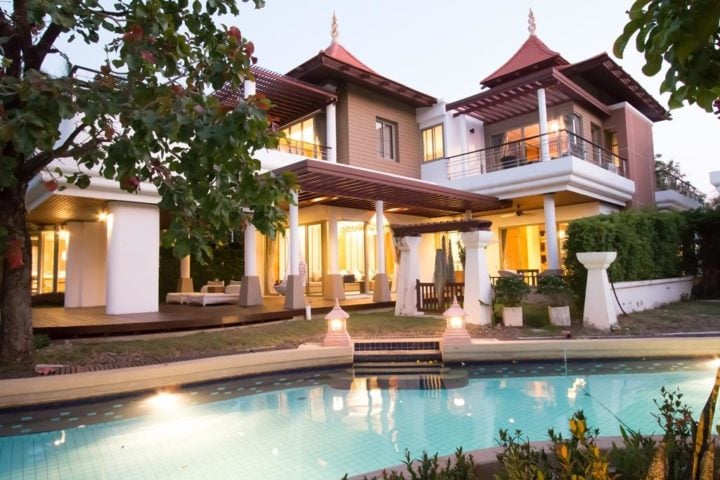 Villa Niyala's owners Sine and Adam (who are lovely, by the way) arranged for a driver to pick us up at our hotel in Bangkok and bring us out to Hua Hin, which is roughly a two-hour trip by car. Once we arrived at the villa, we were met by Aey and Puy, the house staff. They only speak a few words of English but with a little pantomime effort—plus an assist from Google Translate—we communicated without issues. Aey and Puy had already gone shopping on our behalf and made us a great dinner of pad Thai noodles along with chicken sautéed with holy basil. They also made a delicious breakfast for us every morning and would have made any other meals we requested had we not decided to try various restaurants around town (two of which were within an easy walk of Villa Niyala and serve great Thai food at very reasonable prices).
As you can see from the photos, Villa Niyala is downright stunning, and because we were there in the low season, we were often the only ones lounging at the infinity pool or on the beach the entire day. Aey and Puy also arranged to get us massages in the massage building that's located right on the premises…can't beat that!
Jeanette and I haven't had a vacation lasting more than a couple of days since we met and married, so it was a total indulgence to spend seven full days at Villa Niyala, just lounging around, reading, taking naps, being completely lazy, and trying to stay away from laptops, phones, the internet, and social media as much as humanly possible. We also slept in several of the different bedrooms just to give them all a test drive.
Although it felt a little weird at first to have this giant property all to ourselves (another couple planned to join us but had to cancel at the last minute), we got used to it fast. The days went by in a blur and we totally recharged our batteries.
There are many websites, companies and individuals that offer homes for rent around the world (like Airbnb), and this trend will continue to gain steam because of the unique opportunities that come with staying in everything from city apartments to stunning palaces like Villa Niyala. I strongly suggest you investigate what's available in this category wherever you're planning your next vacation.
At the end of our seven days, we were truly sad to leave. However, we intend to head back to Villa Niyala for a return visit!