Wanted: A vacation that combines luxury, adventure, amazing food, and rest for a desperate, large family. Where did we find this? Club Med Cancún Yucatán.
On the northern tip of the Yucatan peninsula, at the private end of one of its longest and best beaches, lies what was once imagined as an 80s singles paradise. Now, Club Med is composed of 70% families, 20% couples and 10% singles. Planners behind the new Aguamarina section of the resort understood that a family vacation doesn't mean a vacation for kids only; the area is set up for the whole family to enjoy. Each of the 60 family suites look out onto the sea, abut the broad beach and have separate adult and kids rooms within. Geniuses (or just really smart folks with kids) designed this place.
Everything is well-considered: Tub (in the kids room), showers (two on lower suites-including the outdoor shower), his-and-her sink (for the adults), his-and-her closets, and proper televisions in each room. Twin beds are in the kids room and there's a king in the adult room, along with a nice couch and a round circular outdoor couch to watch the sun come up.
My family of eight (composed of two adults and six kids ranging in age from 2- to 6-years-old)—we don't get out much. The kids all get along as kids do: they won't fight as long as we're going to an airport. Beyond that, it's hard to keep everyone happy. Except at Club Med Cancún Yucatán. There, everyone was happy.
As a mother of six, the thought of going on vacation made my heart race and my palms sweat. It seems like more work to pack up a family of eight and get on a plane and go anywhere, hauling luggage and strollers and screaming kids, than it is to just stay home. My first trip to Club Med in Florida changed my entire perspective, but I'll tell ya, I wouldn't go anywhere but a Club Med resort from here on out (not until they all graduate college anyway)." — Jill, mother, 39
Our punch list for the ideal vacation includes the following:
Security for the family
Great weather
Great food
Blue-green water
White beaches
Top accommodations
Activities to keep us all amused
A place to rest for the adults
Fun-packed days where the older kids could be autonomous
Fun-packed days where the little ones would be cared for with or without the adults so that we, too, could get a sorely needed break
Manageable travel
We got it all at Club Med Cancún Yucatán.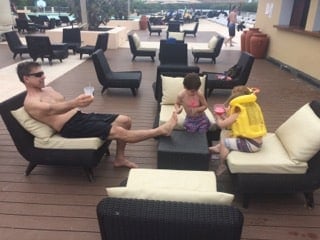 Getting there
Airports are usually very tricky for large families. It's usually what triggers the "This is a bad idea. Why are we doing this?" inner monologue, and pushes us to turn around and go right back home. But from John F. Kennedy Airport in New York to Cancún, things were fairly easy. Check-in and security took a total of two hours, which gave us an extra hour-and-a half to eat breakfast. The flight was no more than four hours, and suddenly, we were in Mexico.
Cancun has a relatively small, luxurious airport, modernized and packed with plenty of the familiar mini conveniences. Customs was a breeze and the van from Club Med took us on a short 20-minute route to the resort. We were taken through the manned security checkpoint and onto the 22 acres of property that would be our home for six days. Easy.
Arriving at the Club Med
Security is of paramount importance to me, and I was impressed with the watchful eyes of the independent security personnel at Club Med. There is a valid sense that none other than the people who belonged here ventured onto the property. And I actually relaxed immediately.
The cleanliness and the beauty of the surroundings tell the story: The people here are on the ball. Green grass, palm trees and beautiful landscaping welcome visitors on the way to the reception. Our kids started yelling "Cancún is better than Florida! Cancún is better than Florida!" From the entrance, we were transported directly to the small Aguamarina reception overlooking the children's playground and the tennis courts on one side, and the beautiful Caribbean on the other. We were welcomed by friendly staff, handed fresh juices in champagne flutes and refreshing face cloths, and then assisted to our rooms.
Once we were settled, the action began. Constantly moving 15-person golf carts swiftly transported the family to all the beaches and places we wanted to go, all over the property. There were a ton of places to see and do at Club Med, but here are the sight things that made us love our stay there the most:
1. Nightlife and entertainment
The entertainment was one of the best parts of the entire trip. There was a club open every single night, accompanied by the party associated with whatever theme was chosen for the night. Fortunately, Club Med Cancún Yucatán's 40th anniversary took place during our stay, and it was one of the best parties we have ever been too. During the day there was an incredibly fun and lively color party, which was followed by a party that same night that included a wonderful theater performance, music and dancing.
We wandered into the pirate show. An interactive experience where two pirates vied for the affection of the princess. I was mesmerized. As the show was directed toward the many kids in the audience, like a Pixar movie, there was an undercurrent of a comically delivered adult life lesson: No matter how much money one has, material comforts never compare with sincerity and availability. As the one pirate said, 'I have too much money.' When the princess asked, 'Will you have time to play with me?' his response was, "No but I can pay for someone to play with you!' Even the kids saw who the winner would be." — Frank, father
For parents, the best part of the nightlife is the freedom afforded by the various activities available to entertain the younger members of the family. There is also abundance of kids' shows. During our stay, there were shows a couple times a week that involved the children, and all were spectacular and hilarious and created memories that we will never forget.
Just drop us kids of and hit the spa while we make friends, eat lunch and have a great time doing all those fun activities. We can stay there from 9-5:30 and 7-9, but we made so many cool friends, we never wanted to leave!" — Cameron, 9
For children, there is a Pyjamas Club that's open from 9 pm until 1 am. For the teenagers, there is an active nightlife, something that ours had high hopes for. Club Med exceeded their expectations. Each night came along with a theme, dress code, theater performance, clubbing, and parties. The night was so packed full of things to do that all nights ended at or past 3 am! For the teens at least. Us parents were knocked out by midnight!).
The teens club or 'car wash' was my favorite part of the trip, along with the food and the weather. Every day was packed full, from nine in the morning to nine at night. Usually the day would start off with a beach/water activity, and then trapeze. After lunch everyone gets an hour to themselves before coming back for more activities, like basketball or pool games. Meals can be eaten with the club or with your family, and I can say that the friends I made through the club will be my friends for a long time. The staff at the teens club are very friendly and also keep everyone safe. The club offers access to kids ages 11-17, and the younger kids aren't left out either, because they can go to the Mini Club." — Morgan, 13
The Club Med theater deserves its own mention, however, because some of the greatest shows we have ever seen were performed there. The shows are run mainly by the GOs (Gentils Organisateurs, a Club Med staple), who have some of the most amazing talent I have ever witnessed. Even the lights and sound were extremely professional.
Each night in the theater a show is performed, and sometimes guests get to be in the shows. On our second day there, the show was a series of dances performed by all of the teens at Club Med. I got to be a part of this show. It was very fun, and very well-coordinated. There are also shows put on by the staff and professionals. While the shows are not mandatory, they are very fun and also do not last that long. They are worth watching." — Morgan, 13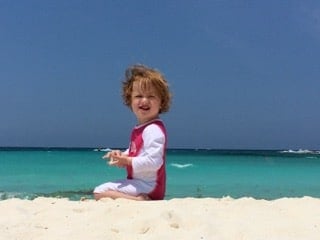 2. Childcare and freedom
Club Med offers the whole family the ability to roam around independently and participate in activities. There's a shuttle that will take you just about anywhere on the resort, or you can walk on the pathway to wherever you're going. Since there are teen and kids clubs, parents are also free to relax and not worry about their kids.
Passworld, the teenager club, was by far the best thing I took part in during our trip. The connections I was able to make with GOs and friendly people from around the world, while also participating in every activity Club Med had to offer, were incredible." — Madison, 16
For parents and kids alike, Mini Clubs are the equivalent of a highly sophisticated private daycare in paradise. Little kids get to experience nearly all of the excitement that adults do, but with the direct, interactive supervision of multiple highly trained childcare specialists also trained in "how to have fun."
I would have laughed at you if you suggested taking a 2-year-old to Mexico for a weeklong holiday before learning about the optional program for the younger kids. I have two children under the age of four, and this program is second to none. They provide as many activities for the wee ones as they do for the older kids. Just make sure to cover yourself for Saturdays as that's the only day they're not available for childcare. There is also Petit Club Med, Pyjamas Club for nighttime, as well as private babysitting services, all at additional costs that are well worth it. Kids ages 4-10 are occupied 9 am-5:30 pm every day when registered in Mini Club. There is no additional cost for this vital program. Not only does it give the 'grown-ups' a chance for a truly relaxing vacation, but the kids can't wait to return the next day. They do everything from trampoline to trapeze to swimming to group lunches. The friends your children make can turn out to be lifelong, and that's special." — Jill, mother, 39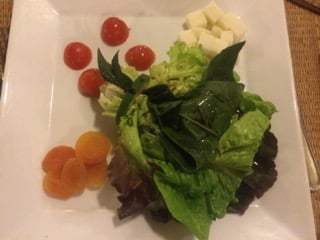 3. The food
Every day we got up and walked to the big buffet, and every day we went back to the hotel room at the end of the day feeling like like we'd had a full breakfast, lunch, dinner, and dessert! From 2-year-olds to teenagers, all the kids loved the buffets. Actually, we all did.
The breakfast was my favorite meal every single day. Most breakfast consisted of pancakes, hash browns, customized omelets, bacon, and fresh squeezed juice. The perfect way to wake up every day." — Cameron, 9
Club Med has almost unrealistic standards for food. You would think that in all of the other spectacular things that Club Med provides, the quality of the food would get lost. That is most definitely not the case. I've never had better food in my life, and the whole family agrees! And wow, the desserts at Club Med were the best desserts we've had in our lives. Every night was accompanied by a wide array of different cakes, cookies, pastries, and fresh fruit. The chef who made the desserts was also there to slice and serve whichever of the 10 cakes we decided to try (we chose nearly all of them). The variety was incredible and the taste was even better. We think we gained six pounds each on the desserts alone.
Other than the gorgeous weather and grounds, the thing I missed the most when boarding the plane home was another meal at one of Club Med Cancún Yucatán's extraordinary restaurants. There were three to choose from: La Hacienda, Las Cazuelas and La Estrancia. Las Cazuelas was my #1 pick for breakfast and La Hacienda was my favorite dinner spot. The location of La Estrancia is second to none, however, and they cook a mean hanger steak. I still have dreams about the overwhelming choices they offered in a buffet-style service, as well as of the gorgeous displays. True pride taken by Jean-Charles Ruiz, the executive chef, who makes it a point to come out and introduce himself and confirm your satisfaction." — Jill, mother, 39
One of our other Club Med favorites was the different versions (rolls, fresh loaves, slices) of so many different types of bread, kinds that we never even knew existed. The family favorite: white chocolate bread.
The bread was always so fresh with whatever meal I was enjoying. I have been trying to find recipes for the unique types of bread ever since I left." — Madison, 16
4. Activities
Whether it's on the trapeze, sailing, snorkeling, waterskiing, or just relaxing in the pool, the little ones are always up and running (Find another place in the world where they offer to teach visitors trapeze and I'm guesing you'll be stumped. Trapeze is one of the top activities that Club Med offers, and the trapeze staff are ridiculously talented and always a sight to see).
There's an activity for everyone, which is exactly what we needed for our huge family. Adults got to waterski, teenagers did trapeze and little ones got to play in the pool. Sailing and snorkeling were also fun activities, and with the help of the GOs, teens and adults can learn how at Club Med. All activities are available to every guest. Also, various outside contractors, presumably carefully vetted, have neatly set up shop within the safe confines of the resort.
On our last day at Club Med, I decided to try snorkeling. A few friends and I went and it was the most amazing thing ever. With the water being so clear and so shallow, it was so easy to see everything in the water. I saw a ton of plants and coral, as well as a lot of colorful fish. Overall, I just wish I had gone more than once. I highly recommend snorkeling if you go to Club Med. Just like with snorkeling, I only got to do trapeze once, and regret not doing it more. It was very fun, and also very safe. Someone is up at the top to make sure you start safely. You're strapped in so if you slip, you fall slowly. However, falling is very unlikely. You jump off and feel as if you're flying. Then, when you hang from your legs and look down, it just looks amazing. Make sure you go more than once on your trip. You can learn so many cool tricks after mastering the first one." — Morgan, 13
While we didn't feel the need to access the outside world, the trips to the reef for snorkeling, boating and exploring ancient ruins did offer guests the opportunity for more offsite. It was nice to have the guesswork taken out of the equation. We spoke with several Club Med afficianados and return-vacationers who simple raved about the amenities provided.
Now, I know that it seems bad to talk about the pool when the waters in Cancun are like they are. However, the pool was just as great as the waters. Almost. Every day there were activities like water polo, water aerobics, basketball games, and more. Even when there wasn't a planned activity, the pool was a great place to socialize and hang out on hot days." — Madison, 16
The fully staffed bar and pool surrounded by ample lounges and umbrellas proved to be a day favorite for us. The early morning was the quiet time; then the music started (French influence?) and fun activities appeared to watch or participate in to get the blood flowing. There were pool aerobics, water basketball and more, all led by energetic and entertaining GOs keeping the beat with a DJ whose music got people out of their lounge funks and into the groove. Even our nine-, five- and three-year-olds loved the exercise and music by the pool. Don't worry: It quiets down a bit and if you feel like party-pooping, go ahead and pull up to one of the hundred or so lounges on the beach.
People bring their own equipment to partake in the expert slalom waterski course with trained boat operators. I have skied tournament boats and courses and was instantly impressed by the ski boats, the course and the integration of expert skiers with bare novices. Whether you're an expert or a raw beginner, you'll be happy as a cartoon wolf staring at a lamb when you see the setup. For experts, get to the lagoon (at the far end of the property just beyond the trapeze) at 8 am and sign up. The boat is there and several experts will be ready for the course action go start. You get two pulls through the course and then you're dropped at the dock. The next skier is now in the water and ready to go. Get out of the water and sign up for your next run. It wasn't crowded, the water was flat and the skiing was world-class. After 9 am, the skiing is open to everyone else. And everyone else means two boats start running, and kids 16 and older get to feel the water under their skis (provided with vests)." — Frank, father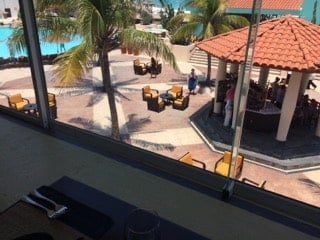 5. Safety and accessibility
Without the presence of weaponry, or the sense that you're being watched, there's an ever-present security force moving around the property. Men, hair jet-black and close-cropped, are neatly disguised as white-washed wait staff. They have "Security" in small print on their collared shirts and carry radio transmitters. To the trained eye, these guys mean business and are certainly military or police. They smile but do not say more than "hello." They're always looking. There's always one in plain view and if you leave your door to your room open for more than five minutes, one will show up and ask if things are okay and to please close the door. And as far as accessibility goes, the shuttle is the first thing that comes to mind.
I can't even begin to explain how helpful the shuttle is in the daily life at Club Med. Club Med, offering many different activities, is very, very large (a whopping 22 acres). So, traveling from the beautiful Aguamarina building to the rest of the resort can take a long time to walk. Thankfully, Club Med realizes that and offers a shuttle that comes every five minutes. So, so helpful, especially when there are six kids." — Madison, 16
Also, Club Med provides high-speed internet with 11 satellites around the resort. Wi-Fi was available in rooms near the main reception building, and in restaurants. This was a huge relief to the teenagers. Lastly, the beach and patio furniture was extremely well-done. They were beautiful additions to the resort and were very strategic. They were placed well throughout the patio near the pool for relaxing in or out of the sun, and there were several different types of furniture to lounge in on the beach. With our family, the large cushioned beds with canopies were the best, because they sat everyone and could be hidden from the sun when it became too hot.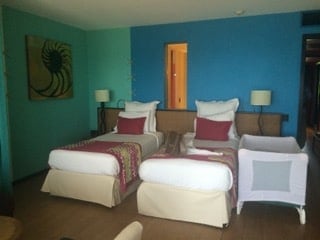 6. Visual appeal
Club Med clearly makes a top priority of ensuring the resort is as beautiful as possible. The rooms in Aguamarina are decorated with very modern and bright colored furnishings. All of the light fixtures and appliances were in perfect working condition and were beautiful to look at. Our teenage daughter even wanted to install the closets into her own room back at home!
Every day when it's time to head back to your room, all the kids look forward to sleeping in those wonderful beds. We wish we slept like that every night! The best part about Aguamarina was the access to the private yard and beach section for each room. If you don't feel like going across the resort to lay on the beach, you could just lay right outside your room, where it's just as beautiful. The beach behind was also less populated.
Club Med also does truly a wonderful job maintaining beautiful gardens throughout their resort. There are so many different kinds of beautiful, vibrant flowers, which improves the walking around and sightseeing by a mile. Every path of flowers is accompanied by the name of the flower, which is fun, especially when your entire family knows plant names like ours does (the kids shouting, "This is a hibiscus flower! I know that one!").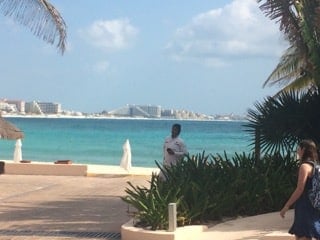 7. Staff
Let's face it: People who pay for an all-inclusive resort are either used to fine things or have saved a boatload of money to experience something "more." Everywhere you're surrounded by quality. We could write paragraphs about the staff, particularly their attentiveness, their attitude toward guests and their enthusiasm. Even the house service and the transporters on the golf cart were uniquely friendly and attentive.
Everyone who's there is super friendly, especially the people that work there. Everywhere I go there is always a GO to greet me with a nice 'Hello,' 'Hola,' 'Bonjour,' or some other language that I don't understand. They are all super smart and fun to be around." — Cameron, 9
As a guest, you are a welcome and appreciated visitor to the paradise they call home. They seem to live their opportunity and are happy that you recognize just how lucky you are to be enjoying a brief trip to paradise. The employees of the village are organized and run by the Chiefs, who are ever-present, friendly, enthusiastic, and available. They calmly survey the staff background machinery that moves constantly like a Swiss watch. For us, everything was where it should be, and it was always there in time.
When it comes to the GOs, I've never met a more personable, upbeat, accommodating group of people in my life. Their energy is contagious! They're more like family than coworkers, and they became like family to us as well. From the aqua-aerobics classes for the adults, to the piñata parties for the children, they run all activities with enthusiasm and the utmost concern for the guests' well-being, safety and, most importantly, enjoyment." — Jill, mother, 39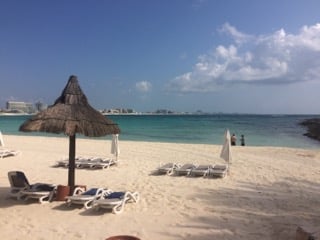 8. Environment
Cancun has some of the best waters and beaches in the entire world. The crystal clear, turquoise blue waters had the kids mesmerized. Coming from Connecticut and seeing beaches like these was a very nice change and hard to leave. You'll never experience better weather than you will when you're in Cancun. During six full days there, there was not a single drop of rain. Around this time of year, temperatures hang around 80 degrees, what our family would consider the perfect weather.
One of the great bonuses of Club Med Cancún Yucatán specifically was the exposure to culture. Being in Mexico, we received the obvious exposure to Mexican and Spanish culture. Also, with Club Med being a French resort, we were exposed to an abundance of French people. My teenage daughter even got to practice speaking, which I'm sure her grades will be thankful for.
"Having traveled the world and being of an age at which I can no longer tolerate decent accommodations, I can confidently say that Club Med raises the bar." — Frank, father
---
For more on the Club Med Cancún Yucatán, visit the hotel's page here.