I just returned from a fantastic week in Honolulu, Hawaii! I ate at a variety of places with all different price points and flavors during my stay, and while there were a lot of highlights, I've chosen the ones listed below as my absolute favorites. Here are seven great restaurants that locals eat at—and where you should eat too—in the Big Pineapple.
1. Highway Inn
Highway Inn has been serving the best Hawaiian food since 1947. They just opened a second location in the new Kamehameha School's SALT at their 'Kaka'ako' iconic 680 building between Waikiki and downtown Honolulu. They don't take reservations and service can be slow but the Loco Moco ($10.30) and Chicken Long Rice ($4.50) are so worth it!
Highway Inn Restaurant at Kaka'ako, 680 Ala Moana Blvd #105; Tel: 808-954-4955; info@myHighwayInn.com.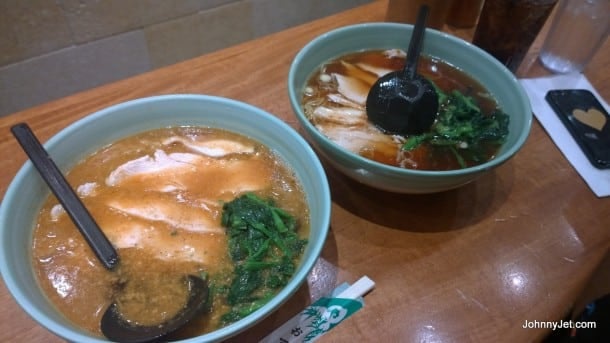 2. Goma Tei
My wife and I serendipitously discovered Goma Tei while shopping at the Ala Moana Center. Usually, I don't eat at malls but this place was off by the parking lot and the long line of locals waiting to get in caught my attention…that's always a good sign. It turns out that this place serves up some amazing ramen—those fine Japanese noodles—and the service is quick so the line moves fast.
Goma Tei, Ala Moana Center, Level 1, Makai Side; Tel: 808-947-9188.
3. Bogart's
Bogart's is the place to go for breakfast—especially after a sunrise hike up Diamond Head. The place is small and the service is slow but everything is fresh and made to order. The Zagat 2013 rated the food a 27 out of 30, which is extremely high. They are known for their Acai Bowls ($9.05) and they only take cash. Good to know: The restaurant is located between Waikiki Beach and Diamond Head and it's about a 20-minute walk from either.
Bogart's, 3045 Monsarrat Ave; Tel: 808-739-0999.
4. Blue Hawaiian
According to Yelp, the best place to get an Acai Bowl is Blue Hawaiian, which is also located in the Ala Moana Center. You wouldn't know this place serves food just walking by because it's located between clothing stores, but if you look closely, you'll see the counter in the back. Acai Bowls come in three different sizes and the store doesn't open up until 8:30 am during the week and 9 am on Sundays.
Blue Hawaiian, 1450 Ala Moana Blvd, Ala Moana Center, 2nd Floor; Tel: 808-949-0808.
5. Duke's
You're right: Duke's Waikiki is probably the most touristy restaurant in all of Hawaii but it's also the one where locals go for special occasions and to bring out-of-town guests. Why? Because it's just steps from the Pacific Ocean, with one of the most beautiful, sweeping views you'll ever see. It's also so laid-back you can wear flip-flops and shorts to dinner. Everything on the menu is tasty and it's reasonably priced, too. TIP: Ask if you can get a table along the railing. Sometimes you have to wait longer for one, but it can make all the difference in the world. FYI: The best time to go to Duke's is Sunday afternoon for drinks and local music.
Duke's Waikiki, 2335 Kalakaua Ave.: Tel: 808-922-2268.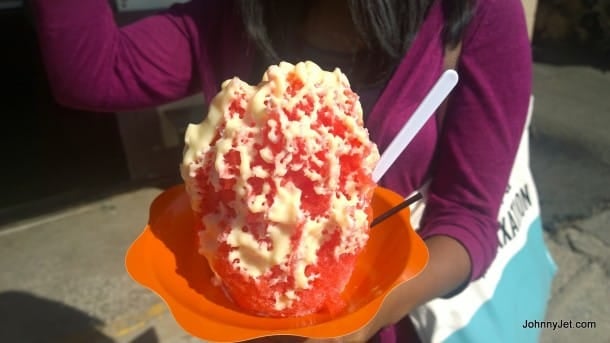 6. Shimazu Store
My buddy Nathan Kam (@NathanKam) turned me onto this hole-in-the-wall after I told him that one of my favorite desserts is shave ice. He said that Shimazu Store is one of the best in Hawaii and he wasn't lying. You'll need a car to get there because it's miles away from Waikiki in Kalihi, but they offer a wide variety of flavors…and I mean wide. All the typical flavors are there, but they also have rarities like hot cinnamon, peanut butter and chocolate. Small sizes are huge and cost $3.75 but you can add condensed milk, Azuki beans or a scoop of vanilla ice cream at the bottom. If you eat fast, you can save $0.50 by not getting a plastic holder—but you'll definitely need one for the Larry size, which costs $11. Good to know: Parking is terrible, there's usually a long line, they don't allow photos inside, it's cash only and don't bother asking for a receipt—it will take about 10 minutes for them to handwrite it.
Shimazu Store, 330 N School Street, Tel: 808-371-8899.
7. Leonard's Bakery
Leonard's Bakery has been around since 1952 and in the time since, their malasadas (Portuguese doughnuts, minus the hole) have become a huge hit. Today, you can always count on there being a line out the door, packed with both locals and tourists. The line moves slowly because the malasadas are made to order, but that means they're always served hot and fresh; you won't find them just sitting in the bakery's glass cases. They now come in a slew of flavors with all kinds of fillings but the original is just coated with plain sugar and costs only $1.
Leonard's Bakery, 933 Kapahulu Ave; Tel: 808-737-5591.