This story was jointly written by Georgie Jet and her husband Cam Diamandis (aka Highroad Cam), who joined her on this trip.
O'er the hills and through the dale we go…to Vermont!
Vermont, almost synonymous with skiing, is well-known for a number of great ski resorts. It's also like a Tolkien fantasyland with many small pockets of life sprinkled about its rugged terrain that are worlds unto themselves. Some of these worlds are strongly connected to their lesser-known, but profoundly important, local ski hills or mountains. In a bigger-is-better era, it's refreshing to know that Vermont is home to some really cool, low-key and historic places to ski. These intimate community and family-minded ski hills are scattered across the state and, when you're there, they conjure up images of a bygone period of skiing. Something like: "Hey honey, let's hook up the truck's engine to a rope and get these kids towed up the mountain!"
At one time the Northeast had almost 700 ski slopes, most of them small, and all of 80 have survived. We ventured to five lesser-known Vermont hills and loved each and every one:
1. Cochran's Ski Area, Richmond, VT
It all started in 1960 when Ginny and Mickey Cochran bought 100 acres and began teaching their children to ski in the backyard on their hill. Soon, a rope-tow was fashioned from a farm truck engine. Who would have believed that from this small and humble hill would spring the world-class and renowned Cochran ski family?
Today, this great little hill has the mission to provide skiing to VT families. Cochran's is open six days a week and caters to after-school programs—but the mountain warmly welcomes the public.
On a pleasant and sunny March afternoon, Barbara Ann Cochran—Ginny and Mickey's daughter and an Olympic gold medalist (Sapporo, Japan 1972 in slalom)—was very gracious in skiing with us and showing us the bustling lodge that in reality is more like a town community hall. It was a thrill to ski with a gold medalist whose effortless yet somehow powerful skiing was on display.
This small mountain with a rope-tow and T-bar trained the family who went on to become Olympians with, as aforementioned, Barbara Ann winning gold in 1972 by two one-hundreths of a second! Nowadays, you can often catch a UVM skier training on the local hill with a Cochran descendant.
Former Vermont Governor Dean once declared, "Cochran's isn't just a little gem, it is a state treasure."
Pricing: Full-day lift ticket is $25. Fridays from 5-8 pm, it costs $5. They also offer dinner for $12.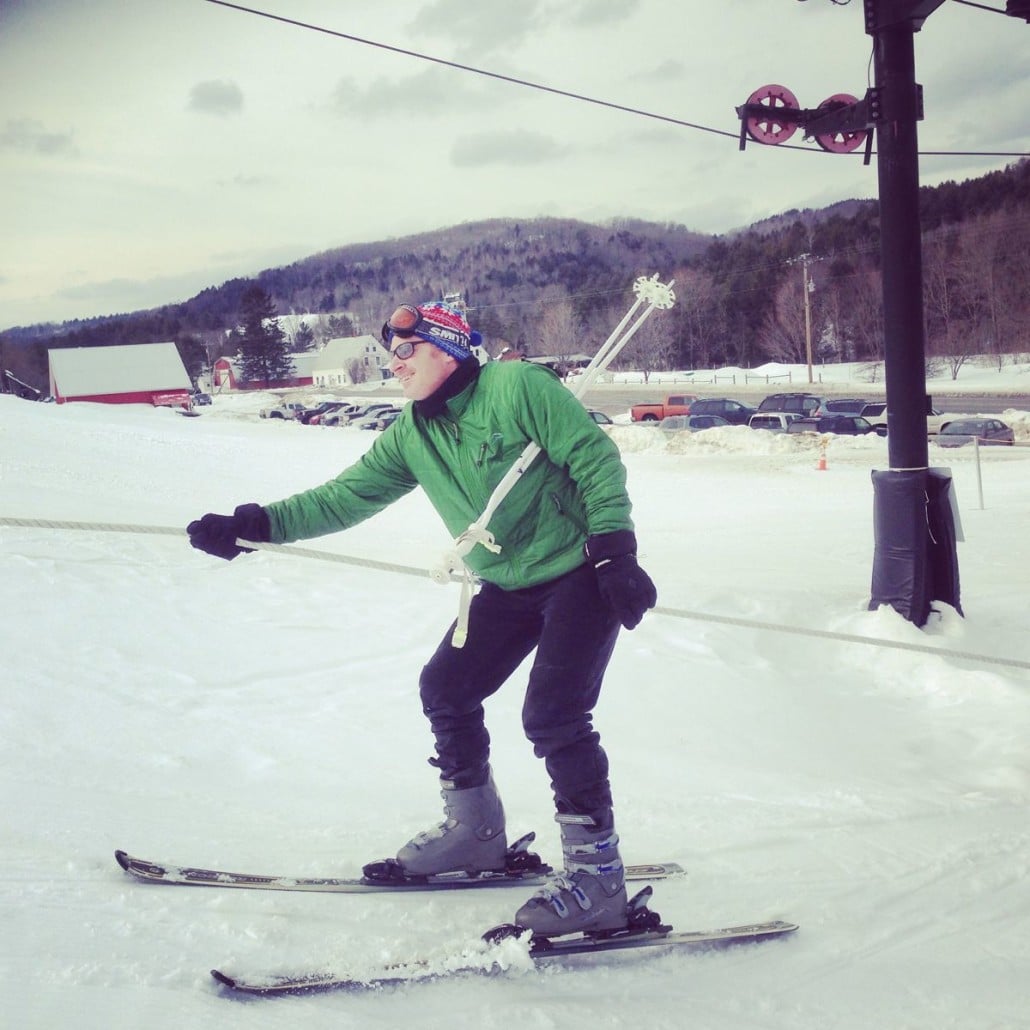 2. Northeast Slopes, East Corinth, VT (on Rt. 25)
This quaint little ski area opened in 1936 with a rope-tow rigged from a tractor engine and is celebrating its 80th this year! Today that rope-tow (powered by truck engine!) is still in existence and Northeast Slopes holds the record for the longest continuously operating rope tow in the Northeast.
We visited on a sunny spring March day and found this hill with a lot of heart and soul a joy to experience. The joy could be seen in a dad and his five-year-old daughter going up the T-bar together, and in the faces of the children tearing up the mountain. There are 36 skiable acres with two rope tows (one is really fast—actually the fastest uphill rope tow in the US when operating at full speed), and a relaxing T- bar.
The "lodge" is a one-room building that's basic but homey, with a wood-burning stove, bathroom facilities, picnic style tables and benches, and really good food—all run by volunteers that put their love into this mountain. We had their famous Nor'east Burger, which was honestly one of the best burgers I've ever had! Local grass fed beef, toasted buns with red onion, tomatoes, lettuce, and an aioli mayo. The cookies and brownies were also homemade, and you could tell.
The ski terrain varies, making it a challenge even for advanced skiers. But the draw to this mountain—located right on Rt. 25—is that it's a family mountain. The people at Northeast Slopes believe if you learn to ski here you can master other slopes. And snowboarders are welcome.
We met with Wade Pierson whose dad was a volunteer and rigged up the first rope-tow. He exemplified the love, sweat and tears that have kept this mountain going for 79 years.
Pricing: $10-15 will get you the timeless thrill of a local ski hill along with its warm, friendly vibe.
3. Bolton Valley, Bolton, VT (1966)
With its spectacular views of Camel's Hump to the south, Mt. Mansfield to the north, and Lake Champlain to the west, Bolton Valley is a good-sized mountain (3150' summit) that no Vermont skier should miss. It has an intimate feel with great trails and incredible views—most of them to the west towards Lake Champlain. And after the spectacular sunset, they offer night skiing on ten trails (four lifts Wednesday-Saturday, 4-8 pm)!
Their Nordic center can also hook you up for snowshoeing and cross-country skiing. The backcountry here is awesome. This is a special valley that backcountry enthusiasts could explore for seasons. This ski area is one of four in Vermont that host Vermont Adapative Ski & Sports, which empower individuals with disabilities.
Bolton, is 15 minutes from the "happening" town of Waterbury, where we stayed at the historic and comfortable Old Stagecoach Inn. Jack and son John are the consummate hosts; they've hosted us for years. The breakfasts are truly amazing—my favorite is the Huevos Rancheros—and don't forget to ask Jack (not John!) about the ghost!
January is National Learn to Ski and Snowboard Month and there are many opportunities in Vermont…
Pricing: It's $49 for a full-day pass. Night skiing (after 4 pm) is also available for $19.
4. Pico Mountain, Killington, VT (founded 1937)
Part of the same ownership, and right near the more widely known and bigger Killington ski area, is Pico Mountain. This decent-sized mountain (just under 4K') is sometimes overlooked by the central Vermont skier, but that's a mistake. Pico is a great family mountain with an interesting history. The mountain was founded by the parents of the famous two-time gold medalist Andrea Mead Lawrence (Oslo 1952 in slalom and giant slalom). The Mead family's deep love for Pico is evident as they have their final resting place in a private and magical spot on the mountain. Cam was honored to pay his respects at the site.
The friendly staff in the lodge allowed our dog Baci to hang out with us on the top floor. We enjoyed looking at the historic skiing photographs and paintings after lunch (turkey and tuna sandwiches).
The skiing, although it was quite cold that day, was great. Cam enjoyed his one run from the summit (burrrr!) and took more turns on the challenging Outpost double-chair, which was more wind-protected.
Vermont Adaptive Ski & Sports, also present at Bolton Valley (above), makes its home-base at Pico. Turtle Ridge Center assists people with disabilities get on the mountain. It serves anyone needing assistance with skiing or boarding thanks to its 400 volunteers.
For après ski, head to the upstairs bar at Pico. Or…just up the hill from Pico is an interesting spot for a beer or bite: McGrath's Irish Pub, inside The Inn at Long Trail (open since 1938). Their Guinness has touched the lips of thousands of Appalachian trail hikers over the years (check their guest log book, remarks and hiking nicknames!). It's a cool vibe, and the mammoth "rock" that the building is built around is exposed inside and dates back one billion years!
Pico is well-defined as, "Big mountain skiing, small mountain charm." We look forward to coming back.
Pricing: Prices vary by day, like at the other mountains, and full-day passes start at $30.
5. Middlebury College Snow Bowl, Hancock, VT
Nestled in the heart of the Green Mountains is the Middlebury College Snow Bowl, a small mountain with a lot of skiing that won't break your bank (less than half the price of some Vermont ski resorts). The Snow Bowl has 17 trails and 1000 feet of vertical skiing (summit 2720'). The mountain is open to the public but owned by Middlebury College. There's a contemporary lodge with expansive windows facing the mountain and a floor-to-ceiling fireplace. The food is good and the beauty of the trails will entice you.
"The Bowl" does have snowmaking and is easy to find on Rt. 125, 13-miles east of Middlebury College. Cam's brother Peter "Smoke" enjoyed many a day here in the late 70s (remembering most). It was established in 1934, making the Snow Bowl one of Vermont's earliest ski areas, but it's since been modernized with three chairlifts (two triples, one double and a carpet lift). There are gladed areas for skiing and riding in the trees. It's open seven days a week until March 29. Just down the road is the Rikert Nordic Center for Nordic skiing and snowshoeing,
Skiing is not just an elitist sport and these areas provide friendly and down-to-earth skiing and boarding for young and old. Cam and I enjoyed all of these historic ski areas and look forward to going back…soon!
For more on down-to-earth skiing in Vermont, visit skivermont.com.