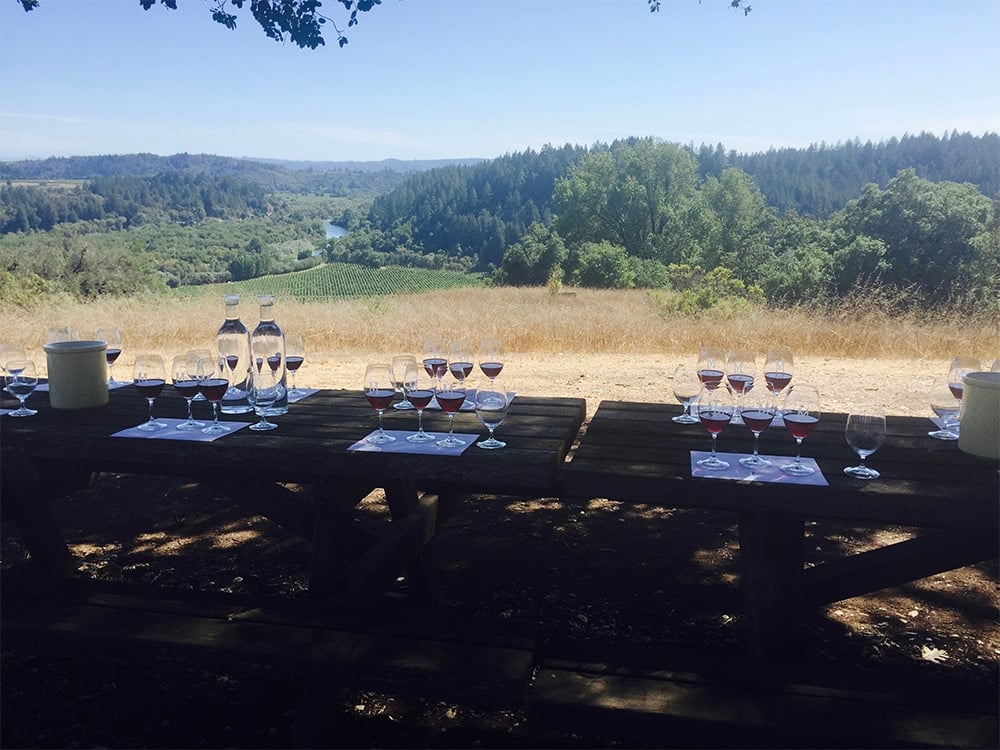 If you're experiencing winter weather blues, and imagining a warm destination with friendly people and incredible wine and food, mark your calendars for the Sonoma Wine Country Weekend, held every year over Labor Day.
Sonoma Wine County Weekend: September 2-4, 2016 (tickets on sale starting May 13)
Getting there
From Los Angeles, an hour-and-a-half flight quickly transports you to the quaint Charles M. Schulz – Sonoma County Airport in Sonoma County. In March, more travelers will enjoy Alaska Airlines' non-stop flights from Orange County's John Wayne Airport, as well. Santa Rosa airport, named after cartoonist Charles M. Shultz, has a pain-free car rental service and a great restaurant. I was soon on my way to The Fairmont Sonoma Mission Inn & Spa (707-939-9000), where I'd be staying while covering the much-anticipated Sonoma Wine Country Weekend festivities for JohnnyJet.com
Settling in at The Fairmont Sonoma Mission Inn & Spa
After a picturesque 45-minute drive from Sonoma County Airport, I arrived at The Fairmont. I immediately noticed the towering sycamore tree that I was told has been there since the original 1920s hotel. The stunning Spanish mission-style architecture pulled me into the lobby which was just as inviting. I chose a room on the first floor, because this historic hotel doesn't have elevators.
The 226 guest rooms and suites were renovated in 2013, and are tastefully decorated with very comfortable beds. The bathroom was equally well-appointed. The sweet-smelling Rose 31 lotion, soap and haircare should be packed in your suitcase, too good to be left behind! Rooms start at $499/night.
Tip: Don't get a room next to the main pool if you go to bed early. It can be noisy if there's an event. 
The hotel's Willow Stream Spa is one of its main draws, boasting 40,000 square feet of opportunity to unwind. The ancient thermal mineral springs below it pump healing water into the surrounding pools. One even has underwater music. Other amenities include a co-ed sauna complete with a rock salt wall, a steam room, soaking tubs, a fitness center, and of course unique massage therapies. And to make your experience even more memorable, the new spa expansion adds a rain tunnel with hot and cold water experiences, in addition to a meditation room that's sure to destress anyone. Entrance fee to the room is waived if you have a spa service. Other entrance fees vary from $39-$89.
The 2015 Sonoma Wine Country Weekend kicks off (This year: September 2, 2016)
There's no way to fully describe my jam-packed weekend in Sonoma, so what I've included here a snapshot—starting with one of the VIP kickoff party, which last year was at Atwood Ranch. Atwood owner Julie Atwood—a major contributor to this charitable weekend—created a rustic and magical setting fit for a Ralph Lauren photoshoot. The food, so uniquely prepared by local chef Joshua Murray, and chic barn adornments had me wondering what party I could throw here.
Sonoma Starlight (This year: September 2, 2016)
Francis Ford Coppola Winery was the location of the Sonoma Starlight event, in which area restaurants and wineries showcased food, wine and dessert at various stations. The night was focused around two pools (totaling 3,600 square feet) and a cabana area. Guests could enjoy the entire property, which includes a movie gallery displaying authentic memorabilia from Coppola's film career and bocce ball courts. Coppola built something for everyone at this family friendly winery, which will host again this year. Tickets are $175 each.
Taste of Sonoma (This year: September 3, 2016)
The biggest daytime event of the weekend was the Taste of Sonoma held at MacMurray Estate Vineyards. Once a cattle ranch owned by Hollywood's legendary actor Fred MacMurray, the estate is now home to hundreds of acres of pinot noir and pinot gris vines. Daughter Kate MacMurray is the estate's spokesperson and a pleasure to visit with. For Taste of Sonoma, the breathtaking property hosts more than 200 wineries that pour thousands of wines, with more than 60 local chefs showcasing their tasty talents, as well. Whether it's a tasting tour with well-known sommeliers or a BBQ demo with local grillmasters, you'll leave full of food and knowledge. Tickets are $82.50 each.
Gala dinner (This year: Invitation-only, but winemaker dinners run September 2-3, 2016)
The gala dinner and auction preview is the final event of Sonoma Wine Country Weekend before the next day's show-stopping Sonoma Harvest Wine Auction (see below). The private affair takes place at the historic Buena Vista Winery, California's first winery. If walls could talk, the stories would be amazing coming from the wine caves built in the 1850s! The proprietor and one of the weekend's honorary chairmen, Jean-Charles Boisset, warmly welcomes guests to his unique property for an evening of exceptional wine, food and fun. A trip to the bubble lounge (aka champagne cellar) is a must. Though the gala is invitation-only, a tasting at Buena Vista Winery is just $15.
Sonoma Harvest Wine Auction (This year: September 4, 2016)
The Sonoma Harvest Wine Auction is the main event of the weekend, held at Chateau St. Jean. It's Sonoma County's largest fundraiser and it supports a number of area charities, including the Children's Literacy Initiative. Ticketholders have an opportunity to bid on unimaginable experiences around the world, visit with some the area's best winemakers and chefs, and of course eat and drink all day! One visitor told me that he comes every year to try small-batch wines that never make it to stores. Guests sit under the auction tent for lunch, where each table is hosted by a different vintner or grower. In 2015, the successful event raised a record $4.5 million. Tickets are $500 each.
Tickets for the 2016 Sonoma Wine Country Weekend (September 2-4, 2016) go on sale on May 13.