Kilkenny is an amazing little town in southeastern Ireland home to castles, churches and a rich heritage dating back to the 9th century. For its size, Kilkenny has a lot to explore and a surprisingly abundant food and pub scene. We spent 24 hours exploring this medieval city and fell in love with its authentic Irish charm. Here's a list of the best things we did/saw/visited:
The Kilkenny Way hurling experience
Gaelic hurling is as Irish as the Celtic cross and has been played on the island for over 3,000 years. The game predates written literature and was first referenced in 1272 BC, making it one of the oldest field games in the world. Similar to field hockey and more physical than ice hockey, hurling is one of the most savage organized sports still being played, and is followed more closely and passionately by the Irish than Americans follow the NFL.
We were in Dublin for the All-Ireland Hurling final between Galway and Waterford, and after watching the match and learning the history of the game, we had to experience the sport for ourselves. To accomplish this, we did The Kilkenny Way experience, wherein a former hurling pro tells you a bit of history inside the Legends Hurling Bar downtown then takes you out to the local practice field to teach the basics of the sport. After about an hour of practicing our passing, shooting and dribbling, our guide thought we were picking up the sport well and set up teams for a scrimmage. This was the best part of the tour for the guys, but for the ladies it was terrifying. After a few close calls, bruised shins and egos, my team won 4-1 and we headed back to Legends Bar for a pint of Guinness. While this was definitely the most dangerous activity we did in Ireland, it was also the most memorable.
Murphy's Ice Cream
Murphy's Ice Cream is technically from Dingle, but they have parlors in Kilkenny, Dublin, Galway, and a handful of other cities across Ireland. Their handmade ice cream and toppings are made with all-natural local ingredients and is hands-down the best ice cream I have ever tasted. Their most popular flavors are "Dingle Sea Salt" and "Blissful Butterscotch," but you really can't go wrong. The staff is super friendly and let you try as many flavors as you like before deciding, which makes the decision even more difficult!
Left Bank
Located in the center of town, Left Bank is the best place in Kilkenny to get a drink and was awarded "Best Bar in Ireland" in 2017 by Ireland's Sky Bar Awards. The place is massive, but is broken up into different rooms and bars giving every seat in the house a cozy and welcoming ambiance. The main bar is stunning, with opulent glass and mahogany carved by hand, and its collection of fine Irish whiskies was the best I've seen anywhere. Stop in for a pint, watch a match or just take a moment to appreciate the meticulous woodwork and lavish décor.
Ristorante Rinuccini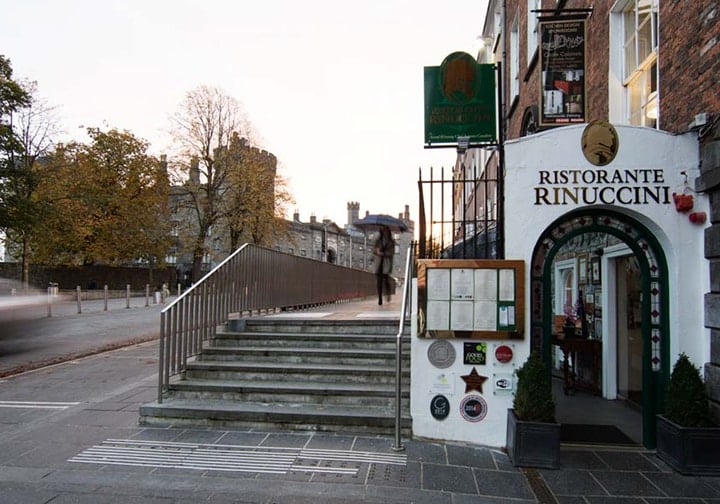 You might not expect to see an award-winning, Michelin-starred Italian restaurant in the heart of Ireland, but that's exactly what you'll find at Ristorante Rinuccini. It's been family-owned in Kilkenny for over 25 years, and head chef Antonio Cavaliere has gained many accolades during his tenure including "Chef of the Year" and selection as a member of Good Food Ireland for his commitment to sourcing the highest quality local and Irish produce. He also sources all his own wines and many of his Italian ingredients including salumi, cheese and extra virgin olive oil from artisan producers in Italy.
The ambiance is upscale and the menu can be pricey, but it's worth every penny. The extensive wine list has the right varietal for any mood and pairing and our service was impeccable. All the entrees were spectacular, but our favorite had to be the "Braised Short Rib with Parmesan Risotto"…so good!
St. Canice's Cathedral and Round Tower
A unique and fascinating church dating back to the 12th century, St. Canice's Cathedral is a must-see in Kilkenny. The cathedral has been holding worship for over 800 years and is full of intricate stonework and beautiful stained glass windows. The See Chair, a marble throne-like seat, has been near the altar since 1120 providing wisdom to the bishops and clergymen who sit upon it. Outside, the Round Tower overlooks the city at over 100-feet tall. Traditional Irish features for places of worship, round towers were built to store treasure and provide refuge during the days of Viking raids. Visitors can climb to the top the St. Canice tower's seven floors and 121 steps for the best views of the city.
Kilkenny Castle
The crown jewel of the city, Kilkenny Castle was originally built as a strategic stronghold to command traffic on the adjacent River Nore in the 12th century. Today, its beautiful rooms, extensive art collection and gardens are open to the public for €8 and is worth spending an hour or two exploring. Outside, the castle still holds a commanding presence over Kilkenny's "High Town."
Matt the Miller's Bar
For a tasty pint, vibrant bar scene and live music, head to Matt the Miller's Bar in the heart of town. It's a traditional Irish bar in every way. The walls are filled with eclectic memorabilia and the crowd is mostly locals with a few travelers sprinkled throughout. We visited on a Tuesday night and saw the famous Irish folk group The Kilkennys (yes, we saw The Kilkennys in Kilkenny) rocking the stage. We were there late night, but there's a restaurant, a loft and four bars total, so it's a great spot to visit any time of day.
Where to stay: Langton House Hotel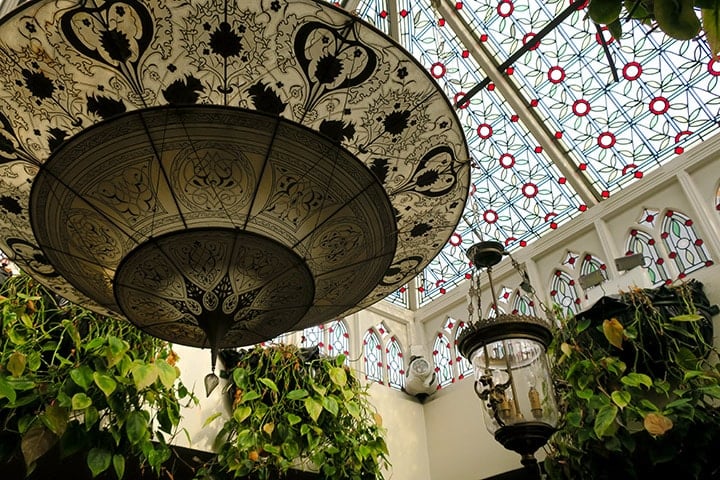 We stayed at the Langton House Hotel in town and it was the perfect choice for our needs. Walkable from anywhere in town, the hotel offered free parking, Wi-Fi and complimentary hot breakfast. The four-star hotel was luxurious and the rooms were comfortable, mixing classic décor with updated amenities and fixtures. Downstairs, the bar turns into a nightclub at 10 pm and was the only place in town open for late-night entertainment. Still, the hotel does a good job of limiting access to the hotel rooms to guests only and noise wasn't an issue. We would stay here again.
More recommendations
There's plenty more to do in Kilkenny and if we could do it again we would've spent 2-3 days there. Some other cool things we wanted to check out were the Smithwick's Brewery Tour, Dunmore Cave and the Dominican Black Abbey dating back to the 11th century.