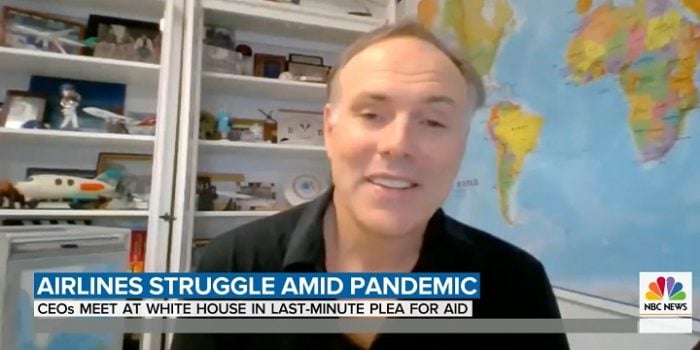 This morning, I was on the Today Show for a segment about planning holiday air travel. I only had a short part in the two-minute segment but it was still great publicity.

The part of my interview that NBC News used was when I spoke about the fact that my wife and I are not planning to travel to Toronto (or Hawaii) for our annual Christmas and New Year's Eve holiday trip for a number of reasons:
1) We don't want to risk passing COVID-19 on to our loved ones or each other
2) The Canadian border isn't open
3) We don't want to quarantine for 14 days in a small condo
You can see the full segment here and below are some travel tips for planning your 2020 holiday travels.
2020 Holiday Travel Planning Tips
Traditionally, early September is the time to start planning your holiday travels but due to COVID-19, 2020 is not your typical year. So here are some tips to help you prepare:
Buying plane tickets
If you aren't worried about COVID-19 or flu season, then just buy your plane tickets when you find a good deal. To find a good deal:
Set a fare alert so you know when the prices drop. Here's a post on which sites to use and how.
Be flexible. You will most likely save big if you pick off-peak days. See E for a calendar of cheapest dates.
Consider alternate airports because sometimes just driving a short distance can save you a lot of money.
Use frequent flier miles/points especially if the flights are expensive or if you have elite status and don't need to requalify for next year since most airlines have extended them.
Check out my annual Thanksgiving and Christmas/New Year's Eve guides for lots more money-saving tips for flights.
Fly Delta or Southwest
Fly Delta Air Lines or Southwest Airlines if you want to be guaranteed an empty seat next to you. FYI: Here are the airlines that are blocking the middle seats and for how long.
Keep your distance
If you're flying alone, choose a window seat so you're away from people going up and down the aisles.
Ship your bags
If you don't want to show up to the airport early and wait around at baggage claim, consider shipping them ahead of time. Here's one of the many companies that offer this service.
Check to see if your flight is canceled or changed
If you already bought plane tickets but change your mind and don't want to travel, then wait until the last minute to see if the airline cancels the flight or drastically changes the schedule. That way, you can get a full refund instead of a credit. But be sure to know what your airline's cut-off time is (usually 10 minutes before the flight but some are longer, like two hours) to cancel because once the plane takes off or if you go past their cut-off, you're out of luck. Keep in mind that you might not be able to get through right away especially if there's bad weather in the U.S.A. I would call the day before to be safe.
Rent a house or cabin early
If you're planning on renting a house or cabin you better get crackin'. As you can imagine they're in high demand and many might already be sold out. Be sure to read the fine print so you're familiar with cancelation policy.