Pura Vida! That's the phrase you'll hear most often in Costa Rica. It means "pure life" or "plenty of life." It's a greeting and a response to a greeting, but it also reflects the essence with which the Costa Ricans lead their life.
Costa Rica was like an adventurous dream, a dream of the unexpected that finally came true last summer. Fondly now, I remember the cool prehistoric, mysterious-looking flying bugs landing on me, the squeaky gecko love sounds that kept me awake in my hotel room, and the dark, sandy, long, stretched beaches with horses passing by under the pink glow of sunset. I think of the rainforest and its mysteries—of watching a human-like hairy sloth hang from a tree, a boa constrictor make its way down the tree to come closer for food, white-faced monkeys flittering all around near the beaches, and hundreds of brightly colored butterflies and hummingbirds sipping nectar.
I think of my heart beating fast as we carried flashlights on a "night safari" walk to see more creatures I'd never even heard of to that point. I wonder now how my legs hiked so many hours every day. Climbing and hanging onto roots as I slid into a volcanic crater to go swimming in its natural lake was just one of many "first-times" for me in Costa Rica.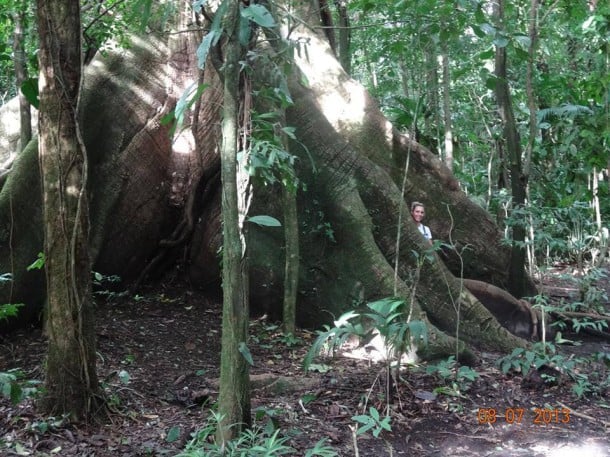 If you enjoy wildlife and are curious, Costa Rica is the place for you! I was in discovery heaven in the country with the world's densest concentration of biodiversity. Every day was a new experience, from ziplining Super Man-style over the Monteverde Cloud Forest to hiking with new friends a few miles through the rainforest to witness the bright aquamarine, "pool-like" natural waterfalls and Río Celeste (river) famous for their impressive color.
Part of what makes this country so special is its extensive list of geographical features, which includes volcanoes, mountains, lakes, waterfalls, and islands. The country is teeming with a wide variety of flora (various types of orchids) and fauna (from sloths and monkeys to reptiles, fishes, and birds). With massive trees and dense foliage, the lowland forests of the country are like multifaceted biological communities.
What I found even more special is how often the wildlife comes to you. The constant noise and vibrations of the creatures around me made me feel so alive—and made me realize how ALIVE everything was around me. The wildlife in Costa Rica is so abundant that you can see so many unique creatures no matter where you go.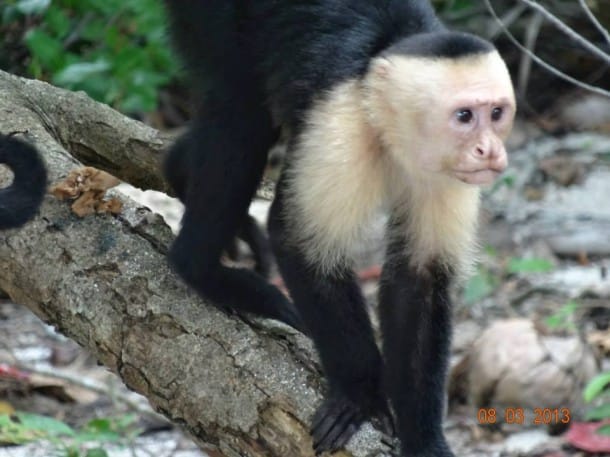 Brightly colored frogs and snakes are easy to experience on any hike. Large lizards and frogs would just come up to my table while I ate outside near the beach at Esterelles Estes, and I had so many marvelous "birdwatching" breakfasts at Hotel Kokoru near the Arenal Volcano. Each morning I would gaze in amazement at the nonstop stream of brightly colored birds that would land near me or fly by. It was truly joyful! Costa Rica is considered a birdwatcher's paradise because the number of birds here is more than twice the number of bird species found in the entire U.S.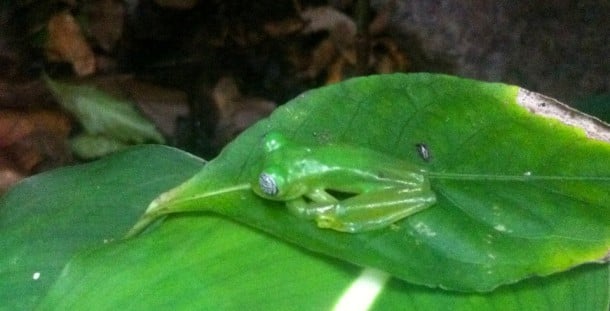 Costa Rica is also the habitat of many butterfly species including the giant Morpho butterfly. The entire backyard of the Monteverde Lodge and Gardens had me in awe because the gardens each day exploded with thousands of butterflies and hummingbirds. In fact, there are more butterfly species found in Costa Rica than in the African continent.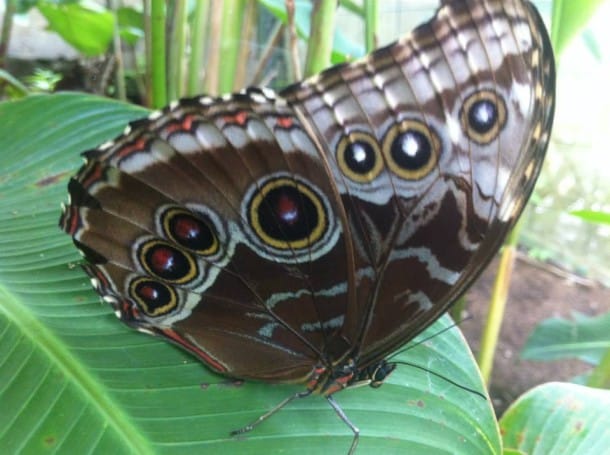 I travel because I like how it makes me feel—alive, and this trip made me feel more alive than I've felt in a long time. I felt excited, and one with nature. The following list is an attempt to make sure when you visit, you don't miss out on some of my 15 favorite Costa Rican spots.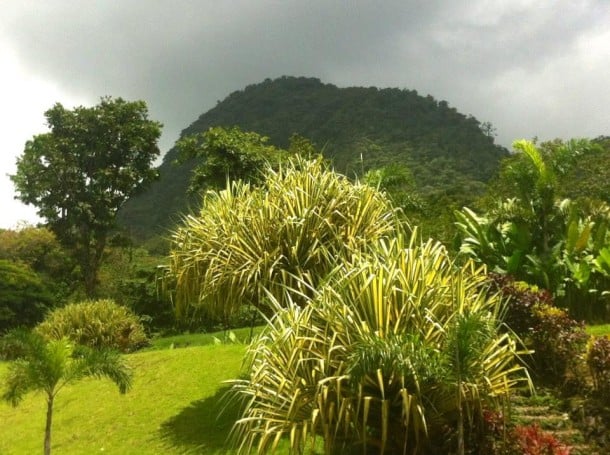 1. Esterillos Este
This a good location (central Pacific region, midway between Jaco and Manual Antonio) to use as a launching pad, especially if you want to stay in a very quiet place with chocolate sand beaches. I spent several days here resting and collecting incredible shells and sand dollars off the long, dark beaches. The Pacific surf is quite rough and not really too safe to swim, but horses can be rented to traverse the long miles of coast and the pink-hued sunsets were quite different than the ones I've seen in California.
Friends of mine in LA own the rustic Encantada Ocean Cottages, a quaint spot on the beach with not much to do but read a book and eat at the hotel restaurants on either side (serving fresh traditional food as well as burgers). Many stray dogs flit around and run on the sand. Big lizards and frogs are common. Hammocks are all over the property with a small pool surrounded by an assortment of different style rooms. Casual breakfast can be made each morning. People come and go.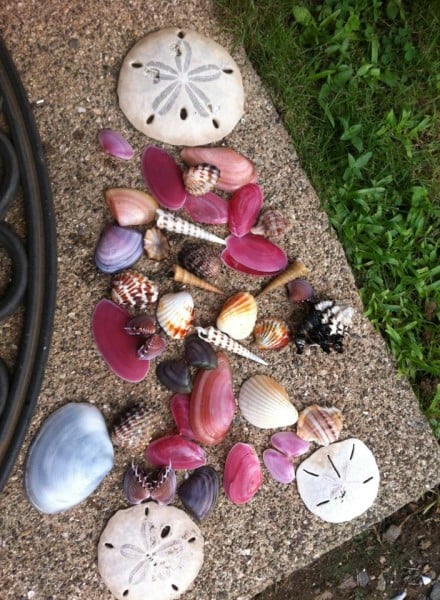 The owners have been making marked improvements over the last 6 months to give the property a more boutique feel. If you expect city service or four-star luxury, don't come here. No one is waiting on you and I was laughed at when I asked for a hair dryer. After my first night, I was asked to switch rooms, which can be a hassle for many people. But this spot is great for discovering a local feel. I fell in love with the abandoned dog Jelly Bean who now lives on the property. One night the managers created a massive bonfire on the beach, which was a fun way to roast marshmallows since the sun sets so early in the summer, and it was dark by 5 o'clock. A great thing about staying here was that we could get fairly quickly by car to the memorable Rainmaker hike a bit south. The room cost me about $50 – $60 a night. Can't beat that.
To get here from the airport cost me over $120 solo in a van shuttle, and the first thing the Tica driver did was stop and let me see the crocodiles at what I like to call croc 'Happy Hour.' Literally, hundreds of crocodiles I viewed from a bridge as they lay on the banks of the river and floated around. And I thought he was stopping at a zoo! The ride was a wonderful way to see the lush countryside as we headed to the coast.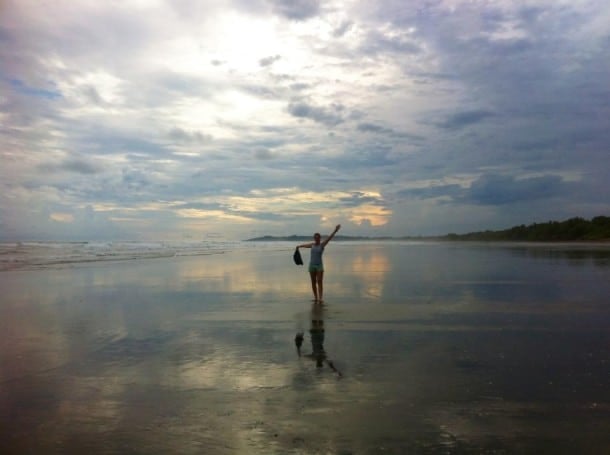 2. Rainmaker
This conservation area/mountain offers up endless swinging canopy bridges as you hike through its dense forest canopy, passing brightly colored poisonous frogs and lush greenery. You come across several massively high waterfalls, one of which you can take a swim in (be careful with the rocks under your feet in the waterfall pool). Rainmaker is a great way to experience the canopy from a bird's eye view, and there were barely any tourists on my many-hour trek. Apparently, they are few different tour options, like the Birdwatching Morning Tour and the River Walk and Canopy Bridge Tour. We paid a small fee to get in—about $7.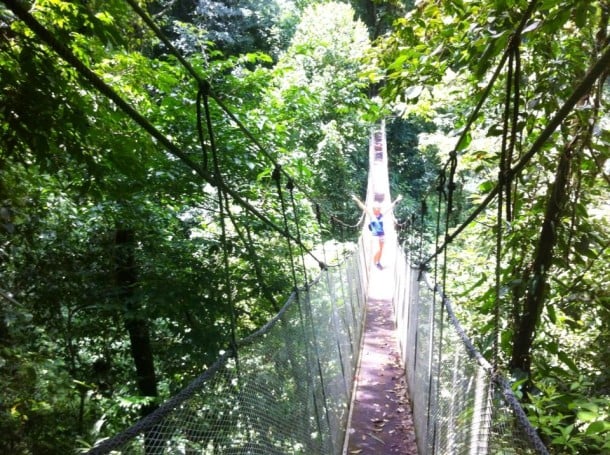 Getting there: From Esterillos or Jaco, continue south past the town of Parrita for approximately 10 kilometers more, and then turn left. Rainmaker road signs will be visible. Follow the signs through the village of San Rafael del Norte to the entrance (seven kilometers).
Another neat experience here was catching our fish lunch nearby at a local tilapia farm. After using some bait at the end of a makeshift stick rod, we caught our lunch in these mucky pools, and the locals fried it for us to eat alongside other traditional tasty fare. It was delicious!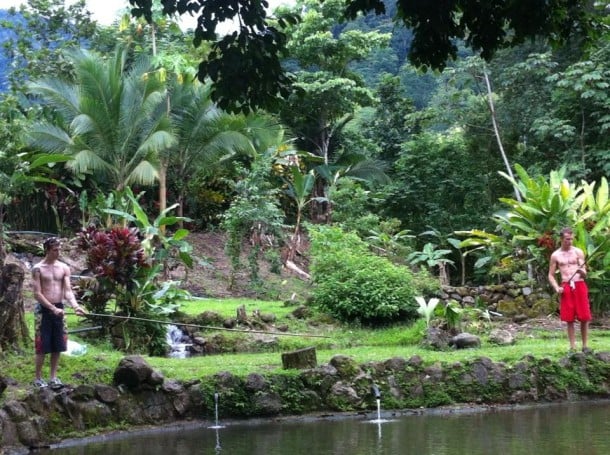 3. Manuel Antonio National Park
I had to come to Manuel Antonio after hearing so much about the park from guide books. We paid about $30 for a tour guide when we got to the park (the park entrance fee was included in this price), since we were instructed that it was best to get a guide to point out the animals. Also, the guide or local man carries a telescope, which gives you the ability to look up-close at the creatures high up in the trees—and put your camera up to the telescope for pictures, too. There seemed to be a lot of competition among the local guides—possibly a scam—so be wary and choose carefully.
Upon approaching the hip little town adjacent to the park, we ate at a yummy restaurant called Funky Monkey before setting off on our flat walking trek that ended at a beach. We saw a sloth, boa constrictor, different kinds of monkeys, spiders, and lizards. Close to the beach are numerous monkeys that come very close, unafraid of people after seeing so many tourists and being fed daily. It was literally a zoo. If it had been nicer out, we would've liked to enjoy the gorgeous white sand beach, but instead we took a $1 boat back to the other side to hike out of the park. If I were to travel again to Costa Rica, I would spend a few days here in Manual Antonio, then head down south to Drake Bay and the Osa Peninsula where apparently you can see a great deal of wildlife in its natural habitat.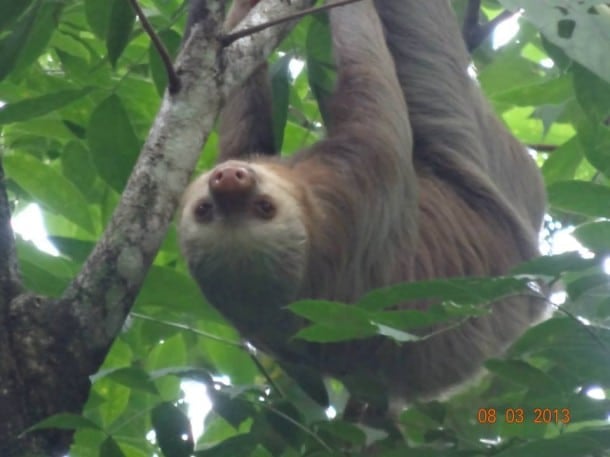 4. Villa Vanilla Spice Plantation
We were lucky to discover this hidden gem and luckier to visit the day the owner was on the property. He was so incredibly knowledgeable and took great pride in sharing with us all the plants and spices growing in his Garden of Eden. I loved the epiphytes growing off the trees and carefully placed horizontal logs, as well as learning about all of the different spices and cacao.
At the end of the experience we sampled chilled cinnamon water that had been steeped, along with several desserts made with the plantation's spices (vanilla, chocolate and Ceylon cinnamon) and by an award-winning chef. The views in the open-air cabin here, where we sampled the treats, were breathtaking. We hung over the top of the rainforest telling stories and getting to know one another. We also had a blast walking the enormous, beautiful grounds, even in the rain!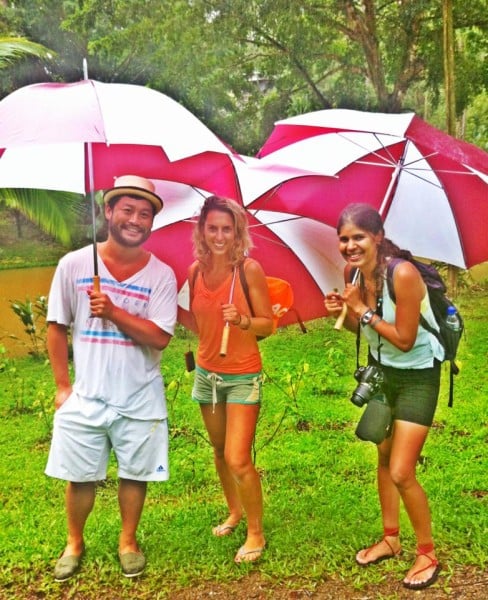 In the mini museum and post-harvest warehouse we then learned about the spices are dried, processed and packaged. We even learned about chocolate and tasted the "bean-to-bar" spicy chocolate. Of course, I also loved the mini spice shop where I stocked up on vanilla, Ceylon cinnamon and cocoa. Peppers, ginger, red turmeric, allspice and cardamon were also for sale.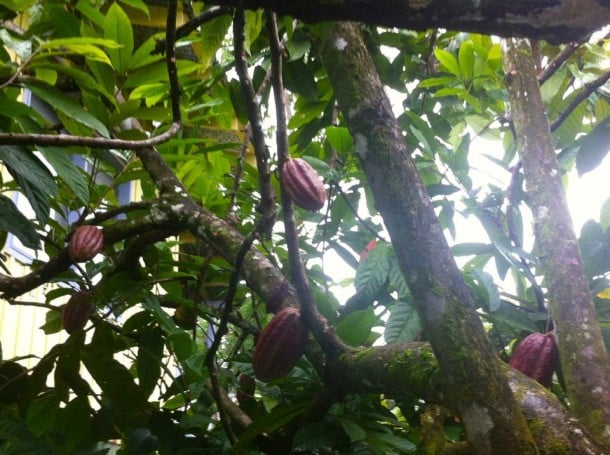 Visiting Villa Vanilla was one of my favorite experiences of the trip, and it's only thanks to a travel writer friend recommending it that I made it here, as it doesn't seem to be well-publicized. We met a nice girl from the Dominican Republic who negotiated in Spanish while we were in Manuel Antonio to get us a driver to take us to Villa Vanilla. The private tour and transportation with food treats cost us about $30 each. The 10-mile drive east from Manuel Antonio was hilarious, as we bumped up and down for miles on rocky roads—and then the rain hit on the way home. The crazy road trip was well worth it.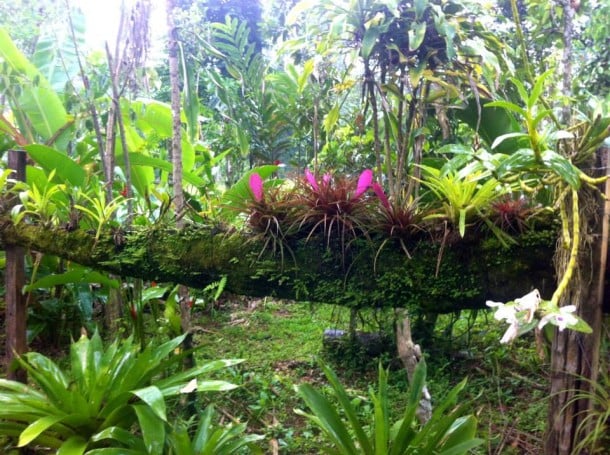 5. Playa Hermosa surf beach
Go check out the surfers at Playa Hermosa and see who's the real deal among the expert surfers who flock to this area from around the world for the best waves. A breathtaking sunset on these black-sand beaches was a perfect end to the day, as we had drinks at The Backyard right on the beach.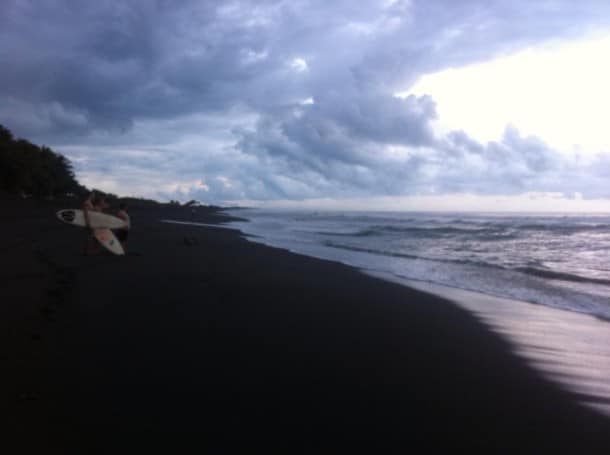 6. Monteverde Lodge and Gardens
It was definitely not an easy journey getting to Monteverde inland from the Pacific coast (near Esterillos Este). Unlike the U.S., where there are major highways, Costa Rica provided us dirt and rocky roads on the way to Monteverde. It was maybe a 5- to 6-hour ride by minivan, which made a harrowing upwards spiral on a very bumpy road for the last few miles.
I'm so happy we chose to stay at the Monteverde Lodge and Gardens with its gorgeous gardens and clean and luxurious bedrooms. We could walk to town from the hotel and grab local food from a soda (small family-run restaurant and convenience store) or even whole cooked rotisserie chicken. I wanted to feed all the dogs that run around the streets because they all look starved. The breakfast choices were great at Monteverde Lodge and were taken above the enormous backyard butterfly gardens. There are many great experiences to be had right near this hotel, and my favorites included the frog and butterfly place called Ranario, a night safari that started right behind the hotel, ziplining over the Monteverde Cloud Forest, and the Don Juan Coffee and Chocolate Tour, all of which are described below. The hotel was about $200 a night.
7. Ziplining over the Monteverde Cloud Forest
Seriously, I am afraid of heights and I have ziplined once before in Mexico, but I heard this was a must-do, so off we went early one morning. This took a lot of psyching myself up, even the night before. The Canopy Tour included brief instructions and then SWING, off you go, over the tops of trees, some of these lines being extremely high and long.
About six or so ziplines with varying heights and altitudes are offered, and then a rappel and finally Superman-style ziplining, where they hoist and hook your legs back over your head and you are told to outstretch your arms (to fly) or hold them in close to your chest. I happened to go on one of the windiest days ever and let me tell you my little body was flying back and forth in the middle of the line. I made sure to hold my body tight with my arms in so I didn't fly all over anymore than I needed to, and also not get stuck way over the top of the canopy with miles down to look. The last zipline was 600-meters long and 80-meters high. However, hanging high over the treetops, the view below seemed to be from a lot higher than that to me.
After my heart felt like it was going to explode on the last zipline, I decided to pass on the famous Tarzan Swing, which everyone was doing. They lead you out to the end of long narrow platform then push you off, letting you swing from side to side in the middle of the forest. I couldn't see my friend Brian, and only heard his distant screams echoing back and forth, which was enough for me. Here's a little taste of the experience I found online.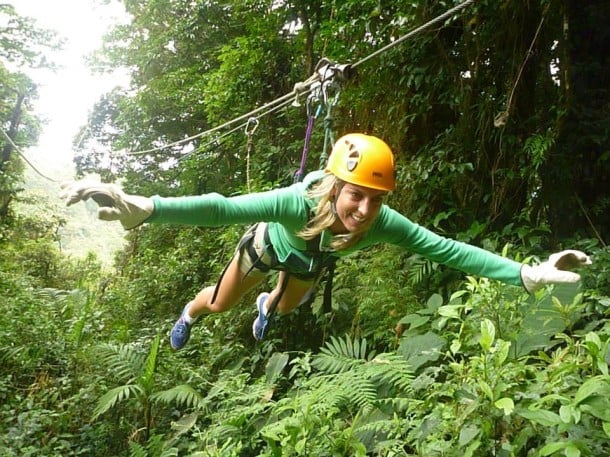 8. Don Juan Coffee and Chocolate Tour
Near Monteverde, learn how coffee and chocolate are produced. We happened to be on the plantation the day Don Juan himself was there. This tour is quite fascinating and includes many tastings.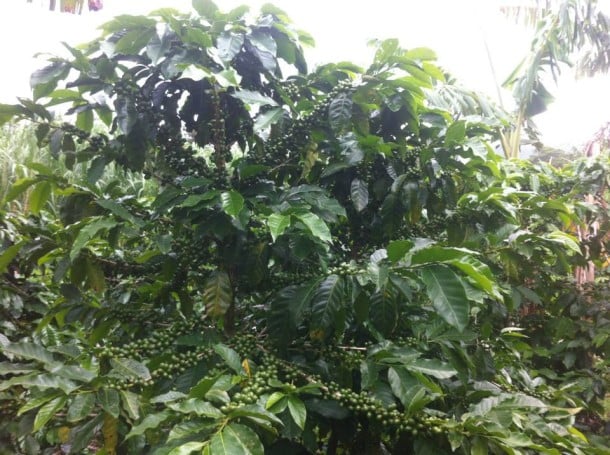 9. Frog tour at Monteverde Frog Pond Ranario
There are 133 species of frogs endemic to Costa Rica. You'll know you're at this place when you see the massive blue and red fake frog outside the place. I loved the quaint little tour, and I learned about 30 different frogs as I went to one large, naturally-simulated terrarium to another. Did you know that some frogs have suctions cups on their hands so they can climb while others have webbed toes so they can swim?
From the little gummy-looking glass frog to the poisonous dart frog, to the blue-jeans frogs, bullfrogs, Masked Bandit frogs, and red-eyed tree frogs, I was fascinated by them all. The Tica or Costa Rican frog has red eyes. Visits after dark are popular because frogs are generally more active and vocal during the nighttime. Next to this neat place are also several butterfly rooms and gardens where you can observe different stages of the butterfly lifecycle, various butterflies (like the glass winged), and the giant Morpho butterflies up close as they fly around.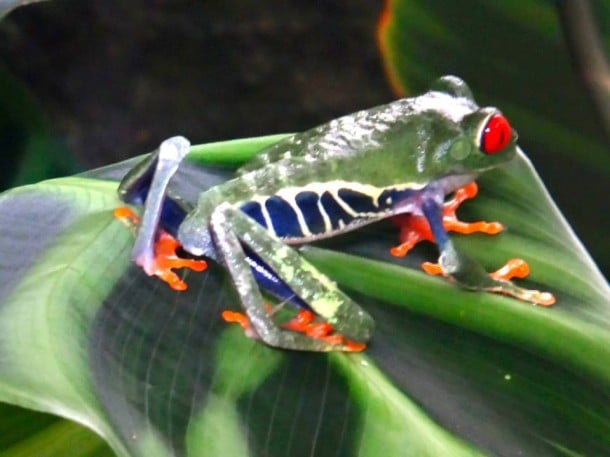 Quick note: Getting to the Arenal Volcano area from Monteverde is not for the luxury traveler. We took a many-hour long car ride on dirt roads through breathtaking countryside with absolutely nothing but rolling hills and lush scenery around us. At one point in this three- to four-hour journey, in a van packed with random others, we hit massive pot holes and a broken down rig. With nothing nearby, we were going to the bathroom on the side of the road and watching amazed as an old truck appeared and managed to pull our massive rig out of a muddy hole. Once you get close to Arenal Volcano, you arrive at a mysterious lake (Lake Arenal) where you pile into boats to be taken across to La Fortuna, where many of the area's hotels are located.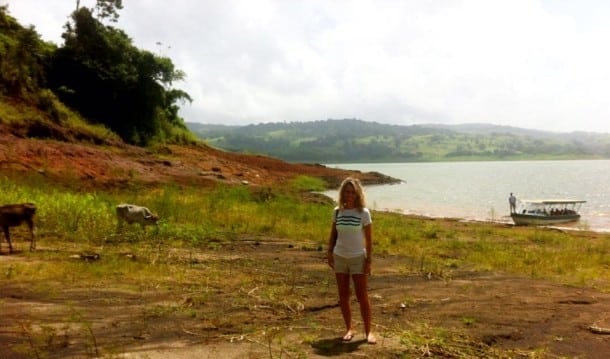 10. Hotel Kokoro
Staying here was one of the best decisions I've ever made, for so many reasons. I found this place online and would go back in a second. My rustic-designed eco-villa, with its enormous family-style room and basic bathroom, looked right at the looming (and recently inactive) Arenal Volcano. Staying here is probably the closest you can get to staying IN the rainforest. Bugs had made their way through the roof and scattered debris on my pillows, but the hotel quickly switched me to another cool hut when I arrived the first night.
The property is incredible, with the pool staring at the volcano in the distance and tropical grounds all around. Every morning I enjoyed a delicious breakfast outside while viewing some of the most majestic birds I've ever seen. One night I soaked my sore legs in one of their natural hot springs, which take on a distinct golden color because the hotel leaves in the beneficial natural minerals. The hot springs start by flowing over a waterfall into the first and hottest pool, then the water cascades into two other pools, getting cooler with each drop. There is even a cool-down pool for when you get a little too hot. It's magical under the stars! If you're looking for a natural, more tranquil setting, this may be the place for you.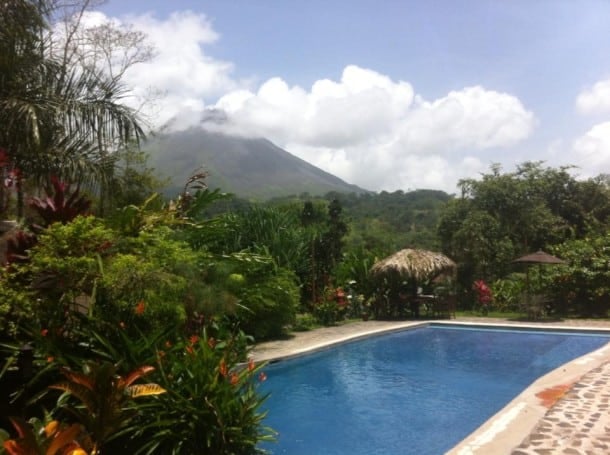 The hotel owners are from Taiwan, but they met in Costa Rica and decided to open up this beautiful many-acre property eight years ago. Their son Felico helps manage the property. Everyone was so helpful in providing us with day-trip suggestions. The internet is only available in the open-air lobby where many people congregate at night since it gets dark early in summer. I paid about $100 a night.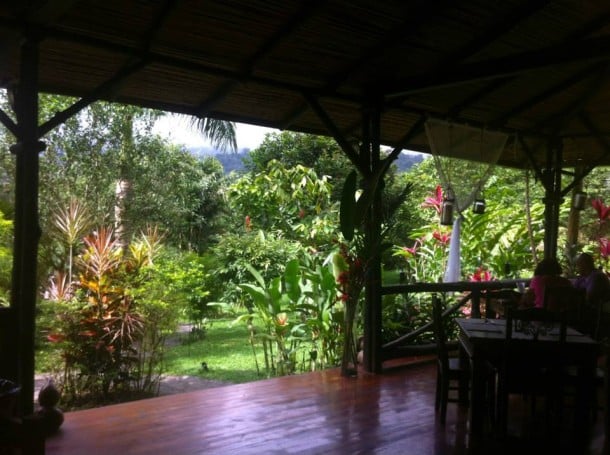 My trip ended in such a surprising and wonderful way. I had requested transportation from the hotel to the airport in San José, and to my surprise it was the owner's son Felico who was privately driving me the 3-4 hours there. He was so kind to show me the local fare on the trip down by stopping at so many local spots a typical tourist would never know about. We stopped, in order to sample generous portions of fresh ceviche; to sample fruit (lyches), coconut water and pick up some honey at the local markets; to sample candy and desserts at these side stands/small convenience stores in the middle of nowhere; to taste the best coffee in San José; and more.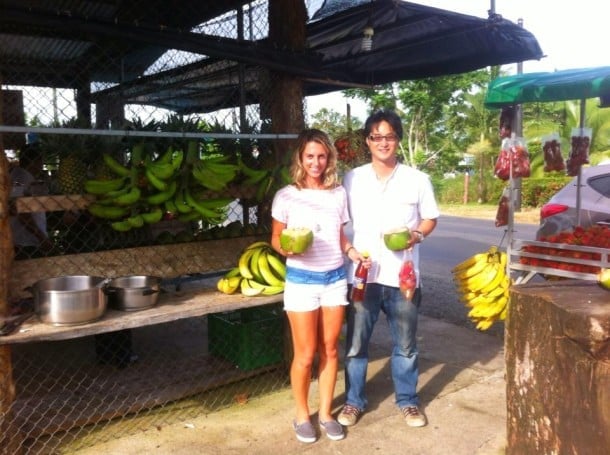 11. Arenal Volcano hike
The enormous sleeping giant was a beauty to look at every morning and night from my hotel, the Hotel Kokoro. Some mornings it would disappear, shrouded in mist or cloud coverage. I thought about what would happen if it did erupt. Flashbacks of miles of flattened land covered in waist-deep ash crossed my mind from my time in the Philippines in 1994. Until 2010, Arenal was one of the country's most active volcanos—but no longer.
It was now time to get up close to this beauty and hike around her. Since we ended up getting lost, what I thought was going to be an hour-long hike ended up being several hours through beautiful mysterious rainforest and tall marsh-like plants. There are a variety of different hikes available, but "Trail Forest 1968 Hike," as ours was called, led us to lava fields. The forest was wildly buzzing around us for most of this hike and you just never knew what you were going to see. Part of the trail was flat while other sections climbed up rocky terrain and lava rocks. On the way out we came across a 400-year-old Ceibu tree.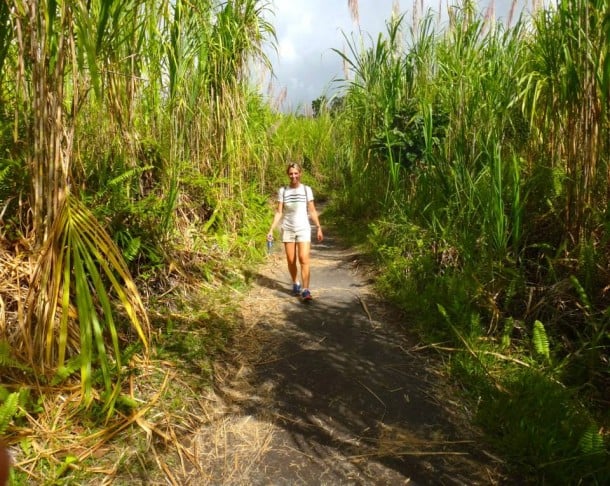 12. Hiking Cerro Chato to swim in a volcanic crater
This was one of the hardest hikes of my life. I did it solo and met some wonderful new friends on the way who not only offered me snacks, but also helped me slide down into the crater as we held onto vines and roots. Cerro Chato is a dormant volcano that flanks the southeast side of the Arenal Volcano. Cerro Chato has been inactive for some 3,500 years and rests at an elevation of 3,740 ft (1,140 m).
To get started, I took a taxi to the Arenal Lodge, where I paid a small fee. (On the way to Cerro Chato, the nice taxi cab driver pulled over and had me run out into a field to observe these special-sounding birds. More joy!) The trail up winds and ascends and becomes very steep, sometimes becoming super muddy with roots everywhere. This hike is definitely for experienced hikers in great shape. It took me several hours just to hike up but once I was at the top, I could peer into the emerald pool that fills Chato's hollowed crater. The water was very cool, and my descent included me running and hopping like a bunny most of the way down carefully making sure not to get stuck on the vines poking out every which way or tripping on the varied ground. The beauty of this day culminated with a free rainforest downpour shower just as I finished the last 100 feet—soaked to the bone. It felt so good.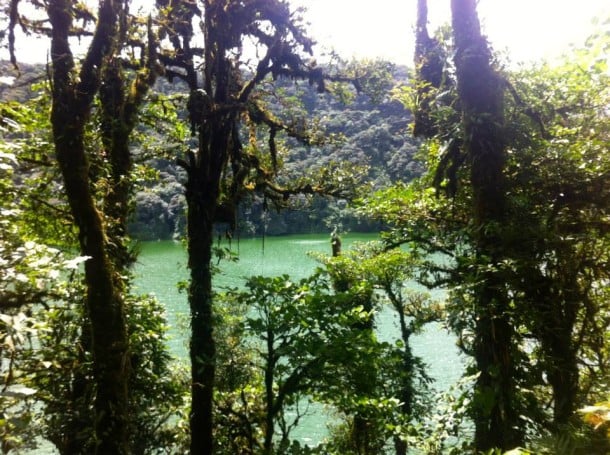 13. Baldi Hot Springs or free natural ones across from Tabacon
The Arenal area boasts the exclusive and expensive Tabacon Grand Spa Thermal Resort which charges $75 for use of its hot springs if you want to come as a guest. I was not impressed with the spot when I went to check it out because it was overrun with tourists around dinner time; I felt like I was at Disneyland.
I learned from a young traveler that you can go to the natural hot springs right across the street from Tabacan for free. Sure enough, I waded through a warm-water tunnel outside and slid over a bunch of rocks to soothe my aching legs in these hot springs. Many people come here and enjoy this free natural treat; even many locals will come to eat, drink and bring candles. The rapidly swirling moving water felt so good, like an outdoor free jacuzzi. There were many people lounging in the waters when we were there at dusk.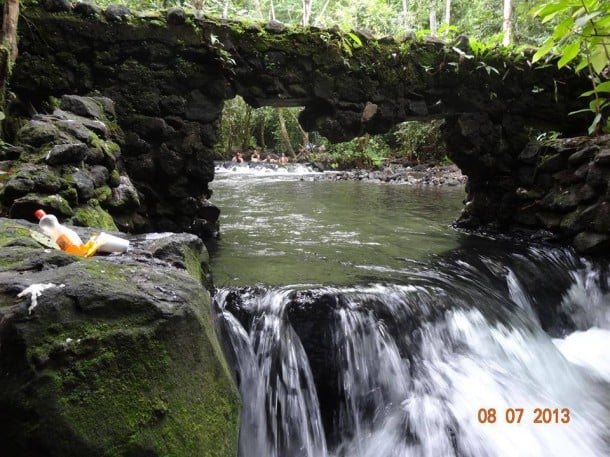 You have to experience Baldi Hot Springs to believe they're real. Baldi is like the amusement park of hot springs. There are over 30 massive hot spring pools—with showers, steam caves, bars, and slides that revolve around these natural hot springs with various temperatures. I would spend 10-20 minutes at one, then head to the next via the winding paths. The slides were wild as they shot you out into the pool. I enjoyed just lounging and soothing my aching legs from one hot spring to the next for the $30 fee to enter this facility near Arenal Volcano.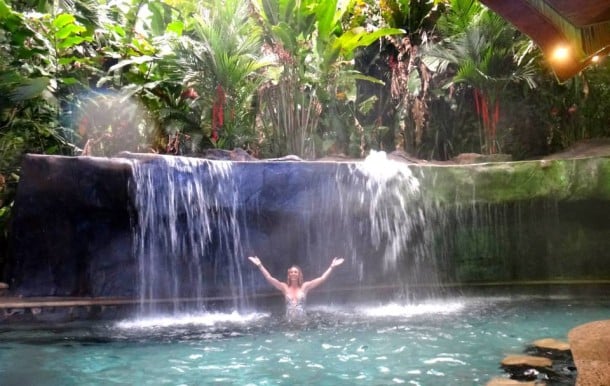 14. Proyecto Asis Animal Rescue Center
I feel so lucky to have been able to get a private tour of this remarkable place thanks to Felico (son of the owners of Hotel Kokoro). After hearing my intense desire to visit an animal sanctuary, Felico pulled over on our drive to the airport and spoke to someone and sure enough, I was IN, gazing at the most marvelous creatures.
Proyecto Asis is a wildlife shelter and environmental education center located very close to La Fortuna. The place was so well-kept, clean and beautiful. Wild animals that have been found wounded or rescued from the black market by the local forest rangers are brought here. Those that cannot be released are used in the center's educational programs. In order to finance the operation, they offer daily tours and volunteer activities. I loved seeing the animals up close. I saw hundreds of brightly colored green and white parrots, visitors feeding fruit to toucans (wow!!!), a rambunctious javelina, spiders, and white-faced monkeys, snakes,  parakeets, owls, a kinkajou, and more.
Tours are available Monday to Saturday at 8:30 am and 1 pm. Sundays: closed. Advance reservation is required.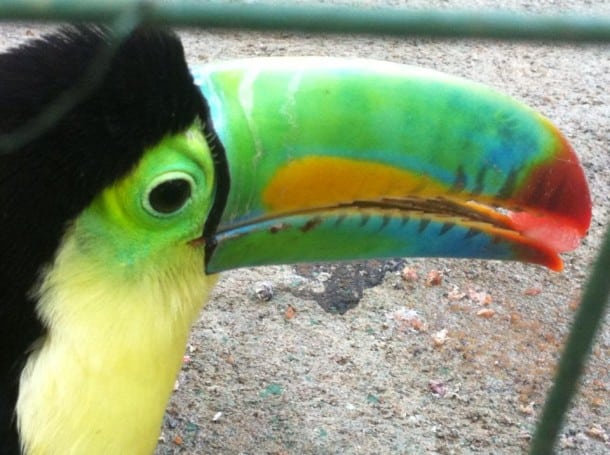 15. Aquamarine Río Celeste
This spectacular river and its waterfalls are the color of a surreal aqua pool—but in the middle of the rainforest. This natural wonder is the result of the chemical mixture of sulfur and carbonate which originates in the Tenorio Volcano. Two rivers merge into one at Borbollones, where the minerals from the river and volcano meet to create the famous blue hue. Seeing this sky-blue river flow through a dense rainforest is an undeniably amazing experience!
After about an hour's hike through the rainforest and a several-hour drive over rocky roads from La Fortuna to Guatuso, four girls and I experienced this breathtaking site. In certain areas on our hike the blue river had burning hot thermal hot springs (with signs advising you not to swim), but after having lunch at a delicious local soda we had our driver stop off at the side of the road so we could wade in the safer cooler waters. We paid about $30 each for the whole day—2 hours each way to the park's entrance, and the driver waited for us in between. There is little around except for nature and barely any tourists, since for some reason, this is not really talked about.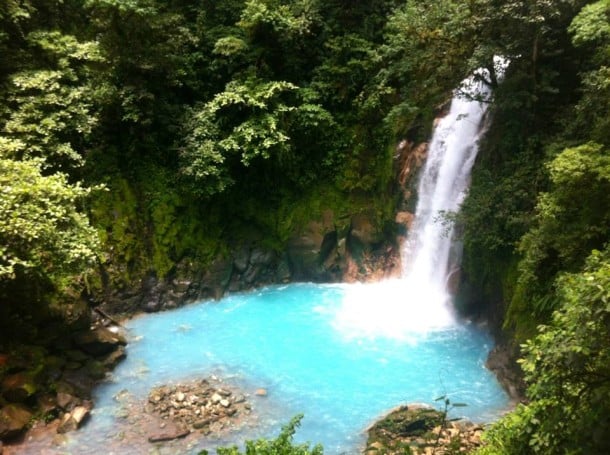 Final notes: If I'd had more time in this wondrous country, I would have tried to head to the Caribbean side (turtle hatchery), maybe tried whitewater rafting, headed to the Sloth Sanctuary, and explored Drake Bay and the Osa Peninsula.
Make sure to eat at a typical soda. I enjoyed eating at them daily for less than $10 for lunch. A soda is the nearest family-run restaurant, similar to a small diner. Sodas are great places to find home cooking. I had some of the tastiest fried fish at the sodas, and they always came with rice and beans and fried empanadas. I also enjoyed some succulent seafood pasta dishes and drinks made from the local berries.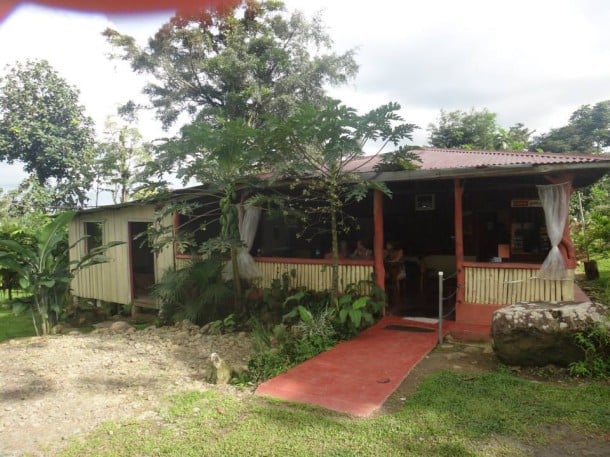 Large sodas may have written menus, but some just ask you what you would like and they will prepare it for you. At a typical casado, the country's lunch special costs around $4-6 and includes meat (your choice of beef, chicken, pork or fish in a variety of preparations), white rice, beans, salad, a vegetable side dish, and usually fried plantains. The healthy large portions were always delicious!