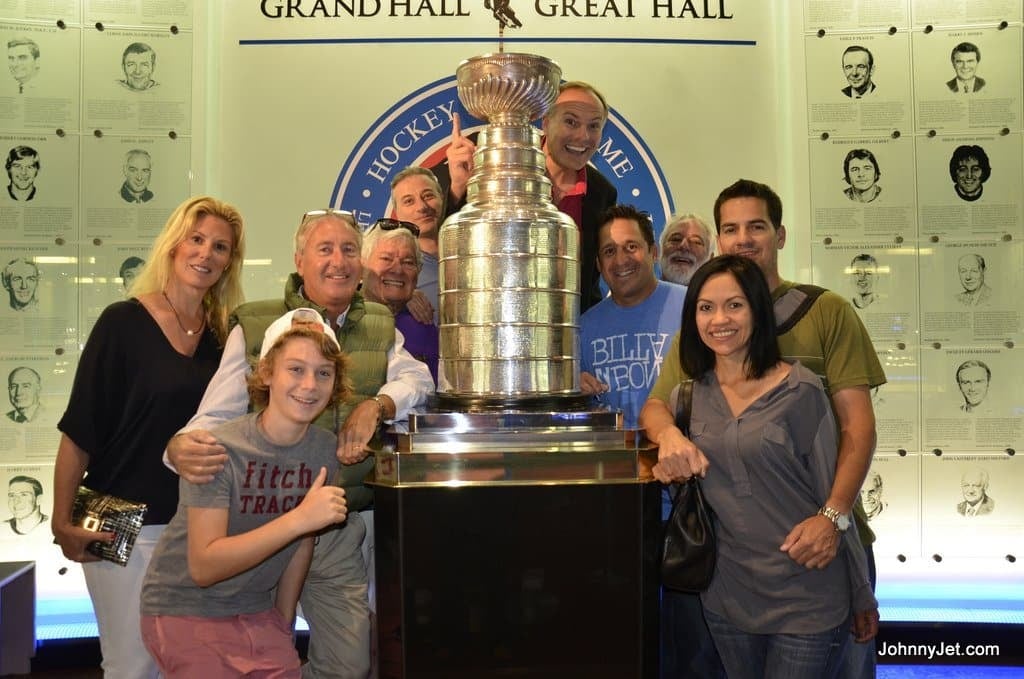 Toronto holds a very special place in my heart. Number one, it's where my wife is from and it's also where we got married. Number two, it was the first international city I ever visited — I don't really remember much about that family trip because I was around five and we drove there from Connecticut. Since my wife still lives just outside of Toronto (yes, we commute) I'm there pretty much every few weeks. Sometimes we head into the city for dinner or to check out their fabulous new hotels. Here are my reviews on The Ritz-Carlton Toronto, Four Seasons Toronto, and Trump Toronto.
One place I always recommend first-time visitors to check out is the Hockey Hall of Fame. Unlike other major sporting halls of fame, this one is the most accessible since it's in the heart of a major city instead of out in the boondocks (sorry Canton, Cooperstown, and Springfield, but it's true). Here are my 12 reasons why you should visit The Hockey Hall of Fame in Toronto: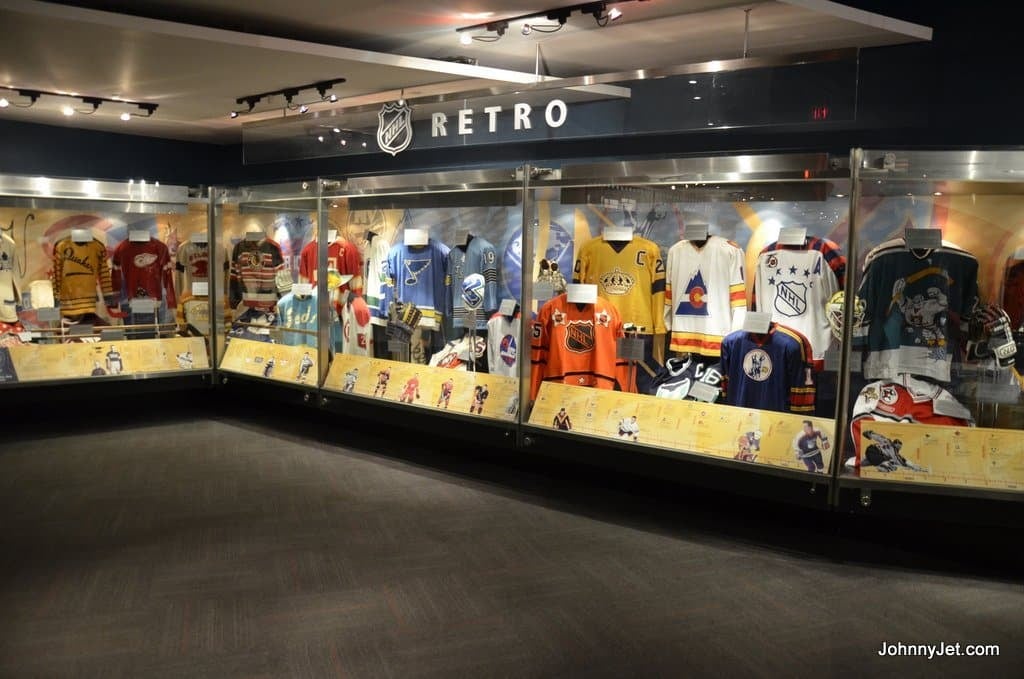 1. Hockey Memorabilia
The Hockey Hall of Fame was first established in 1943, it moved to Toronto in 1958, and in 1993, it was relocated to a former Bank of Montreal building in downtown Toronto (30 Yonge Street). The Hall is dedicated to the history of ice hockey and holds exhibits about players, teams, National Hockey League (NHL) records, and has the largest collection of hockey memorabilia in the world! There are 15 exhibit areas covering 57,000 square feet with countless items.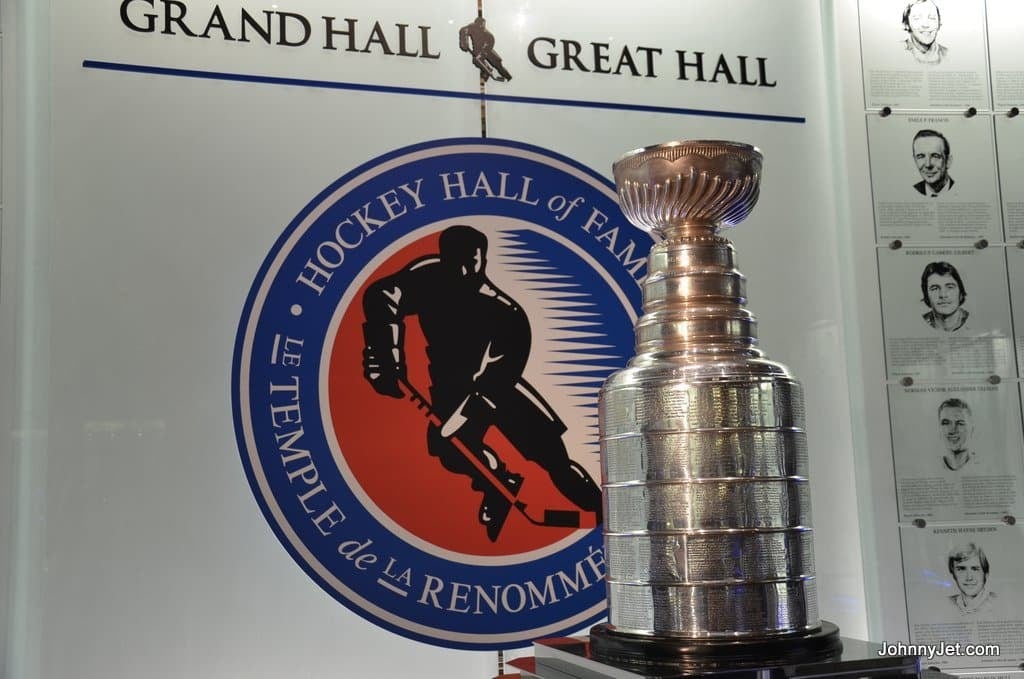 2. The Stanley Cup
OK, this is the real draw! If you time your visit right, you can touch The Stanley Cup! Though it's away from the Hockey Hall of Fame 300 days a year, the two times I've visited, it's been there. Not too many people know that the cup has been getting the white glove service since 1994. In 1995, the New Jersey Devils started the tradition of letting each player from the winning team host it in their hometown for a day which is why it's away from the hall so often.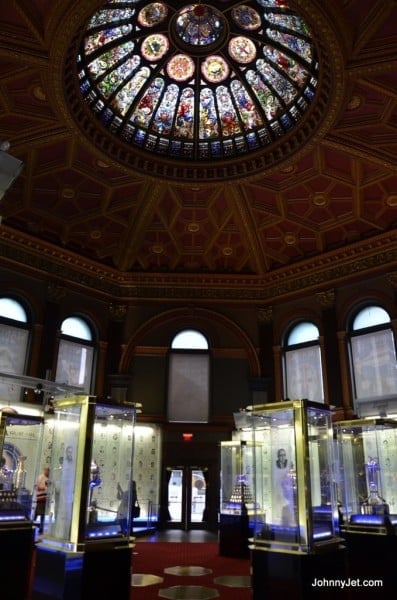 3. The Great Hall
The Stanley Cup sits in the Esso Great Hall. The room was originally built in 1885 but in 2012, it underwent an extensive revitalization. The Great Hall is also home to all major NHL trophies, the greatest collection of silverware in the world of sports, including the Vezina, Hart, and Calder.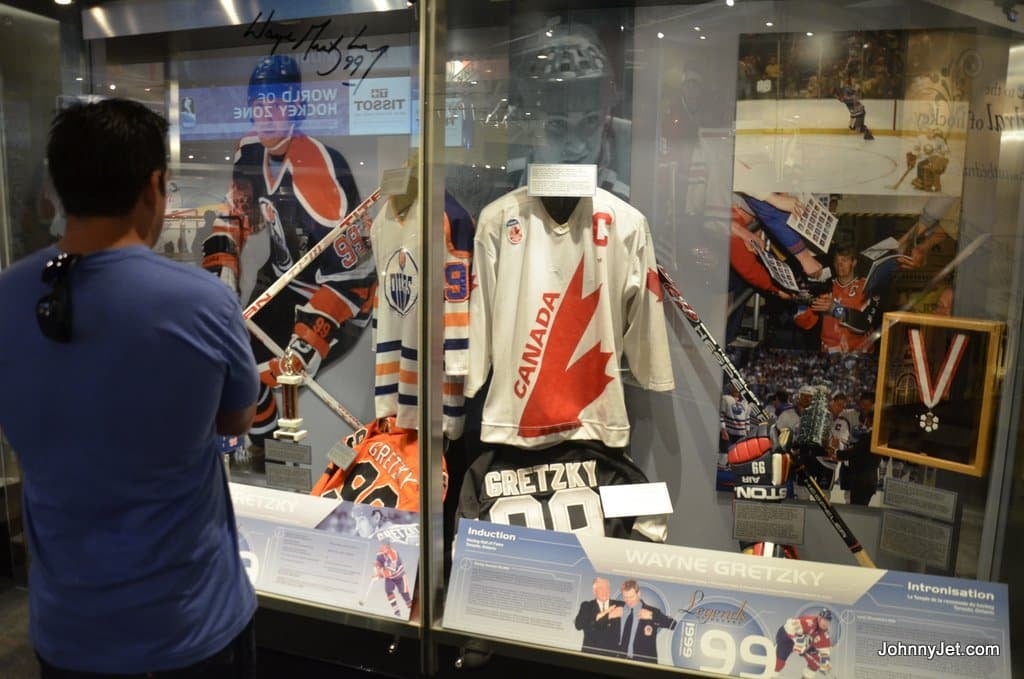 4. NHL Zone
The NHL Zone is comprised of 6,000 square feet of new exhibits that feature numerous graphic and artifact displays of individuals distinguished as Hockey Hall of Fame Honored Members including Wayne Gretzky, Gordie Howe, Bobby Orr and Mario Lemieux. On display are Stanley Cup Championship Rings and NHL milestones such as Wayne Gretzky's all-time goal-scoring and point totals.
5.Play Goalie
Want to know what it feels like to get in the net and have a slapshot zing by you? The NHLPA Be A Player Zone has a realistic life-size, live-action hockey challenge! Grab a glove and blocker to feel what it's like to face hockey superstars Wayne Gretzky and Mark Messier. Their video images fire sponge pucks at speeds up to 70 mph through a number of openings in an 8-by-10-foot video screen. There are three levels of play – rookie, professional, and all-star.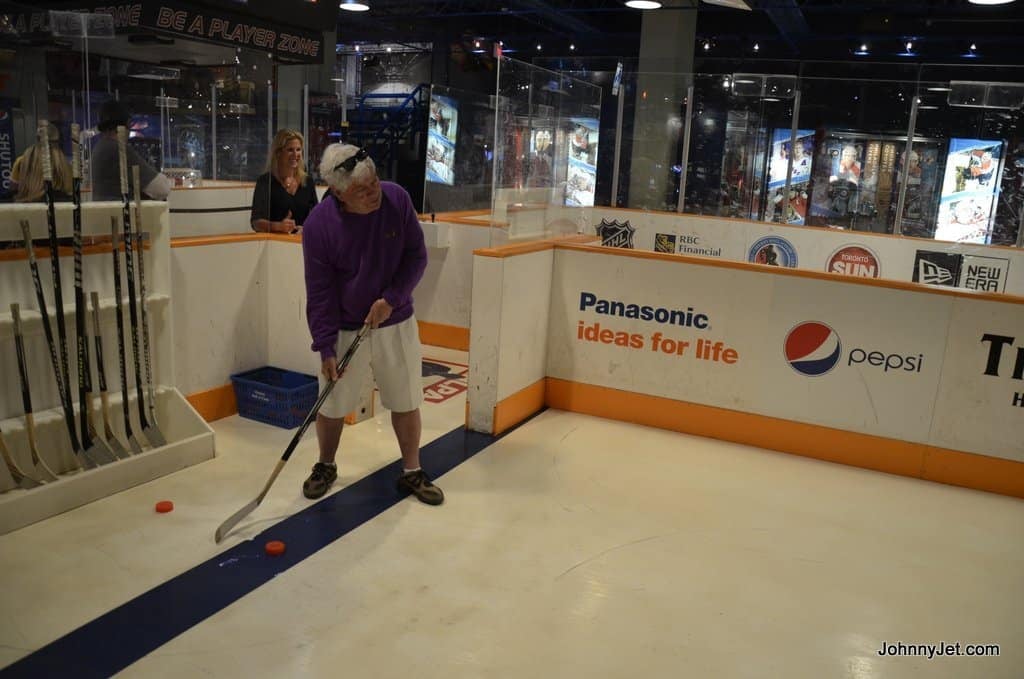 6. Take Shots
The other virtual experience allows you to go one-on-one, using real pucks and sticks against a life-sized, computer-simulated goaltender. There's no extra charge but there could be a long line.
7. Game Time Trivia
Think you know all there is to know about hockey? Then put your money where your mouth is because alongside both sides of the NHLPA Be A Player Zone are stands that provide seating for 60 fans. It is here that visitors can compete against one another through Game Time Trivia. Eight kiosks await eight combatants as 10-minute games cycle through the day, from a database of over 10,000 questions.
Game Time Trivia covers the entire world of hockey, from hardcore trivia to lighthearted pop culture, and features four unique game play formats: Shooting Drill, Starting Line Up, One On One, and Photo Op.
8. TSN Theatre
The TSN Theatre is brand new and is a state-of-the-art theatre where they play the original 22-minute 3D film entitled Stanley's Game Seven. It plays at the top and half past the hour and tells the story of the greatest game on earth as it's never been told before by celebrating the pursuit of the most iconic trophy in sport — The Stanley Cup.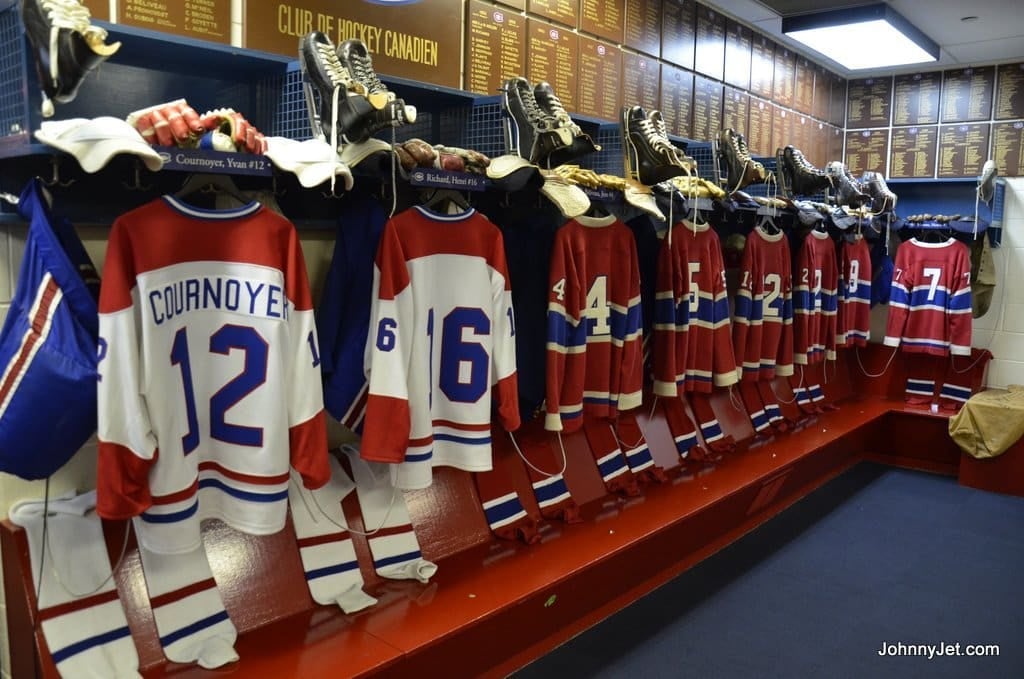 9. Canadiens Dressing Room
One of the coolest things in the The Hockey Hall of Fame is the Montreal Canadiens Dressing Room exhibit. It's a to-scale replica of the renowned space within the Montreal Forum, which was home to 23 Stanley Cup champions between 1924 and its closing in 1996. Player stalls commemorating some of the greatest Habs, including Lafleur, Plante, Beliveau, Dryden, and Morenz, encircle the area.
10. EA Sports NHL Slapshot Zone
Do you prefer video games over picking up a real stick? If that's the case then go into the EA Sports NHL Slapshot Zone. There are four gaming stations, which accommodate up to eight players and are the perfect spot to challenge your friends and family to have a classic 5 on 5 battle.
11. Puck Wall
Almost 1,300 pucks call the Hockey Hall of Fame's Puck Wall home.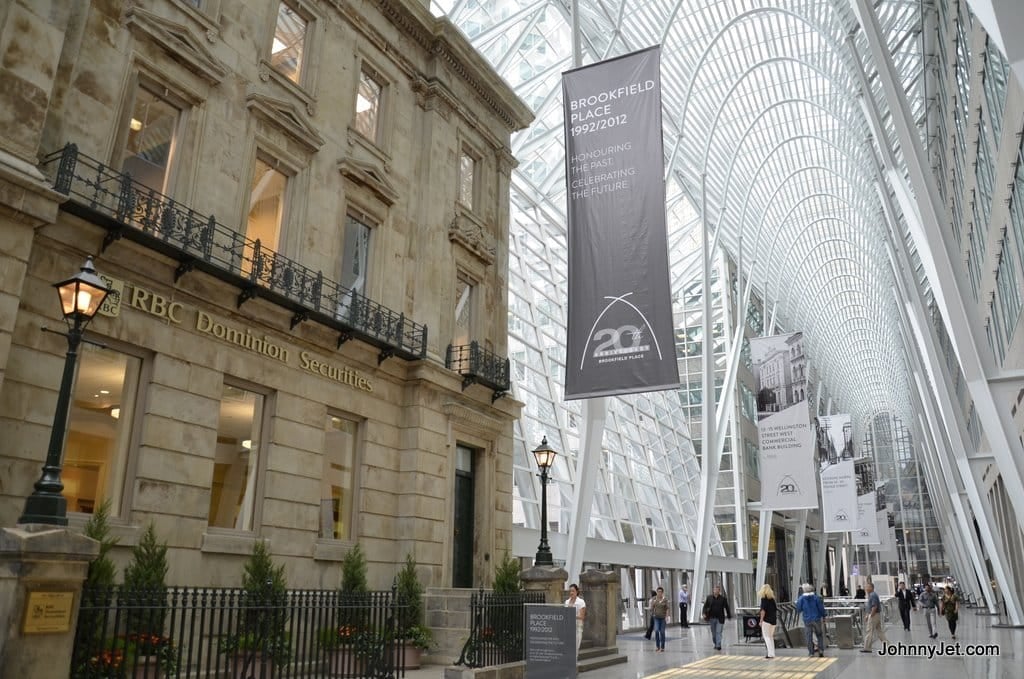 12. It's Inside a Mall
The Hockey Hall of Fame is located inside Brookfield Place so if one person in your party gets bored, they can go shopping while you explore the rest of the Hall. There are also plenty of places to eat in the mall so it's a perfect place to stop and have lunch before or after your tour of this amazing place.