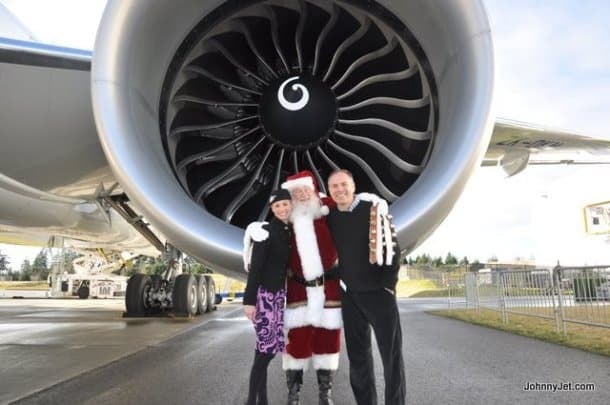 The most popular question I get this time of year is this: "How can find cheap holiday flights?" I feel like saying, "Don't you remember what I told you last year, and the year before?" Strategies don't change that much—just dates. So instead of losing my voice, temper and mind, I updated this handy post I'm calling 11 Ways to Find Cheap Holiday Flights.
For starters, the airlines are expecting full flights again this year as a result of reduced capacity issues and high demand. The holiday crunch period is going to be December 19 through January 4. According to the experts, the busiest day before Christmas is expected to be Tuesday, December 23 and the busiest day after Christmas will be Sunday, December 28. But I really think it all depends on routing. The good news is that if you haven't bought your tickets yet you'll be happy to know that I have a few tricks up my sleeve—so don't sweat.
1. Be flexible
My best advice for finding cheap holiday flights is to be flexible with your days. If you aren't flexible, then you aren't going to get a great deal. It's not that difficult to figure out that the most expensive time to fly is when everyone else is flying too. For example, I'll bet you want to leave either Friday (December 19), Saturday (December 20) or Tuesday (December 23) or Wednesday (December 24) and return on the Saturday (January 3) or Sunday (January 4) after. Am I right?
The best deals are going to be most likely either Monday, December 15 or Tuesday, December 16 and then Christmas Day. Then return on Wednesday (January 7) or later. To prove my point I ran a flexible search on ITA Software (below) for one-way non-stop flights from New York to Miami so you can see which days are the cheapest to travel. Of course, it all depends on the destination.
2. Consider the time of day
Everyone wants to leave after work and school are over, so when doing your flight search don't put a specific time. Generally, the most expensive times to fly are peak business travel hours (8am – 10am and 5am-7pm). Cheaper flights tend to depart early in the morning (5 am to 7 am) or late in the evening (after 8 pm). NOTE: By leaving early in the morning you have the best chance of not getting delayed.
3. Alternate airports
Not only do you want to be flexible with dates and times, but with airports as well. For example, rather than limiting yourself to flights into (or out of) Miami when going to South Florida, check out Fort Lauderdale Airport (FLL), which is just 25 miles north and usually much cheaper. You can also check out West Palm Beach (PBI), which is another 49 miles away. To help you find the major U.S. alternative airports by you (by actual driving miles), I created a website called AlternateAirports.com. To see what I'm talking about, see the flexible search for flights from NYC to FLL below (compare to the NYC-MIA results above).

4. Consider making a stop
Sometimes booking a flight that has a connection (as opposed to booking a non-stop) can save you money. But of course you have to ask yourself if it's really worth it. If it's hundreds of dollars cheaper to layover, I'd say yes, but if it's just $20 cheaper, do you really want to increase your chances of getting delayed or stuck? And be sure to avoid making connections in airports that have a terrible on-time track records, like San Francisco, Chicago O'Hare or all of New York's airports. Check out the airport scorecard and airline scorecard from FlightStats to help you make a good decision.
5. Search tools
Everyone knows there's not one website out there that has the absolute cheapest price for airfares, hotels, car rentals, cruises, and package deals, so the trick is to do your research and check them all to see who has the best deal at that moment in time. That's one of the reasons why I created JohnnyJet.com to begin with.
We now have an updated search engine (below) where all you have to do is input your city pairs and dates and click check rates. Six windows will open up as they simultaneously search a variety of travel websites like Expedia, Priceline and TripAdvisor. It not only saves you time but money. Check it out for yourself!
6. Sign up for flight alerts
If you don't want to constantly manually check airfares (as I like to do for some insane reason) then sign up for fare alerts. Many sites offer this service for free, including Airfarewatchdog.com, Kayak, Yapta.com, and FareCompare.com.
7. Don't bundle bookings
Sometimes only a certain amount of bargain fares are loaded into the system so if you're a family of four and there are only three fares left at the bargain price and you search for four people, all four will get the higher price.
Therefore you should start by searching fares for one person. Then search for four and compare the results—if the second result isn't the first fare multiplied by four then try searching for three people (or two, as you move down). The goal is to find options for the max number of family members at the cheapest fare.
8. Use frequent flier miles or credit card points
It's almost impossible to use your airline frequent flier miles during the holidays unless you're very flexible with dates or willing to use double or triple the usual amount. I don't recommend the latter but I do recommend using credit cards, like certain options from AMEX, Barclays or Chase, where there are no blackout dates.
9. Speak to a human
You never know if an airline representative can find a better deal for you than what you can find online but in my experience, it's usually only worth it (most charge a $25 fee) when booking a mileage award ticket since they can check partner airlines and alternate cities much quicker. To help you get in touch with your airline, I created AirlineNumbers.com, which lists all of the airline's phone numbers and websites. To bypass the airlines' annoying and time-consuming automated prompts, log on to GetHuman.com.
10. Consult a travel agent
As you can see, bargain hunting can be a time-consuming process, but it can pay off big time, especially if you're traveling with multiple people. If you don't want to spend the time and energy, call a travel agent and pay their fee, which can be as low as $25 (though it's often more). I check with mine but usually only on international flights since sometimes he has different inventory than the travel sites do. To give you an example, once I was flying from London to Bangkok and everything I was finding online was over $1,000. I called my travel agent and he found a flight on Etihad through Abu Dhabi for $550. It was well worth the $25 fee.
11. Hidden cities
This hidden city trick is against airline policy so you didn't learn it from me. But—once I needed to get to Cleveland from L.A. and a nonstop one-way ticket was $600. I took my own advice and searched alternate airports and when I found a ticket to Buffalo for only $230 I noticed the flight first stops in Cleveland ON THAT SAME EXACT $600 flight. I know it makes no sense since Buffalo is further than Cleveland so you have to go past Cleveland and stop to go back the other way, but that's the airlines for you. If I wanted to break airline policy I could've just gotten off in Cleveland and let my connecting ticket to BUF go to waste. But if I did that I would've bought a one-way ticket, made sure not to check bags or put in my mileage account number. Remember I'm not recommending this and if you do it a lot you WILL get caught.
Bonus tip: Don't wait another day
According to the WSJ, the average American spends 12 days searching for airfare before booking. And during that period of time, each fare supposedly climbs 5 percent, so by the end of your search, you're much less likely to find a better last-minute deal. Instead give yourself peace of mind and get your holiday fare before it's too expensive to go visit the family.
To a happy and safe holiday!