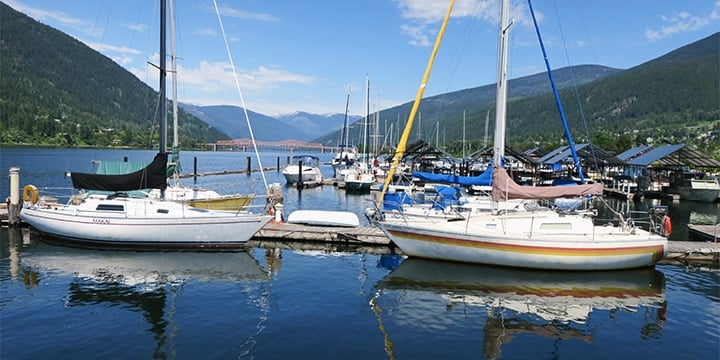 The Kootenay Rockies is a pristine region of lakes, rivers, hot springs and mountains in British Columbia, south of Banff National Park and just north of Washington and Idaho in the U.S. Because of its abundance of natural resources, it's also ground zero for year-round outdoor activities like fishing, mountain biking and hiking in the summer to skiing some of the continent's best powder in the winter. I visited in June, when the roaring rivers are full of recent snow melt and warm weather is just beginning to make an appearance. The crowds were minimal, everything was open and it was the perfect time to explore some of the best this section of BC has to offer. Like:
1. Go mountain biking, Revelstoke
Move over Whistler. Revelstoke is making a name for itself in the mountain biking scene with some of the best single track trails in BC. Take a guided tour with the local outfit Wandering Wheels or rent/bring your own bike to explore the 56+ trails surrounding the town. The trails are well-marked and range in difficulty from beginner to expert; biking a great way to take in the sights and get your adrenaline fix. Our tour was rated beginner/moderate, but it still included challenging terrain and steep trails (which is a good thing). If it's your first time mountain biking, go for a guided tour so you get a rundown of mountain biking basics and ensure you're on trails you can handle.
British Columbia is famous for its mineral hot springs. The province offers many opportunities to experience nature's restorative powers, from taking a dip in natural backcountry pools to relaxing in a man-made, resort-style setting. A great option is Halcyon Hot Springs Resort located on the eastern shore of Upper Arrow Lake. The resort offers three pools including a "warm" pool that's 100°F, a hot pool at 105°F and a cold plunge pool that's a frigid 55°F.
According to the locals I talked to, the key is to stay in the cold pool for a full minute, then hit the hot pool immediately after to maximize the restorative effects and increase blood circulation throughout the body. I was skeptical at first, but after giving it a try I can confirm the process does help with relaxation after a day on the trail. If you're not into that, grab a floatie and head to the warm pool where a slight current will take you in a circle at a leisurely pace.
3. Go whitewater rafting, Nelson
Whitewater is everywhere in BC and you should definitely take advantage of the region's mighty rivers. With snowmelt runoff peaking in late June and into July, the rivers swell to near-flood levels and cover most of the river's obstacles. Because of this, the best time to raft is August when the water begins to retreat and the rapids are most gnarly.
Nelson Whitewater Rafting Co. is a solid choice for your rafting adventure. Based out of the beautiful town of Nelson, these guys run a tour down the Slocan River Facchina Rapids, which feature a few Class 2 and Class 3 rapids; enough to get wet and thrashed and come home with a story or two. The guides are professional and friendly, and they make sure everyone has a good time on the water.
One of the more unique attractions in BC is Revelstoke Mountain Resort's mountain coaster, The Pipe. Resembling a modified bobsled, The Pipe sits atop a single rail with a seatbelt and a handbrake…and that's it. You control the speed the entire way down, making this a fun activity for adults and kids alike. The resort also features a number of hiking and mountain biking trails throughout the summer months, but the mountain coaster is quickly becoming its most popular non-winter activity.
5. Take a zipline tour, Kokanee Creek Provincial Park
For incredible views and good times, Kokanee Mountain Zipline is the spot. Located in the Kokanee Creek Provincial Park (Canada's equivalent of U.S. State Parks) outside of Nelson, the tour includes six ziplines that take you 300 feet over the Kokane Creek below for views of Kootenay Lake in the distance. The guides are awesome. In addition to making sure you're strapped in and safe, they do a great job talking about the history of the surrounding forests—and even the local resident black bear named Yeti.
6. Kayak Kootenay Lake, Kaslo
Kootenay Lake is beautiful and historic. It was once home to the Sinixt and Ktunaxa people, whose descendants still live in the area. There's no better way to experience the lake and its history than with a guided paddle tour with Kaslo Kayaking.
Start in the town of Kaslo, where you'll get your gear and choice of kayak, canoe or SUP, and then head out onto beautiful Kootenay Lake. Our guide Dean, who owns Kaslo Kayaking with his wife Daphne, took us across the lake to the opposite shore where you can see vibrant, surprisingly intact examples of First Nation rock-art paintings in the side of granite cliffs. Where else do you get to see that on a kayak tour?! We then continued along the shore to a beach where we had picnic lunch prepared by Daphne. With few boats on the lake, the water was still; the only sounds we heard were birds and our paddles through the water, a peaceful and incredible experience for anyone who loves the outdoors.
7. Take a bike tour of Nelson, Nelson
Nelson is a beautiful town of about 10,000 residents on the shores of Kootenay Lake. Home to BOB (the big orange bridge), a busy marina and a number of outdoor tour operators operating year-round, Nelson is a center for tourism. The town boasts a surprisingly high number of boutiques, coffee shops and restaurants (more on that later) in addition to natural attractions like Lakeside Park and Gyro Park.
Nestled on the side of a hill, it's a bit strenuous to see everything on foot in one day, so we rented e-bikes from Gerick Cycle & Ski. It was life-changing. Switch the motor into turbo mode and the steepest uphill climb feels like a casual ride through the park. This was a fun (and quick) way to explore the many neighborhoods in town while uncovering places we wouldn't have seen otherwise in the short time we had.
8. Enjoy local brew at Oso Negro, Nelson
The best coffee I had in BC—and easily among the top ten I've ever tasted—was Oso Negro Coffee, which is famous among locals for good reason. The beans are organic, fair-trade and roasted in small batches, producing a smooth, rich flavor without any bitterness. From the Light Organic Blend to their famous dark roast called Prince of Darkness, each blend is carefully crafted and fantastic. The coffeehouse is on Ward Street and is known for its outdoor garden patio as well as its architecture. It's a welcoming hangout for Nelson natives and tourists passing through.
9. Taste organic craft liquor at Monashee Spirits, Revelstoke
First it was craft breweries. Now, it's craft distilleries that are starting to pop up in local communities everywhere, and BC is no different. In Revelstoke, Monashee Spirits recently opened its doors specializing in small batch spirits and bitters using local ingredients, pure mountain spring water and sustainable practices. The owner and master distiller, Josh McLafferty, started his career in underwater welding, which allowed him to build this beautiful, copper distillery himself. His spirits are already winning awards and he can barely keep favorites like his Big Mountain Creamer (think Bailey's Irish Cream) and Vulcan's Fire (similar to Fireball but with all organic ingredients and way, way better) in stock. Located in downtown Revelstoke, it's worth stopping in for a tour and taste.
10. Dine about town in Nelson, Nelson
Fun fact about Nelson: It has more restaurants per capita than San Francisco and New York City…seriously. While the population is much smaller, that's still an impressive feat for a mountain town in the middle of the Rockies. I had the pleasure in participating in a dine about town to taste some local favorites and it did not disappoint. Here are the highlights:
---
For more on travel to the Kootenay Rockies, visit kootenayrockies.com and hellobc.com/kootenay-rockies.aspx.