If Christmas is your favorite holiday, a stay at Walt Disney World will leave you with some of your most magical memories ever. Here are my top 10 reasons for a holiday with the Mouse.
1. The most festive atmosphere of the year!
Every year Walt Disney World Resort is decorated to the max. There is holiday finery at every park and resort, as well as at the new Disney Springs. Some 150 semi-trailer truckloads of decorations are spread all over the Walt Disney World property, with holiday trees, lights, wreaths, and garlands creating some truly amazing holiday sights.
2. Holidays around the world at Epcot
At Epcot, the 11 World Showcase nations offer the sights and sounds of the season of cultures near and far through storytelling. In each land, the holiday traditions of the respective country are explained. Here are some of my favorites:
Germany — At the German pavilion, Helga recounts the origins of the first Christmas tree, the advent calendar and how the nutcracker became a staple in homes worldwide.
Italy — In Italy, meet La Befana, the good witch who brings gifts to children on Epiphany.
Norway — In Norway, Sigrid shares the story of the Christmas elf Julenissen.
USA — At the American Adventure pavilion, Santa and Mrs. Claus are on hand for a meet-and-greet.
Don't miss the interactive Kwanzaa and Hanukkah storytelling, and make sure to take in the candlelight processional featuring a celebrity narrator accompanied by a huge live choir and a 50-piece orchestra. The show takes place three times a day at the America Gardens Theatre and is included with regular admission.
Complementing the cultural offerings—and new this year—are food booths with holiday treats from the World Showcase nations. In Germany, try sauerbraten with red cabbage and spätzle. At the Feast of the Three Kings near World Showcase Plaza, enjoy beef tamales, roasted pork with mashed yucca, and pickled green bananas, and "Three Kings Bread."
3. Nighttime holiday shows
At the Magic Kingdom, Elsa (the Queen of Arendelle) lights up the iconic castle in A Frozen Holiday Wish. More than 200,000 ice-like LED bulbs create curtains of twinkling lights, turning Cinderella's home into a magical ice palace.
New this year—and also performed only once a day—is the Once Upon a Time castle projection show, featuring Beauty and the Beast's Mrs. Potts sharing bedtime stories with Chip. The show is a clever mix of special effects and music, with scenes from animated films such as Cinderella, Peter Pan, Frozen, Alice in Wonderland, and Beauty and the Beast.
Holiday Wishes: Celebrate the Spirit of the Season is the holiday version of the very popular nightly fireworks show at the Magic Kingdom. The show is performed each night during Mickey's Very Merry Christmas Party, a separately ticketed Magic Kingdom evening event offered in November and December. However, from mid-December until the end of the year, the show replaces Wishes as the evening fireworks show for all park guests and is an absolute must-see.
Over at Disney's Hollywood Studios, the Chinese Theater sets the stage for Jingle Bell, Jingle BAM! The show is a combination of projections, fireworks, and special effects, including snowfall, and is based on Prep & Landing, a Disney short movie, and features holiday moments from Disney films like Beauty and the Beast, The Nightmare Before Christmas, Bambi, and Mickey's Christmas Carol.
4. Seasonal holiday meals and treats
Minnie's Holiday Dine, a seasonal character dinner with Minnie, Mickey Mouse, Donald Duck, Daisy Duck, and special guest Santa Goofy, is held at the Hollywood & Vine at Disney's Hollywood Studios. The holiday-themed decor, food, music, and activities make this the perfect place for families with young children.
Seasonal food and holiday treats can be found throughout Walt Disney World. At Epcot, try Biergarten restaurant at the Germany pavilion. The buffet will have special holiday dishes in addition to the regular fair. For dessert, there is nothing better than the Bûche de Noel found at Les Halles Boulangerie & Patisserie at the France Pavilion. Special Christmas Day menus will be available at Cape May Café and the Captain's Grille at the Yacht and Beach Club; Chef Mickey's and the Wave, both located at the Contemporary Resort; The Garden Grill Restaurant at Epcot; Trails End at Ft. Wilderness; and the Whispering Canyon Café at the Wilderness Lodge. And there is, of course, no shortage of seasonal cupcakes and holiday-themed caramel apples.
For an elegant upscale dining experience, I recommend Artist Point at Disney's Wilderness Lodge. Artist Point does not offer a Christmas-themed dinner but is one of Disney's best restaurants on property. The ambience of a dining room is imbued with the spirit of the National Park lodges and has a view of Bay Lake. The only thing missing here is the snow, but the tranquil and warm atmosphere of the lodge is as American a Christmas as you can get. The resort is gorgeously decorated, and many ornaments on the trees and garlands are carved wooden figures. The four-story-high main tree in the lobby has Native American-inspired decorations, and throughout the lodge you'll find fireplaces and rocking chairs inviting you to relax with a glass of wine prior to your meal.
5. Creating holiday memories
If you're staying at a Walt Disney resort over Christmas, make sure to find out what holiday event your particular resort is offering. Happenings range from carolers, brass bands and country singers to Christmas cookie decorating, arts and crafts, visits with Santa, and readings of The Night Before Christmas. Most activities are free of charge and are wonderful opportunities to create holiday memories for the entire family.
For $79, you can enjoy a 25-minute "sleigh" ride through the woods of Disney's Fort Wilderness Campground. The horse-drawn vehicle is wheeled but made to look like a red sleigh, complete with sleigh bells! The rides are offered every 30 minutes from 5:30 pm until 9:30 pm, departing from Crockett's Tavern. Each sleigh can accommodate up to four adults or two adults plus up to three children ages nine and under.
Disney's Yuletide Fantasy Tour takes an in-depth look at how Walt Disney World theme parks and resort hotels get dressed up for this very special time of year. During this fact-filled three-hour tour, you'll meet the cast members of Holiday Services—the "elves" who create the decorations used to dress up Walt Disney World Resort theme parks and hotels. The tour is available for guests 16 years of age and up and costs $99 plus tax per person.
6. Here comes Santa Claus!
No Disney Christmas event beats Mickey's Once Upon A Christmastime Parade at the Magic Kingdom. When beloved Disney characters are decked out in holiday garb and gingerbread men, reindeer, and toy soldiers march down Main Street U.S.A., then you know that Santa Claus is not far behind.
The parade is an absolute must-see. Santa also holds court during the day at the Magic Kingdom and at Epcot's American Pavilion. At Disney's Hollywood Studios, Old Saint Nick can be found inside the Once Upon a Time store. At Disney Springs, the jolly man is found at Santa's Chalet. Once Christmas morning arrives, Santa Claus will be well on his way back to the North Pole and Santa Goofy will take over at Disney's Hollywood Studios and at Disney Springs.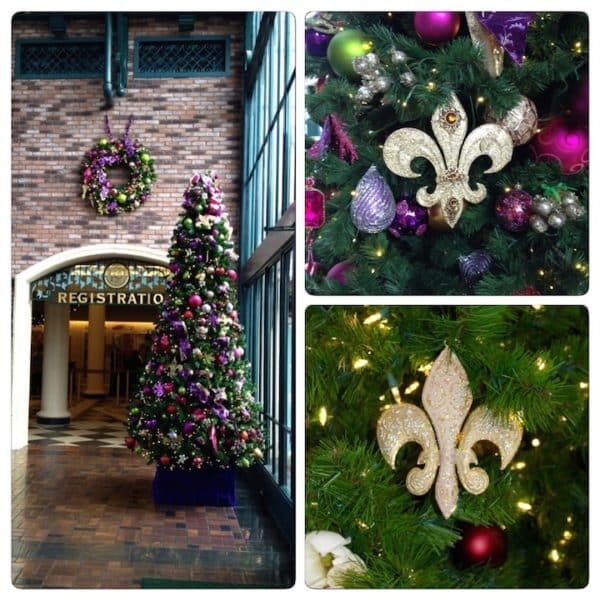 7. Resort-hopping
The decorations at all Walt Disney World Resorts are attractions in their own right, as each resort incorporates its theme into its holiday finery. At Port Orleans Resort, the Mardi Gras colors are incorporated in the trees, while the Yacht Club has trees adorned with miniature sailboats.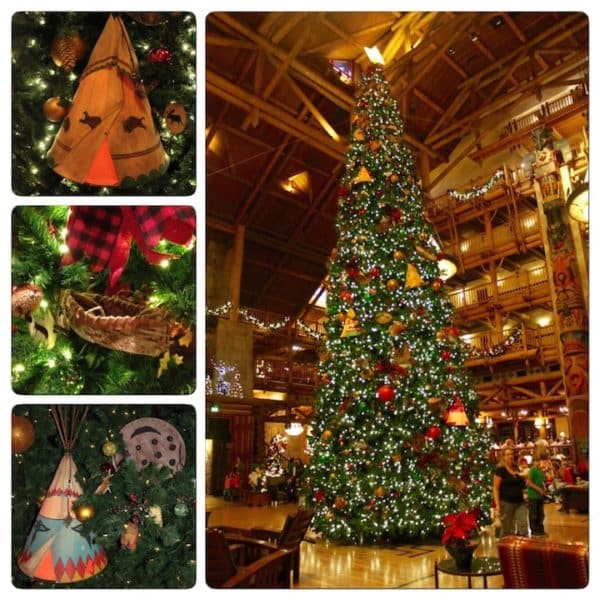 Don't miss the African-inspired decorations at Disney's Animal Kingdom Lodge, especially the giant breathtaking tree in the lobby of Jambo House. The Mexican-themed Coronado Springs Resort honors the poinsettia.
The Christmas flower is found throughout the decoration of the resort and is also the star of the flower baskets greeting guests at the porte cochere. The mother of all Christmas trees is at the Grand Floridian Resort, where a five-story tree dominates the lobby. The resort is also home to a huge gingerbread house.
Throughout the day, a pastry chef meets guests and gives tips about creating and decorating a gingerbread house.
8. Holiday entertainment at the NEW Disney Springs
Disney's shopping, dining and entertainment complex is going all out for the holidays. Every night at the Once Upon a Toy fountain play area, a Christmas tree lightning takes place at 6 pm. But there's more. Throughout the evening, toy soldiers, stilt walkers, carolers, and an a capella group take turns spreading holiday cheer, and a DJ spins holiday-themed music, making sure that you get into the Yuletide spirit.
A Christmas tree trail features 15 custom-decorated holiday trees, each capturing a popular Disney character or movie. There is plenty of musical entertainment throughout Disney Springs, including a strolling piano at Town Center.
On Waterside Stage, at Marketplace, special performances celebrating Kwanzaa will be held on December 26th and December 27th. Hanukkah will be celebrated with songs and stories at Waterview Park, in The Landing, December 24th through January 1st, 2017.
A first not only for Disney but also in the United States is a new holiday experience featuring 300 show drones illuminating the night sky. Starbright Holiday — An Intel Collaboration takes place nightly at 7 pm and 8:30 pm now through January 8th over Lake Buena Vista. The 5-minute choreographed aerial performance is set to holiday music, and the drones create holiday images such as a Christmas tree, an angel, and a dove of peace.
Last, but certainly not least, Disney Springs offers plenty of shopping and a vast array of dining possibilities.
9. Escape the cold
Take a break from ice and snow, and enjoy the mild weather. Average daytime temperatures are 73º and chances of rain are very low.
10. A Walt Disney World vacation: a great multigenerational experience
There is something for everybody at Walt Disney World, and bringing several generations together in one place makes a holiday gathering so much easier while creating memories that last a lifetime. Walt Disney World offers a wide variety of accommodations to suit the needs of multigenerational families, from connecting rooms to spacious multi-bedroom townhouses and villas. The parks and resorts have everything a family may need, from quiet Baby Care Centers in the parks to Children's Activity Centers—that entertain the kids so grown-ups can have an adults-only night out—to strollers, wheelchairs and ECV rentals.
*Is there a downside?
Is there a downside to spending Christmas at Walt Disney World? Keep in mind that you will be traveling at the busiest time of the year. Parks will be crowded and lines will be long. Don't plan on doing lots of rides; rather, check out the seasonal shows and parades. Make a plan, pick your "must-do" experiences, make your dining arrangements as soon as possible, and, most of all, get to the parks early. If you are traveling with very young children, consider having a Christmas tree in your room and reassure your little ones that, even though you're not home for the holidays, Santa will know where to find your family on Christmas Eve. Happy Holidays!
---
For more on what to do year-round at Walt Disney World, you can sart planning your visit with "The Unofficial Guide to Walt Disney World" by Bob Sehlinger and Len Testa.