A big thanks to BottleRock Napa Valley for hosting us at the three-day music festival so we could provide this detailed review of our experience.
Celebrating its 10th anniversary, Napa Valley's BottleRock pairs the very best of Napa's wine, food, and craft brews with some of the biggest names in music. This was our first year attending Bottle Rock during Memorial Day Weekend and it exceeded expectations. We discovered this festival when the set list came out showcasing bands of our childhood and current popular acts like Lizzo and Post Malone. We knew we had to go!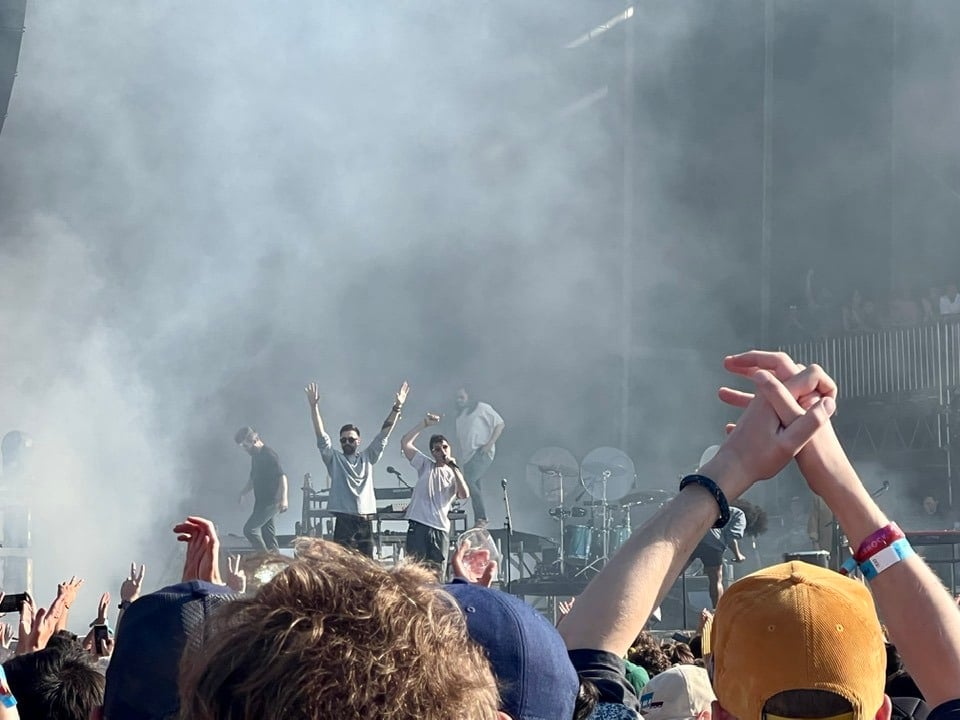 We have never seen so many amazing bands in a 3-day period. Due to the organization and layout of the 6 music stages, we recommend this festival for music lovers as we have never seen so many legendary performances in one spot, not even at Coachella. Over the weekend we had flashbacks of other festivals where we also experienced many famous bands but none were remotely as pleasurable as BottleRock – due in part to the world-class food and wine purveyors within the setting of a world-class music festival in downtown Napa, California.
Headlining acts in 2023 included Red Hot Chili Peppers, Post Malone, Lizzo, Duran Duran, Lil Nas X, and the Smashing Pumpkins. The fountain of youth can be found at BottleRock.
Here's why we think BottleRock Napa Valley is the Best Music Festival in America:
1. The lineup is stellar and for all ages.
It's possible to see so many acts up close due to the layout of the festival. There are several small intimate stages where you can get up close and with over 75 bands over the course of 3 days, you really have to plan to see your favorite acts. Unlike larger music festivals like Coachella, you can move from one stage to another quite easily, and with great sight lines throughout the venue, you can watch on a blanket or while noshing down some food.
In one day, I experienced Bastille, Airborne Toxic Event, Phantogram, and Thievery Corp before racing between the finale acts of Smashing Pumpkins and Post Malone. I was also able to witness several new acts and a few 20-minute stints of the Williams Sonoma Culinary Stage with guests like Jose Andres and Sammy Hagar. In the days that followed, I was equally impressed by performances from known acts like Paris Jackson, Sheryl Crowe, Nile Rodgers & Chic, and more.
2. It's easy to discover new music.
Everywhere I turned, there was another amazing musical performance that caught my attention. This happened often on the way to the bathroom – which was also never more than a few minute wait – and then I was totally distracted and intrigued, especially by performances on the Allianz Stage – where I was mesmerized by Brit Tom O'Dell belting tunes out on the piano and then later 22-year-old Maude Latour connecting with the younger set who sang along to her songs of equality and relationship woes.
Lucius, an American indie pop band hailing from Brooklyn and now LA, also sang on the same stage later in the day with glittery big sequin outfits. The lead singers almost look like sisters but Jess Wolfe and Holly Laessig first met at Berklee College of Music in Boston. It was hard to leave to go see our desired act as their lilting voices almost felt like music from the past, reinvigorated. The whole ambiance – as the sun glowed with the energy of the crowd and the surrounding trees – felt like magic.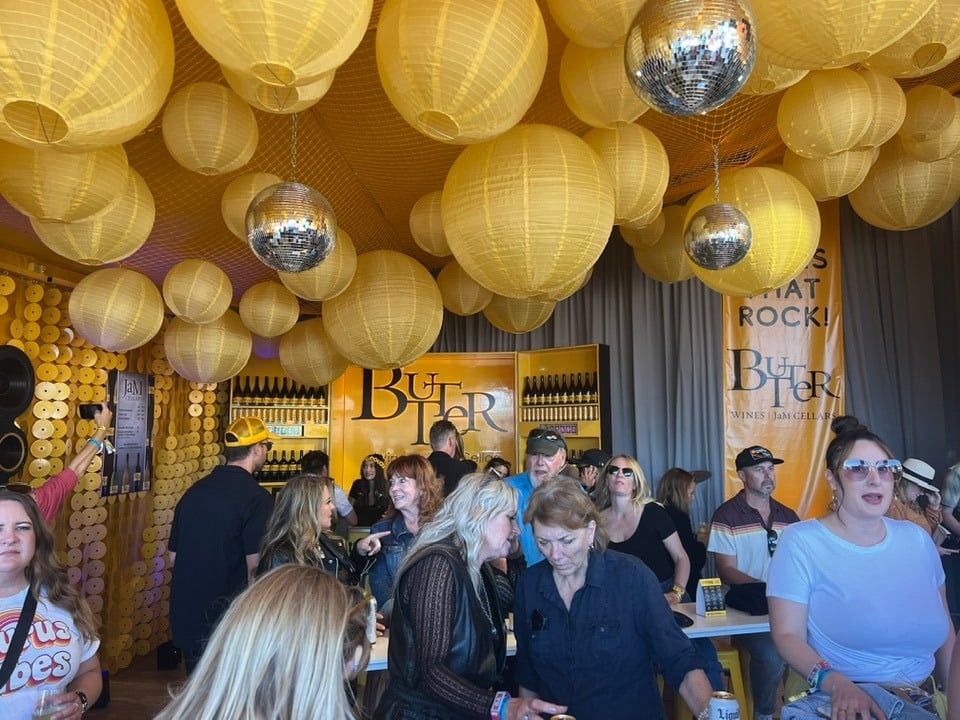 More thrilling music sessions could be found on the intimate JaMPad, an all-acoustic stage and VIP Lounge sponsored by JaM Cellars, known for their Butter Chardonnay, Butter Cab, and Butter Bubbles. We were hoping to see Pete Yorn but he was unable to make the event and our musical taste buds were instead enlivened when we caught Peter Cat Recording Co., an Indian band with 5 carefree members who looked way cool smoking on stage making soulful rifts on guitars, trumpet, and swinging drums. The band from New Delhi creates and records a variety of tunes deemed by Variety as "psychedelic disco-rock meets turbocharged gypsy jazz." We totally dig their vibe and tunes and their popularity is evident with sold-out shows in LA and NYC this year. We caught rapper Warren G on another day at the JaMPad but the crowd was so packed for such a small stage area, we knew he needed a bigger venue.
On the larger stage walking to other sets we got a taste of 27-year-old Jean Dawson's lyrical hypnotic hip-hop indie rock and Swedish popstar Tove Lo (Too-Va-Loo) who was basically naked in a black fishnet one piece and got the crowds amped with her song Talking Body. She came out later in a glittery jean pantsuit and performed with Duran Duran.
On the third day, the Honeyboys wowed us with the lead singer Ari Eisenberg's voice and look –  long curly beach blond locks and 'stache accompanied by the rest of the San Louis Obispo quartet dressed in beekeeper suits. Their songs were a refreshing blend of indie rock, pop, and punk with solo sexy saxophone riffs, jamming guitars, and drumming. We loved their song Mr. Daniels but check out their new song Parachute and official video. On the third day, a friend introduced us to Caamp, a folk trio from Ohio that makes beautiful music reminding me a bit of  Jakob Dylan.
3. The variety of food options is incredible.
 Gone are the days of just an overpriced hot dog or hamburger at a concert; when you come to BottleRock, expect gourmet food from Napa Valley's finest chefs and restaurateurs. We learned to order food before 3 PM to avoid long wait times and we didn't want to risk missing live music.
Some of our favorite bites included burnt ends (sweet and tangy brisket bites) and barbecue ribs from Kansas City invented State Line Road and lamb and beef kebob on pita at Tarla Mediterranean Grill, while everyone else eating the heaping shrimp and chicken over rice with a cream sauce encouraged us to order from Gerard's Paella. We found most prices to be around $20 for some seriously amazing grub. Dumplings, fried chicken sandwiches, empanadas, artisanal pizza, salads, Mexican, you name it, they had it at BottleRock!
4. There are options for a "real" VIP experience.
VIP at BottleRock is one of, if not the best, VIP experiences offered at any music festival. Those who want a premium experience can purchase and choose between standard VIP, Skydeck, Marriot Bonvoy + American Express, Platinum and Suite passes that allow for expanded outlooks from viewing decks at the main and second stages, private shortcuts between stages, and other privileges like access to the VIP Village – an oasis with premium bars, more culinary offerings, comfy seats, shade, VIP restrooms, and live acoustic performances on a private stage. The most exclusive offerings feature all-inclusive gourmet food and drinks, assigned seating areas with the best views, and other special perks.
5. The venue eliminates single-use plastic and strives to be one of the most sustainable festivals.
I was super impressed to see free touchless water stations where you could refill your water bottle instead of buying water, but these eco-conscious options make sense as concerts are known to cause mega waste. BottleRock's commitment to eliminating all single-use plastic bottles anywhere is why we love California. In 2022, 180,000 single-use plastic water bottles were saved from the landfill. Also, I noticed all of the food we ordered was served with plates and utensils that are BPI-certified compostable. In addition, flushable vacuum toilets are used instead of traditional port-o-potties as they save 90% more water.
6. The Culinary Stage is equally exciting where chefs collaborate with celebs/musicians.
I never thought I would be interested in the Williams Sonoma Culinary Stage at a music festival, even has a huge food lover, but I saw several 20-minute segments of musicians teaming up with chefs to try out their food – and they were all really fun and entertaining.
We saw Chef Jose Andres and Sammy Hagar make margaritas with Hagar's Santo Spirit tequila and then throw out sealed plates of thinly sliced jamon to the crowd while Jose Andres made his message clear about the value and importance of immigrants through words like, "We need to build longer tables, not higher walls."
"Son of LA" Chef Roy Choi came out with Keanu Reeves and his band Dogstar (Bret Domrose and Robert Mailhouse) to make kimchi fried rice and Korean barbecue stuffed into a burrito with a little musical teaser from Keanu and songs selected from Choi as background beats from Keanu's movie Always Be My Baby.
DJ Umami kept the beats going through each stage performance. The Voltaggio Brothers entertained us with rapper Warren G who has his own barbecue sauce called Sniffin Griffins BBQ. The Voltaggio Brothers impressed us with their black olive dirt and their own homemade "VoltaggiOs" pasta with real ingredients but served in the same SpaghettiOs can we knew from childhood – feeding guests Warren G, Amirah Kassem, and the Wu-Tang Clan.
Chef David Chang and former Lucky Peach editor Chris Ying came out with rapper singer-songwriter Lil Nas X. David Chang touted the benefits of steaming seafood in the microwave while Lil Nas X said, "That seems dangerous!"
7. You can socialize over drinks at a brand activation.
Access to craft beer and specialty cocktails is abundant and so are the fun brand activations. Find the line of "Port-A-Party" stalls and enter through one to a secret speakeasy DJ party serving Monkey Shoulder Whisky cocktails like the Peach Please adorned with candy and concocted with peach simple syrup, lemon juice, green tea, and club soda. Hendrick's Gin rolled in their tall 3-Story Bar and besides watching their character actors spin plates and zoom around on bikes, we sipped some gin cocktails like Strawberry Sundance with Hendrick's Gin, fresh lemon and strawberry, and mint. The orange Aperol Piazza was buzzing with photo ops and refreshing Aperol Spritz. All cocktails were around $17.
8. There is a Spa inside for those who need a reboot.
Too much sun? Feel dehydrated? Step on over to the Spa Oasis by Craft 1861 inside the festival where you can get an IV drip, vitamin infusion, red light therapy, cryotherapy, and more. Just writing this seems SO California! If that is not enough, get a henna tattoo, a haircut, a massage, face glitter, crystal council, or braids at the hair bar.
9. One of the largest Silent Discos allows guests to dance to DJs.
Inside BottleRock, festival goers can dance and jam to all kinds of music from big named DJs at the Cisco Silent Disco without a sound leaking into the air, just headphones and hundreds of happy dancers invigorated and feeling free. Find the Silent Disco on Main Street and each night at The Truly Stage where you need to reserve your spot by 8 PM.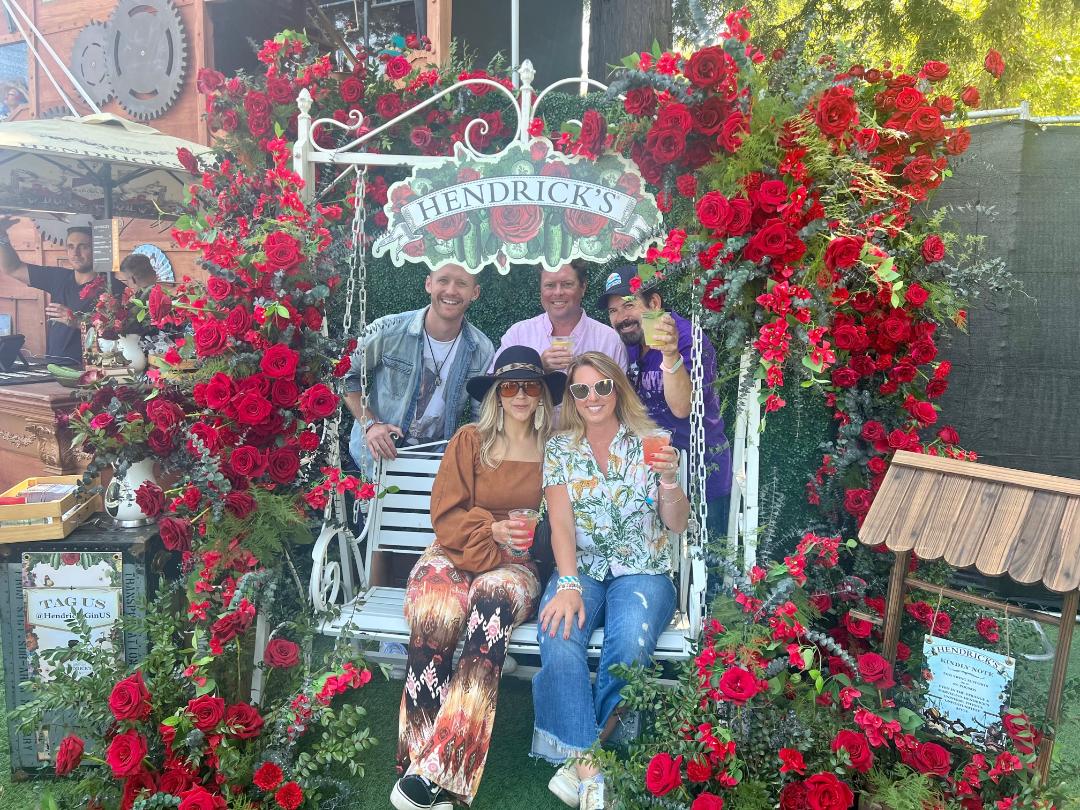 10. Napa Valley in Northern California is a bucket list destination.
 Sip world-renowned wine at BottleRock and extend your trip to visit the picturesque vineyards and Michelin-rated restaurants, many curating menus just minutes from the land and sea around them. The City of Napa, where the music festival is located, is a small town filled with fun intimate after-hours shows, parties, restaurants, and bars. After the show, dine late-night at Entrecot on the riverfront minutes from the venue for impressive Argentinian steak or grab a juicy burger at Nation's.
Just 20 minutes away, stay at one of the many boutique hotels in dreamy idyllic Yountville, a walkable mecca for food and wine connoisseurs with exceptional restaurants (featuring some of the best chefs in the world), small production wine tasting rooms, outdoor art installations and sculptures, and boutique shops.
Recently renovated, the 20-room North Block Hotel is a favorite destination with a sophisticated chic Mediterranean vibe that's felt the moment upon arrival with grand arches, stonework, fountains, and plants dripping off balconies and the building. Sleek Zen bedrooms are a retreat with private garden terraces and balconies, scrumptious bed linens, and heated bathroom floors with soaking bathtubs. For a relaxing late-night hang under the stars, pick up a complimentary evening Scotch in the lobby that pairs well with the fireplace in the lush courtyard, and from 12- 5 PM sample a glass of wine from their impressive complimentary wine selection in the lobby.
Need some concert rehab? Book a massage at North Block's spa or spend a morning in the hotel's poolside jacuzzi oases hugged by foliage post breakfast. The Restaurant at North Block dishes up delights like light fluffy melt-in-your-mouth lemon ricotta pancakes and a Breakfast Board for two with smoked salmon, salmon roe, pickled red onions, cream cheese, farm eggs, and specialty baked English muffin. And don't miss dinner where the menu is inspired by the bounty of the land from the valley to the coast, with shared plates like strawberry-laden crudo, fresh pasta (carbonara-filled ravioli and classic Cacio E Pepe), and a 14-day dry aged NY Sirloin with Cabernet Jus.
Other favorite restaurants along Yountville's central Washington Street include Ciccio for wood-fired pizza and pasta (but make reservations way in advance), R+D Kitchen for the best sushi and sandwiches, or one of Thomas Keller's masterpieces – French Laundry and Bouchon (Bistro + Bakery) for French cuisine, Ad Hoc and Addendum for American fare, and La Calenda for a taste of Oaxaca, Mexico.
Cheers to the good life of Napa Valley!
Check out the 2023 video recap of BottleRock.
Want more travel news, tips and deals? Sign up to Johnny Jet's free newsletter and check out these popular posts: The Travel Gadget Flight Attendants Never Leave Home Without and 12 Ways to Save Money on Baggage Fees. Follow Johnny Jet on MSN, Facebook, Instagram, Pinterest, and YouTube for all of my travel posts.