I know a lot of people seem to despise airports but. I'm the opposite. I've always been fascinated with airplanes and flying, and thanks to airport officials finally starting to listen to passengers, airports have really improved in the last few years.
One of my favorite airport trends is bringing in local food and shops; even if you're just changing planes, you can still get the flavor of a destination without leaving the airport. Obviously, it's better to leave the airport to experience a place, but sometimes it's just not feasible. Here are my favorite airport amenities in the US, plus a few outside the 50 states: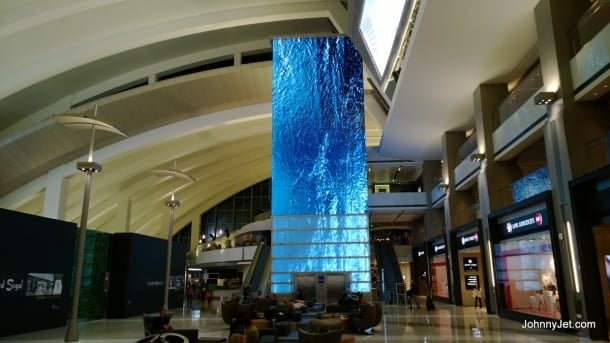 1. Time Tower at Los Angeles International Airport (LAX)
LAX's Tom Bradley International Terminal was recently given a complete overhaul, and the result is a very impressive and modernized place to wait for your flight. I've even filmed a commercial there, in which I explain how smooth the LAX experience is now. One of the coolest parts of the new LAX and the new Tom Bradley International Terminal, is something called the Time Tower. The Time Tower is a 72-foot-tall tower of LED lights that responds to movement below it. It also displays the time (hence the name), captivating travel-themed scenes and more. I don't know of anything quite like it.. Read more about the Time Tower here. Now I just can't wait for the new people mover to alleviate the traffic congestion but that's not going to be ready until 2019.
2. Yoga studio at San Francisco International Airport (SFO)
SFO's T2, which I've written about before, opened in 2011, and it's been a favorite terminal of mine ever since. The yoga studio is a big reason why. You'll find it right after you go through security and it's completely free to use. In T2, I also love the local food and museum exhibits.


3. Rocking chairs at Charlotte Douglas International Airport (CLT)
A number of airports feature rocking chairs these days, but CLT I believe was the first. As The Verge puts it, "airports are not, typically, pleasant and relaxing places." Rocking chairs, however, are relaxing! A long layover will fly by as you sit there people-watching.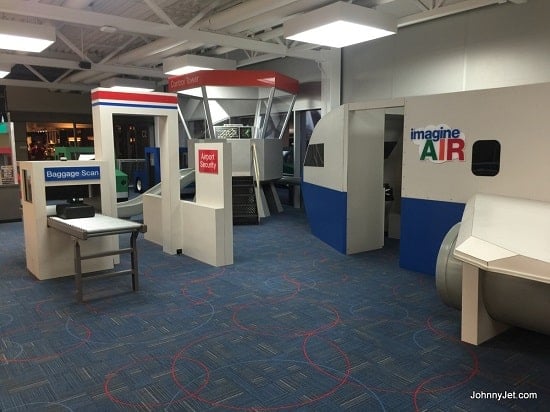 4. Play Port at Lambert-St.. Louis International Airport (STL)
STL might be one of the best airports for kids thanks to its creative and fun transportation-styled playground area. Located in Concourse C, the Play Port features a playground-sized plane, train, cars, and even an air traffic control tower in its 1,500 square feet of climbable fun. The Magic House in St.. Louis proper, a long-time family favorite, helped develop it. If I wasn't afraid of getting arrested I would drop my bags and play in it..
5. Mall of America "at" Minneapolis-Saint Paul International Airport (MSP)
As I've written before as a travel tip, if you have a long layover at MSP, you can take the train from the airport directly to the Mall of America. I don't have to tell you how much fun and shopping that opens up, but if you need more convincing, here's more on my most recent experience there.
6. Lactation station at Chicago O'Hare International Airport (ORD)
This obviously doesn't apply to me, but I know a lot of mothers love it when airports have lactation stations. It's definitely a growing trend and moms will be happy to know that more and more airports across the US are starting to offer a peaceful place where they can nurse.
7. Delta SkyLounge at John F.. Kennedy International Airport (JFK)
I'm not a big fan of JFK overall, but Delta has a great lounge there with a rooftop deck and incredible views (especially if you're a plane-spotter). You can get in by having an annual membership, with an international business class ticket, the Amex Platinum card, Delta Reserve Credit Card from American Express or by paying a day fee of $59.
8. Island ferry at Billy Bishop Toronto City Airport (YTZ)
Once you're through customs at Toronto's Billy Bishop airport, it's just a 50-yard walk indoors to the airport's ferry. That's right … the airport is actually on an island. The free ferry travels back and forth to the mainland (400 feet/121 meters) every 15 minutes. It takes just two minutes to cross, which is not enough time to fully enjoy the stunning view of downtown Toronto, but it's a start—and it's easy. Also: This ferry is often noted as the world's shortest scheduled ferry run. They now have an underground tunnel to the city if you don't feel like waiting for the ferry.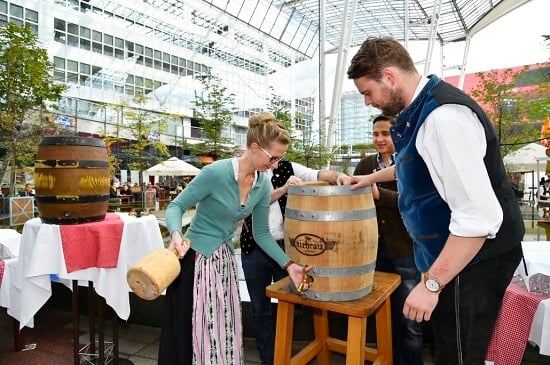 9. Brewery and beer garden at Munich Airport (MUC)
Munich Airport is the only airport in the world to have a brewery with a beer garden. It's called Airbräu, and if you have a connection of three hours or more and it's a nice day, you should definitely go outside customs/security and get a flavor of Germany. They serve Bavarian food, too And unlike its Terminal 1, Munich's Terminal 2 is modern, bright and quite pleasant to be in. They also have free coffee, tea and newspapers every two gates.
10. World's tallest airport slide at Singapore Changi Airport (SIN)
Changi is regularly listed as one of the world's best airports, and there are plenty of reasons why. There are two free movie theaters that are open 24 hours a day, a rooftop swimming pool, video games, and of course, in Terminal 3, the world's tallest airport slide. Spend $10 anywhere in the airport and you'll earn yourself a free ride. It's about four stories tall and you can travel up to six meters/second on a ride! Here's a video of me going down on it.
This post originally appeared on TravelSmith.com.
Save
Save