Abounding with picturesque fishing villages, idyllic islands, unspoiled nature, and sought-after lobster rolls, Canada's Maritime province of New Brunswick is a special place (and not just for having the highest tides in the world). On a whirlwind road trip along the spectacular Bay of Fundy coastline, I experienced the thrill of walking on the exposed sea floor, spotted minke whales, toured the summer home of FDR on Campobello Island, and ate way too many ginger snap cookies.
From Moncton to St. Andrews, the Bay of Fundy coastline is one of the most scenic in the world. More than 160 billion tons of water rush in and out of the deep, funnel-shaped bay twice daily, in sync with the tides of the Atlantic. At the north end of the bay near Moncton, the difference between high and low tide varies between 32 and 46 feet. The region is home to the Fundy Isles Archipelago and the UNESCO-protected Fundy Biosphere.
New Brunswick is 83% wilderness, and though I only experienced a small portion of it, I was left in awe of its magnificent "flowerpot" rock formations carved by the highest tides, its driftwood-dotted pristine beaches, and the profusion of marine life. I will never forget being surrounded by thousands of pairs of Atlantic puffins, razorbills and other seabirds on a small islet in the Bay of Fundy. It was pure magic.
To help you plan your own Bay of Fundy road trip, here's a detailed guide, complete with some of the best things to do, places to stay, eat and make memories.
Tip: Life in the area revolves around the ebb and flow of the sea water, with excursion times changing daily, so be prepared to literally go with the flow. And set your watches to Atlantic Time, an hour ahead (+1) of Eastern Time.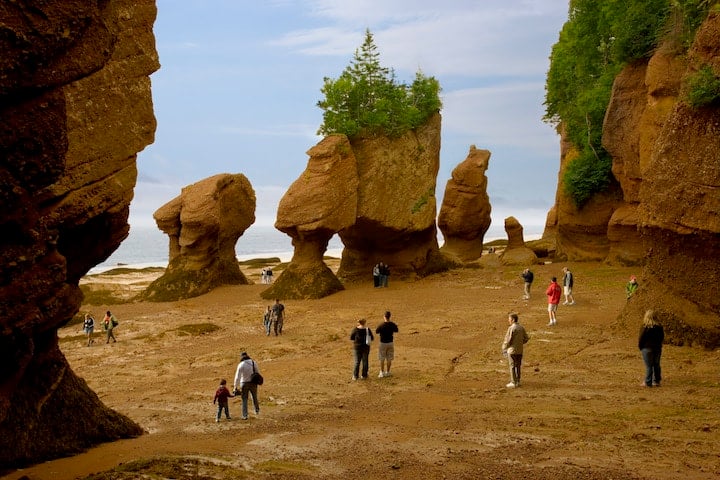 1. Walk the Sea Floor at Hopewell Rocks, Moncton
A short drive from the Roméo LeBlanc International Airport in Moncton brings you to Hopewell Rocks Park, where the tides are some of the highest of all. The park is self-directed, but you can opt to go with a guide. If you're lucky, you'll get Kevin Snair, a buoyant Indiana-Jones-esque photographer/guide who loves sharing stories about the famed "flowerpot" rocks and birdlife.
During low tide, the Hopewell Rocks environment reveals the smooth muddy ocean floor, and the entirety of the soft conglomerate cliffs sculpted by the tides. Take a stroll among the urn-shaped rocks. Pose for pictures under the iconic Lover's Arch, or by what remains of the Elephant Rock. Stroll the two beaches or explore the sea caves. Guides are scattered around the park, ensuring that people safely return before the tide comes in.
It takes six hours for water to reach 32 to 46 feet. There is no roar or splash as it comes in, nor any flurry of fleeing animals; its rise is orderly, covering three to four feet in height in half an hour. These flowerpot rocks become islands during high tide, and visitors can kayak around them with Baymount Outdoor Adventures Kayaking. Hopewell Rocks has an educational multimedia interpretive center, a restaurant, a snack bar, and a gift shop along with restrooms, picnic areas and parking.
Where to stay nearby
Delta Hotels by Marriott Beauséjour, located in downtown Moncton, is within walking distance of restaurants and bars. The Windjammer on-site restaurant is considered among the best in town. The hotel has an indoor mineral-water pool and the largest indoor hotel waterslide in the province.
2. Kayak Bay of Fundy National Park, Alma
Near the small fishing village of Alma is the doorstep of Fundy National Park, New Brunswick's first national park (created in 1948). With Alma as your base, you can explore the hiking trails through Acadian forest, or plan a half- or full-day kayaking adventure with Fresh Air Adventure. Packages are available from May to mid-September.
On the half-day tour, you'll kayak for three hours to find Matthews Head, a unique rock formation that resembles—you guessed it—a head. At the halfway point, you'll stop by a remote beach and enjoy Alma's famous sticky buns from Kelly's Bakery along with a hearty snack and juice to refuel for the journey back. Full-day tours last five to six hours and come with a hot meal prepared on the beach.
The outfitter provides rain jackets, dry bags, fresh water in reusable bottles, life jackets, kayak skirts, and detailed instructions, making novice kayakers feel at ease on the bay. On my excursion, the two guides accompanying the tour shared interesting anecdotes about the sights and sounds encountered along the way. Afterwards, stop by the Alma Lobster Shop for delicious, freshly caught lobster rolls.
Where to stay nearby
Captain's Inn B & B, located yards from Alma Beach and fisherman's wharf, has comfortable rooms and is close to attractions like the church-turned-brewery that is Holy Whale Brewery.
3. Hike Fundy Trail Parkway, St. Martins
An hour-and-a-half south of Alma brings you to the least-developed coastline between Labrador and Florida. The Fundy Trail is a 6,323-acre park and part of two UNESCO-designated sites: Stonehammer Global Geopark and the Fundy Biosphere Reserve. Stonehammer is known for its rugged landscape and rocks, which have borne witness to the evolution of life over a billion years. The Biosphere Reserve includes a large swath of the upper Bay of Fundy coast, stretching from St. Martins to Sackville and inland to Moncton, and encompasses communities and coastal areas shaped by the world's highest tides.
Near the town of St. Martins, the 19-mile coast-hugging Fundy Trail Parkway begins. The wildflower-edged path has 21 lookouts, 30 hiking trails, five tidal swept beaches, four waterfalls, and a suspension bridge leading to the Big Salmon River Interpretation Center. Trails along the road connect to wooded paths and stairways to pristine beaches. Tidal-swept Long Beach has sheltered picnic areas and restrooms.
Hiking enthusiasts can try the 25-mile Fundy Footpath, a challenging hiking path along the coastline that connects to the edge of Fundy National Park. Register ahead of time, follow the rules and be prepared for a strenuous adventure.
4. Explore St. Martins Sea Caves, St. Martin
Experience the sea caves along the Fundy Trail on a kayaking outing with Red Rock Adventure in St. Martins. Pass the covered bridges of the town's historic harbor and venture along the coast to the sea caves, accessible only during high tide. With little to no boat traffic, you may be alone on the water, enjoying the red-rock geological formations carved smooth over millions of years. You may even spot wildlife like porpoises, bald eagles and seals.
You'll park your kayaks on an untouched beach and enjoy a pre-packed smoked-salmon lunch and snacks. Red Rock Adventure also offers full-day and multi-day kayaking expeditions, in addition to guided walking tours of the Fundy Trail Parkway. In 2020, you'll be able to sign up to enjoy a gourmet meal prepared on the sea floor of a cave.
Where to stay nearby
The historic Shadow Lawn Inn, in the nearby town of Rothesay, offers elegant and spacious accommodations with an on-site restaurant serving gourmet food.
5. Relax on Grand Manan island, Grand Manan
Travel back to a simpler time on the island of Grand Manan, one of the five islands in the Bay of Fundy. Accessible via a 1.5-hour ride on the Coastal Transport car ferry from Blacks Harbor, the island is an idyllic escape. The entire island has only one grocery store, one gas station, a handful of restaurants/stores/inns, and two cops (and one of them will inevitably stop you if you're speeding, so mind the limit on the only road).
On Grand Manan, you can spend a few days soaking up the ocean air and relaxed vibe of its unspoiled beaches, scenic panoramic vistas and colorful fishing boats floating around the harbor. Enjoy a freshly made sandwich at The Old Well House Café or a pizza from the PostOffice Pizza, located nextdoor. In the afternoon, head to the Harrington Cove Tea Room for tea with a sea view and pick up some homemade jam. Don't forget to bring home dulse, a Grand Manan-harvested wild sea vegetable.
Where to stay nearby
The comfortable Inn at Whale Cove has cozy rooms with vintage furnishings, bathrooms with claw-foot tubs, and an on-site restaurant serving delectable meals made from freshly caught fish. As the name suggests, you may even see and hear whales passing by.
6. Get up close to puffins on Machias Seal Island, Machias Seal Island
Machias Seal Island is located in the lower Bay of Fundy ten miles west of Grand Manan. This one-mile-long islet is devoid of trees, but its rocky terrain is ideal for breeding seabirds. You'll find 5,000 to 7,000 pairs of puffins surrounding the single lighthouse, flapping and flying around or relaxing on rock surfaces. These adorable birds—which inspired Star Wars' porgs—mate for life and raise their young together. They come to the island in April to nest and stay until September.
From the comfort of small blinds (see photo below) suitable for up to four people, you can watch puffins, along with razorbills, common murres and Arctic terns up close. Their combined cacophony, similar to the sound of a hundred weed-wackers, permeates the air.
Be warned: The terns are the protectors of the island and will fiercely protect their nests. Stay on the boardwalk when moving between the blinds and the main platform.
The island can be reached from Seal Cove on Grand Manan on a Sea Watch Tour, offered Monday to Saturday in July, lasting about six hours. Just 10 people are allowed on the island on a given day, with five people viewing from the boat as it cruises close to shore. Tickets for this rare opportunity can be purchased annually starting in early to mid-January.
7. Soak up St. Andrews-by-the-Sea, St. Andrews
As soon as you enter St. Andrews, lovingly known as St. Andrews-by-the-Sea, you'll most likely encounter deer. These prancing beauties seem to outnumber people in this small seaside town. Located a half-hour drive from Blacks Harbour (on your way from Grand Manan), the fairy-tale-esque town features one of the most iconic resorts in Canada, The Algonquin, and a historic main street filled with maritime murals and artists' shops.
Here you can enjoy the marvelous collection of flower beds at Kingsbrae Gardens in the morning, and follow it with a delicious lunch at Niger Reef Tea House overlooking Passamaquoddy Bay. Go shopping on Water Street, take a whale-watching tour (see item #8), and end the day with dinner and drinks at the Kennedy Inn and Shiretown Pub. If time permits, you might join a guided Jeep tour with Turtle Shore Adventures to nearby Ministers Island, where you can visit the 19th-century estate of Sir William Van Horne, father of the Canadian Pacific Railway.
Where to stay nearby
The historic and elegant Algonquin has guest rooms with modern amenities. Take the nightly ghost tour to get acquainted with the purported spirits haunting this fabled resort.
8. Go whale-watching on Passamaquoddy Bay, St. Andrews
The nutrient-rich deep waters of the Bay of Fundy attract more than 12 species of whales, including minke, finback and humpback whales. Sitting on the inlet of Passamaquoddy Bay, St. Andrews is a good starting point for some fabulous whale-watching.
Take a leisurely ride on the Jolly Breeze of St. Andrews, a classic tall sailing ship, or go further offshore on a zodiac jetboat equipped with suspension seating, both operated by Jolly Breeze. Either way, you're likely to see amazing wildlife up close, like seals, dolphins, eagles, and a few types of whales. The best time to view these leviathans is from mid-August to October when they come to feed and give birth.
9. Tour FDR's summer home, Campobello Island
A boat ride from Saint Andrews whisks you to Campobello Island, one of the three islands of the Fundy Isles Archipelago. This scenic island is home to the Roosevelt Campobello International Park, run together by the United States and Canada. Here you can tour the imposing 34-room summer cottage where President Franklin D. Roosevelt and his family spent many summers in the early 20th century, long before they moved to Washington. The cottage has a museum on the ground floor displaying the life of the Roosevelts on the island. The living and dining areas display original furnishings and the upstairs includes the bedrooms of the Roosevelt children.
The living room of the nearby Wells-Shober Cottage fills up with Eleanor Roosevelt fans for the "Tea with Eleanor" presentation at 11am (free) and 3pm (reservation only). During each teatime, a staff member delivers a presentation on the extraordinary life of the First Lady before, during and after Franklin Roosevelt's presidency. It's accompanied by rare photographs from her life plus tea and homemade cookies.
Where to stay nearby
Friars Bay Inn & Cottages has oceanfront cottages and rooms and is located within walking distance of the island's natural attractions.
10. Go shopping in St. John, St. John
With a hashtag like #SaintAwesome, St. John sets a high bar for itself. It's the only city on the shores of the Bay of Fundy and the oldest incorporated city in Canada. And blending historic charm with modern facilities, and adding to it a vibrant arts and food scene, the place more than meets expectations. Though you may wake up to morning fog, know that it'll clear up quickly. And once it does, you'll be treated to a delightful waterfront at which you can take in the sights and scenes of the area called Uptown, a revitalized historic section lined with restaurants, boutiques, art galleries, and coffee shops.
Spend the day enjoying live music at Market Square, wandering the hilly streets searching for Instagrammable public art (the one by Rouge Coffee Shop is a winner), shopping for handcrafted gems at St. John City Market (the oldest continuing farmers market in North America), and browsing for your next favorite read at a used book store.
From the city center, it's a short drive to Reversing Falls, a natural phenomenon occurring when the tides of the Bay of Fundy reverse the waters of the St. John River. You can photograph the falls from the Skywalk Saint John, or enjoy them from a thrilling zip-lining adventure. Later, you can catch a show at the Imperial Theatre followed by fine dining at Italian By Night, a lively upscale restaurant with delicious seafood.
Where to stay nearby
The Hilton Saint John is centrally located in Uptown and offers sea view and city view rooms. It has an on-site a restaurant, a bar, a fitness center, and a heated indoor saltwater pool.
Getting to New Brunswick for your Bay of Fundy road trip
The upper Bay of Fundy region is an eight-hour drive from Boston. Air Canada has regional flights from Montreal to St. John and Moncton.
---
For more on travel to New Brunswick and the Bay of Fundy coast, visit tourismnewbrunswick.ca.