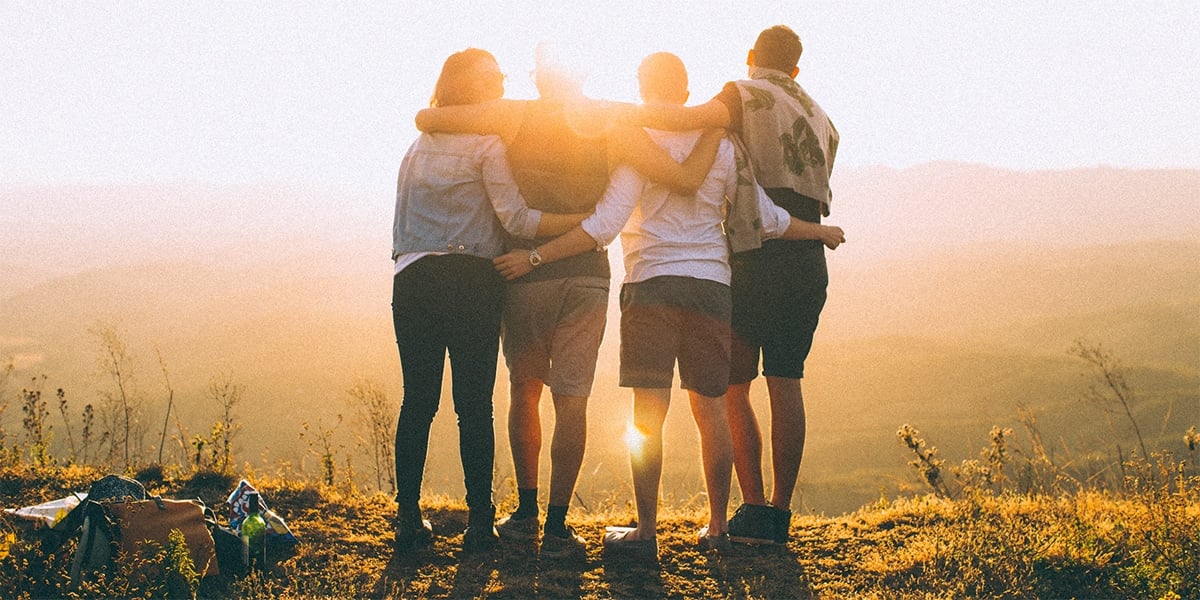 This post contains references to products from one or more of our advertisers. We may receive compensation when you click on links to those products. For an explanation of our Advertising Disclosure, visit this page.
Did you know that today is World Kindness Day? According to National Today, World Kindness Day "is an international holiday that was formed in 1998, to promote kindness throughout the world and is observed annually on November 13 as part of the World Kindness Movement. It is observed in many countries including the United States, Canada, Japan, Australia and the U.A.E. World Kindness Day presents us with the opportunity to reflect upon one of the most important and unifying human principles. On a day devoted to the positive potential of both large and small acts of kindness, try to promote and diffuse this crucial quality that brings people of every kind together."
RELATED: Books About Kindness for Kids and Adults Alike
Well, it's 22 years since this movement was launched and this is the first I've heard of it but I can't think of a time when we could all use a little more kindness in our lives than now. From the struggles of a global pandemic to the strife of this month's election, from lost jobs to civil unrest, times have been challenging for everyone. So World Kindness Day couldn't come at a more opportune time.
I read this article, 25 Ways to Be Kind Today, on CNN and appreciated the ideas about being kind to ourselves, our families, our community and our planet. And it also got me thinking about acts of kindness I've experienced when I've traveled. Many instances actually come to mind but two stand out:
The first is the time I lost my passport in Estonia and thought that I would be kicked off the cruise ship I was sailing on (no documents, no travel!) The kindness of a stranger that day made an enormous difference to me and my entire trip. You can read that whole crazy story here.
And the second time was on a flight from Tokyo to Toronto. I must have eaten some bad noodles or something at Narita but something just didn't feel right and shortly after takeoff, I started vomiting. It all happened so quickly, I couldn't even make it to the bathroom and used the barf bag in the seatback pocket. Yes, that barf bag that we've all seen and never in a million years thought we'd have to use.
I was so upset and distraught by the situation but of course couldn't speak. I was horrified on my seat mate's behalf, an older Japanese woman, and I couldn't even begin to imagine her disgust. The whole situation was awful. But as I threw up in the bag, I felt her reach her hand out and start rubbing my back and saying, "you're ok". I can feel the tears welling up right now just thinking about it. There was something so maternal and kind about that small gesture and it reminded me that we all have it in us to be kind when someone is in a difficult situation. She made an indelible impression on me that day.
I reached out to a few other frequent travelers, (including my husband Johnny Jet!) to find out about some of the random acts of kindness that they've experienced when traveling. Check out their stories below. And have you experienced an act of kindness while traveling? Leave a comment and tell us about it. We could all use some feel-good stories!
One act of kindness I experienced while traveling was when I went to Japan for the first time for a couple of nights on my way to Thailand and Singapore. When I was leaving Osaka, I took the train to the KIX airport. This was almost 20 years ago and none of the signs were in English so I had no idea I was supposed to get on in the middle of the train, because the front part I got on, split off halfway through the trip.
I guess the first part of the train was public, and the second part was private. I don't know. All I know is that I was running late and luckily, a Japanese woman who didn't speak English saw me with my bags. Because she couldn't tell me in words, she simply escorted me when the train made the last stop before it split to move back a couple of cars. If it wasn't for her, I would have missed my train and who knows how long I would have been stuck because a typhoon was headed our way. I wrote all about it here. — Johnny Jet
I have yet to be the recipient of a random act of kindness but I do feel that I could expect this from another fellow traveler … people have good in their hearts I believe! I have always wondered what I would do if I ever lost my wallet or phone or have no way of communicating. I honestly believe that if I went up to someone and asked to borrow some money or use their phone that they would let me (at least I would hope). Just the other day in Kuala Lumpur, I let a desperate-sounding woman use the data on my phone to make an urgent phone call. She was American and was very nice and genuine about how she lost her own phone and wallet from a robbery and really needed to make this one phone call. I gave her my phone to use. Sure, she could have darted away with it, but at some point you have to accept some human decency, especially when someone is in need, and just help them out. It's just the RIGHT thing to do. So often, bureaucracy steps in the way and says, no you can't do that, or no that's not possible, but you know what…it is possible, and we just make up silly rules in society. Just help someone when they need help. We all would appreciate the same courtesy in return! — Ramsey Qubein
In August 2011, I had been to 192/193 countries and the last country to visit them all was Libya. It was the Arab Spring at that time in Libya and Gaddafi was on the run. I was attempting to enter Libya from the Eastern border with Egypt. I landed in a remote town about 300 miles from the border with no idea how I would get into Libya speaking no Arabic and not having any documentation, as there was no recognizable government at the time. I asked a stranger if he spoke English. Indeed he did. He asked me what I was trying to do and then said to come with him. The rest, as they say, is history. This man, whom I had never met before, and his brother, drove me into Libya. They got me through a difficult border where we actually caught crossfire between Libyan rebels and Chinese smugglers. It sounds insane and it was. When we arrived in Libya, he took me in with his family who he hadn't seen in decades and told me I was his brother. When I left Libya, he had his cousin drive me 15 hours to Cairo. None of them would accept any money. How's that for the kindness of strangers?! — Lee Abbamonte