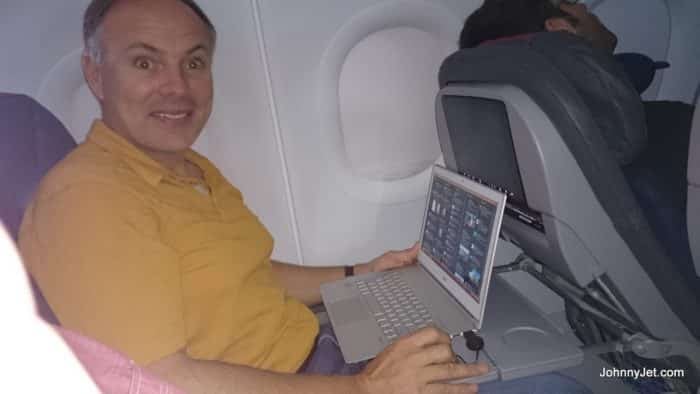 I'm a fan of American Airlines (AA). They have great customer service, especially on Twitter, and I love the fact that they haven't gone to the dark side with their frequent flier program by going revenue-based instead of mileage-based (Boo Delta and United). But everyone in the industry knows that that will switch over once their merger with US Airways is complete, sometime in 2015. But for now, I'm still giving AA the majority of my business so I can earn as many miles as possible and keep my elite status.
LAX to South Florida
That's why, when asked to speak in Boca Raton at the Florida Governor's Conference on Tourism, I chose to fly into Miami (from L.A.) this week instead of flying into one of the closer airports like PBI or FLL. American does have a nonstop to PBI from LAX but it's seasonal and doesn't start up again until November. I didn't want to fly Virgin America, JetBlue or Spirit to FLL since I wanted my AA miles and besides, MIA is just 25 miles down the road. (You can see actual driving distances on AlternateAirports.com.) Also, I could use a free UBER ride. If you are a first-time Uber user, you can get $30 off your first ride and I will get $30 off of my next ride if you sign up here.
Main Cabin Extra
So I booked L.A. to Miami on one of AA's brand spanking new A321, which is so new that SeatGuru.com and SeatExpert.com don't even have it listed. That meant I wasn't entirely sure which seat to choose. Since I have Platinum status with American (I fly at least 50,000 actual miles a year), I was definitely choosing one of their Main Cabin Extra seats that have extra legroom. They cost an extra $78 to $90 to the general public but for frequent fliers it's free.
Best Seats To Choose
I'm an exit row aisle kind of guy but they didn't have any available except in the way back of the plane. Instead, I chose seat 12A, a window seat in the second emergency exit row towards the front of the plane. Normally, that seat is golden but I learned the hard way that it's not if the person in front reclines and you plan on working on a laptop. It's so tight that it makes it really difficult to work, even with my small 13.3-inch Acer Aspire S7 laptop. My suggestion is to choose row 8, 11 or 24. Or seats 12F, 25A or 25F, since none of these have a seat in front of them.
Slim-line Seats
As for the A321 – it's no doubt a beautiful plane but American put one (or three) too many rows in it. I will say that it felt and smelled brand spanking new since it was just shipped 30 days ago (according to the flight attendants). Its beautiful slim-line, black leather seats look cool but aren't all that comfortable since the seats are too tight together (even in Main Cabin Extra). They also come with the most ridiculously small mesh pocket that replaces the old, germ-filled seatback pocket. I would have given it high marks if they had just made it a few inches bigger so it could hold more stuff instead of just one bottle of water or a can of a soda. It didn't even fit my laptop comfortably, that's for sure.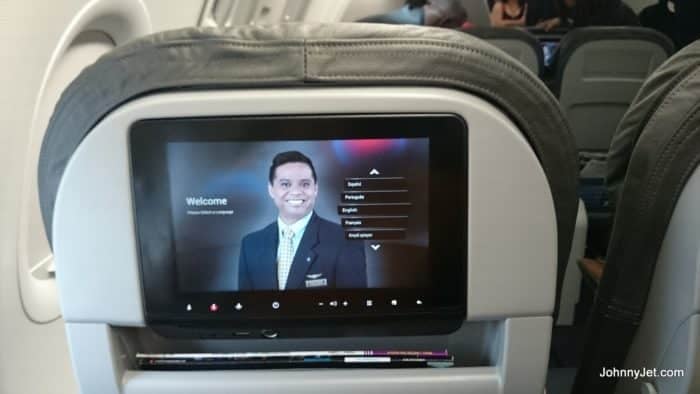 Entertainment Systems
The best part about the plane is the 8.9-inch HD-capable touchscreen monitors with a variety of options: "In Theaters Now" movies cost $8, "Best of the Big Screen" (older movies that include Moneyball and Captain Phillips) for $6 per movie, a "Premium Package" for $5 that includes unlimited 150 network shows on demand and 300 albums, 20 games and audio books. There's also a Disney option for $4 that includes a variety of kids movies, TV shows, games and music. Finally, they have "Complimentary Programming" that has NBC Universal on American and American Airlines Radio network.
NOTE: The floor storage below the window and aisle seats have the Inflight Entertainment (IFE) systems which prevents many carry-on bags from fitting under your seat (mine included). Why they didn't store these below the floor panels is beyond me.
Electrical Outlets and WiFi
Every traveler will appreciate the 110 volt universal AC power outlets and USB jacks at every seat and of course, Gogo inflight WiFi, which makes everyone happy since they can stay connected at 35,000 feet. FYI: Currently Gogo only works over the Continental U.S. and if you buy in advance, it costs $16 for a day pass, which will save you some money.
Overall the A321 is a very nice plane but it's difficult to get any work done unless you are in the rows/seats mentioned above or first class. It's so tight that the flight attendants agreed with me and even told me that they hope more passengers will write complaint letters to the execs so they will take some of the rows out. If they don't, I would go out of my way NOT to fly American's A321.
Have you flown on this plane? Do you agree or disagree with me? Let me know in the comments below.