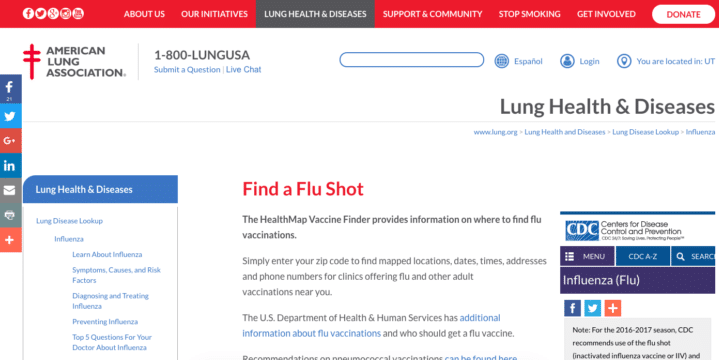 If you travel a lot, you know it's a challenge to stay healthy. The best thing you can do is keep your hands away from your face and away from people who are coughing and sneezing without covering themselves. Believe it or not, I've seen countless people do exactly that on a plane. That's why I usually carry two masks. One for me, and one to give to them.
Another good thing you can do—according to my doctor—is get a flu shot since it lessens your chances of catching it. You should consult your doctor first but if it's too expensive, like it is with my doctor, you can either find a local clinic or pharmacy. I ended up going to CVS to get one for $39 (a fraction of what my doctor charges).
If you're not sure where to go, check out this website built by the American Lung Association. Simply enter your zip code and it will show you the locations, available dates/times, addresses, and phone numbers of clinics offering flu (and other adult vaccinations) near you.