This post contains references to products from one or more of our advertisers. We may receive compensation when you click on links to those products. For an explanation of our Advertising Disclosure, visit this page.
This summer, there are a lot of people traveling internationally for the first time since the pandemic and in some cases, possibly for the first time ever. I know this might be way too basic for some of you but it's an important topic, as proven in a recent Reddit thread. RELATED: 12 Things in Travel You Need to Know Today
Confusedmind75 posted a simple question about what clothes to wear on an international flight. "I am travelling internationally for the first time and I am going to Europe. I got a thick joggers and sweatshirt but I am not sure if I should wear it summers. But I read online that international flight AC temperatures are lower than domestic flight temperatures. So I am confused if wearing the thick joggers and sweatshirt would be fine? My best advice, which seems to be the general consensus on Reddit, is to dress in layers. You can see the top comments below but I have a lot more to add so keep reading.
Gigiwidget says: "Layers. It's a crap shoot. You might sit on the tarmac and swelter for 3 hours before you take off. You might freeze until you can't feel your toes. Wear a comfortable cool shirt and bring a jacket or hoodie you can easily get on and off in your seat. You can also bring a shawl to use as a blanket but then you have to carry that around the whole trip so you have to decide if it's worth it."
Kittykattlady says: "Yes definitely layers and some sort of elastic pant is essential for me. You can always put a shawl or additional sweatshirt/sweater in your carry on to lay on your lap – or use as a pillow/lumbar support, etc. – if you get cold. I always wear sneakers I can slip on and off but it lets me wear socks to keep my toes warm even if I need to slide my shoes off during the flight. Also bring an eye mask if that's something that's important to you – honestly the "warmth" the eye mask offers my eyes always makes it easier for me to sleep. Earplugs can go a long way too for this reason. For sweatshirts – I personally would bring a hoodie if you're concerned about being cold because you can put the hood up and hibernate that way, too. Also – for adrenaline and just nerves in general you might be warmer than you think when you first get onto the plane so a long sleeve shirt would be a good layering option for you."
What I Wear and Pack For an International Flight
Personally, I treat almost every flight like an international flight since you don't know if you will be delayed or stuck on the tarmac. This is what I wear and bring with me, even if I'm flying on a short flight and I'm in the tropics: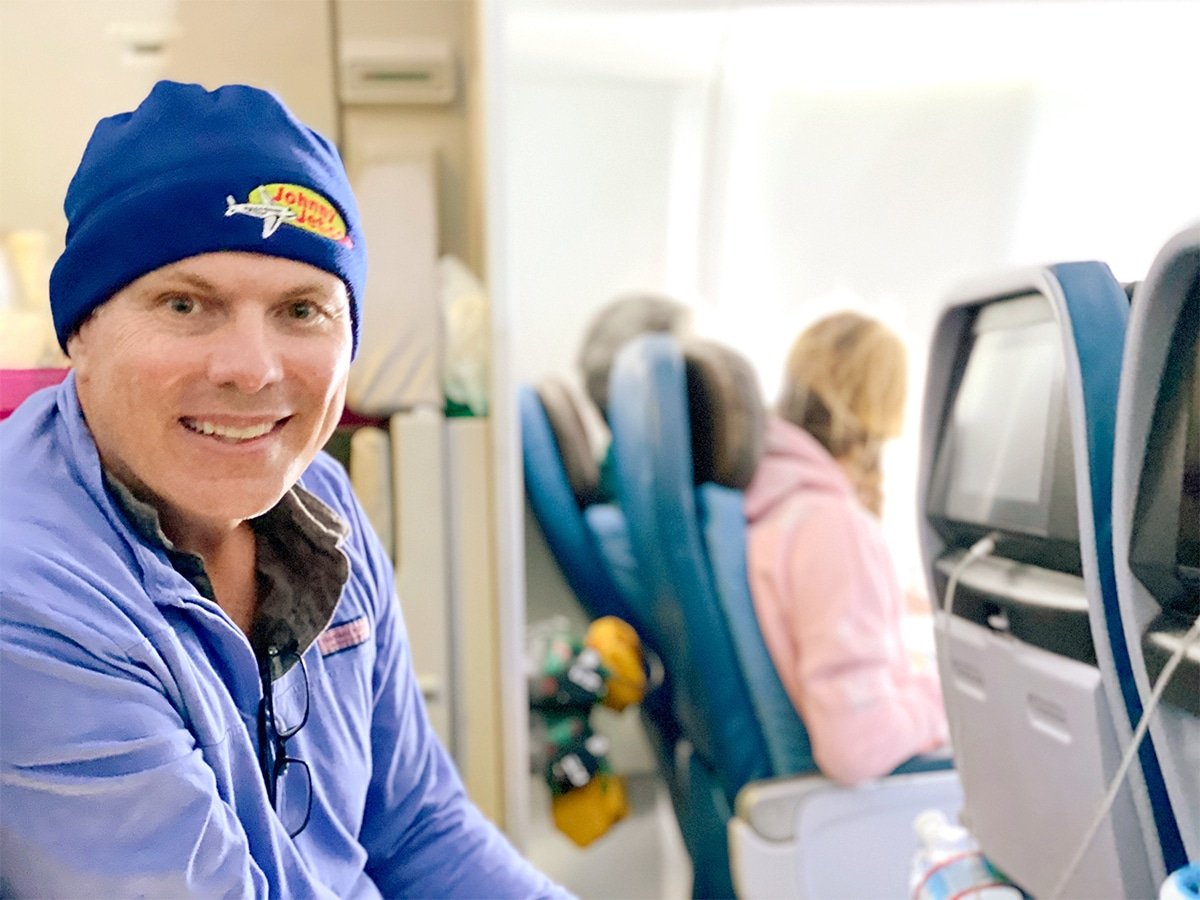 1. Pack a hat
I bring a winter hat. Yes, even in the summer. I once flew in the summer between Los Angeles and London and I was seated by the exit door on a 777-300 and boy, was it cold. My seatmate had shorts and a tank top on and regretted it immensely. Meanwhile, I not only had a sweatshirt, pants and socks on but I had my winter hat on as well as the blanket the airline provided.
2. Pack a blanket
Speaking of blankets (and pillows), not all airlines offer them. So if you're taking a long flight, you might want to get one in advance. Don't overpay at the airport. Here are some options from Amazon. The EverSnug Travel Blanket is a bit pricey at $30 but is thick and cozy. The cheaper option is a blanket like this one, which is very lightweight, but perhaps not as warm.
3. Wear socks
And speaking of socks … no one wants to see your bare feet so if you do take your shoes off, make sure your feet are not smelly and that you cover up those dogs.
Like @martysg says on Twitter: Please do not be this guy.
Please do not be this guy. pic.twitter.com/XDmZA2D4Kh

— Marty St. George ✈️ (@martysg) June 6, 2023
4. Wear pants and a sweatshirt
I rarely wear shorts on the plane since it's less hygienic, although sometimes I do for short inter-island flights because the airports are hot. I use my sweatshirt as a blanket if it gets cold. A flight attendant made international news a few months ago when he created a TikTok stating: "Don't or try not to wear shorts when you're on an airplane. It's the same thing as the window. You never know how clean it's gonna be, so if you have pants, you're gonna have less germs."
5. Pack a change of clothes
I always pack a change of clothes for me and my family. We learned the hard way that accidents happen like someone spilling a drink on you or worse, someone throwing up on you. Yes, my son once threw up all over my wife on takeoff and she didn't have a change of clothes. On top of that, our flight was diverted due to thunderstorms so we sat on the tarmac for an additional hour or so before taking off for our destination. Always bring a change of clothes!
Another reason to pack a change of clothes and a bathing suit (if you're going somewhere warm) is just in case the airline loses your bag or it gets delayed. It's best to do carry-on only for this reason and many others (it'll save you time, money and prevent theft) but if you must check a bag, pop an Apple AirTag or Samsung SmartTag in it to track your bag.
I hope this helps and if you're looking for advice on how to sleep on a plane, here are 15 tips for surviving a long flight.
KEEP READING:
–8 Ways To Make Sure An Airline Doesn't Lose Your Bag … And That You Don't Get Robbed or Stalked
–The Trick For Getting Airport Luggage Carts for Free
–Airline Lost Your Luggage? Do This If You Want to Get Compensated
–Why Frequent Fliers Use Apple AirTags or Samsung SmartTags When They Travel
–An Airline Executive's Number One Tip for Avoiding Lost Luggage When You Fly
Want more travel news, tips and deals? Sign up to Johnny Jet's free newsletter and check out these popular posts: The Travel Gadget Flight Attendants Never Leave Home Without and 12 Ways to Save Money on Baggage Fees. Follow Johnny Jet on MSN, Facebook, Instagram, Pinterest, and YouTube for all of my travel posts.