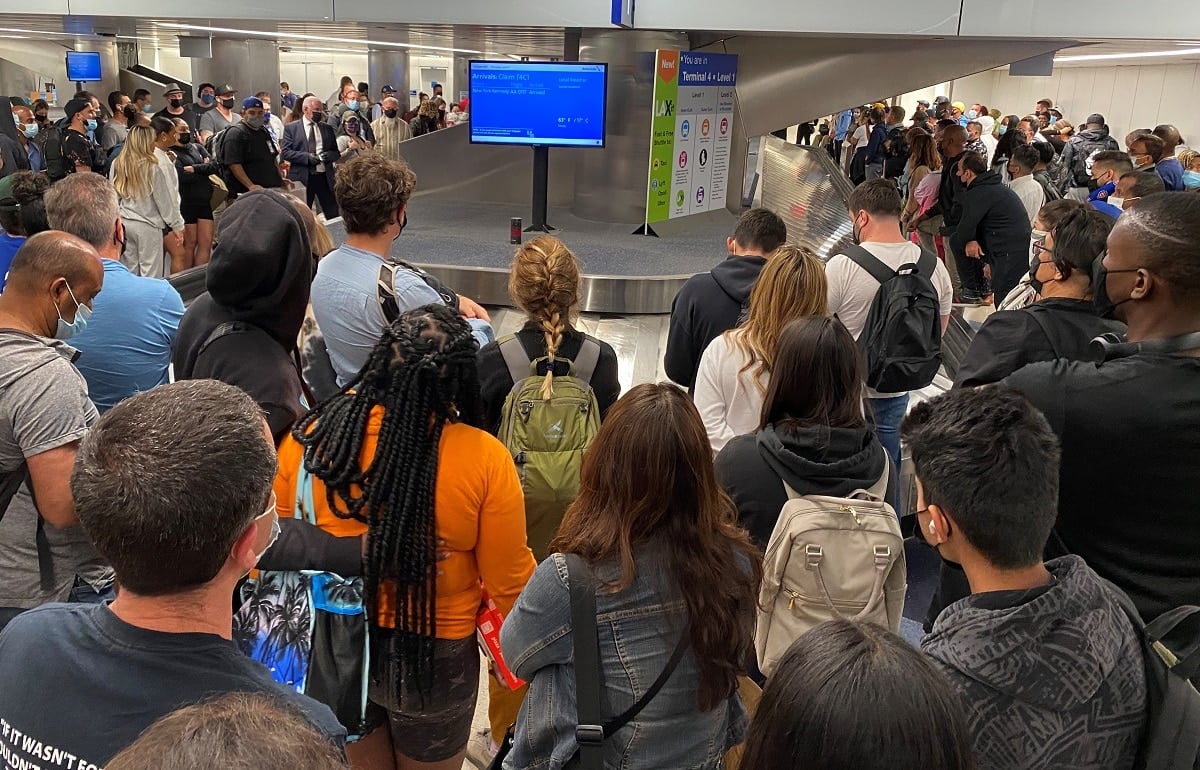 Yesterday, I wrote about my friend's delayed JetBlue flight from Florida to New York last night and the importance of always keeping on top of your flight status in case it goes out early. Well, wouldn't you know it? The flight ended up getting canceled and my friend and her husband spent over five hours in the airport. Most of their time was spent trying to get her bag back. It was a total sh*t show as her JetBlue flight wasn't the only one delayed or canceled. And it wasn't just because of weather. Multiple employees gave different answers which is a little fishy. But I do know she regretted checking a bag because of the hassle and time of getting it back.
RELATED: 10 Things You Don't Need to Pack
I've received numerous emails from readers with their own JetBlue stories, including one from reader Jeff who wrote: "Jetblue is having major problems out of Westchester. Every flight is late, sometimes 4 hours or more. Today, April 2, every Jetblue flight is late. No other airlines show late flights. Weather at HPN and the areas in FL JB flies is perfect. This clearly is an airline issue. Are they short on pilots or crew?"
Another reader named Abraao wrote: "My sons was supposed to fly to Guayaquil from JFK yesterday afternoon. The flight was delayed 4 hours before being suddenly canceled. My son had to wait another 3 hours to get his luggage back and be put in a new plane today at 11:20am. As soon as he arrives at the airport this morning, after he spent an hour checking in because the late reschedule had not made it to the central reservation system, his new flight was delayed by another 3 hours first and 1 more hour later. Story still developing. He will miss the wedding he was supposed to attend tonight. Not sure yet if he will go to Ecuador or not. Apparently there have been countless JetBlue flights delayed or cancelled since yesterday. JetBlue is doing a very poor job in informing people and compensating them for the incidental expenses, like taxis back to the city or hotel for people who connected in NY. A lot of people in tears last night."
I'm starting to think it is crew and staffing related but it's not just Westchester Airport. Looking at FlightAware.com, JetBlue had 83 cancelations and 630 delayed flight yesterday. Today is no different and it's not even noon here in Los Angeles. So far, JetBlue has canceled 53 flights and delayed 446.
The worst part is that JetBlue isn't even close to leading the way amongst U.S. carriers in terms of delays and cancellations. The top three today are Southwest Airlines with 263 canceled flights and 1,286 delays. American Airlines has 251 cancelations and 317 delays and Delta with 206 and 327 respectively. Southwest blamed an IT error.
Alaska Airlines, which saw off-duty pilots picketing in several major cities over contract negations, canceled dozens of flights yesterday and today. According to MSN: "About 15,300 passengers were affected" and "more cancellations were possible through the weekend."
Alaska Airlines' website warns: "Our call centers are experiencing long wait times. You may cancel or change your flight online. If you are not traveling today, please avoid calling. Thank you for your patience."
Prior to researching this article, I called American Airlines about booking a trip to Hawaii using miles. I have Executive Platinum status, which is the second highest behind Concierge Key and my wait time this morning for a callback was between three hours and forty minutes and four hours and twenty minutes. That's insane.
Since most of the airlines seem to be having problems, it's best not to call if you aren't traveling today or tomorrow. If you are traveling and are experiencing a long delay or cancelation, here are my tips.
But you better pack your patience (and snacks), consider postponing a couple of days and avoid checking a bag if you can. A checked bag was the most frustrating thing about my friend's flight cancelation, waiting for her bags to come out, which is why it's always best to travel with carry-on only whenever you can.
BTW: My friend who had her flight canceled didn't get a hotel or transportation provided (they're not legally obligated) but she did receive this email apology while still at the airport.
———————————
We sincerely apologize for the inconvenience you experienced on JetBlue flight #B61968 on 01APR2022. Our goal is to offer you the best in air travel and we recognize your experience did not meet that goal.
We understand how challenging it is when travel plans are disrupted. As a gesture of apology, we have issued each eligible customer on this flight a service credit for future travel on JetBlue.
You will receive an email within seven (7) days with the amount of your service credit and redemption instructions.
The credit will be placed in your Travel Bank and may be used anytime during the next 12 months toward another JetBlue flight.
We look forward to welcoming you on board again in the future and giving you a renewed JetBlue experience.
Here's to less bumps and more blue skies,
Kate Hart
Director, Customer Experience Operations
JetBlue Airways
---
UPDATE: JetBlue sent her just $50 for her inconvenience. That was less than what Uber charged to get to a friend's house. Pretty pathetic if you ask me.
Weather (see screenshot below from the FAA) is now definitely an issue in Florida thanks to thunderstorms. There's also some weather in the Midwest but if the airlines are having this much of a meltdown in April, I certainly hope this isn't a pre-cursor to the busy summer travel period. Hopefully this will knock some sense into the airline's executives that they better figure out a way to staff up or fix whatever the problem is.